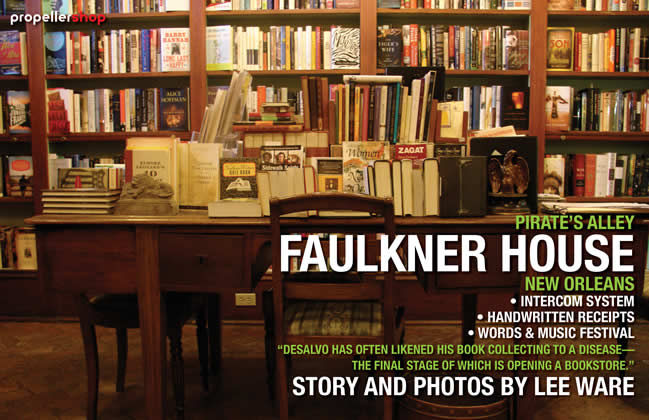 from the April 2011 issue
Described by both collectors and writers as America's most charming bookstore, for some, Faulkner House Books can be difficult to find: the store stands in the heart of the French Quarter of New Orleans, but tucked away on a pedestrian alley flanking St. Louis Cathedral. Once arrived, however—and some come all the way from Europe to see the legendary shop—the experience is memorable, as the interior feels more like someone's private library rather than a contemporary book store.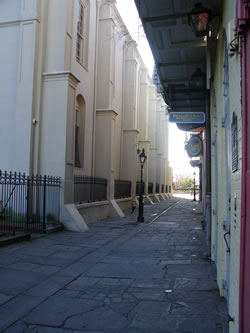 One room and a hallway make up the entire shop, and yet hours can be had perusing the floor-to-ceiling shelves made from original Louisiana Swamp Cypress recycled from demolished buildings and fences. There are no bestseller stands, no labels or signage at all save for the gentle reminder that "Books are precious" and "Please try not to hook the spines." The shop, like the French Quarter that houses it, has a rather old world charm, as though time stopped long ago inside Faulkner House, preserving a simpler and more romantic place, where one could fill their days reading books, not screens, or embarking on that daring feat of actual conversation rather than tweets.

Indeed, throughout the day, many visitors pop in just to say hello to the proprietor, Joseph DeSalvo. A retired attorney, DeSalvo spends a good portion of his day in the back office of the book shop doing various book shop business, as well as notarizing the occasional document. Many literary friends and neighbors visit for his erudite company, or to receive counsel on some personal or professional detail. His quiet wisdom is sought out in more places than the bookstore, too. While accompanying DeSalvo on one of his walks to the river with his miniature chocolate poodle, Criolla, I was surprised to see a street artist flag Joe over to consult him on a business matter: what price he ought to place on his art. Now, DeSalvo is not an art dealer, nor much of a collector. Still, he politely inquired about cost of supplies, how much previous pieces sold for, the time it took for them to sell, and how much time the artist devoted to the piece. Based on the answers, Joe gave his opinion that the artist could raise the asking price by fifty to one hundred dollars. Pleased with the suggestion, the artist thanked Joe profusely and went back to selling his art—possibly getting a bit more cash for his efforts.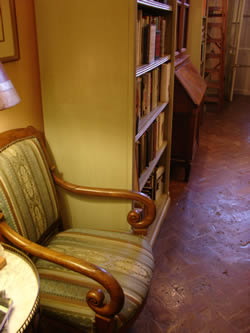 DeSalvo, with his wife, former journalist and author Rosemary James, bought the building for the bookstore in 1988, and spent two years renovating it before opening in 1990, on the anniversary of Nobel Laureate William Faulkner's Birthday, September 25th. Rosemary, who has pursued a second career in interior design, is responsible for the neo-classical aesthetics of the interior of Faulkner House Books, which has been featured in Southern Accents, Traditional Home, Metropolitan Home, Home Beautiful, and numerous design anthologies. When purchased, the interior had been stripped of millwork and plaster. Though no photos or drawings of the interior of the building were available, Rosemary restored the shop and their home above in the Greek Revival style appropriate to a New Orleans townhouse of that era. The basketweave brick flooring in the bookstore is original to the building, as are the natural cypress floors in the residence above the shop and the winding cypress staircase. Some of the millwork for the bookstore is composed of recycled cypress doors and transoms discarded in a renovation of the Louisiana State Museum's Presbytere, around the corner.

Logistically—that is, spatially—it is necessary to specialize, and so Faulkner House does. In addition to the missing signage, there is no maze of sections to get lost in, no danger of winding up in "Self-Help" when looking for that short story collection by Lorrie Moore. Primarily, the shop houses good quality fiction, literature, and poetry, and has a considerable collection of local and regional history. There are a few stragglers here and there, some children's books, a handful of art and design tomes, and non-fiction primarily related to well known authors—including Faulkner, of course. The fiction offered, whether that of earlier eras or contemporary, is first class: classics, well-established modern authors, and notable up-and-coming writers. Southern writers, especially New Orleans or other Deep South authors, are prominently displayed.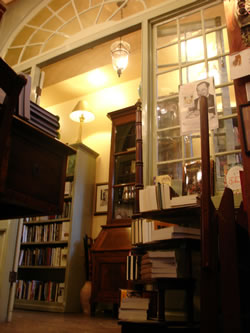 A special perk for customers is that there are no sacrificial plastic offerings bombarding them at the register. There is no gift-wrap, note cards, calendars, or lip balm. If a last minute impulse buy is to be satisfied, it likely will be with one of three items: Ambrose Bierce's Devil's Dictionary illustrated by Ralph Steadman, Days of Reading by Proust, or This is Water, the commencement speech given by David Foster Wallace. One or more of these is inevitably resting on the 19th-century leather-topped four-partner desk, where one will be checked out not by a cash register, but by a pad of paper and pen. Faulkner House still uses handwritten receipts.

In addition to the new books at Faulkner House, visitors are chuffed by the impressive rare book collection sharing the hall with Joe's significant poetry section. Behind the glass cases one will again find mostly fiction: first editions, signed copies, or limited printings. In the center of the hall, a beautiful French walnut secretary is devoted entirely to the first editions of the writer who once lived where the bookstore stands, Mr. Faulkner. (This desk also conceals the credit card machine, limiting the number of modern eyesores that would otherwise distract from the ambiance.)

Faulkner moved to New Orleans as a young man of twenty-seven, calling himself a poet. Under the guidance of Sherwood Anderson, who lived around the corner in the Pontalba Apartments facing Jackson Square, he wrote his first novel, Soldiers' Pay, while living on the ground floor of what is now Faulkner House. He fell in love with Helen Baird on the balcony of the house, and dedicated his second novel, Mosquitoes, to her. Unfortunately, she wanted little to do with the future Nobel Prize Winner. Spurned by love, Faulkner caroused around the Quarter with fellow artist William Spratling. Together, they would shoot BB's into St. Anthony's garden, behind the Cathedral. It is rumored that rather than avoid them, the nuns were their favorite target, along with friends like Anita Loos, author of Gentlemen Prefer Blondes.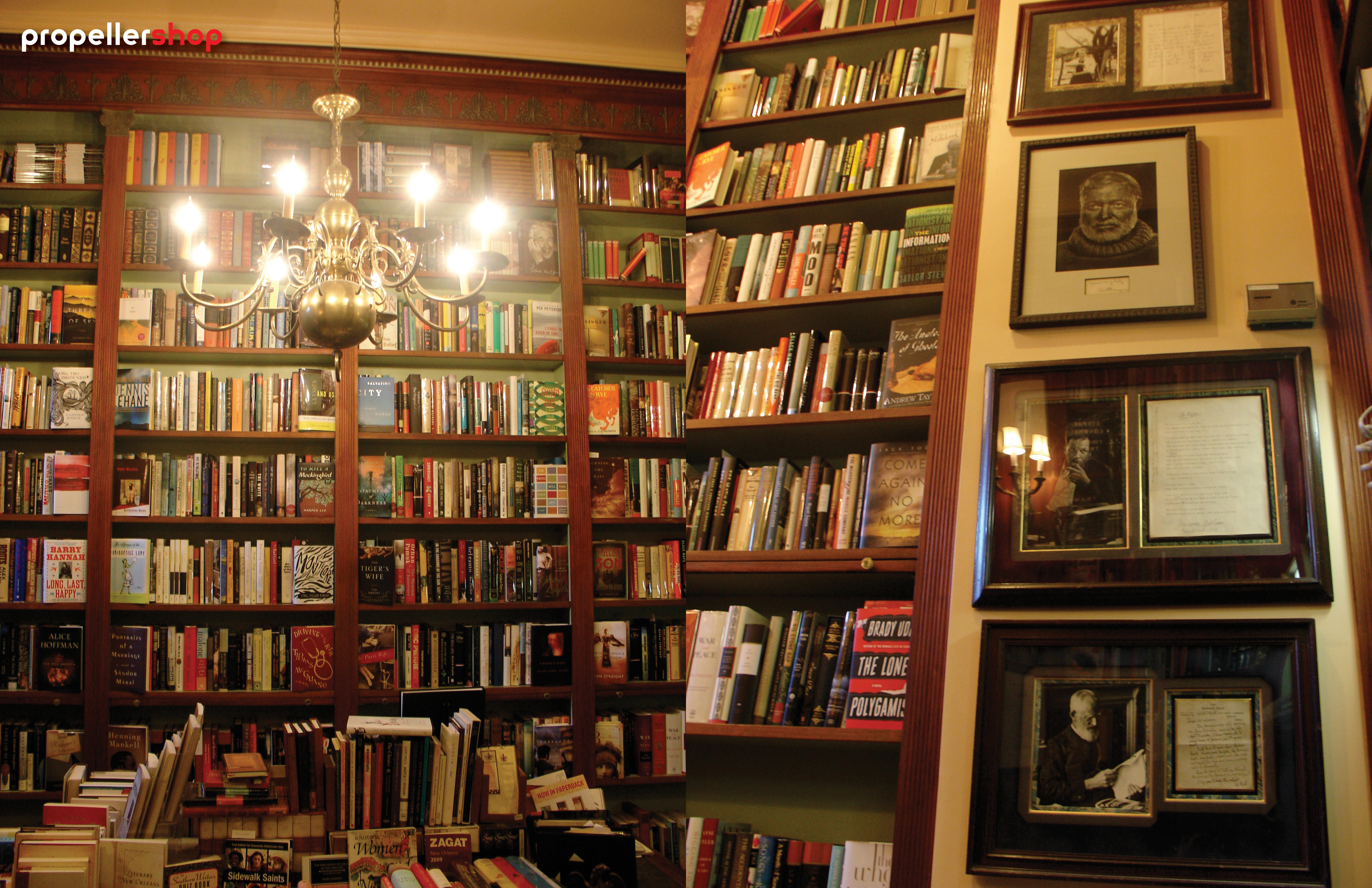 Another reason the shop may feel more like a private collection rather than a retail store is that, in a way, it is. The owners reside on the second and third floors of the building, while the fourth has been converted into a studio and work space that is often lent to visiting writers. The books are selected by the owner and the manager, whose knowledge and friendly demeanor add to the personal touch of the shop. It is also why there is no computer necessary, or available, to look up titles for customers.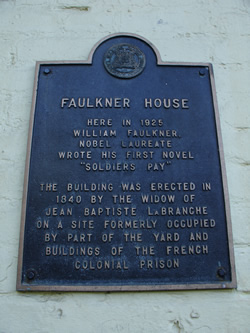 Mr. DeSalvo began book collecting twenty years before the bookstore opened. His interest was in contemporary fiction, but as he confesses, he was also lost for many years in the French Revolution and, on the other side of the channel, in the Johnson-Boswell circle. With more than ten thousand volumes, his collecting had become pleasantly all-consuming. Indeed, DeSalvo has often likened his book collecting to a disease—the final stage of which is opening a bookstore. Most of his collection became the core of the bookstore, which he slowly filled in with new books by authors he loved, including local and regional authors. Both mentoring and encouraging, one would be hard pressed to find a more caring or generous supporter of writers and the art they create than the owner of Faulkner House Books.

His only rival would be one of his co-founders of The Pirate's Alley Faulkner Society, who also happens to be his wife. In addition to interior design, Ms. James devotes most of her year to piecing together the myriad programs encompassed in Words & Music, a Literary Feast in New Orleans considered by many to be the premier literary festival in the United States. Words & Music was created in 1997, on the centennial of Faulkner's birthday, bringing one hundred agents, publishers, editors, and writers together on one stage. The festival encourages contact between new writers and the publishing world, while simultaneously providing the public with fine literary programming, food, and music. James also organizes the Society's annual William Faulkner-William Wisdom Creative Writing Competition, which is open to all anywhere working in English, and has helped to launch many careers, including those of Julia Glass and Stewart O'Nan, both of whom are previous gold medal winners and whose books received national critical acclaim and commercial success. Glass's novella Collies won the gold medal and became one of three linked novellas in her book Three Junes, which won the National Book Award. O'Nan was the First Novel Prize winner, and has since published fifteen books of first class fiction.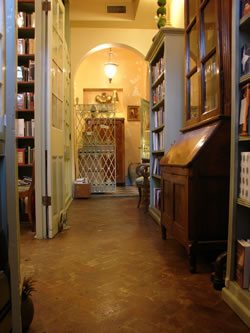 The owners' love for the literary arts spills over into bookstore conversations, leading many visitors to the conclusion that they don't ever want to go home. This sentiment was best articulated by the first writer to stay overnight at Faulkner House, the late Willie Morris. After his first night in the guest studio on the fourth floor, Morris got on the intercom and told his hosts, "Well, you're stuck with me now, 'cause I ain't ever leavin'." (An intercom at Faulkner House? Yes, this is one of the few overtures to modern gadgetry in the 19th century building—it is four stories high.) While Willie actually did leave, he came back many times. Other star boarders have included Barry Gifford (Wild at Heart) and Roy Blount, Jr. (Alphabet Juice, and over twenty other books of non-fiction).

Like New Orleans, Faulkner House Books is beloved by writers because of the welcoming warmth of its people and their dedication to supporting all great writers—past, present, and yet to come. Ω
---
Lee Ware lives and writes in New Orleans, where she works at Faulkner House Books.