Portfolio
We Just Want to Do the Work:
Beth Robinson on Grief, Synesthesia,
and Transcendence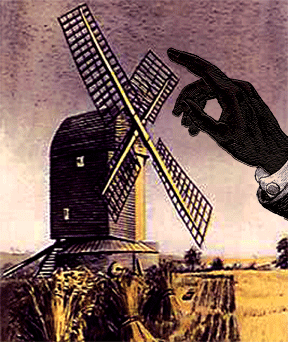 Beth Robinson utilizes many unique mediums, such as letterpress printing techniques and collage, to explore the intricacies of perception as a synesthete, grief as a mourner, and the written word as art. Text is prevalent in her work, a focal point that has remained from her early interest in bookmaking and restoration during a stint in Italy. Paired with the whimsical imagery evoked from her synesthesia, the texts she samples are a tongue-in-cheek viewing experience. For example, much of her recent work features an omniscient hand imposing order on an otherwise unsuspecting scene or character, like a finger twirling the arms of a windmill in a piece entitled "The Wind." [Pictured at right: "The Wind," 11"x14", $100, edition of 25.] After her current exhibit at the Jacob's Gallery in Eugene, Oregon, Robinson plans on showing her work abroad. —Holly Laycock
Propeller: You used to consider yourself a conservator rather than an artist, but your interests have always remained heavily focused on words and the book as art. How has your background as a bookmaker and restorer influenced your work as an artist?
Beth Robinson: I went back to the Oregon College of Art and Craft and the whole time, I was telling myself, "I'm a conservator," and I didn't really accept the title of "Artist," because it just never felt like something I could do. In my mind, I didn't want that responsibility, because as an artist, you've got to talk about social stuff, you have to be aware, you have to talk to people that you don't really care for sometimes, and you have to sell work that you may not want to. So it wasn't until my thesis year that I decided, "Okay, I'm really an artist." That's when I blew into it and started making larger narratives. Before, I was very conservative in my art-making. It was all boxes and books, or making structures.
Now, a lot of my pieces are a good four or five feet, and a lot of that is verbiage. I really like words because I was diagnosed as a dyslexic when I was a child, which ended up being an inaccurate diagnosis. It turns out I was a synesthete, which is when you have multiple senses that overlap. So when someone's talking to you, you may see colors or hear things—[it's] like a super power or a mutant.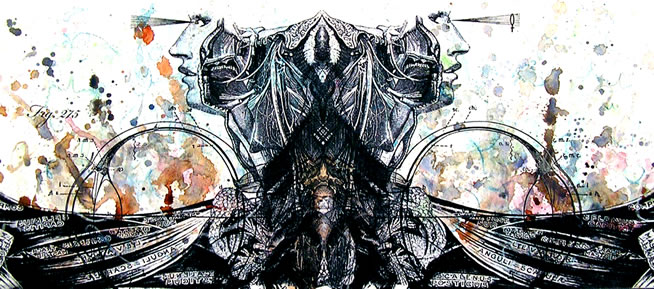 Book art: Beth Robinson, "Transillumination—Split of the Mind". $85.
My synesthesia happens when I'm flipping through a book, and they often say that it stems from a trauma. Well, my grandfather passed away around the time I was diagnosed, and he was my best friend at that period in my life. I remember grieving for him as a teenager and not realizing until later, when I'd lost someone else, that that's what that was—grief! And our society does very poorly with grief, which is unfortunate.
Propeller: Your synesthesia then was possibly, if not probably, a symptom of your grief. How has it informed your life since?
Beth Robinson: My grandmother told me about synesthesia. She said, "You're going to experience this, and it's okay. There's nothing wrong with it—there's nothing wrong with you." Being able to accept who you are and knowing that however odd or different you are, it'll be okay? That was huge. I think for a lot of people that have these combinations of senses, they look for something that will stabilize them, something mostly hands-on. And a lot of people do this, not just people with synesthesia, but a lot of people work out their emotions with their hands, and it's really important for humans to connect with that physicality.
I'm a great drawer, but drawing takes a long time and I'm impatient. Collage doesn't take very long, and it's satisfying quickly. It can also do the things I want it to do, which is make a narrative about what I see when I look at a book. Those images come in flashes, with lots of color, so drawing can be an ineffective way of capturing those moments, where collage is quicker. I've been lucky to realize that I can get the point of a book, it's just my version of the narrative as opposed to the writer's version. So the first time that I realized this, I was going to restore a bunch of books for my thesis, and I was flipping through this book, pulling the pages out—and it was Heart of Darkness. My father had just died. My brother had just died. And I got to the page where the wife of that fellow is talking about her grief, saying "He's gone; he's dead." And it all came together because I had that raw emotion. That's not to say that art doesn't happen when you're happy, but it just seemed at that moment in time, when I was so beaten up, that this is how this works...It's about transcendence, and loss, and grief, and the book.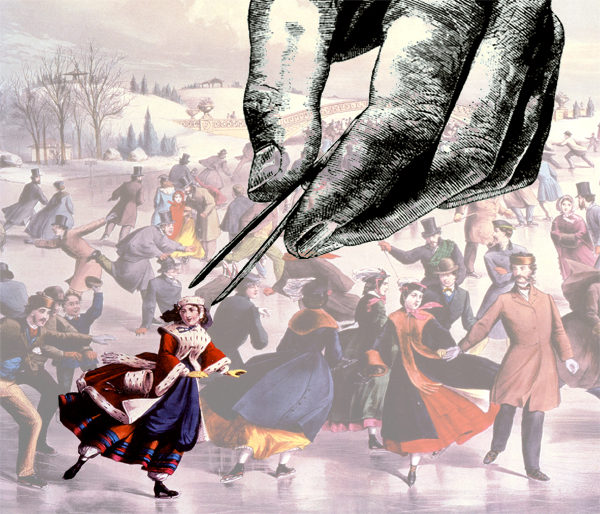 Beth Robinson, "Tweezers". 11"x14", $100, edition of 25.
Propeller: You've had your fair share of losses. What have you learned in the process of living with your grief?
Beth Robinson: I think a lot of people mistake grief for depression. I think we, as a society, have to realize that sometimes people are just grieving, and that it's okay to be sad. People need that time to evaluate it so they can come back stronger. I think a lot of the time I'm apologizing for my grief to other people, because you're just so vulnerable. What's amazing to me is that when people find out what's happened to you, they'll just come out and blurt stuff that's happened to them, and you end up consoling them. That's a weird space. But again, it's about knowing when that sharing is acceptable in our society, and as a whole, we just don't know how to process it—we want it gone.
Propeller: Is this always what you're drawn to when you're making art? The process of grief and transcendence?
Beth Robinson: I have two bodies of work that I always have going. The first is loss, and transcendence, and grief, and as that changes, those pieces have changed...The narratives I make are narratives about working that grief out myself, or things I see in the world, or whatever happens when I see those pages in the book. That's how I figure out what's going on in my head, because all art is ultimately about the artist. I like to think of myself as a romantic artist, like Mozart, who wrote his music about his life and what was happening. And it just turned out it was pretty beautiful at the same time. I hope that's the same for me. It doesn't matter to me if I sell anything or not—I still need to do that work. I think that's the hardest thing for people to understand—that everyone can do their work. Everybody has their duty that they need to complete. And people come up to me and ask me how I do it, and I tell them: just take an hour a day. Start simple. The Harry Potter books were written in a coffee shop an hour at a time, so anyone can do what they want to, and imagine if everyone did one thing for an hour a day that they loved! Think how much happier everyone would be.
The other body of work...is something else entirely. You know, this moment is the only moment we have, so what are you going to do? Are you going to sit around and be sad all the time? No.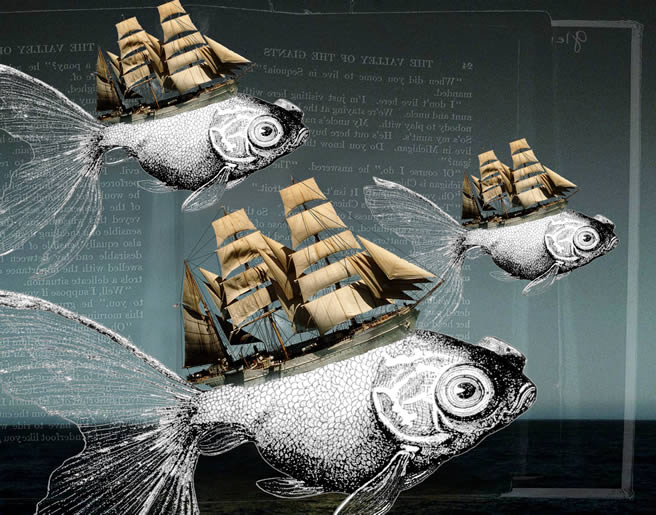 Beth Robinson, "Leaping Formidable Rapids". 33"x43", $800, edition of 5.
Propeller: These must be your more lighthearted pieces, because you do have a wide array of endearingly goofy subjects. There's a shadowbox you made with a clip art image of a Victorian gentleman holding a knife and fork, and he has a 3-D tongue extending out of the box cartoonish-ly declaring: "Bacon!" This can't be about grief (although perhaps it's about transcendence, for meat lovers), but many of your more tongue-in-cheek pieces do employ a depth of wit and are quite clever. Is there an appreciation for this side as much as the other?
Beth Robinson: Art's funny. You know, when I was in Italy, world-class artists would display at local cafes because they thought it was important. And in our society, art is sort of an afterthought, and you can dabble in it when you're retired. And that's fine—plenty of great art comes from that. But I also know of some phenomenal contemporary artists that work at sandwich shops and don't have enough time to do their work. I've run into that myself, you know. How do I balance this? How do I create this work and still survive this lifestyle? How do I simplify my needs enough that I can afford to do this work? I think that's a question a lot of artists ask themselves, because inherently, we want to be in the studio. We don't want to talk about it, not many of us want to show it, and none of us want to write an artist's statement about it—we just want to do the work.
Propeller: And do you find both genres of your work to be equally satisfying? As you said, does an "artist" have a bigger responsibility than just being clever?
Beth Robinson: Taking on that title of "artist," you're going against the norm...My artwork doesn't get political because you have to be prepared to talk to people about it. Like I don't usually tell people about synesthesia because then they want to talk about learning disabilities, and that's not what I'm interested in. I'm interested in talking about loss and grief, the fact that you have the power to transcend your life the way you want to, and that you should be grateful for everything around you. And that you can find beauty everywhere. But I never wanted to be an artist. I was a craftsperson. And that's still a forefront. You know, I don't frame any of my work. I don't think it's important because I don't think of my work as precious. The cubists were like that, but now that work is all covered in varnish, to be saved forever as an example of the period. With the materials I use, my work would probably last five hundred years. Will it last? Do I want it to? It's not important. It's not part of the conceptual part of the transcendence. That only happens in a brief moment.
Beth Robinson's latest work is being shown at the Jacob's Gallery in Eugene, as part of the Digital Illuminations exhibit, opening October 12th. For more information, see the Jacob's Gallery website: www.jacobsgallery.org/exhibits/next-exhibit/
More of Beth's artwork can be seen on her website, robinpress.com.
---

In the summer issue, Holly Laycock reviewed Hot Art: Chasing Thieves and Detectives through the Secret World of Stolen Art by Joshua Knelman.