Europe Endless
Style Mucha
By Elizabeth Lopeman


f you're anywhere near Cedar Rapids, or Prague, I recommend an afternoon seeing the works of Alphonse Mucha. The National Czech & Slovak Museum and Library in Cedar Rapids is having an exhibition of over 230 works by Mucha through December 31st, and the Mucha Museum in Prague operates year round.
In 1887, when Mucha was twenty-seven, he moved to Paris under the sponsorship of a Czechoslovakian count. He was from a small village in Moravia and had been making theater props in Vienna, but it was in Paris that his career rocketed when he illustrated a theater poster for Sarah Bernhard's performance in Gismonda in 1895. Not only was it the send off for Mucha's career, but also for the Art Nouveau style, which was originally known as Style Mucha. His images are recognizable by their flowing, graphic lines—taken up in the hair of the many women he drew who are wrapped in draping gowns with flowing ribbons and wreathes of flowers or stars adorning their heads. His muted palate and opulent patterns and shapes must have hearkened somehow to a mythological yesteryear even when they were new to the world. Paris went crazy for this new style and Bernhard gave Mucha a five year contract to create her theater posters.
In 1899 Mucha traveled to the Balkans to do research for a commission he'd received from the Austro-Hungarian government to decorate the Bosnia-Herzegovina Pavilion at the 1900 Paris International Exhibition, shortly after which he was appointed a Knight of the Order of Emperor Franz Joseph. He didn't like the idea of supporting the imperialist Hapsburg Empire that had forcibly dominated the Bosnia-Herzegovina region, but he pacified himself with the idea that he would honor traditional Slavic culture in his decoration. While traveling, Mucha got his first inspirations to create a new piece—a large piece—that chronicled the history of his Slavic heritage. In the following years the idea stayed with him, but commercial commissions flooded his availability. Finally, after a stint in America, Mucha ditched fame and returned to Czechoslovakia to work on what is known as the Slav Epic. The series of 20 large-scale (some 6 x 8 meters) paintings abandoned the graphic Art Nouveau style that Mucha made so popular in Paris for a more classical approach reminiscent of the German Romantics of the previous century, such as Caspar David Friedrich, but with overtones of mysticism and legend, evidenced by hopeless wintery battle scenes, hovering angelic beings, and grave faces but for the light of the moon or light radiating through church windows. These episodic depictions of the history of Slavic civilization were being painted at the same time Picasso and Braque were exploring cubism in Paris. In spite of Mucha's mastery of skill and the compelling content, the Slav Epic never gained the status of a monumental work of art. Regardless, it is something to behold and is on permanent display at the National Gallery Prague in the Veletržní Palace.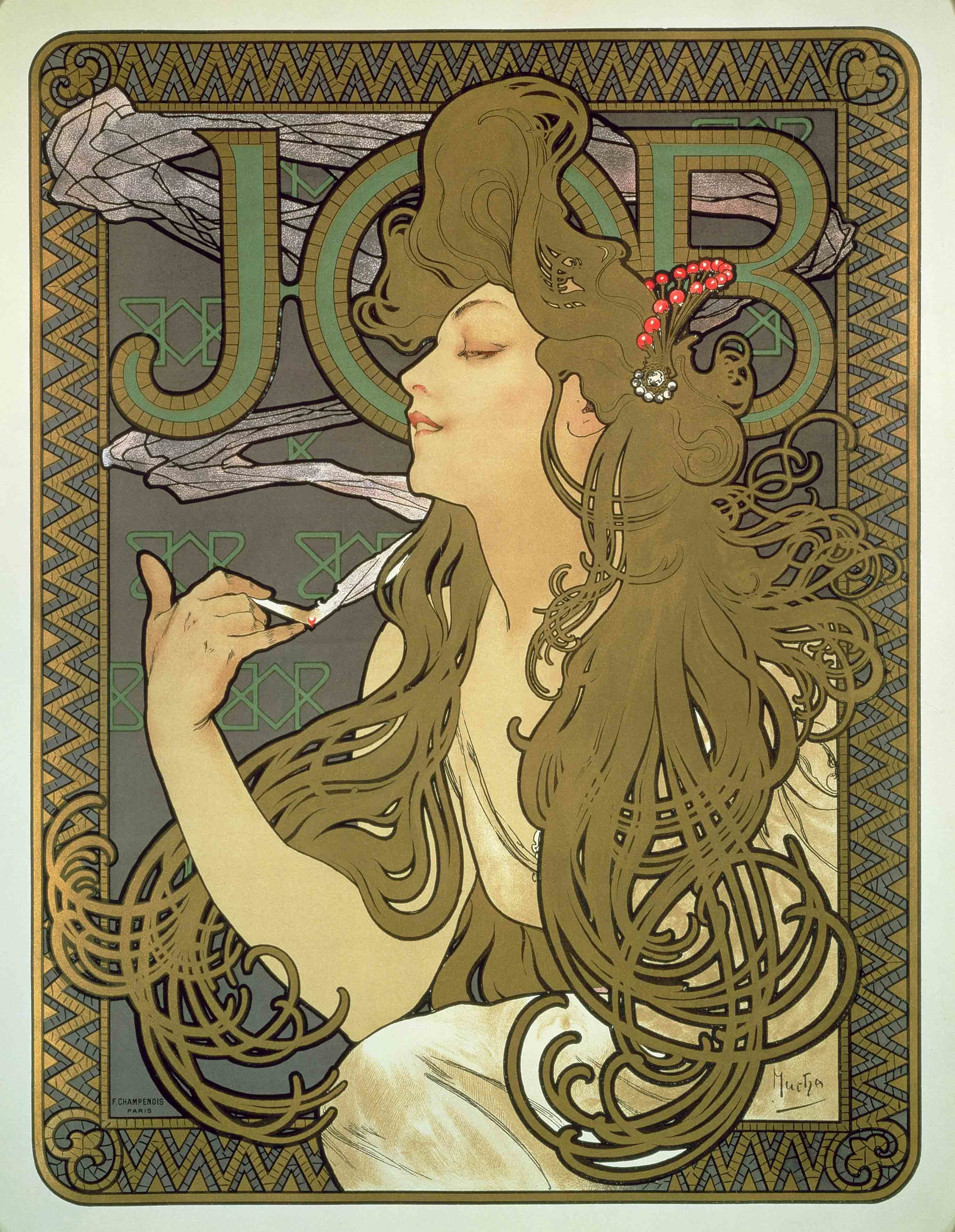 When Mucha returned to his homeland, his work became more personal, more emotionally evocative, and yet even more emblematic. He undertook a mission to empower the Czech people, which included doing anything he could that might help in shirking the Germanic yoke of the Hapsburg Empire, which sought to eradicate local language and culture. Only privately built schools could provide lessons in Czech language and culture, and Mucha created posters to advertise lotteries that raised money for private schools. He also created posters for local festivals featuring young women in traditional dress, and installed a mural in the Lord Mayor's Hall in Prague entitled Slavic Concord. When the Austro-Hungarian Empire finally collapsed in 1918, Mucha designed the Republic of Czechoslovakia bank notes, postage stamps, and the new national emblem—all free of charge.
Many Czechs repatriated to Austria when the Hapsburg Empire fell—or in 1939, when the Nazis invaded Czechoslovakia, and many Czechs moved away and amended their Slavic names. Mucha was arrested by the Gestapo in Prague in 1939, as were many artists who were deemed degenerates. He was interrogated and suffered permanent physical damage, but was allowed to return home. He died shortly thereafter. There is something romantic—a sense of fortitude and of backbone—in a loyalty to one's people. It shines through in Mucha's style.
All images in this story courtesy of The Mucha Foundation
---

Elizabeth Lopeman has written for Sculpture Magazine, American Craft Magazine, FiberArts, Bitch, Eugene Magazine, Drain Magazine.com, and various other magazines and websites. She currently lives and works in Munich.