Aisles
The Father He Thought He Knew
Stories for Boys
By Gregory Martin
Review by Sarah Seybold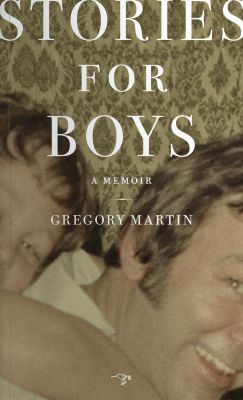 y father's suicide attempt was an exhumation. The person he could not speak of had been unearthed," writes Gregory Martin in "The Family Plot," a cornerstone essay in his compelling memoir Stories for Boys. In the wake of this attempted suicide, the author learns shocking secrets that have been buried for decades: between the ages of four and fourteen, Martin's father was sexually abused by his own father, and throughout his thirty-nine year marriage to Martin's mother has been having numerous anonymous affairs with men. Instead of perpetuating the family silence, Martin examines the past, piecing together his father's stories and his own stories in order to bravely confront the unspoken, creating a memoir that is both heart wrenching and uplifting.
"How can I know him if he won't tell me his stories?" Martin asks. Throughout the memoir, Martin struggles to reconcile the father he thought he knew with the man his father really is. With a talent for articulating messy emotions in clean and readable prose, Martin successfully navigates between past and present. Through short, quick-paced chapters, the memoirist unravels the family plot in an attempt to know the father he loves and to work through the confusion, anger, and sorrow he experiences after discovering his father's deception and traumatic past. Weaving in references to literature, psychology, and pop culture, Martin looks to other sources to help him make sense of his strained relationship with his father.
Interestingly, Martin's memoir contains a curious assortment of visuals to accompany the text. Among the images are photographs of family members and pets, portraits of Walt Whitman, snapshots of places visited, clip art from old television shows, and a Google Maps image of Martin's childhood home. Martin also places several e-mail messages from his father throughout the memoir, giving his father a voice. The visuals and e-mails work to accentuate the now uncovered silences. The memoir is a scrapbook, an artifact of the unearthing, a creative way in which Martin can document his stories.
Stories for Boys is a memoir about storytelling. Martin writes, "My knowledge of my father's secret life had tainted and bled into the way I thought about my past." Concerned he is an "unreliable narrator" of his own life, Martin must revisit his own childhood memories and the stories he's told about himself in order to understand the present. In that present, Martin is not only a son but also a father. Throughout the book, Martin describes several endearing, often humorous, moments with his two sons, Evan and Oliver. Martin wants to protect his young boys from the family secrets, but he is also compelled to tell them the truth. Martin writes, "They needed a good story, not the half-baked, vague first draft they'd been distributed in the home workshop. They needed a mournful, unflinching, but also funny, hopeful, story, a story of reckoning and acceptance and forgiveness."
Ultimately, Martin delivers his readers just that. Through the examination of silences in his family, Martin artfully and honestly addresses the taboo topics of suicide, child abuse, and hidden homosexuality. These are stories that need to be told. By bravely sharing his own suffering, Martin challenges us all to question our own willingness to tell the truth, to forgive, and to heal. What do the stories we tell teach us about ourselves? And how can we know one another if we don't tell our stories?
---

Sarah Seybold's memoir, poetry, and fiction have appeared or are forthcoming in ZYZZYVA, North Dakota Quarterly, Gargoyle, and elsewhere.