Letter from Oaxaca
MuchoS Muchas Muxes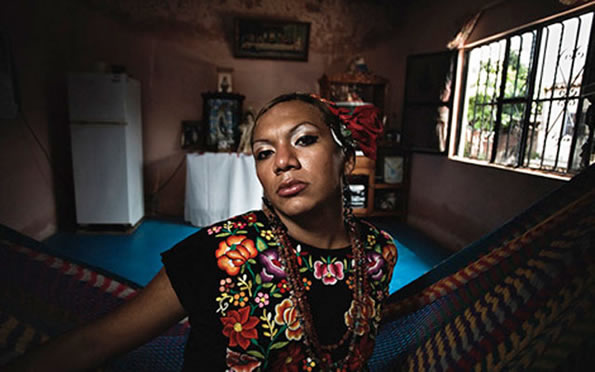 Photo by Nicola "Ókin" Frioli, from a piece that originally ran on colorlines.com.

By Sara Sutter

umba never appealed to me. I knew very little about the routines, but had assumed they involved cheesy music and a lot of body-image-conscious women trying to "get after it," though really just wanting muffins or a stiff drink. I can be cynical at times. Hypocritical, as well, because I have now attended more zumba classes in Mexico than I can count. I dance zumba in a sports auditorium that is something like a massive, hollow aluminum barrel within which there are various fitness activities—volleyball, karate, basketball—each in its respective section. Kind of like those variety barrels of popcorn—caramel, cheddar, butter, etc.—that were popular in the mid-nineties and possibly still are in the Midwest U.S. For all of the hip swinging and sliding, I would say that zumba is the butter popcorn of this barrel. The routines incorporate moves from cumbia, salsa, merengue, mambo, samba, and I love it! I loved zumba from the first moment that I stood in front of those mirror panels within a flock of Mexican women spanning ages 9 to a solid 70. This was the first night in Ixtepec that I could really shake my ass, gyrate, pump and basically recognize that I have a ball-and-socket-operated, in-working-order pelvis.

Before I moved to the Isthmus of Tehuantepec, I had read that the Zapotec culture here includes a strong yet nationally-anomalous tradition of matriarchy and sexual diversity. Big words. I wasn't sure that I was seeing such concepts in practice in the traditional, heterosexual, monogamous culture surrounding me. If asked about matriarchy and sexual diversity months ago, I would probably describe bits of my life in Portland: a small army of queer friends who prefer to be addressed by "queer pro-nouns" or nongendered pronouns (ze, hir, etc.) of their own devising, a city-endorsed naked bike ride culminating in an always-at-capacity queer dance party, working as a personal assistant for an F2M (female-to-male) transgendered person ((s)he has double-d breasts and a valiant beard), the reuse of menstrual blood not an uncommon topic; the list is as long as the crotch of the largely-unflattering mom jeans at the peak of fashion in the matriarchal culture of Portland. Matriarchy. If asked about matriarchy three months ago, I would also have provided something along the vague lines of an indigenous, brownish tribe wherein the women hold counsel and the men, upon marrying, move into the mother's house—the women keep their names, names that mark the tribe's history, and they all wear really badass wool shawls. The point is, the answers to these questions—what is sexual diversity, what is matriarchy—are highly relative.

In the Isthmus, perhaps the most dramatic example of sexual diversity is the phenomenon of the muxe. Moo-she. Wikipedia (everyone and no one) states that in Zapotec culture, muxes are people born with male genetalia who dress and behave in ways otherwise associated with the female gender. A sort of trans, sometimes considered a third gender. "The word muxe is thought to derive from the 16th-century Spanish word for 'woman,' mujer," Wikipedia states. A slippery phenomenon. Slippery as trying to pin words to meaning. Slippery as attraction and identity. Are muxes gay? Are muxes transvestites? How is this matriarchal?

Analisa Tyler, a professor from the University of Oregon (of course, Oregon), writes about the spectrum of sexuality, gender identity, and matriarchy in her essay "Malinche and Matriarchal Utopia: Gendered Visions of Indigeneity in Mexico." She describes gayness as a priori and accepted, and the muxe as someone who, at some point in his/her life, assumes the role of woman in dress, and, more distinctly, in work. She presents details from films, art and personal fieldwork: "In the film [Blossoms of Fire], Vickey affirms that 'lesbianism is something one is born with.' She says that unlike in Mexico City or the United States, there is no such thing as 'coming out' in the Isthmus. 'When did I realize I was gay?...As soon as I realized I exist in the world.'" Taylor continues to explain that such an understanding of gay identity, a gay existence, leads to a certain division of household and community duties, a practical application and integration, rather than an otherness that threatens familial and social structures. In her experience with muxes, Taylor notes one encounter with a couple, Catalina and Eusebio (not their real names). After forty-seven years of marriage Eusebio took on the role of muxe to help Catalina when she became ill with cancer:

"I talked with Catalina as she lay in her hammock, weak and in pain from cancer. She told me that, like many older women in Juchitán today, she takes great pride in having worked hard, managed her income well, and financed her five children's university educations. Eusebio ceased his sweeping to join our conversation, explaining with a tender smile that since his wife had become ill, he had become muxe. By this it was clear that for him being muxe had more to do with the kind of work he was engaged in than with sexual difference. To be muxe, a femme, is to be keeper of the house, he implied."

From these examples, we can say that the concepts of power and achievement within Zapoteco matriarchy stem from how hard one works and succeeds in managing her resources. She who provides.




e're usually a good six songs in when the whistles start. The volleyball, soccer, and karate sessions have waned, and the wearied boys and men saunter closer to the zumba corner. With an especially hip-oriented sequence, the frequency of whistles increases. None of us explicitly acknowledge this, but with the sensation of the gaze and the consciousness of an audience, there is a renewed sass among us. Moving in ways we rarely move, but can and enjoy to for a brief window of time, we're watched in this delicious, self-possessed illogic. They don't linger, the athletes, they wait and watch from a nonchalant distance.

soltera - single - feminine
soltero - single - masculine
la dupla - the pair - feminine

We break for water. One young woman drinks and holds her own gaze inches from the mirror. Others talk of a sick mother. Of a daughter's swim lessons. Of plastic flowers inside jello molds.


student tells me, "It's OK to be muxe, but you don't want one in your family."

A colleague tells me he "accepts muxes," then rapid-fires español to another man at the table and they both erupt in laughter.

A man in the neighboring hammock explains that "Muxe is blood. Muxe is indigenous. It is not gay. Gay is a Western idea projected onto the muxe phenomenon. I am from Juchitán and I am not muxe but for me muxe is normal. It is indigenous, a culture."

On my evening walks through the park, girls and boys and boys and boys necking.

Man in the neighboring hammock continues: "Well, sometimes it's gay. Sometimes young boys have their first sex with a muxe. But Mexico is a macho country. So the man who fucks the muxe, he is macho. He is majate. He comes home to his muxe and she provides the coin, the beers, and he fucks her. Usually working as an esthetician, a home decorator, a dance teacher, she provides."

Locals call Juchitán, the so-to-speak-capital of the muxe phenomonen, "Hoochie."


Photo by Nicola "Ókin" Frioli, from a piece that originally ran on colorlines.com.

memo I missed: everyone is wearing pink. The instructors too: pink capri tracksuits revealing ample and muscular midriffs, bold biceps and sculpted backs, booties, fedoras. It's the annual special Zumba class. Instructors from Mexico City (DF) come and teach for two hours. We move like machine-gun strippers, merengue renegades, Arabian princess caricatures. The DF gals make sizzle motions (lick their fingers and burn themselves on their glutes) as the small towners and we few gringas give it our sweatiest bests. The usual handful of men and boys scuffle on the outskirts and a line of old women in many skirts fan themselves and maintain a sort of gender-social vigil.

Vigil, vela. Las velas.

Another gender-social vigil of sorts, the velas are a series of all night parties that occur throughout the Istmus. They honor a saint but hardly anyone mentions that. Instead, they tell you to prepare to stay up drinking and dancing the entire night, every other night, for about two weeks. They tell you to gather all the flowers and makeup and skirts and the highest wedgiest heels you can manage. They tell you your skirts and huipel will be embroidered and velvet, regardless of the fact that these will be 100-degree nights.
The men wear black pants and white tops.

There are a few couples—the Hansel and Gretel, charmingly-aged-together sort—that impeccably dance the now-involuntary rhythm of their culture and lives together.

dos cuerpos frente a frente
son dos astros que caen
en un cielo vacio

two bodies face to face
are two comets that fall
in an empty sky

—Octavio Paz, "Dos Cuerpos"

But for the most part, the gender segregation at the vela is distinct. The men and boys constellate around the dance floor, a cooler of beer at their core. The women dance and then sit at long tables and fan themselves—dance, fan, dance, fan. I'm reminded of family gatherings in Pennsylvania: the women cleaning, clacking, griping in the kitchen and the men, silent and mesmerized by the glow of a televised football game. Moments I've wondered how the two gender-species before me manage to coexist for so long in their paradox of isolated-proximity.

I am bored and obviously single and feel the eyes of an obviously-single man near my table. Before I can hide under it he holds out his hand for a dance. Hardly accustomed to the fourteen-velvet-skirt situation, within two measures of the music water seeps through my face. He looks into my eyes for the six years of the two songs we dance together. Before the third picks up, I explain I need to leave to meet mi amiga. He asks where he can find me, if he can come to see me and when—a courtship rhythm; a foreign, urgent beat.

In the Isthmus, men marry. They marry young. After my experiences of icy marriages, divorces, and years in post-dating-queer and hipster-too-cool-for-earnest-interest Portland, such forthrightness frightens me. Lisa Wells describes "the Portland dating scene" in her book Yeah, No, Totally:

"If I liked a guy, the aloof exterior which first attracted him would dissolve and the frightening visage of a moon-eyed romantic would emerge...Eventually good feelings toward him mounted and I showed up to meet him one day in a plastered smile and dopey longing gaze. He was horrified and broke it off that very night, sat repeating, 'I don't get it. You were so disinterested.'"

Wells nails it. The dance of disinterestedness. A series of steps and turns projecting the cool, aloof exterior, turning to the advance of interest, turning to the withdrawal. All to the tune of a self-devised set of impossible expectations. "He's too this. She's too this. I wanted blue, but not that shade." My OKCupid profile still says I live Portland. Once in a while I receive messages and sometimes I "check out" the sender. The profile of the most recent sender begins like this: "First and foremost, let me set down some rules and expectations that I have for a woman who wants to date me." His list of nauseatingly-idiosyncratic criteria ensues.

From this to "Buenas noches, está casada?" [Are you married?]




ask the man in the neighboring hammock: "Well, what is macho to you? What is macho in Mexico?" He tells me that macho is to take care of the woman and to have control. It is to pay for things, to be caballeroso, to provide. He continues to call the man a sort of hunter and states, "Once he has her, that's it. It's over."




n "Malinche and Matriarchal Utopia" Taylor compares depictions of Mexican national conceptions of gender and ethnicity with depictions of gender and ethnicity in the isthmus of Oaxaca. She evokes Octavio Paz's description of the iconic Mexican woman dichotomy: Malinche and the Virgin of Guadalupe. Malinche—the passive, indigenous, earthy mother, delivered ("a gift") to the Spaniard father Cortés. And the Virgin—pure receptivity, untainted, a European figment. But because the Virgin is the saintly ideal, the indigenous woman represents the common wife of the Spaniard husband. Thus, Mexico's symbolic mother and father, as Taylor explains, "conflate ethnicity and gender, gendering ethnicity and ethnicizing gender." The masculine Mexican is conquistador European. The feminine Mexican is subjugated indigenous. And the mestizaje or mestizo—the biracial child of Malinche and Cortés—is the attempted nationalist solution to a complexly plural nation. As Taylor observes:

"The leitmotif of mestizaje as pharmakos—as the original problem and the ultimate cure for all that ails modern Mexican society—signals a profound anxiety about the foundational narrative that casts Malinche and Cortés as mother and father of the nation. When we examine this postrevolutionary refashioning of the historical figure of Malinche alongside the myth of matriarchal utopia among Isthmus Zapotecs, we can begin to understand how the latter might function as a safe repository for those heterogenous, unconquerable elements that threaten the state's limited imaginings of the national body."

The Isthmus is the different child. Special. Odd. Queer. Trans, erotic, matriarchal, artistic, indigenous, gifted, a blessing, a curse—all the "other" things within the homogenous, hetero, greater Mexican family-nation.

n irish jig, a genie in a bottle, a waltz. In efforts to research the origin of Zumba, I find that Colombian celebrity fitness trainer 'Beto' Perez arrived to teach his aerobics class only to realize he forgot his aerobics music. Instead, he had tapes of traditional Latin salsa and merengue that he had listened to all his life. Sites such as Livestrong, ZumbaCostaBlanca, and Zumba.com explain, "It was a challenge to improvise a whole class on the spot using non-traditional aerobics music. But Beto rose to the challenge and from this last-minute improvisation a revolutionary new concept in fitness was born—the Zumba Fitness-Party™! The class soon became the most popular class at his fitness facility!" Before the cheesy capitalist language creeps in, there is something charming about this story of accident and improvisation. Something about new moves to old tunes, about deconstructing the formal steps, about the cultural hodgepodge. And there's certainly a forgiveness; a splash of salsa here and a merengue sequence there are a lot less intimidating than the gossamer integrity of these dances in their pure forms, which, incredibly, every Mexican woman I meet seems to know, as though salsa is their hopscotch—one example of cultural cohesion that I often envy as an American. But at least Zumba gives gals like German Jennifer and I a chance to dance a few licks without feeling completely a-rhythmic, Anglo.

German Jennifer and I, white women, are rare and obvious in the Isthmus. Desired. Despised. Different. Emulated. But white women are not unusual to other Mexican landscapes. Visit a coastal town like Puerto Escondido, and there are flocks of nearly-naked, sunburnt and sandy white women. Rosier for the mezcal, electric with the uninhibited energy of travel in a land of impeccable coasts and an exchange rate in our favor. Flings are cast as the waves crash. Or they're not. And the people crash, desire anaesthetized, akimbo and crumpled in the sand.

ausencia – absence – feminine
genéro – gender, genre – masculine




aylor concludes her essay by asking: "What would Mexican national identity look like if the myth of Malinche no longer dominated primary school history textbooks and political discourse? Perhaps the libidinal energies trapped within the myth of Malinche and the countermyth of Isthmus Zapotec exceptionality could then be channeled into the recognition of Mexico's pluricultural and sexually multivalent reality." She goes on to insist that many of the extolled aspects of sexual liberation in the Isthmus can be found throughout Mexico.

GBLTTT - Lésbica, Gay, Bisexual, Transexual, Travesti y Transgénero.

In May, muxes have their own vela. "But," my friend tells me, "It's not really a vela, it's more like a drag show." Anyone can attend.
---

Sara Sutter's first chapbook, Sirenomelia, was recently published by Poor Claudia, the chapbook imprint of OCTOPUS. Sutter's poems are published or forthcoming in The Awl, Bayou, Fence, Windsor Review and various artisan journals.