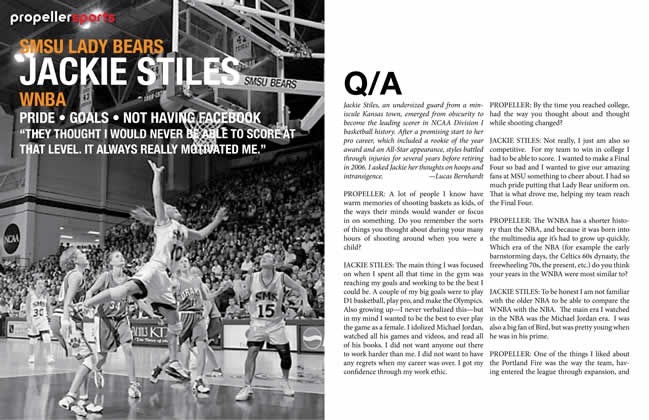 Jackie Stiles, an undersized guard from a miniscule Kansas town, emerged from obscurity to become the leading scorer in NCAA Division I basketball history. After a promising start to her pro career, which included a rookie of the year award and an All-Star appearance, styles battled through injuries for several years before retiring in 2006. I asked Jackie her thoughts on hoops and intransigence. —Lucas Bernhardt
PROPELLER: A lot of people I know have warm memories of shooting baskets as kids, of the ways their minds would wander or focus in on something. Do you remember the sorts of things you thought about during your many hours of shooting around when you were a child?
JACKIE STILES: The main thing I was focused on when I spent all that time in the gym was reaching my goals and working to be the best I could be. A couple of my big goals were to play D1 basketball, play pro, and make the Olympics. Also growing up—I never verbalized this—but in my mind I wanted to be the best to ever play the game as a female. I idolized Michael Jordan, watched all his games and videos, and read all of his books. I did not want anyone out there to work harder than me. I did not want to have any regrets when my career was over. I got my confidence through my work ethic.

PROPELLER: By the time you reached college, had the way you thought about and thought while shooting changed?
JACKIE STILES: Not really, I just am also so competitive. For my team to win in college I had to be able to score. I wanted to make a Final Four so bad and I wanted to give our amazing fans at MSU something to cheer about. I had so much pride putting that Lady Bear uniform on. That is what drove me, helping my team reach the Final Four.
PROPELLER: The WNBA has a shorter history than the NBA, and because it was born into the multimedia age it's had to grow up quickly. Which era of the NBA (for example the early barnstorming days, the Celtics 60s dynasty, the freewheeling 70s, the present, etc.) do you think your years in the WNBA were most similar to?
JACKIE STILES: To be honest I am not familiar with the older NBA to be able to compare the WNBA with the NBA. The main era I watched in the NBA was the Michael Jordan era. I was also a big fan of Bird, but was pretty young when he was in his prime.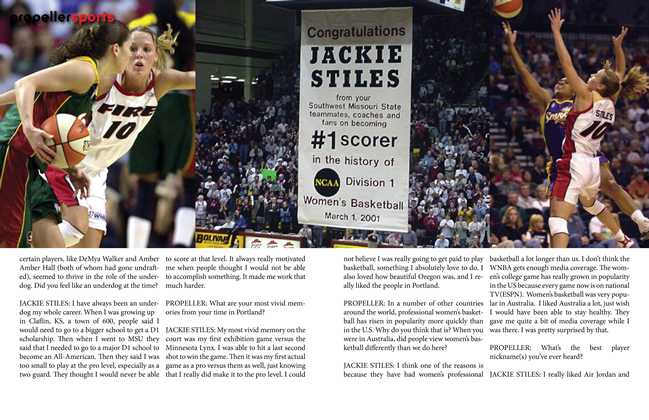 PROPELLER: One of the things I liked about the Portland Fire was the way the team, having entered the league through expansion, and certain players, like DeMya Walker and Amber Amber Hall (both of whom had gone undrafted), seemed to thrive in the role of the underdog. Did you feel like an underdog at the time?
JACKIE STILES: I have always been an underdog my whole career. When I was growing up in Claflin, KS, a town of 600, people said I would need to go to a bigger school to get a D1 scholarship. Then when I went to MSU they said that I needed to go to a major D1 school to become an All-American. Then they said I was too small to play at the pro level, especially as a two guard. They thought I would never be able to score at that level. It always really motivated me when people thought I would not be able to accomplish something. It made me work that much harder.
PROPELLER: What are your most vivid memories from your time in Portland?
JACKIE STILES: My most vivid memory on the court was my first exhibition game versus the Minnesota Lynx. I was able to hit a last second shot to win the game. Then it was my first actual game as a pro versus them as well, just knowing that I really did make it to the pro level. I could not believe I was really going to get paid to play basketball, something I absolutely love to do. I also loved how beautiful Oregon was, and I really liked the people in Portland.
PROPELLER: In a number of other countries around the world, professional women's basketball has risen in popularity more quickly than in the U.S. Why do you think that is? When you were in Australia, did people view women's basketball differently than we do here?
JACKIE STILES: I think one of the reasons is because they have had women's professional basketball a lot longer than us. I don't think the WNBA gets enough media coverage. The women's college game has really grown in popularity in the US because every game now is on national TV(ESPN). Women's basketball was very popular in Australia. I liked Australia a lot, just wish I would have been able to stay healthy. They gave me quite a bit of media coverage while I was there. I was pretty surprised by that.
PROPELLER: What's the best player nickname(s) you've ever heard?
JACKIE STILES: I really liked Air Jordan and Pistol Pete. A girl off my MSU team was nicknamed Hooks—it had two separate meanings. I will not go into detail.
PROPELLER: Jerry Rice in his Hall of Fame induction speech remarked: "I wasn't the most physical or the fastest receiver in the NFL, but they never clocked me on the way to the end zone. The reason nobody caught me from behind is because I ran scared. That old fear of failure again...I was always in search of that perfect game, and I never got it. Even if I caught 10 of 12 passes, or two of three touchdowns in the Super Bowl, I would dwell on the one pass I dropped." This reminded me of Bob Knight's comment that he always has an easier time getting over wins than losses. Do you think a degree of negativity—the fear or resentment of failure—is a necessary part of being competitive?
JACKIE STILES: I was definitely never satisfied, and I always thought I could be better/get better. I was the same way, focusing on the shot I missed instead of the ones that I made. I definitely hated losing more than I liked winning. I would rather die than loose. I was not scared of failing, though. I have always put myself out there and gone for it. One of the reasons I worked as hard as I did was because I did not want to have any regret when I walked off the floor. I could not always control the outcome, but I could control how prepared I was. I did not reach my ultimate dream of the Olympics, but I can live with myself because I know I did everything in my power to try to reach that goal.
PROPELLER: You have noted that a lot of young basketball players today seem more distracted than your generation of college athletes. Do you have any advice for the student athlete with Facebook, Twitter, and Flickr accounts?
JACKIE STILES: I would just tell them to be careful what they put out there, because it will never go away. They have a lot of young athletes looking up to them, so they want to be careful about how they carry themselves off the court, and what they put out there for all to see. I really take pride in being a good role model. It could also really hurt them in future job interviews. My sister just applied to Med School and got in. They strongly advised incoming students to delete their Facebook accounts. You just have to be very careful to not waste too much time on those kinds of things. That is why I don't have Facebook. I can hardly keep up with emails, phone calls, website, etc... Ω