Europe Endless
Fabio Bianco's Imaginative Freedom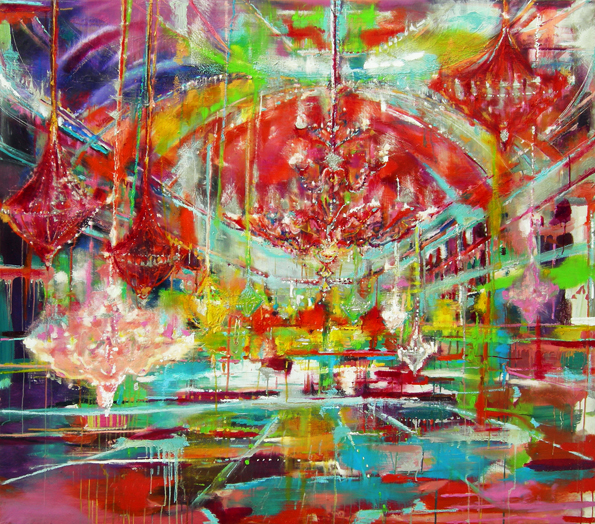 By Elizabeth Lopeman

abio Bianco's work inspires something new in the realm of contemporary painting, with saturated and blurred fields of color and nearly dizzying skews that toy with depth perception. The glamorized and enigmatic baroque interiors flirt with the fantastical as well as hearken to oft-heard complaints of media overload in a global culture of decadence and relentless advertising. At the same time, his dazzling use of a full spectrum to render depth within the antique environs of theaters and private salons extends an invitation into an at once familiar and beguiling world splintered with the refracted light of chandeliers. He frequently features towering and fanciful cakes, or they appear in backgrounds as they compound a frivolity and a freedom of the imagination with ideations of abandon and celebration.

Bianco's paintings have a decorative quality upon first sight, especially some of his more recent representations of rugs, but he reappropriates these attributes by manipulating the scale of identifiable objects—furniture, cakes, chandeliers, architechtonics and their embellishments—thus complicating the relationship between his representation of space and the "real" space occupied by the viewer. In conjunction with a vertiginous rendering of space, Bianco's use of color—reds, magenta, oranges and their counterparts, the contrasting blues and green—constructs a language of chaos and excess, the fantastical.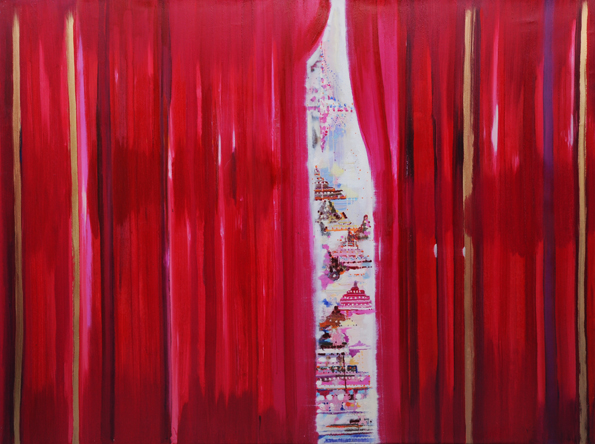 Bianco's work in many regards is a return to paint, with a healthy love of the medium and a pulling away from the current fashion of hyper-realism. We, the viewers, are invited to step away from what we can analyze in the razor-sharp lines of photo-exact images so impressively reflected from the brushes of Gerhard Richter and Karin Kneffel, and to move instead into a place of smeary, imaginative freedom. But freedoms come with prices and responsibilities, and because of these, Bianco's work also assumes a contemporary social commentary. While we live in a global culture that salivates at excess, we also recoil from its garishness, reminding ourselves in hindsight that we know better. Likewise, while Bianco's work offers carefully appointed loci ameni, they don't come free of a sugar-induced spin.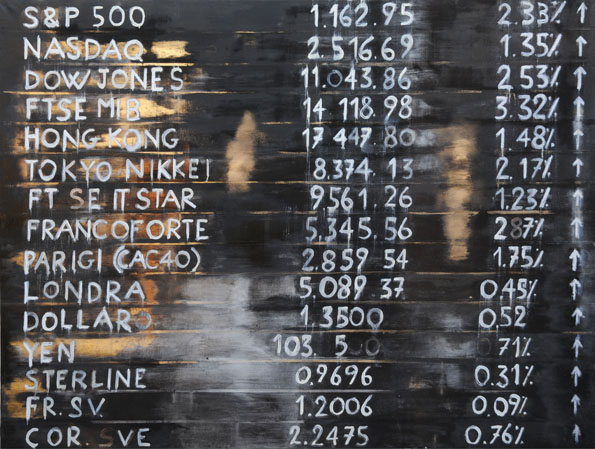 Fabio Bianco was born in Venice and graduated from the prestigious Academia di Belle Arti there in 1995, where he focused his research on reflective light in interior spaces, with attention to architectural elements. In a dramatic departure from his background and the style he has continued to explore, in 2012 Bianco presented an installation called "Business +" at dOCUMENTA, the important contemporary art exhibition in Kassel, Germany, that takes place only once every five years. For "Business +" Bianco created a fictitious investment bank based in art: a small outbuilding resembling a cabana, which featured canvases painted black with smatterings of gold leaf and charts in dripping white paint showing the S&P 500, NASDAQ, the dollar, the yen, etc., all on the rise—a Bianconian response to the global economic crisis.

In a world both blessed and fettered with contradictions, and one in which everything has been done, Bianco reinterprets historical elements of painting and orients viewers squarely in the liminal tension between excess and luxury. It is there that we find joy sans restraint and are simultaneously reminded of the potency of indulgence. Foremost, Bianco's work implores us to enjoy ourselves.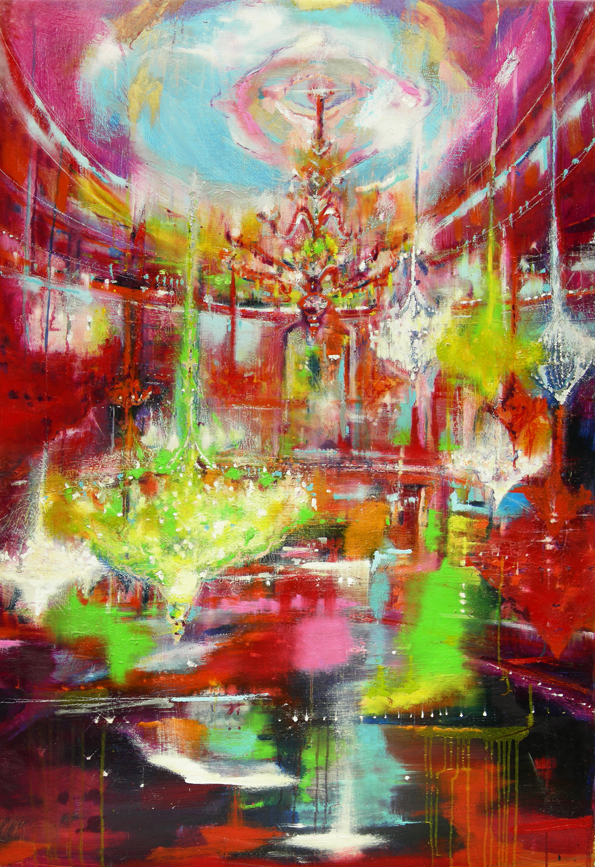 In addition to dOCUMENTA and numerous gallery exhibitions, Fabio Bianco's works have appeared at the Venice Biannual and will appear at the Thessaloniki Biannual in September.

---

Elizabeth Lopeman has written for Sculpture Magazine, American Craft Magazine, FiberArts, Bitch, Eugene Magazine, Drain Magazine.com, and various other magazines and websites. She currently lives and works in Munich.