NFL WEEK 10
NFL Click-Bait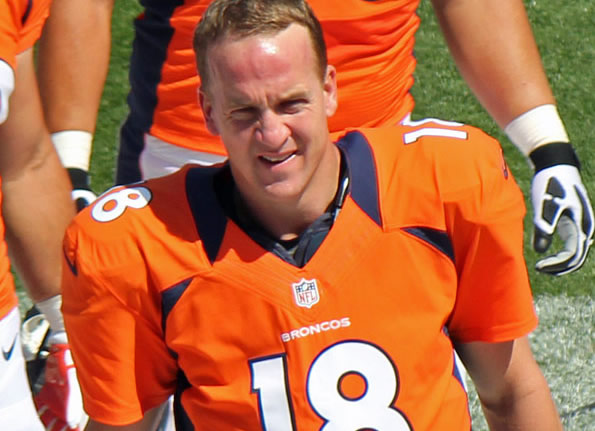 THE ONE THING BAD LOVERS FORGET. Got you, Manning! Why did you click on that?
By Eugene Tothero



know you're expecting the NFL Picks column normally written by my son, Pete Tothero, but Pete is busy with work this week. He sent me his picks and asked if I could write a little something about each game. He said I could write anything that occurs to me. I asked him if that was really the way this works and he said yes, nobody reads this column, I may write anything I want. I asked him if the entire Internet is that way—does nobody read it? He told me people read the Internet but nobody retains it. So here we go and thank you for having me!

Last week: 6-8
Season: 98-49
Of ESPN's 13 "NFL Experts," number who have a better record than Pete: 1
Is that true? How can that be true? My boy is as good as the experts?

THURSDAY

Indianapolis Colts (6-3) at Tennessee Titans (4-5)

Colts at Titans. This is the old Baltimore team against the old Houston Oilers, right? Hmm. The Houston Oilers were never really very good. Baltimore was often quite good, though, especially in the Unitas days. I know Unitas is not still the quarterback. Pick: Indianapolis

SUNDAY

New York Jets (5-4) at Buffalo Bills (3-7)

The New York Jets have never interested me. I wasn't a fan of Namath. Namath is famous and I believe he still walks around hitting on women, but you know, back when he was a player, he was good for about one and a half years. I don't understand how guaranteeing you will win one football game and then winning that one football game earns you the right to be famous, but then again I don't understand a lot of the things these players do and say. I don't know any of the players currently on either of these teams. The Jets used to have a player named Flipper, I believe. And whatever happened to Jim Kelly? Why isn't he in broadcasting? I think I saw him a few years ago, he doesn't slick his hair back with the pomade anymore. I'm sure he's perfectly acceptable, why does he not broadcast? Pick: NY Jets

Baltimore Ravens (4-5) at Chicago Bears (5-4)

Aren't the Ravens the defending champions? How do they have such a poor record when they just won the Super Bowl last season? Why is Jim McMahon not in broadcasting, either? Often when I turn on the television I have no idea who these guys are who are talking about the game. It seems like they pick only the middle of the road guys to talk about the game, and those guys just say a bunch of obvious things. Are the broadcasters afraid guys like Jim Kelly or Jim McMahon would say something too controversial? I wouldn't mind. I often fall asleep during the games, and I blame the announcers. It's okay to have a little personality! No more Troy Aikman for me forever, thank you very much. Pick: Baltimore

Cleveland Browns (4-5) at Cincinnati Bengals (6-4)

You just cannot trust Cleveland ever to come through. Poor guys. I remember Elway beating them in those AFC championship games in the 1980s a couple times. I felt for them. But it was their own fault, really. I know Elway is not still playing. Pick: Cincinnati

Washington Political Issue (3-6) at Philadelphia Eagles (5-5)

Why does it say Washington Political Issue? Oh, right, their name—we're not supposed to say it. I guess that makes sense. Times have changed. I'm surprised it seemed like a normal team name for so long, really. It's a little embarrassing. What other team names do we need to change? Is Buccaneers offensive to anyone? What about Packers? I don't even know what Packers refers to. That has always been an odd area of the country. Lot of Lutherans up there. Pick: Philadelphia

Detroit Lions (6-3) at Pittsburgh Steelers (3-6)

Every time I see the words Detroit Lions I think of the time their quarterback Gary Danielsen got hit so hard running out of bounds that his helmet flew off. You can't do that kind of thing anymore but let me tell you that when that happened it was exciting. I know I'm not supposed to say that, but there was a time that NFL players' helmets flew off and their heads or noses were bleeding and they shouted obscenities and that was football. I was raising a family in those days, little Pete was young, maybe I was not around as much as I should have been, but I remember them as good times. I'm sorry if that offends anyone. Pick: Detroit

Atlanta Falcons (2-7) at Tampa Bay Buccaneers (1-8)

This is the only game Pete left me a note about. He said I don't have to write about this one. Pick: Atlanta

Arizona Cardinals (5-4) at Jacksonville Jaguars (1-8)

I don't have any thoughts when looking at these team names. I know Arizona is the old St. Louis team. Where did the Jacksonville franchise come from? Why would the league put a team in Jacksonville, Florida? It seems an odd choice to me. Isn't that like having a team in Mobile, Alabama? Some of these decisions just don't make sense to me. Just because the league put a team there doesn't mean it's right. These are just human being running these leagues, they make mistakes. I always taught Pete he had a right to his opinions, not to be cowed by authority. Though he sometimes interpreted that advice broadly. I won't get into specifics. Pick: Arizona

Oakland Raiders (3-6) at Houston Texans (2-7)

Oakland used to have an American Indian quarterback named Jim Plunkett. He was quite good. I believe he won a Super Bowl. Not entirely sure, but I'm fairly confident about that. Anyway, I think I read a few years ago that he's not in the Hall of Fame. I don't go in for quotas or anything like that, but Plunkett was quite a player, it doesn't make sense he's not in the Hall. There are a number of guys who are in that football Hall of Fame that I was never particularly impressed with. Some of them I never heard of. But Plunkett's not in there? If that's true, it's an injustice. I always respected him—more young people should know about him. Pick: Houston

San Diego Chargers (4-5) at Miami Dolphins (4-5)

The things these players say to each other these days—just so foul. There was a time when foul language rarely wandered beyond taking the Lord's name in vain or a few common curse words that people even say on network television shows now. The language I read from that Miami Dolphin's text messages—just disgusting. I understand he feels he shouldn't have been fired from the team. But if you say foul, disgusting things to people, what kind of people do you expect will be your friends? Foul, disgusting people, I say. Pick: San Diego

San Francisco 49ers (6-3) at New Orleans Saints (7-2)

That Drew Brees kid is something. I don't think they lose much when they play at home in the Superdome, do they? Boy, he can really sling it. Pick: New Orleans

Green Bay Packers (5-4) at New York Giants (3-6)

I don't understand how the Giants' record is this bad, either. Haven't they won a couple Super Bowls recently? I saw in the news that Aaron Rodgers is hurt, so I imagine Green Bay won't be able to do much here. I feel badly for backup quarterbacks, I'll say that much. You're not used to being in there, there are huge guys coming after you, your teammates expect you to be the leader...it's no wonder they struggle. Pick: New York Giants

Minnesota (2-7) at Seattle (9-1)

The Vikings haven't much registered on my radar since the Fran Tarkenton days. I know they're still up there, obviously, but have they even made the playoffs. I simply can't remember an important NFL game that involved them...wait, Favre was there a few years ago and they got close, didn't they? Seems like an aberration. I do not care for Seattle's coach. He strikes me as a rah-rah guy, a bit glib. I am aware they are quite good, but that doesn't mean I have to like the coach, yes? I can name only three Vikings quarterbacks: Tarkenton, Warren Moon, and Brett Favre. Odd. Pick: Seattle

Kansas City (9-0) at Denver (8-1)

I saw the end of that Denver Broncos game last week, and let me tell you: Manning is hurt. The pain he was in, the way he was limping—I had an issue with my knee a few years back, and it was exactly like that. And I definitely was in no position to be playing quarterback for an NFL team, thank you very much. Not that I ever was, but you know what I mean. There's being a man and there's being stupid, and you have to know the difference. Pick: Kansas City

MONDAY

New England Patriots (7-2) at Carolina Panthers (6-3)

Is Carolina also an expansion franchise? How many teams are there now? I not against it, but there was a simplicity to the days when there were a limited number of teams, just in the big cities. Maybe I'm being nostalgic. I suppose more teams means more to talk about, though, and God knows people need something to talk about. They say Pete writes this column every week? It's beyond me why he does that. I mean no offense, but if no one reads it, what's the point? Thanks for having me, folks! Pick: Carolina

---

Pete Tothero works in finance but is somehow also this magazine's Sports Editor. He is not contractually obligated to have watched games he later knowingly references.