Revisited
Reconsidering the Tracks of "Reality Bites"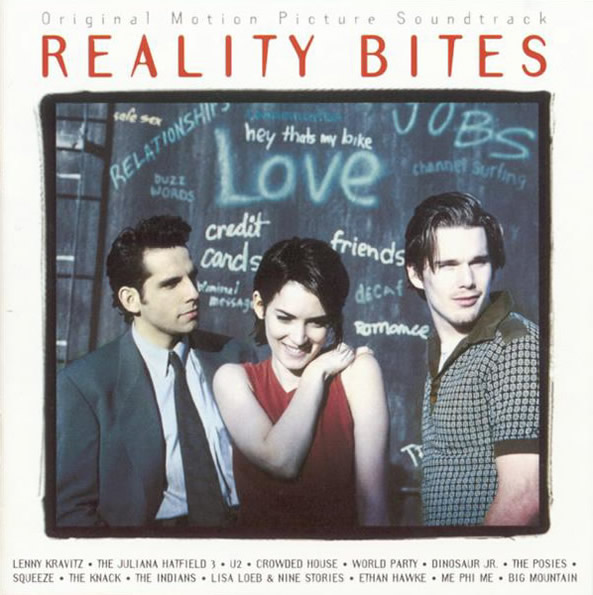 By Jessica Machado



f you were a young person in the '90s, you probably consider Reality Bites the epitome of nostalgia disappointment, the piece of cinema that's most painful to watch as an adult because you loved it so much as a teen and now it comes across as an unintentional parody of Gen X and what you thought your early twenties would be like. But what about the movie's soundtrack? Is that just as painful on a re-listen? Lisa Loeb comes to mind, with her grown-out Jennifer Aniston shag and cat-eye glasses, walking around an empty apartment, sweetly, neurotically figuring out if she should "Stay" with her dude, or fill up the place with some actual cats (I don't know, she just looks like a cat lady to me), and we can probably agree that "Stay" is a pretty annoying song without having to give it another shake because it's stuck in our heads right now (sorry for mentioning it). But what about the other tracks that reeked of unrequited love, reluctant selling-out and doily-dress mishaps? Well, let's reconsider some of the film's more memorable songs, shall we?

"My Sharona" by The Knack: Like "Stay" and "Tempted," "My Sharona" will forever be linked to Reality Bites in my brain and register as extra campy because of it. I know the song had a long, respectable life before this movie, but I can't help but picture Winona Ryder and Janeane Garofalo making spastic go-go moves in a convenience store, which reminds of how my girlfriends and I would spin around in a whoo-hoo, look-at-me manner in our early twenties, the only people dancing in the whole bar, and it makes me sad that we were never really as carefree and spontaneous as we thought we were. On the other hand, I can recall the scene in which Talking Heads' "Road to Nowhere" plays (in the joke documentary Reality Bites within the joke that is the film Reality Bites), and yet it remains an excellent song in spite of its association––or maybe even because of its association. David Byrne's march toward ambiguity might be the most Gen-X song of all––"Taking that ride to nowhere/We'll take that ride"––and yet Byrne's a Boomer and the song was written in 1985. "Road to Nowhere" is a timeless fuck-you to those who hate on the young and arty. It doesn't sound sad or fake but hopeful and real (and maybe a little smirky) and that's why it works: "The future is certain/Give us time to work it out."

"Spin the Bottle" by Juliana Hatfield Three; "Bed of Roses" by The Indians: Oh no, I remember this place. It's where lady singers went wrong in the '90s. A soft right turn from Bikini Kill daring you to "Suck My Left One" and Salt-N-Pepa shouting "None of Your Business," into the too-comfortable later years of the Clinton era, where women had stopped getting angry because they believed the establishment had already been knocked down (ha!). A time when critics actually thought Sheryl Crow and Liz Phair were "tough." This was this origins of twee, where Juliana and The Indians sound like a bunch of adorkables in tailor-made vintage dresses who whisper-squeal, "Ooooh! Five minutes in the closet with you!" No thanks, sister, a 15-second peek was enough.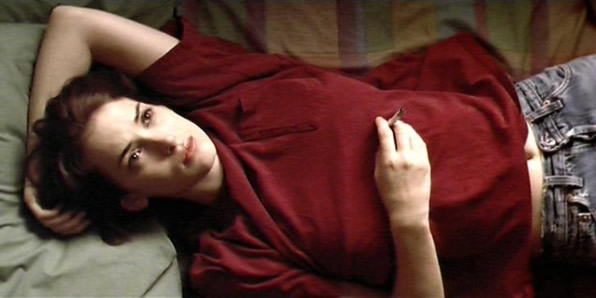 "All I Want Is You" by U2: Surprisingly, I do not hate this song? I might even, um, still be moved by it? Like I was when I was 16? I know, I know, this is embarrassing; I've spent the better part of the last dozen or so years making fun of Bono. But maybe I've focused too much on his horrendous glasses and modern-day Euro ego. Here, his voice is rich and not affected like most male rock singers I can no longer stand (see Eddie Vedder, Chris Cornell), and behind it, an orchestra closes in, adding greater melancholy and theatrics, which inner-teenage me can't help but eat up. Like most of this soundtrack, it's a very alterna-heartbreak song, but it's also a traditional big-rock ballad, filled with expert vulnerability. Bono looks you in the eyes, opens up and demands that all he wants is you––then he basically drops the mic. Dude knows what he's doing. He has sang in the name of love before. He isn't afraid to admit he can't live with or without you. Bono is from the '80s. He isn't your regular '90s aloof slouch.

"I'm Nuthin'" by Ethan Hawke: "Nuthin'" with its "u" and abbreviated-apostrophe state is that '90s slouch, the slacker version of "All I Want Is You." Hawke isn't committed to much other than his hoarse voice and squinty bravado, evoking a smugness that falls somewhere between totally crafted or completely vacant. This song reminds me of why I was such a rube in high school, when guys like Hawke, Jared Leto and Luke Perry (and the characters they played) seemed dreamy. And here we are 20 years later, and these guys are pretty much the same guys (I recently saw Luke squinting on some prime-time show)––and I believe two out of three are still real-life cads. But hey, whatever. I'm just as concerned about my own taste and mental state at age 36––I mean, I just basically said that Bono has more going for him than Ethan Hawke. I guess it's like having a crush on the okay, vanilla guy at work––I blame my lack of choices.

"Baby, I Love Your Way" by Big Mountain: There's a time in every decade where one reggae band breaks through with a Top 40 hit and then other reggae bands think reggae is finally going to Make It––but never does. In the '90s, UB40 was that Top 40 band, and Big Mountain were hoping to weasel their way past UB40's foot in the door. Like other best-known reggae songs that aren't by Bob Marley, this one is a cover, originally made famous by rock relic Peter Frampton. It has your steel drums, your syllable-by-syllable inflection (including a random "La. Ti. Dah."), your dropping off of necessary plurals ("with help from some firefly"), and even a sax solo in case you thought this was ska, which also hoped to finally ride its third wave to acceptance. These days, you could hear how the song would be perfect for the closing credits of an Adam Sandler movie. That's about the best compliment I can give.

Album re-listenability: 3

---

Jessica Machado is an associate editor at Rolling Stone and author of the blog "Baggage Claimed" (baggageclaimed.tumblr.com). Her work has appeared in Bust, The Awl, and The Economist's More Intelligent Life, among other publications.