NFL WEEK 8
Free Schiano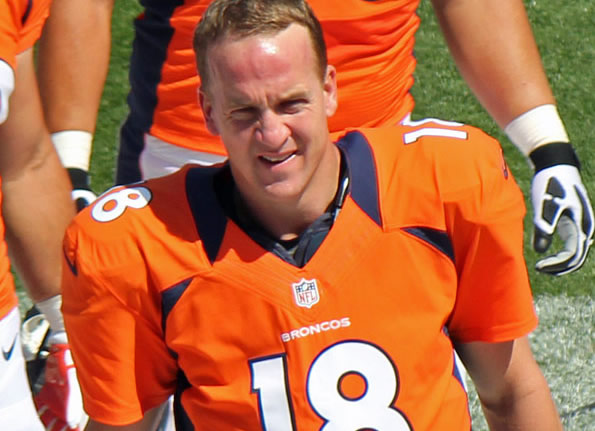 Because the Denver Broncos health plan has a high deductible for eye exams, many players and coaches make do with whatever vision nature has left them.
By Pete Tothero



s this week's slate of games full of dull, ugly match-ups, or is it just me? It's me? Oh. That's weird. I wonder why I'm seeing a dull and ugly NFL when other people don't. Do you think I'm projecting? So I am the one who is feeling dull and ugly? Hmm. Actually, sure—that seems right.

Last week: 9-6
Season: 70-37
Of ESPN's 13 "NFL Experts," number who have a better record than me: 3
How long I expect this success to continue: How long will the "experts" be picking?

THURSDAY

Carolina Panthers (3-3) at Tampa Bay Public Outcry (0-6)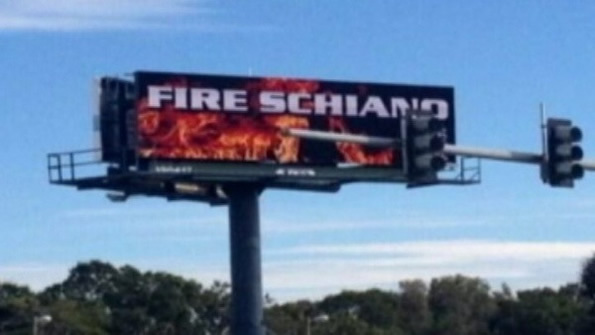 Tampa coach Greg Schiano said he was disappointed the billboard company misspelled the word "free."

Sometimes when a coach goes it's like a mighty oak slowly falling. Mike Shanahan in Denver, Andy Reid in Phildalphia—one sensed, with a kind of amazement, that they were beginning to lean, and then, wait, is this for real, yes, they're falling, the mighty oak, supposedly indestructible, is falling! Tampa Bay's Greg Schiano is not of this order. In Tampa at this point it's, "You know, we still need to remove that Schiano. It started small in the corner of the yard but now it's vining out through all of the grass. You have to tear it out." "I know." "Don't just say 'I know.' Please do it." "I'll get to it! It's not going to make a difference if I get to it a few days from now." "It is going. To strangle. The entire. Franchise!" Pick: Carolina

SUNDAY

Dallas Cowboys (4-3) at Detroit Lions (4-3)

Is my goal to catch the great Jaworski and have a better picks record than all of ESPN's "NFL Experts"? I don't think that's going to happen, but this is one of the few games this week where the "experts" have divided opinion, and gaining a game on someone is possible. When the season began I said this year I was going to try and like Detroit's particular brand of crazy. I'm also constitutionally opposed to the Cowboy's vain, insane, stupid owner. So I'm just going to stay true to myself and pick this game with my heart, because that is what is pure and beautiful about me. That I waste my time doing this. Thoughtlessly.

That didn't work. Pick: Detroit

Cleveland Browns (3-4) at Kansas City Easy Schedule (7-0)

Did Kansas City receive this schedule as a Christmas present from the league last year? Is this the franchise's 50th or 60th or seventy-eleventh anniversary? Is there a reason K.C. gets to be undefeated primarily as a result of playing week after week of the league's weakest teams? Pick: Kansas City

Miami Dolphins (3-3) at New England What Rules?(5-2)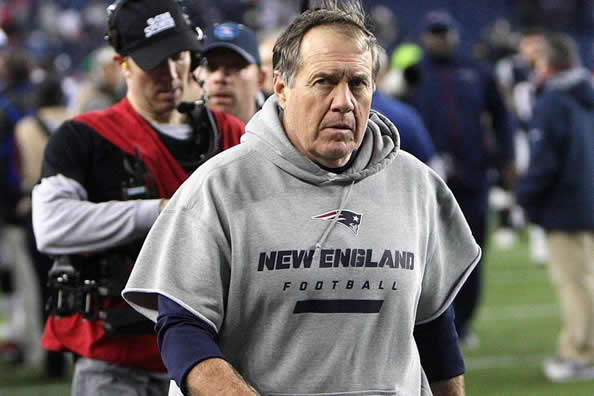 The slimming effect of a cut-sleeved hoody gives Coach Bill Belichick a sassy, striding confidence.

I want to get behind Miami, but I don't trust them. Every time I think it's time, and I pick them, they lose. That dynamic is meant to describe my relationship with myself, not with the Miami Dolphins. C'mon, Dolphins!

Meanwhile, Pats Coach Bill Belichick quasi/kind of/in a way admitted this week that the Patriots players had been coached to slightly/kind of/in a way break the rules on field goal defense, which resulted in a penalty and Patriots loss last weekend. Can we depend on the Dolphins to play the Patriots close enough that a similar small sin decides things, though? Probably not. Pick: New England

Buffalo Mystery (3-4) at New Orleans Saints (5-1)

I can't figure Buffalo out. I'm hoping that their being at New Orleans means I still don't have to. Pick: New Orleans

New York Giants (1-6) at Philadelphia Eagles (3-4)

The Eagles scored all of three points in their last game. I know, I know, they were down to third-stringer Matt Barkley at the end of the game—but that was only at the end. Michael Vick is apparently ready to go this weekend. Maybe.

So everyone is picking the Eagles in this game. I don't think the Giants are that bad. Are they? Does everyone know something I don't? Well, yes, I mean—obviously, the world knows something I don't, or how to explain the fact that I've ended up here, doing this. I just mean isn't it time for the shocking, "bad" loss Philly always suffers at some point in the season, throwing the entire city of Philadelphia into coniptions? I kind of think it is. I am totally playing a wild hunch here. Pick: NY Giants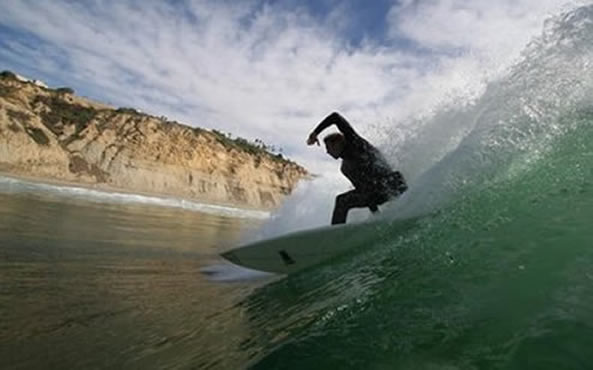 A little time at the beach prepares this Jacksonville Jaguar to realize this caption doesn't make sense.

San Francisco 49ers (5-2) at Jacksonville Jaguars (0-7) at If You Must Do That, Please Play Away From the Other Children

Game in London. Poor Jacksonville. Poor London. Look away. Pick: San Francisco

New York Jets (4-3) at Cincinnati Bengals (5-2)

Lucky at Weird. Overlooked at Unrespected? Overachieving at Finally Achieving. We Work the Refs at Coach Said We Just Need to Work, Don't Think About the Refs. I have no idea. Pick: Cincinnati

Pittsburgh Costume Hardhats (2-4) at Oakland Decorative Spikes (2-4)

Which team's fans will wear more spiked clothing to this game? I give a slight edge to Oakland. More hard hats? I see a slight edge for the Steelers fans there. Eye black? Oakland. Attending the game in dirty gray sweatpants? Pittsburgh. Aggressive, tough-looking men who actually still live at home with their parents? Oakland should dominate that category. Aggressive, tough-looking men who when they go to Starbuck's have a suspiciously ready response to what kind of tea they would like? No one competes with Pittsburgh there. It's too close! I can't call this match-up!

Also there's the football game, but I'm not gonna watch that. Pick: Oakland

Washington (2-4) at Denver Broncos (6-1)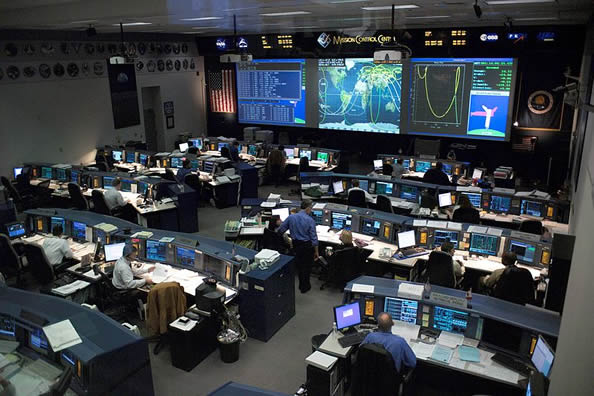 Project Omaha: Engineers at Mission Control attempt to track Peyton Manning's wobbling passes.

Exposed! Peyton Manning throws wounded ducks, the Broncos defense can't stop anyone, and Broncos head coach John Fox and defensive coordinator Jack Del Rio continue to squint out toward the field as if they have no idea what is happening, probably because they have no idea what is happening. (Fox and Del Rio: Just wear your glasses. Seriously, what you're doing is weird.) The Broncos can't even blame the devil for defaulting on whatever deal they made with him, on account of how much more can you expect from him? They were still in the game in the fourth quarter against the Colts last Sunday, even though they had no business being even close. He's the devil, he's not a magician!

So here's the question: Will a finally-in-shape Robert Griffin annihilate the weak Broncos defense in Denver this weekend? Will Manning continue to stumble before launching wobblers that are underthrown by five yards? I would pick Washington, but they don't have any defensive backs, which means this game could end 63-60. Every time I pick against my own instincts I end up hating myself—but hating my own tendencies is one of my tendencies! I'm going to pick the Broncos while also suspecting they could get stomped. Pick: Denver

Atlanta Falcons (2-4) at Arizona Cardinals (3-4)

Everyone thinks Atlanta is going to win this game, but they're not. It's in Arizona. It will be hot and dry and buzzards will be circling overhead and two of the referees will be tumbleweeds spray painted black and white. The Cardinals will in all seriousness start a saguaro cactus on defense and it will record two sacks in the first half which will force the Falcons to begin accounting for it in their blocking schemes. One side of the stadium will chant, "AHM YOUR!" and then the other side will answer "HUCKLE BERRY!" They'll go back and forth, everyone laughing. Very disconcerting for nice boys from Atlanta. Pick: Arizona

Green Bay (4-2) at Minnesota (1-5)

Just because Minnesota won that one game in London doesn't mean they aren't the worst team in the league. Wins in London shouldn't even count. Sunday Night Football indeed. Pick: Green Bay

MONDAY

Seattle (6-1) at St. Louis (3-4)

St. Louis just lost Sam Bradford for the season. The rumor is that they inquired about Brett Favre's availability this week and he turned them down. Is the reality that Brett Favre started a rumor that the St. Louis Rams inquired about his availability and he turned them down? Maybe. Sigh. Monday Night Football on ESPN. Let's check in with the experts. Or not. It doesn't matter. There are too many teams in this league. Pick: Seattle

---

Pete Tothero works in finance but is somehow also this magazine's Sports Editor. He is not contractually obligated to have watched games he later knowingly references.