NFL
Week 1: Flacco said what?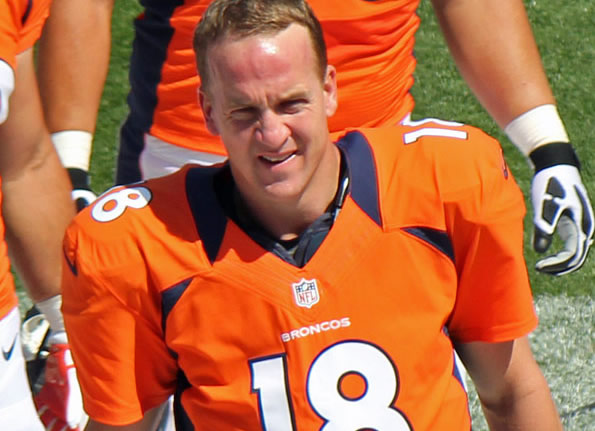 By Pete Tothero



he editors of this website asked if I would write an NFL picks column again this season. They had one requirement: that I write the column every week, instead of what I did last season, which was sometimes write, sometimes not return their emails. I did the math for them—again—that shows why trying to "be a writer" doesn't work, and then asked the question any normal person would ask: What was the minimum word count they wanted each week?

Would you believe they had no answer? They hadn't even considered it. And some of these people work at accredited universities. This is why the Chinese own our country.

Baltimore Ravens at Denver Expendables

"I think it's retarded," Ravens quarterback Joe Flacco said last year when asked what he thought about the fact that this season's Super Bowl will be held at MetLife Stadium in New Jersey, making it the first cold-weather (one hopes) Super Bowl. This was a prescient bit of arrogant assholery from Flacco, in that it was exactly the same politically incorrect reaction many people had to the Ravens winning the Super Bowl a few days later, since everyone knew the critical component of the Raven's success was actually Denver defensive back Rahim Moore's inability to keep track of his one job at the end of the Baltimore-Denver divisional playoff game.

Flacco's disdain for football played in football conditions won't be an issue this year since the Ravens won't make it that far, but I hope Flacco attends the Super Bowl as a spectator and they show him on tv, with that low hairline almost touching his monobrow as he sits in the stands eating popcorn kind of sloppily with a grin on his face, next to a text graphic that reads:

BALTIMORE QB JOE FLACCO: Said Super Bowl "retarded."

The Broncos are the NFL's version of The Expendables: they've gathered together many of the league's over-the-hill players for a rousing, we-can-still-do-it-even-though-we're-old campaign. It can only be a matter of weeks before we hear Harrison Ford has signed on to play the role of coach, normally impersonated by John Fox. Fox is the man who, during that divisional playoff game against the Ravens, elected to have the Broncos offense fall softly into the grass on third down at the end of the fourth quarter and then punt the ball to the Ravens, even though the only way the trailing Ravens could come back was if, you know, someone took the ball out of Peyton Manning's hands and gave it to Baltimore. Fox, often red-faced and confused by reporters' questions, took care of that, then probably turned and, when he realized all of his players were stunned by the cowardice of the move, said something like:

The Ravens have flipped so many players and the Broncos have been so inept (and their staff so drunk) this offseason that it's tough to call this game. All I can hope is that Flacco screws up for the Ravens and Bruce Willis comes in at running back for the Expendables, takes a handoff from Jason Statham while a screaming Sylvester Stallone fires an AK-47, and then runs for a touchdown, stuff blowing up behind him while offensive lineman Arnold Schwarzenegger runs past Flacco on the sidelines and yells, "It's nawt retawded!" Pick: Expendables

New England Weird Angers at Buffalo We'll Probably Have Enough Players

I wonder how many times New England tight end Aaron Hernandez and Ravens linebacker Ray Lewis regarded each other with a kind of nodding recognition during Patriots-Ravens games. (They were both injured at times, so maybe it never happened. I refuse to do the necessary research.) The Patriots are a mess, but the Bills are worse. This is like functional alcoholics vs. falling-down alcoholics. The former will disdain the latter and just be strangely angry all the time for no reason—maybe because they know the line between them is actually pretty thin? I would love it if the Bills could win this game, but... Pick: New England

Cincinnati Bengals at Chicago Bears

Ugh. Jay Cutler is still in the league. I don't have the stomach to consider him right now. It's Week 1, I'm not in shape for that. Sorry. Pick: Cincinnati

Miami Dolphins at Cleveland Browns

Why is this match-up not the nationally televised Thursday night season-opener? You have to admit it's evenly matched. I wonder how many Dolphins games NBC is going to dial up for us on Sunday nights this year. Let me just check that real—oh. Pick: Cleveland

Atlanta Falcons at New Orleans Saints

"Who dat?" I don't know. Who are you referring to? "Who dat say dey gonna beat dem Saints?" Those are the Atlanta Falcons. But wait, did they say they were going to win? Has there been pre-game trash talk? "Who dat?" I think it should be 'whom that,' actually. Though I don't understand. I mean, whom you are asking about. Or, wait...about whom...you are asking. Now you're messing me up. "Who dat say dey gonna beat dem Saints?" Please stop doing that. "Who dat?" That's enough. Pick: Atlanta

Tampa Bay Buccaneers at N.Y. Jets

Great. I say to myself, "You're picking too many visiting teams," and then the next game reads "at N.Y. Jets." Pick: Tampa Bay

Tennessee Titans of What, Exactly? at Pittsburgh Steelers

Pittsburgh isn't remotely the team they were a few years ago, but no one picks Tennessee on the road. This feels like an upset special, though, doesn't it? Let's play a hunch here. Pick: Tennessee

Minnesota Vikings at Detroit Lions

The Lions are crazy, but I've decided that this year I'm going to try to like the kind of crazy they are. They were awful last year, but when pointed in the right direction they should be perfectly capable of winning at home against a team quarterbacked by Christian Ponder. And I've decided that's inspiring. For now. Pick: Detroit

Oakland Randoms at Indianapolis Colts

Any game that has Oakland in it just feels different. The same neurons that fire in my brain when I think of the word "exhibition" fire when I see the words "Oakland Raiders." I'm serious. It's weird. Pick: Indianapolis

Seattle Seahawks at Carolina Bobcats. No, Hornets. No...Panthers?

Last year I made jokes about disliking Seattle and then they started stomping everyone and, though I didn't admit it, kind of won me over. Pick: Seattle

Kansas City Chiefs at Jacksonville Ooh, Kitties Like to Play

I'm picking too many visiting teams. I know this. But the Jaguars? Pick: Kansas City

St. Louis Cardinals at Los Angeles Rams
Los Angeles Cardinals at Arizona Rams?
Arizona Cardinals at St. Louis Rams?

This match-up happens twice each season and baffles me every time. Do these teams have identities? I promise to investigate. At some point. Pick: St. Louis

Green Bay Packers at San Francisco 49ers

Someone pointed out last year that I never bet against the 49ers, but I need a compelling reason to do so, and it's tough to find one. Green Bay's Aaron Rodgers is an old-school stud (nobody uses that term anymore and we're probably the better for it, though I think it fits in his case), but I'm not sure he has much support. Key words: "I'm not sure." Pick: San Francisco

N.Y. Giants at Dallas Cowboys

Oh, hey, here's one of those games the talking heads are going to talk about a lot, as if the NFC East is the be-all, end-all, and the Cowboys are somehow a super-important team we all must think serious analytical football thoughts about. If you took the entire Dallas organization and replaced the Cowboys decals with Jaguars decals, no one would be interested in them at all. The problem is that when the Giants are good, they don't start being good until the second half of the season, and when they're bad, they don't start being good at all. Those two things look the same in Week 1, so what's a guy to do? Oh, right—they're playing the Cowboys. Pick: N.Y. Giants

Philadelphia Eagles at Washington Griffins

Philadelphia. I know, weird, right? And I'm picking way too many visiting teams. But picking Week 1 games is pointless anyway. Nobody knows anything. Washington's Robert Griffin has had zero reps, and Philadelphia's Chip Kelly seems to have his players believing in the power of practicing fast while music blasts and you carry yourself like a little bantam rooster. I kind of dig it, though I shouldn't. Pick: Philadelphia

Houston Texans at San Diego Chargers

Everyone living in Houston is, by definition, automatically a Texan, so that's redundant. On the other hand, whoever started the Chargers drew a lightning bolt and called it good. Pick: Houston

Pre-season NFL football is fake, invented offseason stories are of little relevance, Week 1 is a roll of the dice, I do not stand by these picks in any way whatsoever. My only advantage is that though I approach the NFL from a distance, it is also through a long lens. Let's go.





---

Pete Tothero works in finance but is somehow also this magazine's Sports Editor. He is not contractually obligated actually to have watched games he later references.