Library
Living Apparitions
Alexander McQueen: Savage Beauty
by Andrew Bolton, Susannah Frankel, and Tim Blanks
Review by Alex Behr
"There's blood beneath every layer of skin." —Alexander McQueen
"I want people to get joy out of clothes again." —Alexander McQueen
"My collections have always been autobiographical, a lot to do with my own sexuality and coming to terms with the person I am—it was like exorcising ghosts in the collections." —Alexander McQueen

our models inhabit the clothes as faceless or headless mannequins within Alexander McQueen: Savage Beauty. This coffee-table book was published to coincide with the extremely popular show of the designer's work at the Metropolitan Museum of Art in New York, in the spring of 2011. The clothes, shoes, hats, and accessories emerge from the crepuscular imagination of McQueen, who died at age forty in 2010.
These apparitions-as-clothes allude to people who creep out in perfectly tailored pants that creep down the bum, who cinch their waists to fit into dresses made of iridescent clamshells, who obscure their faces with molded leather and enclose their torsos with plastic bodices laced with worms. The four models—Polina, Katerina, Lyza, and Uliana—had their limbs and torsos and extremities painted with white acrylic paint. In some photos you can see the paint worn off, as if the skin were sanded. These women were dressed and posed. Then they vanished. Once digitized, the models' heads were transformed into opaquely white orbs surrounded by, for instance, taxidermied hawks. In most of the photos, however, the women's heads were chopped off completely, leaving a white neck, angled and smoothed.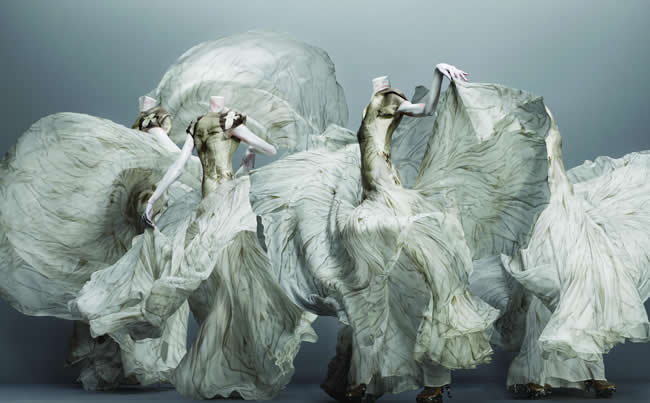 The cover, in contrast, is a black-and-white hologram of Alexander McQueen's head, switching between his studied gaze at the camera and a skull covered with gasoline-like drips coursing over water. I love the book. Yet it is like a musical score. You need to view videos of the runway shows to experience the clothes, shoes, and accessories as they were meant to be seen, in motion, then gone—ephemeral and phantasmagoric.
The book is number one in sales on Amazon in art-related categories, reflecting the tens of thousands who marched through the Met to see the show. It smells like ink. It's tall and feels important. It contains detailed essays and profiles of the designer in the front and an interview at the end with Sarah Burton, who's taken over the company after McQueen's death.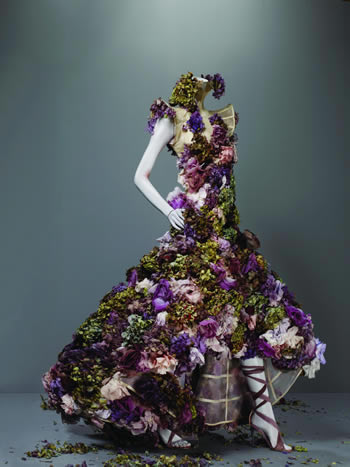 The book's main chapters follow the museum show's progression. They organize a wildly eclectic imagination by tying to the theme of the Romantic. A cabinet of curiosities completes the show. Each page shows one of the decapitated or faceless models posing on a gray floor in front of a gray background. Often, random quotes from McQueen counter the images, such as, "Animals…fascinate me because you can find a force, an energy, a fear that also exists in sex."
Each chapter begins with a vertical filmstrip of images from the runway shows—brief glimpses into lost moments for which only the insiders of insiders could witness and experience. As inspiration for his couture shows, McQueen drew from brutal aspects of Scottish history, Japanese courtesans, wolves, Grimm fairytales, the Salem witch trials, global warming, African "primitivism," robotic automobile manufacturing techniques, Jack the Ripper, Joan of Arc, Marie Antoinette, and even the TV show Friends. He lit runways on fire and created an angelic hologram of Kate Moss that disappeared like the last flicker of a lightning bug.
His clothes melded an intense focus on detailing and color sophistication with state-of-the-art pattern making and fabric creation. Yet McQueen, trained as a tailor, could also pattern on the body with the simple tools of scissors, tape measure, and pins. He also collaborated with other artists and craftspeople, such as milliner Philip Treacy, whose creativity enhanced McQueen's vision. The designs thrived on the tension of decay, weaving real and silk flowers into a gown.
After the couture shows, he often suffered from depression. He had tried to kill himself at least twice before succeeding, if that verb can be used, on February 10, 2010. He killed himself the day before his beloved mother's funeral. His voice, smell, and touch are now lost to his dogs. He left tens of thousands of pounds for their care, and he referenced them in his suicide note. In his will he left money for his family, housekeepers, charities, and the art and design school from which his career launched. (Fashion icon Isabella Blow bought his graduation collection and became his muse and supporter.)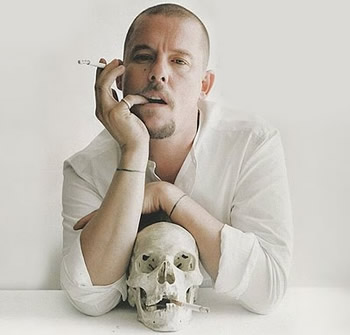 Cynicism and idealism can exist together. While the book intends to be gorgeous and to inspire, it also intends to further the brand. Near the back of the book, you see a full-page color photograph of McQueen. He poses from the waist up, with his pinkie finger in his mouth. McQueen has a shaved head and a moustache, goatee, and lip tickler. He's wearing a collarless white shirt with the sleeves rolled up. He has a tattooed line around each wrist. One hand rests on top of a human skull. The skull has a lit cigarette in its mouth, with part of the ash toppled onto the table. It's hard to infer McQueen's intent from the photograph, harder still to imagine him walking into an armoire in his London home and hanging himself.
High on cocaine, tranquilizers, and prescription drugs, McQueen used some sort of rope around his neck to fall, to end that bad light in him. In the McQueen collection now on sale in 2012, skulls festoon cotton t-shirts, silk scarves, shoes, and purses. Even a McQueen keychain is a skull. These are Day of the Dead-style skulls, skulls you'd find on the back of skateboards, skulls you'd find on SS guards' caps. These are not skulls reinterpreted by a genius. Perhaps these items, priced at $300 for a t-shirt or over a grand for a purse, are a crass symbolic tie-in to the skull on the book cover and to our knowledge of his death.
Until 1888 in Britain, the hangman could keep the dead prisoner's clothes and rope. He could then sell them in pieces to the public or to Madame Tussaud's wax museum, bringing in extra cash based on the dead person's notoriety. Now you can have the product line of McQueen Designs, available on Zappo's website.
Jennifer Stady, a fabric designer and artist, takes a less cynical view of the book and the tie-ins than I do. Over tea, we looked at the book as an object.
PROPELLER: Have you learned anything from him in particular?
STADY: How he treated the feet and the shoes. They were always unified with the garment but treated in a different way. The head might be obscured or the shoes were beyond huge. He had an unstoppable urge to create this image or look or feeling. He had hats made of butterflies and birds. He used everything possible on the body and beyond. When you examine the book, you see how bizarre his ideas were. You have to stop looking at it as clothing and more in terms of what he did with the body as a canvas.
PROPELLER: Does it dilute anything for you that all this cynical McQueen product manufacturing is going on now when the designer was trying for pure art?
STADY: I think it was going on while he was alive, too. I don't think they'd change the brand in that way…
PROPELLER: But is that cheapening the brand?
STADY: Most people would think it was cheapening the brand, but if you examine that, why is that so? It's cheapening the brand for people who can afford to buy his couture stuff, but for me, who can only afford that, it's great. It's stretching the access. On the other hand, in looking at this book, there's something accessible about his designs even though you can't have it. Like this picture—a ripped green leather dress with no hems and spikes sticking out of the neck. It has a cut in the middle of the breast, very dangerous. The leather is worn. It gives me something just to look at it. I don't want to buy any of this stuff—I don't want to spend this kind of money ever, but I appreciate it. It's like how art gives me something. Looking at this book makes me happy and exhilarated. He was generous that way, wasn't he? He had so many beautiful ideas that were beautifully executed.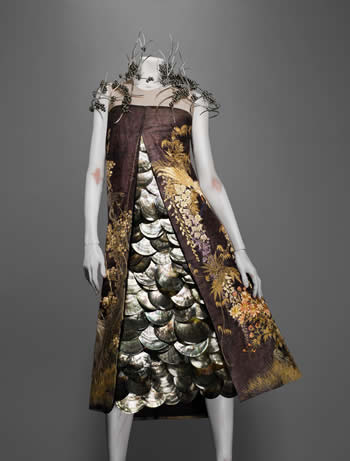 PROPELLER: He was so interested in death and decay and finding the ugliness in things, but maybe that was just an attitude? I don't see a lot of ugliness in these pages. Even with the shells on this dress—look at the iridescent quality of them.
STADY: He transcended that. Maybe he was attracted to fabric and materials that could decay easily, but or that showed signs of wear…Look at this burlap dress here. It could easily decay, so maybe he was attracted to burlap for that reason. You just find what you want to find in it.
PROPELLER: On YouTube, you can see the hologram he made of Kate Moss wearing that floating, angelic silk dress. You need to see it in movement to understand it. Then it's always in your mind when you see the two-dimensional image. That's the problem with the book, that it's static.
STADY: That's the thing about clothes: you can't experience them as they are supposed to be without putting them on a body. Yet when you put them on a body, it changes the clothes and brings another human element that is unpredictable and uncontrollable.
PROPELLER: With clothes, there's a strong drive to conformity. This book represents a fantasy world of how you can exist outside that, but I'm sure the people who can afford to wear these clothes might go to nightclubs. There the idea of conformity is to stand out, so it's interesting—how do you find a middle ground?
STADY: I don't think he was at all interested in a middle ground. From that Stella McCartney profile in the New York Times magazine, it's clear she's designing for women like herself. She's making garments for successful, creative moms—women who are trying to do it all. I don't think she would ever make anything like McQueen's designs.
PROPELLER: He seems more into costume, fantasy, movie sets…
STADY: I'm sure that people are inspired by him to take more chances. He helped elevate fashion. At the most recent London shows, the clothes, the hair, the makeup, and the shoes were just beautiful. You want to see the edges. He really defined the edges. And I'm not satisfied unless the shows go really far. I never look at art in terms of what I'd want or clothes in terms of what I'd want. I look at it like, "Does it make me feel happy or alive?"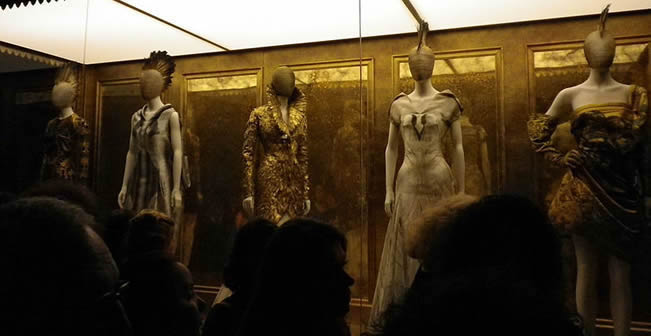 ---

Alex Behr is a staff writer. In the winter issue, she interviewed artist Christine Shields.