Table
Tapas Germania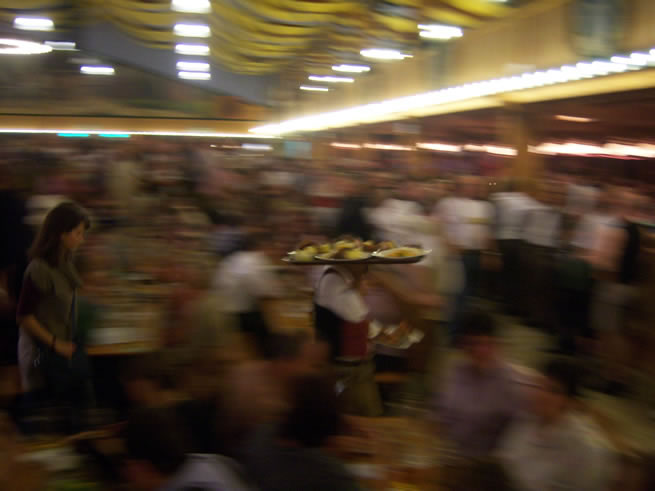 By Elizabeth Lopeman

hen I moved to Munich in September of 2010, I stayed with my friend Wolfi and his wife, Erika. I had a fantasy of putting together a cookbook with Erika's parents, with whom we ate Mittagessen every day. These meals, served in the middle of the day, always consisted of warm, heavy, comfort foods like Schweinerbroten (pork roast), Kartoffelknödel (hulking potato dumplings), and Blaukraut (warm purple cabbage cooked in a vinegary brine), or perhaps it was Wildbret (venison), or Enten (duck) and Kartoffelpuree (mashed potatoes) with Karottensalat (carrot salad). The fare was always traditional and always outstanding. More special than the food, however, was what I considered the privilege of sitting with Hans and Anna, Erika's parents, both in their 80s and not in the best of health. Neither speaks English, or much German. They speak a strong dialect called Bayerische (Bavarian) so my best communication was in the form of deeply sincere danke's and bitte's. Mittagessen was a reverent, celebratory experience—every day. Never taken for granted.
Hans and his brother were forced into service during the Second World War. His family hated the Nazis, and it is on the record—of course—that they spoke out against them. (This is not information that any German would forget to include if they can these days.) It's well known that in spite of Hitler's fondness for, and formidable presence in, Munich, Bavarians saw the war, when it was imminent, as an opportunity to secede from Germany and return to the idyllic romance of the Wittelsbach kingdom, when King Ludwig III pranced around commissioning outrageous castles like Neuschwanstein. But the Bavarian wish to pull out of Germany turned out to be castles in the sky because Bavaria suffered from exorbitant inflation due to reparations after the First World War, along with the rest of Germany, and people were desperate and starving.
Hans survived two winters in a Russian work camp under unimaginable conditions—exposure, starvation, cannibalism. He was so sick with typhus towards the end that another prisoner removed his uniform. They needed the clothing and it was easier to take clothes off a living man than a dead one. But as Hans lay naked and dying in the cold Russian wind, he had never been thirstier, and he decided to refuse dying with such an ungodly thirst. He crawled to a well where he took in great icy gulps, and he now credits his survival to that freezing cold water. When the war finally ended, he walked the whole way home from Russia. A lot of soldiers did. On the day Hans finally returned—to the same house in which we were eating lunch every day in 2010—his mother was home, but due to malnutrition, Hans was bloated beyond recognition.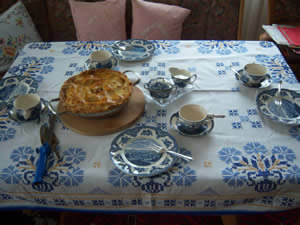 Now, Germany has one of the strongest economies in the world. We'll see if it sticks in spite of the troubled Euro, but there's no denying the country has emerged from a horrible past. While food is certainly more abundant, the gastronomy has not changed a lot. There are regional differences, but only in the rarest avant garde cases are the recipes deviant. The Wirtschafts (beer halls) where traditional dishes are served are invariably tastefully cozy, decorated with blue and white standards with emblems of the Bavarian state. They often have vaulted ceilings and gothic light fixtures, and the mood is tempered with a lot of carefully crafted woodwork. The waiters and waitresses are always in dirndl or lederhosen, not because it's campy or quirky, and not to impress the tourists, but because it's traditional and they're proud. The food is delicious, but I've lost interest in writing a cookbook—it would be redundant. I like the food, but it's usually too heavy for me, and alas, my beer consumption isn't that impressive.

n the summer of 2011, a group of my expatriate friends frequented a Thai restaurant called Kun Tuk, located on the Amalienstrasse, near the University. Maureen, a friend from Boston who came to Munich to work for a tech firm, discovered Kun Tuk, and Jay, the one waiter who was always there, was from Thailand, but had worked at a restaurant familiar to Maureen in Boston. Jay took a shine to us. He always greeted us with a big smile and bisous, and once or twice even scratched someone else's reservation when we showed up. His warmth was conspicuously non-native, and we welcomed it as fervently as he welcomed us. The bartender, Kola, made the most extraordinary mai tais I've ever tasted—strong and frothy. Our group dissipated a bit over the colder months, but my friend Eric, an MIT professor who is back again for research this summer, went to Kun Tuk with me recently. My yellow curry was still the best I've had in Munich, and the mai tais were almost as good as before, but Jay has moved on to Amsterdam for a tech job, and Kola went back to Thailand. Kun Tuk will always be special as a place where bonds were strengthened and new friends were made over lovely food, but it just isn't the same.
On the last day of August, and the last summer pilgrimage to Kun Tuk last year, Jay introduced me to another ex-pat, a hockey player from L.A. who played for the München EHC. We had a quick discussion at the bar and exchanged numbers, as expats readily do. It turned out his family had, years ago, started a dairy whose name any West Coaster would recognize, but more importantly, he fancied himself a foodie, and spent his summers working in an artisan cheese shop in L.A. He wanted to talk about the Portland food scene, in which I was at one time steeped. Since he was new in town, he also wanted to check out the Munich food scene, which is considerably less sceney than Portland, but I had an idea: tapas.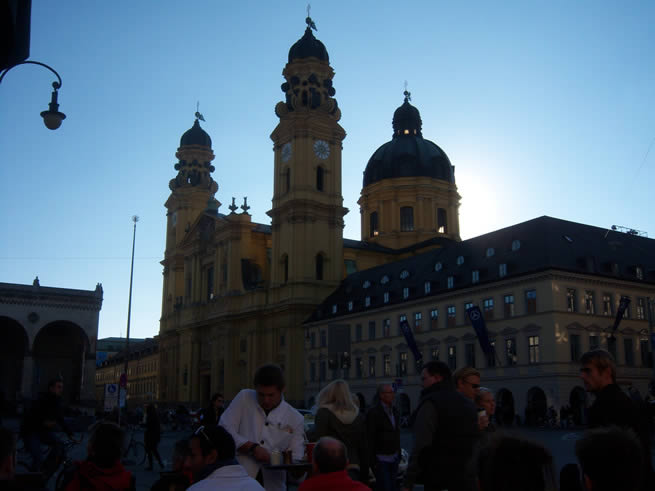 Maureen found Teatro Tapas, just as she had found Kun Tuk. (Last I checked, the girl had one frying pan and had never used it. No pots.) Teatro Tapas is located in Haidhausen, a fairly well-preserved neighborhood, considering eighty percent of Munich was destroyed by air raids during the war. Napoleon liked Munich, and spent most of his time here in Haidhausen, where there is still a French influence. Some traditional Bavarians still say "Merci," a holdover from the time when Napoleon put up his boots here, but the accent is taken off the ending so that it sounds a bit like 'mercy,' with a soft e sound after the m. And if Kun Tuk is an escape to South East Asia just when you need it, then the same goes for Teatro and Spain. Maureen and I had been there a few times together and it is one of my favorites. I love the glazed, Moorish-style tiles behind the bar, where the legs of jamón hang. The place is run by a gracious French-Algerian gentleman, and the dishes are authentic: bacon-wrapped dates, olives, squid, padrón peppers in season—crisp and salty—a lovely asparagus salad, and nice Spanish tortillas. The mood is always festive, and when it really gets lively it feels like Barcelona at 2am, when things are starting to get rolling.
So Hockey Guy and I set up a date to meet at Teatro. He arrived there first, and when I arrived a bit late, I found him sitting at the bar, gazing longingly at the tapas under the glass. He had come from the rink, showered of course, and confessed that he was hungry, and prone to a bad mood when hungry. Okey dokey. A waitress with gorgeous skin and very nice jeans ushered us to a table. She was from Brazil, we soon learned. I don't know how many times Hockey Guy said, "Isn't she cool?" Regardless, the conversation ended up being all right, though it's possible Hockey Guy had taken a few too many pucks to the head. He was nakedly disappointed when I said I loved cheese, but tried not to eat it very often. And I was disappointed that he'd grown up in Southern California but wasn't a skater, though mostly for his sake. (Well, he did ice skate.) We ended up making out on our feet across the street from the Hauptbahnhof late into the evening. It was around this time that I realized I'd lost my phone, and then remembered something sliding off of my lap in the restaurant. Shit. I was seeing an actor who was shooting a television show in some northern city and I didn't want to miss a call from him. Shit. Too many sangrias. Shit. I went home that night. The next day, Hockey Guy e-mailed to tell me that the waitress had called him from my phone, because his number was the last one I'd dialed. So the next afternoon I went back to Haidhausen to pick up the phone. It took the waitress a long time to produce it—she must have stashed it somewhere deep in the bowels of the restaurant, I thought—and she handed it over with a cunning smile, the significance of which was lost on me.
As for Hockey Guy, he called me a few months later and we had a second date. (The actor was appearing in a play in some northern city.) We went to an Italian restaurant that time—not memorable. Any sparks we'd had before had completely fizzled, and though I've returned to Teatro Tapas a number of times in the ensuing year, I had for the most part forgotten about Hockey Guy. Recently, though, I told my friend Steven, a retired literature professor from the University of Delaware, about Teatro, and we ended up there for dinner the other night. The asparagus salad was especially good—it's in season here—and we had salmon crepes, some interesting chicken that was dripping with olive oil, and, of course, the dates. The conversation, as always, was great. We talked about the German language, Theodor Adorno, Louise Erdrich, Philip Roth, and we split the best crème brulée I've ever had. The Brazilian waitress was there, too, though it was the first time I'd seen her in the nine months since I'd retrieved my phone. She didn't serve us, but it was curious, the way she looked me in the eye every chance she got—almost a glare, except for the faint smile on her lips. Steven and I were silenced at one point by deafening church bells that reverberated from St. Wolfgangsplatz, across the street. The air was warm, and I sat back to take it all in, and it was then that the waitress caught my eye again and in one hot second I realized why she was looking at me that way.
---

Elizabeth Lopeman has written for American Craft Magazine, FiberArts, Bitch, Eugene Magazine, Drain Magazine.com, and various other magazines and websites. She currently lives and travels in Europe.