Sport
NFL Picks, Week 2:
And the Weather in Seattle is Fine
by Pete Tothero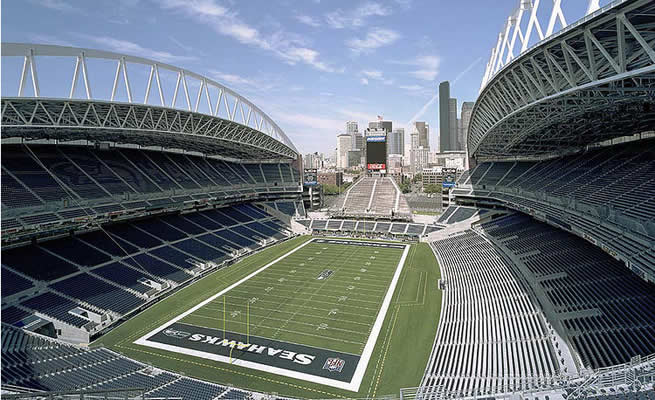 Last week: 0-0. Season: 0-0. [Ed. note: Pete Tothero declined to pick Week 1 games on account of he "didn't watch a single preseason game" and had "no idea what's going on." His picks begin this week.]
THURSDAY:
Chicago at Green Bay
Green Bay's Week 1 loss to San Francisco was depicted by many as an important "statement game" for the 49ers: supposedly, they were "stating" that their success last season wasn't a fluke, the balance of power in the NFC has shifted, etc. Claiming an outcome in Week 1 of an NFL season is revealing of anything seems close to claiming that the first thing I say upon waking up in the morning is revealing of anything. And how can that be, when the first thing I say upon waking up is almost always, "Unh. What time is it?" I say the only statement made in Green Bay's loss to the 49ers was Green Bay stating they didn't know what time it was.
The problem is that the Packers are now playing on Thursday night, which will be further confusing. Their "statement" this week could be: "Why are we playing on Thursday in Week 2? Is it really Week 2 if we're playing Thursday, or is this more like Week 1½?" Jay Cutler may throw to Brandon Marshall the first twenty-five plays in a row before the Packers manage to stumble into the kitchen, get a cup of coffee, and figure out whether it's their day to drive the kids to soccer practice after school.
None of the above offers me any insight into who will win this game. I'm stalling. But I bet Green Bay's coaches will have deduced, from rigorous expert video analysis, that Cutler and Marshall are totally back together again and loving it, and the Packers will prepare appropriately. Pick: Green Bay.
SUNDAY:
Kansas City at Buffalo
Are you serious? I'm supposed to predict a winner of this game? The winner is anyone in Kansas City or Buffalo who chooses to enjoy a late summer day outdoors instead of watching this game. One team has to win, though, so…Buffalo City? No? That's not a team? Fine: Buffalo.
Cleveland at Cincinnati
Cleveland played Philadelphia tough in Week 1, while Cincinnati fled from Baltimore in fear. But this is where I employ one of my amazing prognostication skills: Entirely Amateur Psychological Speculation (EAPS). EAPS suggests that the Bengals, embarrassed by their Week 1 loss and playing at home here, will come out fired up. Cleveland, satisfied with playing Philly "tough," will be less motivated. EAPS, like most of the social sciences and all "how to be a good parent" articles that appear in the Times, is complete pseudoscience nonsense. But as with the social sciences and those parenting articles, I pay attention anyway. Pick: Cincinnati.
Minnesota at Indianapolis
At a family picnic once, two of my uncles decided to wrestle each other. They were nice guys. They were both in decent shape. One was a little bigger than the other. But here's the thing: nobody asked them to wrestle, and nobody cared who won. I don't even recall anyone watching. I assume Minnesota will win this game, but also: Minnesota is going to play a football game against Indianapolis over there in that field? Oh. Well, um…have fun, don't get hurt! I'm going to go try and skip some rocks across that pond. Grandma says come back in twenty minutes for hamburgers. Pick: Minnesota.
New Orleans at Carolina
New Orleans doesn't have a coach because they supposedly paid each other to try and hurt other players, but then last week some judge decided the league can really only suspend the players for getting paid additional money outside of their contracts, because it hasn't really proven they paid each other to hurt other players, so the suspended players are unsuspended and can now play, pending some other maneuver from the league's office, but the coaches, who aren't represented by the players' union, are still suspended. Or I may have that totally wrong.
Oh, wait, I don't have to understand the NFL's byzantine legal melodramas, I just have to pick the New Orleans Saints to win a football game. Done: Saints.
Houston at Jacksonville
Did I seriously sign up to pick winners for every game? Stupid. I'm stupid. I do stupid things. I don't know why. Because I'm stupid, I guess. Houston made the playoffs last season and won last week. That's the sum of my analysis here. Pick: Houston.
Oakland at Miami
Guh. Miami is awful, but Oakland is bad, and that's a long way for them to fly... Dammit. Can I pick "no winner"? No? Um, God, Miami is really bad, right? Pick: Oakland.
Arizona at New England
Thank you! Is it so hard to schedule an easily-pickable game once in a while, NFL? Pick: New England.
Tampa Bay at New York Giants
The Giants opened their Super Bowl defense by losing to the Dallas Cowboys. See my Green Bay-San Francisco discussion above for how much I think this matters. Pick: NY Giants.
Baltimore at Philadelphia
How long do you think Michael Vick will be able to stay in this game before he gets hurt? When he does, will the Ravens defense have to turn to the cameras and yell, "Not on purpose! We didn't hurt him on purpose, Mr. Goodell! He just gets hurt a lot! Please don't suspend us for purposely trying to tackle him hard, because even though, yes, we purposely hit and tackle hard, we're not trying to purposely hurt people! People just…they get hurt! They get hurt when we hit and tackle them hard! Don't suspend us!" I say this happens sometime in the second quarter—the Vick injury, not the Raven pleading. The Ravens aren't going to turn to the cameras and beg anyone for leniency, because they don't do that. They just beat the shit out of people and go home. Pick: Baltimore.
Washington at St. Louis
RG3! RG3! (That's a thing people are yelling, right? Even though he's only played one game?) Pick: Washington.
Dallas at Seattle
Seattle has one of the biggest home field advantages in the league, but there's a catch: it's a Seasonal Affective Mood Disorder Advantage. The advantage only exists after the rain starts, when teams have to fly way the hell up into the far corner of the country, step into 43 degrees and drizzle, and suddenly find themselves questioning whether life is entirely meaningless or just mostly meaningless. They walk onto the field in Seattle in a Kierkegaardian daze: If they play football in Seattle, they will regret it; if they do not play football in Seattle, they will also regret it; if they play football or do not play football in Seattle, they will regret both. A depressing football game usually ensues, which the Seahawks win by a weird score, often 18-15 or eleventy-twelve to eightish.
But it hasn't started raining yet up there. The weather is supposed to be fine. The Cowboys will have fun and then go home and tell all of their friends that Seattle is totally awesome in the summer, that's the time to go. Pick: Dallas.
New York Jets at Pittsburgh
The Steelers have lost their last two football games, first to a quarterback who can't throw a football, then to a quarterback whose neck is made of PVC pipe, both times in Denver. (Lose to a quarterback who can't throw in Denver or to a quarterback who can throw in Denver, you will regret both...) For the first time in months, though, the Steelers aren't playing the Broncos this week. Jets QB Mark Sanchez had a good game last week, but he usually follows those with disappointing efforts, because the Jets try to provide their egomaniac coach with constant drama so that he's always in the spotlight, which makes him happy even though he pretends he's angry. Yeah, it's screwed up. Pick: Pittsburgh.
Tennessee at San Diego
I cannot name a single Titans player. Sorry. I don't know why. It's weird. I usually kind of know at least something about each team, but…I'm drawing a blank. Johnson? Do they have a Johnson? A Jackson? Pick: San Diego.
Detroit at San Francisco
After the 49ers beat the Lions last year, 49er coach Jim Testosterone (pronounced: TEST-uh-stuh-ROW-nee) ran across the field and shook the hand of Lions coach Angry Ferretguy (pronounced: fuh-RET-gee) so aggressively and in such a state of adrenalized victory-high that Ferretguy (pronounced: fay-RUT-uhguh) took exception and started barking at Testosterone (pronounced: TEST-uh-STAY-ruh-NAY-ah), and they were then either separated or just kept running faster and faster off the field like they were in a race-fight or a fight-race or something, or maybe all of it happened at once, they were fighting and being separated and running fast while being separated and everyone was yelling and taking pictures and fighting. Gotta love it.
People mostly overlooked a crucial statistic, though: post-game handshakes, by definition, do not affect the outcome of football games. I guarantee there is not a single player on either team who is currently thinking, "Let's win this one for Coach! On account of that handshake thing from last year!" No one cares. The 49ers players will win this game. On account of they're the ones who are, by rule, playing the football game. Pick: San Francisco.
MONDAY:
Denver at Atlanta
Hall of Fame Bronco QB John Elway pulled off a lot of escapes during his career, but the most amazing may be his escaping Tebow Nation after last season. Elway used his classic spin move, and is now looking downfield (via avatar P. Manning) while Tebow Nation tumbles in the dust, clutching at air. Manning played well in Week 1, but a lot of new quarterbacks play well in good weather on perfect grass in front of a home crowd. If only there were some body of work we could look at to see if Manning is the kind of quarterback who will be comfortable playing indoors…
This is almost a toss up. Better turn to the pseudoscience of EAPS:
The Broncos, thrilled with their Week 1 victory, may lose some of their "Eye of the Tiger." [Not a real thing. Tigers do have eyes, but athletes cannot have them. It's illegal.] The Falcons didn't get as much media attention last year as they probably felt they deserved. [Also: Every team except the New York Jets feels this way.] This game is on Monday night, so the Falcons, feeling disrespected, will really try to win, to show the big national television audience they are really good. [Even though in the era of satellite and cable, all games are available to be viewed on television, nationally.] The Falcons probably want to make a Week 2 statement! Yep, that's it. Entirely plausible. The best kind of science? Pseudoscience! Pick: Atlanta.


---

Pete Tothero is not a certified professional football analyst, and does not have access to any information unavailable to the average American. He is not contractually bound to watch all of the games.