Portfolio
A Red Man and White Lashes:
The World of Christine Shields



n a painting we own by Christine Shields, a pink cat with a lady's face perches on a gold and maroon field and glares at a tiny man in a plaid top hat and suit. Holding a cane and grinning like a salacious Peanut Man, the man looks as if he could guide you through a secret wonderland—if you know the password. We had to keep the painting hidden from our son for years—it scared him too much. For a child who thought the flames in Goodnight Moon transmitted heat, he knew instinctively not to look closely at the lady-cat's piercing eyes. (Pictured above: "Untitled," Christine Shields, 2002.)
Shields moved from Nevada City to San Francisco when she was 17, later getting a BFA from the San Francisco Art Institute. Now living in Sacramento, she returns to San Francisco frequently. She's currently playing shows with her boyfriend, Phil Franklin, and others, drawing from songs off the vinyl LP In the Sun (artist Chris Johanson's Awesome Vista Records—more on him later). Last August I met with Shields and Franklin during Johanson's Quiet Music Festival in Portland. The setting almost seemed too precious—anyone who talked too loudly risked getting chastised. Yet the mood was lovely, with people lounging on the floor under the glow of thrift-store lamps. Shields and Franklin played on each other's songs. When we met for coffee the next day, I gave her a book on antique dolls, hoping their creepy fever would spark something in her. Then, early this year, I spoke to her on the phone about some of her influences, including the late underground filmmaker George Kuchar. —Alex Behr
On George Kuchar, underground filmmaker and teacher
PROPELLER: Last fall, the underground filmmaker George Kuchar died. He influenced John Waters, Gus Van Sant, David Lynch, as well as countless students over his almost forty-year teaching career, and you studied with him at the San Francisco Art Institute. Since he passed away, have you been thinking about his impact on you?
CHRISTINE SHIELDS: Oh, yeah. I'd been thinking about him more because Phil and I went to Copenhagen for a residency a year ago, and we saw [film historian/author] Jack Stevenson. He has a fantastic little cinema there. And he gave me a copy of this film about the Kuchar brothers called It Came from Kuchar. So George had been on my mind again, and then I found an old friend from the Art Institute who had become George's art dealer and good friend, so George was really on my radar, and suddenly he died.
At the Art Institute, around 1990 or so, I took George's class—"Psychotropic Teleplays"—for a couple of years. I was about twenty or twenty-one. He made you feel really free. He was very spontaneous and funny and had a knack for knowing what role to push you toward—behind the camera or in front of the camera. One movie I was in had to do with cowboys, a Nevada brothel, aliens, and a New Age cult. I remember him hollering out to us when we were just getting started, "YOU (to some dude) go put on a cowboy outfit! And who wants to be a whore—oh, yes, you look GREAT. What a glamorous hooker you make, yes…" We had a $100 budget for costumes and props. He would send us out to hit the thrift stores. George had a small and steadfast coterie of serious characters who were in all his movies. They were not students—I don't know where they came from. They were like the Warhol superstars, but not pretty, famous, or rich. They were real bohemian SF weirdos, and they were fantastic.
George Kuchar on set during production of his 2008 film, "Orphans of the Cosmos." Photo by Michael Robinson Fleming.
I once had a "love scene" with this old guy, named Albert or something. George said my part was to look lovingly into his eyes, and to look sad because we were about to be parted forever. Albert and I are standing in profile facing each other as George works the camera. Out of the camera's view George is pushing me toward the grinning Albert. Well, I am only so much of an actress, and Albert—God love him—had some wild breath, greasy hair, and crazy teeth…the result of which was that while my body was moving toward him, my head was rearing backward, but I am trying to retain this loving look. All the while Albert is grinning like a madman. It was hilarious in the movie!
One time I came into class and someone said George is in New York, and I said, "What do you mean? He is standing right there." It turned out to be his twin, Mike Kuchar. At the time they looked very alike. I was so clueless at the time that I was working with these legendary guys. It took me a long time to understand how George's process of art making was really incredible. It just seemed so natural that you didn't even notice. But I think art school is a lot less like that now—nothing's like the George Kuchar classes—but art school in general has become more academic. I got to go at the tail end of when all these bohemian San Francisco artists were still teaching there.
PROPELLER: Do you feel like the emphasis on theory is to train future academics?
SHIELDS: There are different reasons for it. Being an artist has become a career option, when it didn't use to be. It used to be certain people were artists and they didn't have a choice, and if they went to school or not they were just going to be a person who was going to make art somehow. It's become, supposedly, a viable career option. Along with that art school's become been a mill for pumping out artists, where the galleries are going to graduate studios and plucking people right out of grad school before they're out and starting their careers. Although the craziness of the economy the last few years has changed everything again.
If there was anything like that at the time I went to school I was certainly not aware of it. But there were other people my age who were more savvy than me.
PROPELLER: Even in their twenties?
SHIELDS: Yeah, I'd say there were a couple of people who came from New York art families. That was a little intimidating because my family has no clue at all about art, and it made me feel like an ignorant kid from the mountains who just liked to draw.
PROPELLER: When I was reading an old interview with you in Bananafish magazine, you said there were artists in your family. Was it just considered a hobby to let off steam? How was it viewed?
SHIELDS: There's a difference between being creative and being aware of any sort of art world. My mom was always a naturally creative person, and she was good at drawing and did a lot of other craft things. I took a lot of classes in crafts, dancing, and music when I was a kid. That was good. At least I had a foundation. My dad is a mechanic—a gear-head from the Central Valley. His life growing up was very American Grafitti. But I was always a little intimidated and jealous of kids who were from bohemian, intellectual families. Some of my friends growing up had families like this, and I did my best to get them to adopt me!
I do have an uncle who is a fantastic photographer. He was really important to me when I was a kid; he would tell me wild stories and take us kids on long hikes in the redwoods. When I was a teenager I visited him in Manhattan, where he was living the artist's life. He had a sort of loft apartment, and all he had in his fridge was orange juice and film. He took me to the Peppermint Lounge, the old Automat cafeteria, and to the Village. I was absolutely thrilled. I'm sure that's a big part of why I moved to New York later.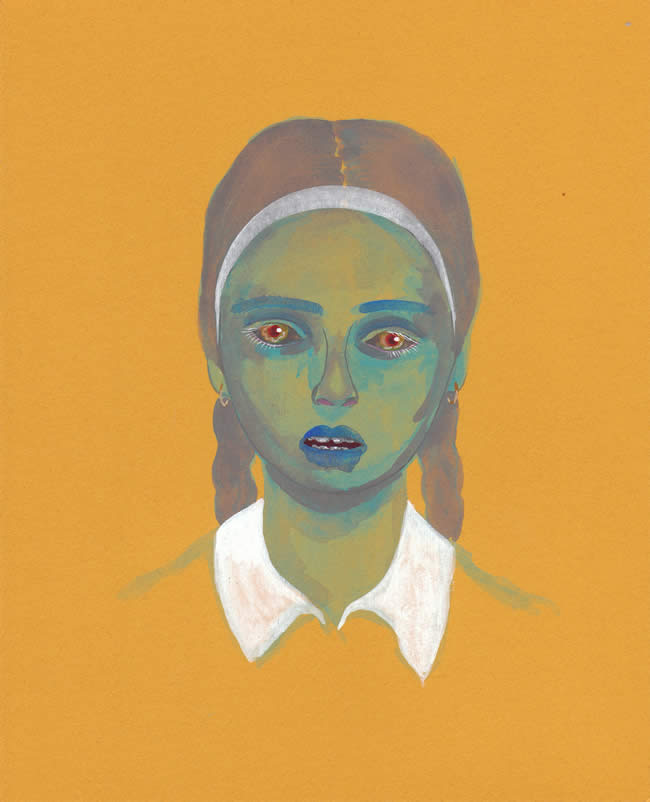 "White Lashes," Christine Shields, 2008.
On artists Leonora Carrington and Georganne Deen
SHIELDS: Leonora's definitely the type of artist I'm drawn toward the most. They're usually eccentric loner types. They have their own vision and at some point go off and realize it, whether they get the notoriety or not…
PROPELLER: What draws you toward her work?
SHIELDS: I like that she really is fiercely individualistic, and she's very feral and wild. And she seems to exist in another realm, simultaneously with being in this one. She seems to tap into this subconscious place and channel it back into her art.
PROPELLER: Your doodles are really free; is that what you see in her paintings? She must've worked over stuff a lot so there's that tension between having it look "right" on the canvas, but also present free associations and images?
SHIELDS: Her paintings are really worked, not loose. They have a flowy, dreamlike quality. She gets there through a lot of sitting there, working a long, long time. I feel like her writing, which Linda Hagood introduced me to, is more like what you're saying. Her fiction has a lot more humor in it. She has a sense of the absurd. Mixed in with all this symbolism and mystical stuff, she's pretty funny.
PROPELLER: With your paintings, you bring in a lot of humor but you have a sad almost scary quality in them, too.
SHIELDS: Yeah. [Laughs] I'm not trying to. It's just something that comes out.
PROPELLER: I see that in your music, too, on your LP. It's really beautiful but there's a sad quality. Does that come out of your interest in, say, old-time holler singing of women killing their boyfriends or running off and doing that kind of primal living?
SHIELDS: I was probably drawn to that kind of music because I needed to inhabit those feelings. I've always been a little turned off by people who get into dark stuff because they think it's shocking or cool. My own attraction to darkness and sorrow and things like that are all out of necessity. They're emotions that are in me and in a lot of people, and they need a way to come out. I actually found that singing along to some people's sad music was liberating. It was a way to really feel it without carrying it around with me. People who are able to tap into that are doing everyone a service.
I would like to mention my friend and mentor Georganne Deen. We met when I lived in LA. I had seen her paintings in a magazine and freaked out. Then I met her at a party, and was stunned to find out she loved my comic book [Blue Hole]. She is the most amazing painter, and she is the only person I have ever known who gets what I am doing more than I get it myself. She is able to articulate these esoteric emotional states. Now she lives out in the desert where she charms wild animals and paints all day. So I never see her, but whenever I see her new paintings my mind is taken to a very good place.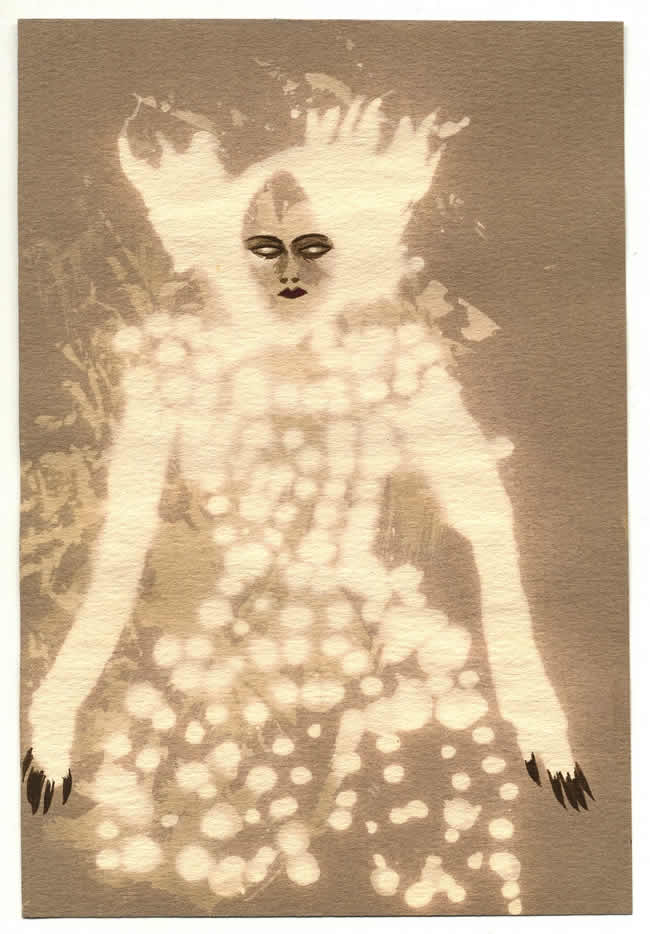 "Claws," Christine Shields, 2006.
On Jaina Bee and Granny's Empire of Art
Shields has been involved in an ongoing project with a friend from her San Francisco Art Institute days, Jaina Davis, AKA Jaina Bee, whose house on Potrero Hill has turned into a self-made world. Dubbed "Granny's Empire of Art," the three-story house encompasses such spaces as Pencilvania, Jason Mecier's stairwell of 185,252 artfully glued pencils, and the Gaudi Submarine, a psychedelic, coral reef mosaic bathroom that Shields helped create.
PROPELLER: Jaina took a house in San Francisco and opened it to all these artists she loves. You've known her for years—does it seem like a natural part of her personality that she'd do something like that?
SHIELDS: Oh, definitely. She's a collaborator in all of this. She's been there fourteen years, and it's been apparent over time what her role in creating that place has been. It's very experimental, and everyone's learned a lot from working on that place. Her vision is so unique; it's like this incredible crazy quilt. For a long time these elements of the house didn't seem to fit. My own style is a lot sparser than Jaina's style. I'd think, Oh, this doesn't match that, but over all this time it's grown together. It's not like she was necessarily, consciously planning this all out, but she had this intuitive vision from the beginning, and she was brave enough and open enough to try it.
PROPELLER: Are you working on anything there now?
SHIELDS: We did that amazing glass bathroom. That took a few years. Then we took a break. I'm working on the kitchen there right now with a couple of other people.
PROPELLER: Do you find it's easy to collaborate on a project like that?
SHIELDS: At this point there's a fantastic group of people associated with her house, and we all work together. Everyone there is very artistic or musical, as well as having a practical trade.
PROPELLER: I never got the sense she was doing it for outside approval. I got the sense she mainly wanted to be around her friends. She wants to have lots of people around playing music and doing art, and this was the best way to get all the people she liked together.
SHIELDS: I think that's true, and she doesn't do things to fit into the art world. She made her own world and filled it with the beautiful things and people she wants to have around. I really love to do interior work, but I wouldn't want to do it in a boring rich person's house, on beige walls. It's like a dream job to work there. And she does have that trust in people to do what they're good at. She doesn't direct at all. She's kind of subtle. It's kind of magical how she brings it all together.
I worked on the Gaudi/Yellow Submarine bathroom. Jaina's vision was that the yellow submarine crash-lands into Gaudi's beach house in Brazil (the movie), and besides that, she left it up to us. We didn't try to make it look like Gaudi—it was like a guiding inspiration, but I did paint the tub like the Yellow Submarine. Jason Mecier, Kate Fenker and I were the other main mosaic artists, and others worked on it, too (listed on Jaina's website).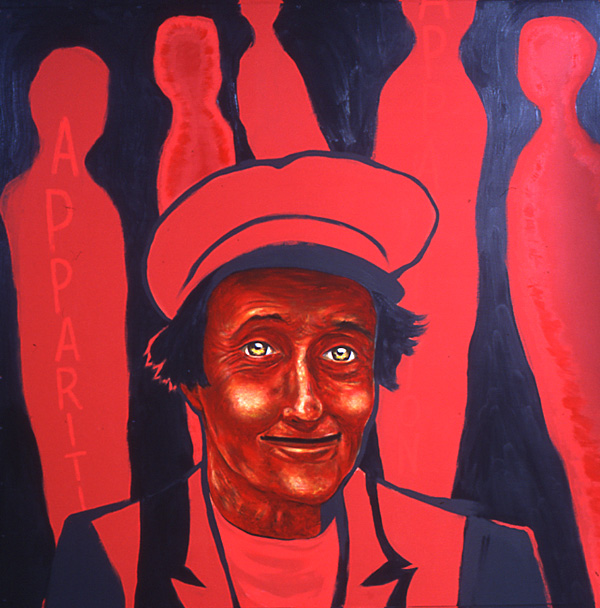 "Red Man," Christine Shields, 2002.
On Adobe Books, Chris Johanson, and the Red Man
PROPELLER: How did you meet Chris?
SHIELDS: I was in an art show with him in the '90s at the Minna Street Gallery, but we didn't really meet then. Then I moved away to New York and LA. In 2000 I moved back to San Francisco and started hanging out at Adobe Books. I started working there when they were building a gallery in the back. And Chris was around a lot. It was amazing to come back to San Francisco and find this scene happening. There were all of these incredible people making good art and good music, and hanging out together, energizing each other. It was alive and inspiring and aesthetically appealing to me. And the art and music scenes weren't separate. It was just this renaissance. When I had lived in the Mission years before it was really charged up, and there was fantastic music going on at the Chameleon and other places, but it became kind of a dark, messed up scene, and one that I ultimately wanted to get away from. Returning to SF and finding this electric current running through this neighborhood and group of people was exhilarating.
Chris is one of my favorite artists ever. His work is honest, full of human feeling, and he is incredible with color. His art works on you on these different levels. First it states things that are true—feelings that people feel. He communicates these states of loneliness, joy, urban angst, isolation, etc., but they also work on you by way of color. The color choices alter your brain chemistry and lift you up. There is humor and also at once a crudeness and sophistication in his line work that is energized and unpretentious. This work makes my mind feel free.
Coming back to SF and finding this scene going on made me want to paint again. The truth is that I've often had an aversion to the art world, and that something in me needs to go where the life is. If it is a dead-feeling time in the art scene, I will do something else. I have sometimes wished it were otherwise—that I would do my thing no matter what—but it's how I am. I seek this life-force through whatever medium is available. I suppose that is why I have done so many different things creatively.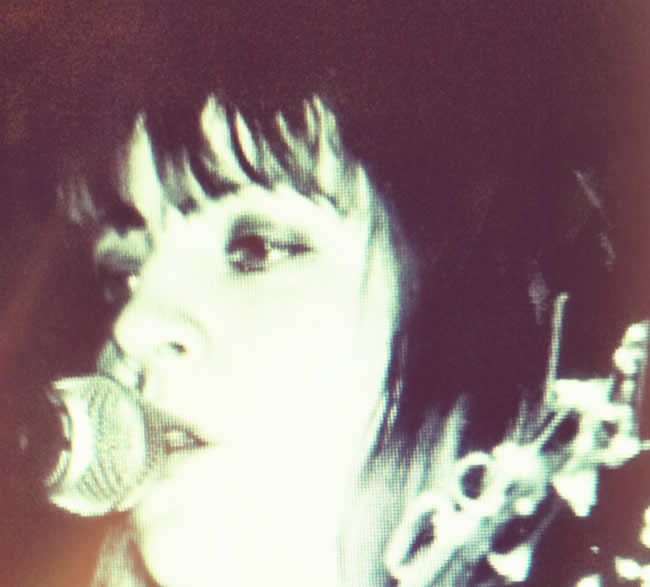 Christine Shields. Photo by Casey LeClair.
PROPELLER: How did you come to know the Red Man?
SHIELDS: I'd seen him around before. He used to be kind of aggressive and surly and I used to keep my distance. I asked if I could take his picture at the Latin American Club years before and he got really nasty. But then maybe they changed his medication, I'm not sure, but he started hanging around Adobe a lot and he was actually sweet. He'd come in while I was working and talk to me.
It was definitely strange, because here's this man who has his face painted red every day of his life in this red and black outfit, with black eyebrows and black makeup over the red, but I got used to him. Sometimes when I talked to him he seemed like a normal old man. Then all of a sudden something would catch in his mind and he'd start going through these loops. And whatever it was—schizophrenia, not sure—you could see his thoughts start to scramble.
PROPELLER: Did he accept help from people? I wonder what his life was like?
SHIELDS: He lived in a residency hotel; I think it was on 16th Street. My friend Lara Allen saw his apartment once. She said there wasn't much in there—a bed, a piece of fur tacked up on the wall, that's all. (Laughs) I'm sure he had SSI and got money every month. He lived in that little room, and that's it.
PROPELLER: You did a painting of him?
SHIELDS: I did a few paintings of him. Lara and I curated this art show at Adobe in his honor, and all these artists did pieces. I did a pretty large painting of him. And then I did these tiny ones. I really loved the tiny ones. But they were stolen. First they were purchased and someone stole them from the show.
PROPELLER: That's awful.
SHIELDS: It was a drag. I may know who did it. It may have been one of the other characters who hung around Adobe. He was called King Edmond or "Fritz." I have a weird story about that, too … After the paintings were stolen I told the Red Man, who liked to be called Prince Charm. Or some of the girls called him "Princey," which he seemed to like. I said, "Princey, someone stole the paintings." And he said, "I'll send the apparitions." And I thought, Uh-oh. I'm not sure if Fritz was really the thief, there are other theories on that, but not long after Princey "sent the apparitions," King Edmond a.k.a. Fritz was found dead from alcohol poisoning. I was a little freaked out.
The Red Man had this whole worldview, which he explained to me, and some other people filled in the blanks. Apparently he'd lived next to a Hare Krishna temple at some point in San Francisco, and he'd been in an asylum before that. His whole world was inhabited by a nether land of red Krishnas. They liked to visit our existence, but they liked to borrow the bodies of human beings to travel around it. If he liked you he'd tell you they wanted to incarnate in your body. (Laughs) It was a compliment from him, but I wasn't sure I wanted a red Krishna apparition borrowing my body. But anyway, he felt that his job here was to be their tour guide, and he would take them all over San Francisco. He would collect maps and things they might be interested in. Also in this other realm, everything was red and black, so he dressed like that so they could always find him. He also made movies that only existed in that realm, and he made drawings about the movies. He was starting a bus line in another dimension called Red Hound. You could ride on these luxurious buses that were all red and watch his movies.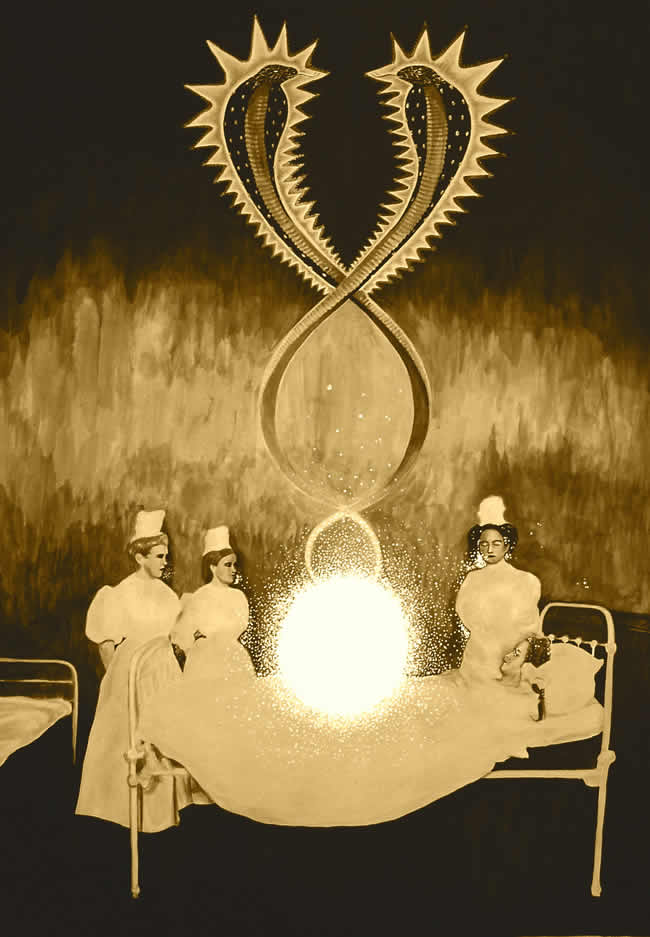 "Snake Nurse," Christine Shields, 2010.
And the past with the future
SHIELDS: Chris Johanson curated a show last summer at the Fleisher/Ollman Gallery in Philadelphia called "Introspective/Retrospective." My part was the retrospective part. It was a collection of paintings, prints, comics and so forth that I have made over the years. Chris Corales and Joe Turner were also in this show. All of us used to live in the Mission District in SF. I played a set at the opening and it was quite a night.
Right now I am working on a project for a group show in SF this May at the Luggage Store curated by Erick Lyle, Chris Johanson and Kal Spelletich. I won't say much now except that it includes music and visual elements.
---

More of Christine Shields's work can be found on her website, christineshields.com.