Reading Lines
Feeling Operates Backwards
Ashbery And "That Which is Given to See"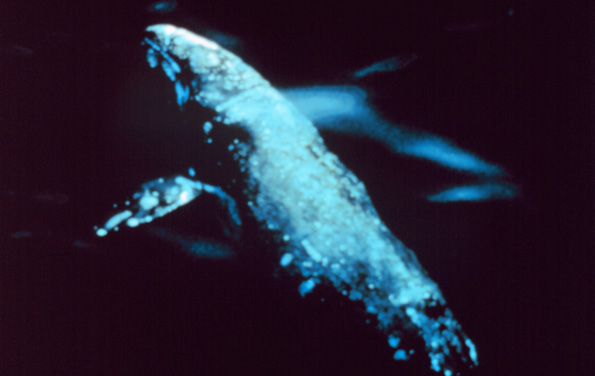 By Wendy Bourgeois

That which is given to see
At any moment is the residue, shadowed
In gold or emerging into the clear, bluish haze
Of uncertainty.
—John Ashbery

went with friends to see a beached baby grey whale, two days dead. Someone cut a window in its side so it wouldn't explode as it rotted, and its intestines spilled onto the sand and looked like bags of black muslin, surrounded by a deep yellow frame of whale blubber. The thing was a juvenile, only twenty-five feet long, and I was thrilled to see it, because I had never been near one of those massive bodies, never seen baleen up close. I resisted the urge to touch it, though I'm pretty sure I would have at least pressed one finger against its dense side, had I been alone. One of my friends made an altar out of soda cans and Styrofoam and the other played a mouth bow and sat on a piece of driftwood. I called them both hippies and felt little sense of occasion. I just looked.

We watched a mom wander up with her three kids, exclaiming like an energetic nurse, "Isn't this amazing?" The eldest girl mugged for the camera in front of the corpse with a gleam in her eye. That one's going to do fine in the world, I thought. The younger girl sobbed hysterically, and the boy turned away and kicked sand.

Hours later, I sat on a dune by myself, smoked a cigarette, and then mysteriously burst into tears. I had just received a text from my daughter that she was accepted to the art school she wanted. She'll be out of the house at the end of summer. I imagine this would be obvious to nearly anyone else, but I was shocked I felt sad. I thought about the whale, someone's baby dead on a beach, and my own baby heading out into the ocean of the world, and it wasn't until I strung those pieces of recent experience together in my mind's eye and made a private tableau of them together with me at the center, that I felt anything. It was embarrassing.

I try to make peace with the knowledge that I only assign meaning to suffering selfishly, if at all, because how could I survive otherwise? Things die all the time, especially young and fragile things. Everyone who looked at the whale that day made up their own story about what it meant, and whether it was a morality play or a lab report depends entirely on what each petty, pragmatic little self has on hand.

The act of witness, something everyone instinctively assigns importance to, turns out to be weirdly dumb. Not very smart. Silent. John Ashbery writes, "That which is given to see/ At any moment is the residue, shadowed/ In gold or emerging into the clear bluish haze/ Of uncertainty." We are given things to see by something or other, but those things lack context. They are residue—meaning, I think, that they're mere artifacts, the gunk of what already happened, during some time we can't ever quite catch, shadowed in gold because feeling operates backwards, even in the uncertain present. Empathy fails me when it would do the most good, and then shows up later and catches me unprepared, minding my own business, and it feels like a stranger, because the enormity of the end of whales and childhood and all the other things ending, whether I like it or not, is just too big to swallow.

---

Wendy Bourgeois is a poet and writer. Last fall she wrote about a line by Robert Pinsky.