Sport
Whatever You Need Him to Be
Defense, Broken Pinkies, and the Versatile Nicolas Batum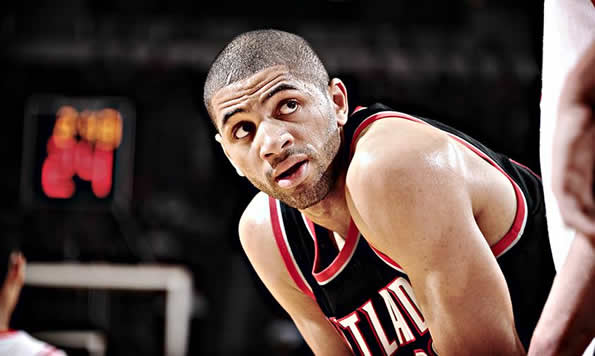 By Jonah Hall


he word "versatile" gets tossed around a lot when describing certain basketball players. They can shoot with range, dribble through traffic (insert busy Portland intersection here), and make cross-court passes others can't imagine in split-second scans of the court with their peripheral visions. More than anything else, though, versatile players play defense.

I devoured the sport of basketball as a kid. I played one-on-one with my older-brother in our cracked driveway. I played before school with my elementary school classmates. I played on traveling teams in the New England winters, riding in cars filled with seventh-graders all over the Greater Boston area just to sit on the bench for most of the games. I played through humid, sweltering summers on outdoor courts at basketball camps. I won trophies. I broke my right thumb trying to steal a pass. I fractured my right pinkie after instigating an argument with my older brother, who was refereeing my birthday party basketball game at a rented gym. My brother tried to kick the ball I was in the middle of dribbling and connected with my pinkie instead. Party over. I still play piano a little funny with the right hand. I had one glorious season, freshman year of high school, where all of my efforts (running cross country that fall to get in the best shape of my young life) paid off and I had a few proud moments on the court, leading my team to victories with shooting and defense.

What does any of this have to do with the Portland Trail Blazers? Tonight, the Blazers come home to Portland up 2-0 in their first round series with the Houston Rockets, that team that initially drafted Nicolas Batum, the wiry young lad out of Lisieux, France. And Nicolas Batum is versatile. He is whatever you need him to be.




aking a steal brings out the competitive little brother in me. Running down the court with the basketball as a stolen object is glorious. Batum loves steals. He's one of the better perimeter defenders in the NBA, and one of the unsung heroes whose praise I feel compelled to sing. In this year's playoffs, Batum's defense has silenced one of the NBA's most exciting offensive players, James Harden.

Defense is about footwork and instincts. It's about getting to that spot without reaching. Having crazily long Inspector Gadget arms is helpful—"wingspan" is the term most hoops writers use. Batum's arms, when fully extended, make him 7 feet wide. He can always reach the remote. The good people at Draft Express, who keep numbers and notes on future NBA players, listed Batum's strengths as: "perimeter defense," the ever abstract "basketball IQ," "potential," "unselfishness," "court-vision," and other glowing words about what they felt the 2008 draft prospect might one day become.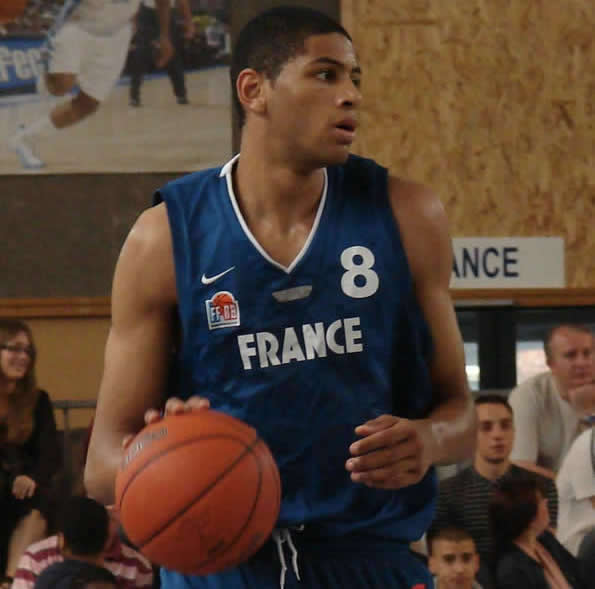 Nicolas Batum playing in France in 2007. In 2008, he was drafted by the Houston Rockets.

The irony: Batum became a Houston Rocket that June. When the Blazers selected Brandan Rush as the 13th overall pick (then traded Rush with Jarrett Jack and Josh McRoberts—who is playing meaningful minutes for the endearing Charlotte Bobcats—for Jerryd Bayless and Ike Diogu), the Portland front office had other plans. Knowing that the international prospect might become a special player due to all of those tangible intangibles, the Blazers traded Darrell Arthur and Joey Dorsey for the rights to Batum, whom (Batum…whom!) the Rockets had selected as the 25th pick.




he Trail Blazers' 2013-14 season has been well documented. After a scintillating 24-5 start, there was an inevitable lull. After it became obvious last year that bench play was their undoing, Portland attempted to assemble depth. In came the streaky Dorrell Wright and Mo Williams to add second quarter scoring punch. Center Robin Lopez became a cult hero, with his dirty work under the boards and his ability to at least threaten opposing penetrators with his enormous frame and crazy hair. To summarize the second half of the season, Portland floundered, as a newly-caught flounder might, flipping and flopping on the deck of a boat. The pundits predicted a dip in three-point shooting as the schedule progressed, and they pundited correctly, as Batum and Wesley Mathews hit more iron than net when the calendar flipped to January.

As the schedule intensified with Western Conference opponents in mid-January, the Blazers started slipping. Batum had his worst shooting month of the season, connecting on only 26% from deep and averaging only 9.5 points per game. From mid-January to mid-February, the Blazers lost 9 of 14 games and saw their playoff seed slide. (And yet don't you think Oklahoma City GM Sam Presti wished his Thunder team had slid a little, so that they could have avoided the playoff shackles that are the Memphis Grizzlies? Getting the 2nd seed turned out to be a punishment rather than a reward this year, since due to Marc Gasol's early season knee injury, the Grizzlies were fighting for their playoff lives throughout late March and early April.)

Back to the chronicle of the second half of the Blazers' season: LaMarcus Aldridge strained his groin (ouch!) on February 12th, in the final game before the All-Star Break. Blazers record: 36-17. Aldridge injured his back hitting the floor on March 12th. Blazers record: 42-23. Wes Mathews' newly-documented inspirational speech: March 25th, after a third straight loss, the last to a clearly inferior Orlando Magic. Blazers record: 45-27.

Record after the Magic loss: 9-1, including a perfect 5-0 against playoff teams.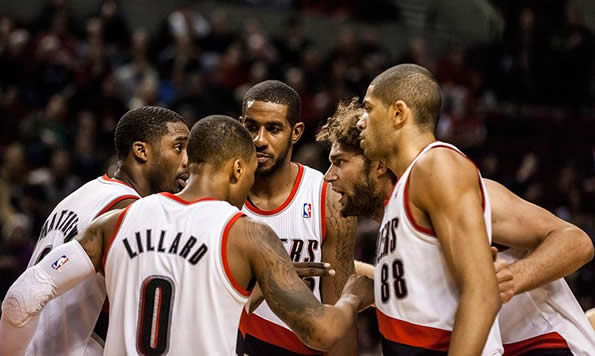 he city of Portland is devoted to its beloved basketball team, the only "major" professional team in town. (Portland does, of course, support a Major League Soccer franchise, the Timbers, and a minor league hockey team, the Winterhawks.) Between 1976 and 2003, the Blazers missed the playoffs only once. On the other hand, in 18 of 26 of those years, they lost in the first round, a brutal stretch for those obsessive fans.

The Blazers won their only championship in 1977. A 49-win regular season made Portland an underdog in the West Finals. Blazermania swept the Pacific Northwest as the Bill Walton-led crew upset Kareem Abdul-Jabbar's Lakers in four straight before outlasting the Philadelphia 76ers in the Finals. 1989-1992 brought more Blazer mania, with Clyde Drexler, Terry Porter, and Jerome Kersey bringing 59-wins, 63-wins, and then 57-win seasons. In 1992, the Super Nintendo basketball game available nationwide was "Bulls vs. Blazers." After years of steady but uninspiring 44-50 win seasons, the Blazers were again contenders in the late 1990's. The 1999-2000 team won 59 games. The lineup was loaded, with Arvydas Sabonis, Rasheed Wallace, Scottie Pippen, Steve Smith, and Damon Stoudamire. That group came within one game of the NBA Finals before collapsing in epic fashion to the Lakers. The Blazers have not won a playoff series since.

Which brings us to tonight: Six years after the Rockets drafted him, Nicolas Batum will again be swarming the Rockets' improvisational offensive leader, James Harden. The series hinges on that match-up more than on the MVP-level heroics of the incredible LaMarcus Aldridge. Batum's long arms will reach out, his fingertips will block Harden's vision of the hoop…Blazers fans will be hysterical. Reasons for optimism abound.

---

Jonah Hall writes about the NBA and many other things at
www.darkoindex.com
. On Twitter @darkoindex.