Sport
The Power Of HUnger
Reggie Jackson, Troy Daniels, and Wes Matthews in the NBA Playoffs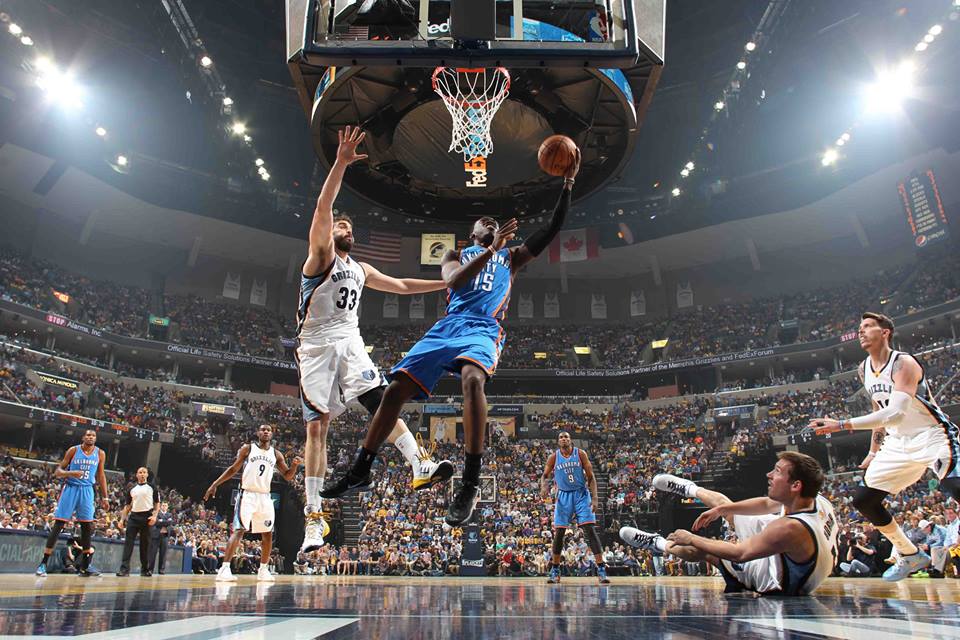 Reggie Jackson scores two of his game-high 32 points in game four in Memphis.

By Jonah Hall


s you may have noticed, the NBA Playoffs have been proper mental/downright insane/absolutely ridiculous/completely awesome so far. As an NBA obsessive, this is both an awesome and overwhelming time.

Attention: Adam Silver

After you do everything in your power to suspend Clippers "owner" Donald Sterling, please leave the conferences exactly as they are. The absurd imbalance that occurred this year has resulted in the most exciting first round of playoff basketball in the NBA's history. The West is so good that all eight teams fully deserve to be here, and all four Western Conference series are must-watch basketball.

Oklahoma City-Memphis (2-2), Game 5 in Oklahoma City, Tuesday

With his heroic Game 4, Reggie Jackson saved the Thunder from a 3-1 deficit and tied their series with the Memphis Grizzlies at two game a piece. Watching Kevin Durant embrace Jackson after the game, it was telling just how thankful Durant and Coach Scott Brooks must have been. No offense to Russell Westbrook, but instead of running directly to Jackson, Westbrook had the ball in his hand, screaming with happiness toward the Memphis fans. It was a telling moment. Jackson is the unheralded hero of this Thunder season. Westbrook's relentless attack of the rim can be pure joy to watch, but the future of this team should be Durant and Reggie Jackson. Westbrook, often maligned for his unorthodox play, is an undeniable force, worthy of leading a team by himself, but it should be clear by now that he doesn't mesh very well. He doesn't manage the game, possession by possession. Some put the onus on Coach Scott Brooks to find a way to use the two players more cohesively and to run more sets, less isolation. This is a valid argument, but I wonder how much Westbrook listens to any coach or teammate. He doesn't show the ability to pick his spots, to take care of the ball when it matters most, or to defer to Durant in key situations. Though it is unlikely Westbrook would ever accept the role, he would be ideally suited to becoming the best 6th man in the NBA, an even more explosive offensive weapon than Jamal Crawford or Manu Ginobili. Instead, his ego may force GM Sam Presti to make a deal down the road.

On the other side, the defensive instincts of the Grizzlies' Tony Allen's remain unparalleled. The man plays with an inner drive that is just insane. He refuses to let anyone pick him. Some of OKC's offensive struggles rest solely on Durant's inability to extricate himself from Allen.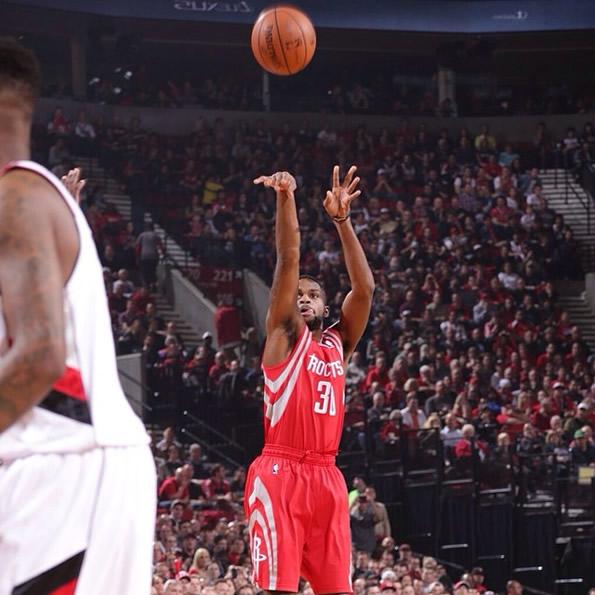 Despite NBA experience measured in minutes, the Rockets' Troy Daniels has been deadly.

Houston-Portland (Blazers lead 3-1), Game 5 in Houston, Wednesday

Troy Daniels is 22 years old. He went to Virginia Commonwealth and set records for three-point shooting. He was not drafted last year. He was signed by the Charlotte Bobcats in September and waived in October. Think the Bobcats are scratching at themselves for missing on that one? A week later, he was signed by Houston. A week after that, he was again waived. He went to the D-League and continued to rain threes upon the heads of opponents.

On February 21 the Rockets signed him again, then sent him back to the D-League. On March 5 he made his NBA debut, playing all of 92 seconds. In a blowout win two nights later he made his first NBA three-pointer and played 6 minutes. He went back to the D-League. Fast-forward one month. On April 9, against Denver, Daniels got 11 minutes of run, and connected on 4 of 6 from deep. Three nights later he played 13 minutes, going 1 of 5 from deep. In the regular season finale Daniels got free reign, playing 44 minutes, and made the most of it, going 6 of 11 from distance, scoring 22 points and dishing out 5 assists.

He wasn't expected to make any noise in the playoffs. In total, he'd played 76 minutes in the NBA, 44 of those minutes in an entirely meaningless final regular season game. The playoffs started. LaMarcus Aldridge served the NBA a subpoena: I'm here. Terrence Jones can't guard me. My Blazers aren't going anywhere. The Blazers won both games in Houston. Troy Daniels watched from the bench, presumably happy to be there, wearing the uniform, feeling like he'd made it to an NBA roster and now had a front row seat for the playoffs.

And then it happened. Coach Kevin McHale (perhaps at the prompting of Rockets' GM Daryl Morey) called his number. Twenty minutes and 3 long-range swishes later, the Legend of Troy Daniels was being written. Daniels helped the Rockets take a tumultuous must-win Game 3 in Portland. He followed it up with an impressive 4 of 5 shooting performance in 21 minutes Sunday night, an overtime thriller that Wesley Matthews (among others) simply would not let the Blazers lose, with his gutsy defensive play. The most impressive Daniels moment, for me, was at the free-throw line, after he was fouled shooting from deep. Daniels approached the line with poise and confidence. He calmly knocked down all three. The net barely moved, they were so true. I love it when players come "out of nowhere," as they say, and impact big games. The reality is, they all come from somewhere. Daniels took the moment and seized it, like Gary Neal in last year's Spurs playoff run. Troy Daniels: shooter. Keep it going, young man.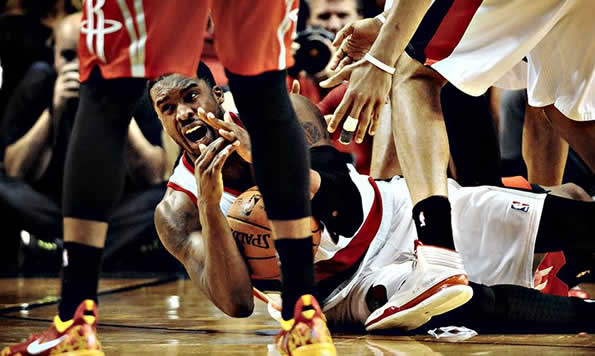 Few players would wrestle a loose ball from Dwight Howard, but Wes Matthews pulled off the feat Sunday.

I can't write about this series without mentioning how much I love watching these Portland Trail Blazers. Every member of this team contributes something. Everyone has a role, and nobody demands the ball. The Blazers got this far by trusting each other and by threatening to score from every spot on the floor. That spacing, in addition to a positional mis-match, allowed Aldridge to score 89 points in the first two games. That spacing is what the Rockets wish they had. That spacing is what the 2011 Mavericks had. Coach Terry Stotts was on the Dallas bench, assisting Rick Carlisle. Spacing is what the Spurs and Heat have. It's how you get open corner threes. It's how you score in the playoffs. The opposite: take a look at the Chicago Bulls. The Wizards defense can collapse on Joakim Noah at the elbow and Taj Gibson on the block because other than Mike Dunleavy's Game 3 heroics, the Bulls can't space the floor.

Damian Lillard is a joy to watch. Completely confident without a hint of arrogance. He knows he belongs in these big games. Nicolas Batum is the same way. He has worked his way into becoming a reliable three-point shooter, which opens up his lanky drives and sweet pocket passes. Batum's defense has stifled Chandler Parsons and occasionally made life hell for James Harden, as well. Aldridge is Aldridge: Unblockable with that high release. Rarely turning it over. Fierce on the glass, devouring rebounds. Cult hero Robin Lopez has made life messy for Houston's bigs, altering shots in the paint and never fearing the mammoth Dwight Howard. In the fourth quarter, the Blazers were saved by a Mo Williams steal with 28 seconds left, followed by Mo's 26-footer ten seconds later, giving Portland a 105-104 lead. They went on to win another epic in overtime. Three of the four games have included an overtime period. The cardiovascular couch workout is taking years off the lives of the good citizens of Houston and Portland.

But Wesley Mathews...oh my. The man wants it! He wants it like Tony Allen and Draymond Green want it. He ripped the ball away from Dwight Howard in what was essentially a two-man wrestling match on the floor. I had to watch it again in slow-motion. 99 out of 100 NBA players wouldn't have come up with that loose ball. Only Tony Allen, Draymond Green, Avery Bradley, Lance Stephenson, and P.J. Tucker would have had a chance. Matthews came up with the ball, called a quick timeout, and let out a primal scream for the Moda Center fans. It was fitting that Mathews interrupted a would-be final shot attempt for the Rockets to seal the win. Mathews blitzed a pick all the way out at half-court and came up seizing that ball like he was going to deflate it.

Wesley Mathews is loving every minute of this. And guess what? He went undrafted, too.

---

Jonah Hall writes about the NBA and many other things at
www.darkoindex.com
. On Twitter @darkoindex. In March, he wrote about reading Saul Bellow's
Herzog
.