Speculative Cinema
Through the Eyes of the Beast
Georges Franju Peels Away the Face of Culture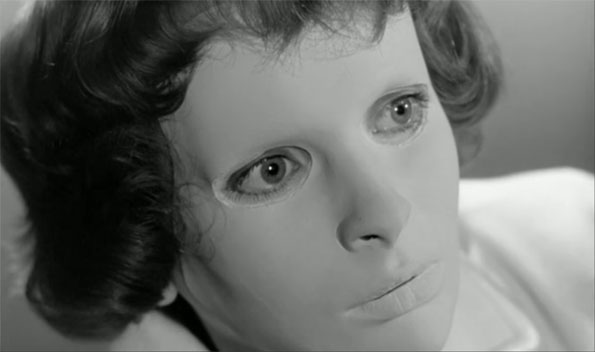 By Cohen Perry


reators of speculative cinema are often engaged in a sort of private thought problem that, when released into the wild, turns into public discourse. When these thought problems involve exploratory ideas that are disturbing, or that draw on subject matter considered taboo or weird, there is often resistance on the part of the audience—even when it turns out the thoughts are simply awaiting their acceptance in culture. Given this fringe existence that speculative cinema inhabits, it comes as no surprise that such a film might explore scary or unsettling ideas. Few films, however, are truly horrifying for their philosophical explorations alone.

One such film, however, is Georges Franju's 1960 entrance in the horror genre, Les Yeux Sans Visage (Eyes Without a Face). Equally beautiful and disgusting in its imagery, the film carved itself a place as one of France's most celebrated and influential examples of cinéma fantastique—a compliment Franju rejected. "It covers fantastique in the term itself," Franju said in a 1982 interview on the French television show Ciné Parade, "as well as thrillers, based on emotion, whereas I'm closer to the unusual—the unusual moments that exist in our everyday world." This interest in the unusual can be traced back to Franju's first projects, a set of documentaries spanning from 1935 to 1958 and covering various topics of war, industry, and humanity in post-war France. The 1951 film Hôtel des Invalides, Franju's favorite of the early documentary series, was commissioned by the French government to pay homage to the hospital and museums housed within the complex. Instead, Franju chose to depict the inhumanity of war, juxtaposing grand images of the museum with grainy scenes of battle; perfect sculptures of heroes with disabled veterans.


This was a technique familiar to Franju, as he had made a name for himself three years earlier with his 1948 documentary Le Sang des Bêtes (Blood of the Beasts). Controversial even by today's standards, the film is a surreal documentation of French slaughterhouses, marked by non-contextual imagery juxtaposing Paris suburbs against scenes of gore and violence inside the factories. The film begins with a lackadaisical music score set to peaceful shots of furniture outdoors, a couple embracing, a moving train, traffic and architecture. As if an afterthought, the audience is told that "there is also a slaughterhouse," followed by the puncturing of a horse's skull with a butcher's tool. These tranquil images of placid rivers and serene settings, edited in opposition to cows slipping on the blood of their herd, flesh strewn about, and animals being mutilated, brought criticism on Franju. Audiences saw his depiction of violence as exploitative, a response that would leave the director's work in obscurity for much of his early career, as the public chose to think of him primarily as the co-founder of Cinematheque Francaise above all else.

"I say it all the time," Franju states in the Italian documentary Il Visionario, "violence is not the goal, but a means of achieving it…My goal is always reality, and I cross it with tenderness. Violence is the argument." He elaborates on this in a Ciné Parade interview, claiming that "Even as a child I didn't believe fairy tales. They bored me stiff. On the other hand, reality amazed me and sometimes scared me."

When Franju was approached by a French film producer to adapt Jean Redon's novel Eyes Without a Face, he was given strict limitations. Franju told Ciné Parade that his producers wanted "a horror film, but no blood—that would cause problems with French censors. No animals tortured, because that would cause problems with English censors, and no mad scientists, which would cause problems with German censors, because it brings back bad memories." That Franju accepted these limitations is surprising, given the graphic nature of his previous work—not to mention that the source novel was essentially about a mad doctor who tortured animals and removed faces. What suited Franju about the project, though, was that his interest in stark "reality" allowed for a reworking of the story—the freedom to strip it of its fantastical elements and appease censors, while still invoking terror in his audience. "The best horror film I ever saw wasn't supposed to be scary," he says in the same Ciné Parade interview, "and that's why it was scary."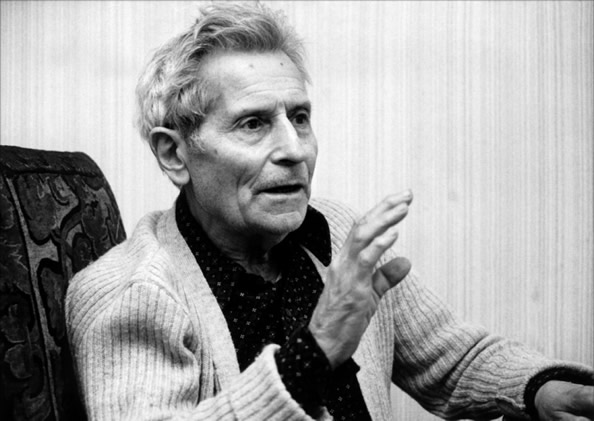 Georges Franju. "The best horror film I ever saw wasn't supposed to be scary."

ranju drew strongly from the surrealists that influenced him during his documentary years. His venture into narrative film, however, would provide new interests for his lens, as the nature of a story would demand continuity—a departure from the free associating documentaries of his past. Franju still grasped the power that imagery could convey, and it comes as no surprise that faces would be the focal point for Eyes. Indeed, the first five minutes is essentially a study of faces. The film's opening sequence, where Loise (Alida Valli) is dumping a body, focuses primarily on her anxieties during the car ride, conveyed by her darting eyes and stressed facial expressions. If we aren't shown her face and where she is looking, we are focusing on the lack of a face on the corpse in the back seat. There are strange angles of Loise's face, as her head takes up half of the front window when shot straight on, a chiaroscuro effect highlighting her expressions. Franju immediately establishes that in this film about faces, we will, naturally, study the face.

In the next scene, we are introduced to the film's antagonist, Doctor Génessier (Pierre Brasseur). While Génessier gives a speech on the breakthroughs of heterograft surgery, we are almost exclusively shown his audience members. Wide-eyed and stone-faced, they are transfixed by Génessier, stupefied in their attention. As the camera turns towards the high podium, a giant mirror in the background reflects their gaze—their eyes give Génessier power, and the upward angle that he is shot at reflects this transference. We are, for the most part, expected to ignore his speech, distracted by our interest in these faces. We are cued to listen, however, when the angle shifts so that Génessier is looking and speaking directly to us, the viewer. The near break of the fourth-wall establishes Génessier as the villain when he announces he must "drain every last ounce of blood from the body," staring unflinchingly into the camera. Though the narrative demands Génessier's speech for exposition, far more is revealed outside of the dialogue. Franju's study of the faces of the bourgeoisie statues that make up his audience establishes a focus on vanity. The audience members seem dumb, thoughtless drones, while Brasseur's acting is stiff and unfriendly, including an awkward strangeness to his movements that the other characters don't seem to recognize. Furthermore, he is as expressionless as anyone around him, and maintains this blankness throughout the film.

Génessier's gravity as a character is created via contradiction. He is an embodiment of the scientific institution, sterile and cold, yet his cause is deeply emotional: he wants his daughter to be beautiful, to right a perceived injustice that he himself committed. Society's apparent acceptance and celebration of his work leads to cognitive dissonance within the viewer—we are supposed to hate him and his cause, but the characters in the film support his endeavors, creating an uncomfortable reflection of the realities of experimentation. Génessier's character contradicts our assumptions that doctors can be trusted, or that the appearance of normality implies a code of morality. A traditional horror character like Dr. Frankenstein isn't particularly scary, for instance, because the character is unrealistic to the point of absurdity. In Eyes Without a Face, however, we are made to feel discomfort—a feeling far scarier, because it can't be explained away by the necessities of a movie. Instead, we can't help but wonder about the degree to which our own doctors' ambitions have been fueled by a sort of perverse self-interest.





ontradictions aren't limited only to the characters of Eyes Without a Face, however. Franju's mise-en-scene explores the same realm of tension via familiar techniques when one calls to mind Blood of the Beasts and how its narration, score, and imagery all seemed to clash against one another. This stacking of devices is best seen in the handling of Christiane (Edith Scob), the doctor's daughter and source of ambition, and the "monster" of this horror film. She is introduced during a strange coddling scene in which Génessier expands on his love for her, making it explicit that his pursuits as a doctor are "always for her." Though there is a hint of a Freudian-inspired father-daughter relationship, the real strangeness is in how the camera treats Christiane. From the film's beginning we are primed to focus on the actors' faces, yet Christiane's face is apparently too horrible to show. Instead, Scob is forced to act with her back to the camera and everyone around her. We get closeups of the back of her head and hair while she speaks—a bit reminiscent of watching The Addams Family's Cousin It. The first moment of visual fright occurs when Louise applies Christiane's mask and brushes her hair as if she were a doll, but the ultimate balance of contradicting senses culminates in the following scene, one of the most remarkably surreal and beautiful sequences in the film.

Left alone, Christiane wanders the halls of her father's mansion as if a stranger in a new place. Christiane's carnivalesque anthem (scored by none other than Maurice Jarre of Lawrence of Arabia fame) overwhelms the viewer, as it's the first implementation of non-diegetic sound since the opening scene with Loise. The music is ominous, yet optimistic, creating a sense of innocence and naïveté in the young woman, but leaving room for doubt about things to come. Scob seems to float across the set, fluid but mechanical in her doll-like movements, and curious at all of the beautiful objects which surround her. Her appearance marks a departure from the harsh realist elements of the first third of the film, transporting the viewer into a kind of dream space. Franju creates an abrupt change in tone, the sort of "tenderness" that he sought to cross with "reality." The mask, however, is horrific—Scob's acting with it on makes her resemblance to a porcelain doll beyond uncanny, making it difficult to discern whether or not what we are seeing is human. Christiane approaches a covered mirror, places her hand on it longingly, and then continues about her curiosity. The scene ends when she looks up to a painting, similarly framed to that of the mirror, and sees an image of a girl walking with doves.

It's a scene which reveals Christiane's true nature, establishing her as the "other," a subject from whom we should derive meaning. We learn it was Génessier's fault that Christiane was deformed, and also that it is he who covers the mirrors and forces her to wear the mask. Christiane is a polar opposite of her father—she is shot in bright lighting and sets, wears white to her father's greys and blacks, and carries a lightness to his heaviness. It becomes evident that the uncanny sensations and the repulsion we feel in bearing witness to her masked existence come exclusively from the transgressions of her father. He is the one who introduces contradiction to Christiane's natural existence, imprisoning her and stripping her of humanity. The mask is a physical extension of his oppression—a symbol of unnatural perfection. Vanity is what gives the underlying tone of strangeness, and discomfort is what forces the viewer to reflect on what they are observing.

Franju is toying with sensation above all else, but he is deliberately attempting to confuse these sensations. We have a certain visceral reaction when we see the cold and tyrannical Génessier, completely different to the ethereal hauntings of Christiane. By melding these reactions together, it becomes difficult to discern why we feel as we do—we fear Christiane for her complacency in murder, forgetting that Génessier never sought her consent. Thus the true antagonist of the film is blurred—both doctor and daughter strike the viewer as disturbing.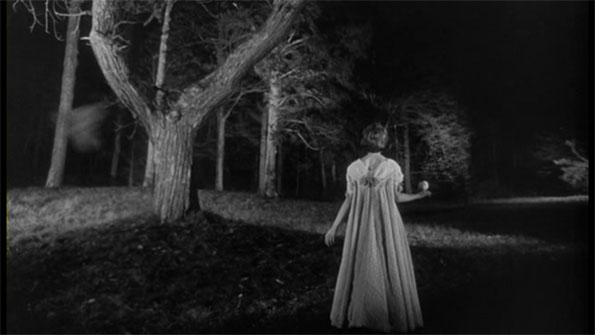 he moment Génessier places the scalpel in the young Edna's face and begins to remove the skin, the true monster is revealed. In the same way that a cow being slaughtered by an apathetic butcher with a cigarette suggests that what is being done is unnatural, so too does the climactic surgery scene in Eyes Without a Face raise this notion. This scene is shot from the perspective of a medical documentary, focused straight on the face that is being removed, and with monotone direction from the doctor, use of clamps to make sure the skin doesn't shrivel, and careful attention paid to hygiene and practice. It's so sickening that it led to enraged condemnation from critics and viewers, some of whom passed out during the screening. (Franju supposedly commented, after a showing in Scotland, "Now I know why Scotsman wear skirts.") We have to wonder if that rage is misplaced, though—after all, this is a medical procedure. It's the realness of the scene that was horrifying for many viewers, and likewise, their anger is a response not to the realm of fantasy, but something with its basis in reality—they are not angry at the doctor and his crimes, but at Franju for eliminating the fantastical barrier that is so comforting in the horror genre. Likewise, we would rather not discuss the degree to which Nazi scientists also felt they were seeking medical innovations, nor how Russian researchers advanced the possibilities in the operating room by vivisecting dogs, though these things are also a part of how we got to where we are now. The horror in Eyes Without a Face is in its realness, the depiction of an operation as it would be performed in a hospital—an aspect of the institute of science.

Perhaps that's exactly what Franju wanted: a discussion about where we are going. His film stands as a point made, and we can read the final moments of Eyes as a sort of warning. Christiane, guided by her anthem, wanders into the forest, surrounded by doves she has just liberated. The camera is set at the bottom of an incline, so that her waltz into the night takes on an ascent to a new beginning. Though she still carries the mask, she has transformed—she returns to nature. Her father, the sterile symbol of the institution, is left dead and abandoned, mauled by the very dogs he used as research tools. It's not that Franju was simply looking to end on a bit of dark humor—it's his way of making his side of the argument. In our scientific pursuit of perfection, we are blind to our mortal limitations. It is easy to forget that our scientists are mere humans, simple members of an institution, and not forged by the principles that define it. Génessier was but one of these individuals, his duty to science corrupted by vanity into a practice of depravity. Franju suggests there is something natural or authentic that, as a society, we should strive for. This authenticity lies behind the veil of vanity, further buried by a will to overcome our natural barriers. Too often, though, we fall to our own means of "progress," mutilated by our own creations.

---

Cohen Perry's writing on film has appeared, most recently, in Videoscope magazine.