Journey to China
Justice to a Small Potato
Thoughtcrime at the Museum of the Cultural Revolution (Part Two)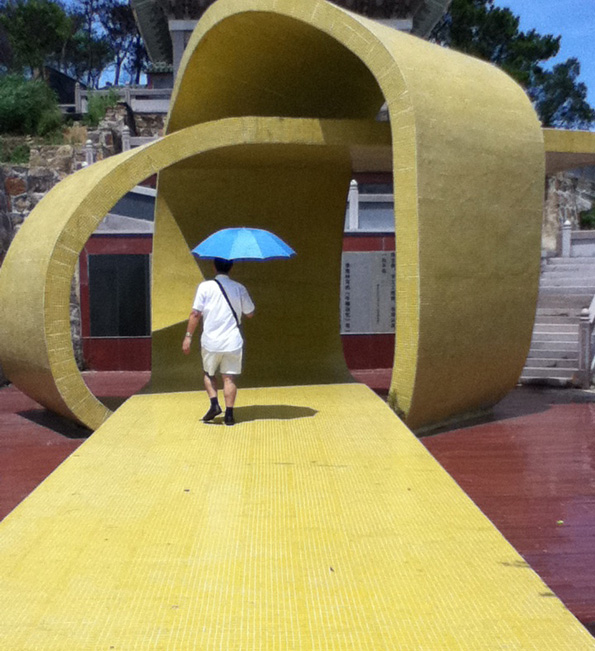 [This is part two of "Justice to a Small Potato." Read part one here.]

By Jennifer Ruth


fter the plaque of punishments, we climbed some steps to a huge steel sculpture. It was as if the giant whose book we were reading had ripped a yellow rollercoaster from an amusement park and dropped a chunk of it there. The sculpture curved up and around itself and then broke off on a high point—one imagines a roller-coaster car careering off the end and crashing. We looked in vain for any sign that might function as the sculpture's caption, any explanation of who made it or what it represents. "What is this?" I asked Jonathan. "A yellow road," said. "But what does it mean?" "I don't know." Our driver had been following us as we moved through the museum, chatting with us occasionally, though the grimness of the museum had flattened the spirit of camaraderie we'd enjoyed driving there. I asked Jonathan to get this man's opinion of the sculpture. "He doesn't know what it's supposed to be, either, but says maybe it's a white slip in respect for the dead." But it wasn't white. It was bright yellow and there was nothing airy or slip-like about it. "It's the golden road of communism twisting in on itself and ending in disaster," I said. Jonathan said only, "It is very interesting that this is the only exhibit in the whole museum with no title or words to accompany it."

We followed the path to the last site, a courtyard rimmed with engravings of the images of people who were killed in the Cultural Revolution, and brief descriptions of the circumstances of their deaths. Jonathan translated for me. The first two engravings were of women in the prime of their lives, schoolteachers in Shantou and mothers of young children. One was beaten to death during a repudiation session and one was found drowned in a creek on the outskirts of town the morning after a repudiation session. Jonathan was out of breath after reading these and I asked if he was all right. He nodded but said, "So terrible, such terrible things." I asked if it "brings up memories," and he said, "Sure, sure." Next was an engraving of a naked infant whom, we read, was "pierced to death" because he was the "stinking baby" of revisionist parents. Jonathan had not been telling me the victims' names because he knew they would go in one ear and out the other, but there I asked him to tell me the name. It was a sentimental impulse, as if learning the baby's name would translate into a miniscule measure of restitution, which of course it wouldn't. "Yee Cho Ji," Jonathan answered, "the same surname as myself—Yee." He turned away. "We cannot read every single thing," he said. "It would take too much time."

We skipped a dozen plaques memorializing other Shantou victims and moved to the middle of the square, where there was a statue of Liu Shaoqi, arguably the Cultural Revolution's most famous victim. He was President of the People's Republic of China from 1959 to 1968, when Mao turned on him. He died in prison a few years later. Behind him was an engraving of Zhang Zhixin. One of those sincere communists who began to doubt as the corpses piled up, Zhixin defended Liu Shaoqi and questioned the cult of personality building around Mao. Consequently, she was imprisoned, where guards forced other prisoners to rape her. When she would not retract her statements, she was condemned to public execution. On the way to the stadium, she started yelling, "Liu Shaoqi is good!" so an official slashed her throat. She bled to death before reaching the execution site, but held up by her armpits, her head dangling, she was paraded before the crowds anyway. The Party General Secretary Hu Yaobang later "rehabilitated" her, but became a victim himself less than a decade later—in 1987—for advocating market reforms. Students marched to mourn his death in May 1989, and this demonstration of respect for Hu Yaobang led to the protests that ended on June 4th in the Tiananmen Massacre. "We are a crowd of wolves and you don't know when you'll become food," Jonathan remarked, apropos of nothing and everything.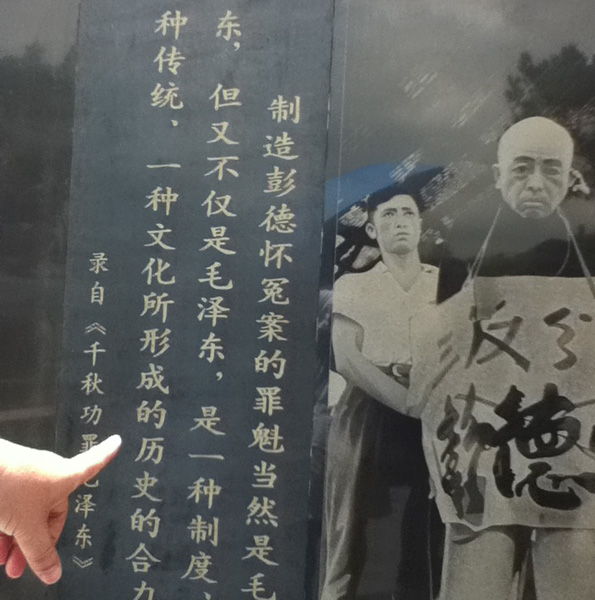 Tired and overwhelmed, we found a stone bench on which to rest. Our driver sat down a bench away. We didn't speak for several minutes. It was miserably hot and humid and our clothes clung to us as if we'd showered in them. We repeatedly wiped sweat from our faces—Jonathan used a handkerchief, I used the paper tissues everyone carries in China for toilet paper. And then, perhaps because talking about Zhang Zhixin had prompted some memory, Jonathan told me about the women in the communes who were raped. He said "the good girls killed themselves" afterwards because of the "disgrace." Nowadays, he continued, men his age do not want to marry the women who were among the "educated youth" of that generation because everybody knows what happened to many of them. He said that after that generation married, it was not uncommon for word to get out to a husband about what his wife's experience had been—what she'd done or what had been done to her. There were many unhappy marriages because of this, he said. "Now that divorce is less expensive, many of these couples can finally divorce," he told me. I asked, my voice a little hard, "So the husbands, when they learn their wives' history or hear gossip about it, are not loyal to her?" Jonathan looked very unhappy at this. "Anyhow," he said after a moment, "It is not that the husbands are not loyal, but it does not feel good. They don't feel good knowing this." Jonathan looked so pained that I wondered about his own dissolved marriage.

We were so emotionally raw that I had no energy left to suppress the question I'd carried for three years. "Do you remember when you started to say something on the bus to Kaochow about something that happened to a poor girl on your commune?" "What were we talking about?" he asked. I gave him some details of our 2008 conversation. "Oh, yes, I think I remember. Really, that is something...that is something too terrible." "But what was it? Will you tell me now?" For the first time, though he'd spent countless hours with this hapless American who had given him no end of trouble, he was openly annoyed with me. "There is a movie now about this, the same thing happened to others. It's Tian Yu. Get the movie," he told me a touch brusquely. The movie was released in the United States as Xiu Xiu: The Sent Down Girl, I discovered when I returned to Portland a few weeks later. It's the story of a teenage girl who is gradually reduced to prostitution when one cadre after another tricks her into sleeping with him by dangling hope that she might be permitted to return to her family in the city. I watched half of it, left it floating around the DVD player for a year and a half, and now can't find it. I could buy it again, but I won't. I watched enough.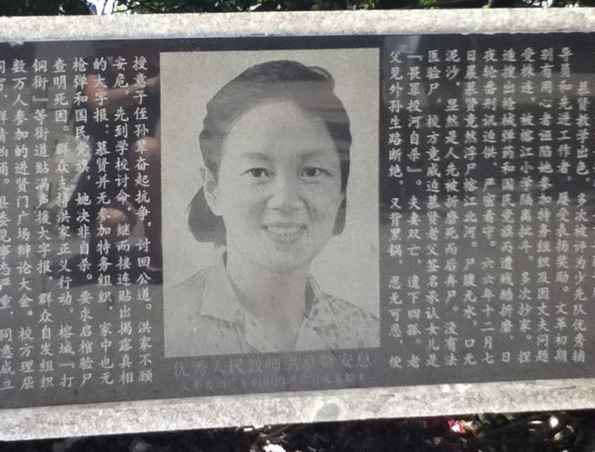 On our way back to the parking lot, we passed a trailhead leading to the cemetery. Should we go? "It is up to you," Jonathan said, gracious again. We'd been there for over four hours. It was all we could do to keep our bodies in motion and make occasional eye contact. I shook my head no. We—the driver, Jonathan, and I—said next to nothing as we drove the forty minutes back to town. I wondered what the driver was thinking, but assumed he wanted what I wanted, and what I assumed Jonathan also wanted—to be left alone, talking to nobody, looking into nobody's eyes.

The following day I went to Nanjing. I would see Jonathan again in two weeks, in Shanghai.




n Nanjing I visited the Nanking Massacre museum. It occupies an entirely different universe from the Museum of the Cultural Revolution. There are more than 100 attendants on duty at the museum daily, and it averages over 1,000 visitors a day. While I was there, a production crew was filming a CCTV documentary to air next year on the anniversary of the Japanese invasion. There were numerous school groups and at least two different military groups. The crowd was such that I was forced to read most of the exhibits from behind a row of people three-deep. The highest estimate for deaths in this atrocity is 300,000. The highest figure for the Cultural Revolution is 20 million.

From Nanjing I went to Suzhou, where I toured the watertown Zhouzhiang Village with Chinese tourists. A man fell in step with me to ask what cities I'd visited. When I listed Nanjing I mentioned the Nanking Massacre museum, and the man explained that the Chinese and the Japanese do not enjoy good relations. I said I found it baffling that the Japanese government continues to refuse to officially apologize for the Massacre. He nodded. To further the bond we were forging, I offered that Americans don't really like the Japanese, either. Or the Germans, I added. By then, three other middle-aged men were walking near us, listening with open curiosity. Bill Buford's book about bellicose British football fans, Among the Thugs, popped into my head. The guys had that chain-smoking, cheap white-button-down-shirt cadre look, but they weren't why I thought of the Buford book. Rather, their presence made me aware that I sounded like a thug. Americans don't like the Japanese or the Germans? What am I saying? I laughed, embarrassed, and said: "Of course people are people everywhere—Japanese, German, Chinese, American, women dou hao [we're all good]." My new friend nodded again, this time with less conviction.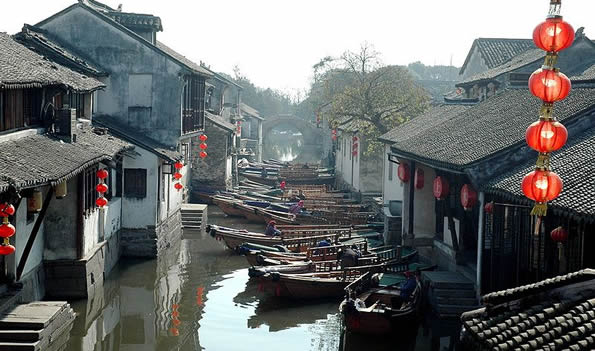 We talked about the tumultuous Chinese twentieth-century, and I asked if he remembered the Cultural Revolution. No, he said, he was too young—just three years old. "How about you?" I asked one of the guys near us who had been following the conversation. Also too young. "And you?" I look at the oldest man among us. "I was sixteen," he said, and pantomimed wrapping a band around his upper arm before giving me a thumbs up. "You were a Red Guard?" "Yes!" he said with unabashed enthusiasm and pride. I backed away a few steps, joking that I was afraid, and everyone laughed. "No, no, that's all over," he said. I asked if he thought of that as a good time for China, or if he has regrets about it. His face clouded. "You can't understand," he said. "Your culture is too different." The others looked thoughtful, a little pensive. I started to say something, but the driver shepherded us back onto the bus. Later, on the way back into the city, I overheard them talking a few rows behind me. They were agreeing that China's history is too complicated for a foreigner to understand. Even a Chinese person would have to study many, many years to understand it, one of them said without irony. When a note of anger seemed to enter the older man's voice, the guy who'd originally befriended me told him I had said that Americans also do not like the Japanese. This was apparently an attempt at dissolving the older man's irritation with me.




onathan and I met in Shanghai. For three days in a row, we sat across from one another in the lobby of my Shanghai hotel, eating at nearby restaurants when we got hungry.

Our first day talking, I found out why I, an American professor, might have been important to Jonathan when we met in 2008, and why he'd gone to so much effort to bring a Fulbright scholar to his university. Had Jonathan joined the Party as a university student, he would likely have had chances to travel to the United States earlier, but he didn't visit the U.S. until he was forty—and, as he repeatedly emphasized, that was an opportunity made possible and financed by America, not by China. The American Consul had a program in which it sent three "outstanding citizens" from each province to America for five weeks. Candidates had to take an exam in written English and sit for an interview with the American Consul General. When Jonathan heard that two people had been chosen (both powerful Directors in the CCP), he concluded that he had not. Two months later, though, his letter of selection came in the mail. It was two months past its postmark date. A former student who was working in the Office of Foreign Affairs told him that the Director of Foreign Affairs had wanted to be picked, and when he got the letters of selection he'd passed the other two on to their recipients, but not Jonathan's. He'd then tried to substitute himself for Jonathan, but the American Consul would not hear of it, allegedly saying, "If you do not let this professor go, nobody will go, because you did not follow proper procedure."

At one point, I told Jonathan that studying the political twists and turns of Chinese history has made me feel lucky I'd been born in a time and place in which I could influence how my future unfolds. "I think I am also very lucky in my life," he said. "I am especially grateful to those American consuls who are very honest. They did not surrender to the pressure from the Chinese officials. They did justice to a small potato. Or, rather, I should say, they did their duty well. Otherwise, my experiences would be different." He spent five weeks in 1997 as part of that delegation from China, touring the States and meeting American literature professors. He then went to Canada to study for a year. He'd hoped to enroll in a Ph.D program in Canada or the U.S., but no program offered him funding, so he decided to return to China. "But there was another problem," he said. He had no money. He'd been living hand-to-mouth while studying, doing the kinds of things people do when they have no work visa: housecleaning, babysitting, painting houses. He borrowed money to take a Greyhound bus to Chicago, where he knew somebody who let him sleep on her floor. After weeks of looking, he found a job as a waiter at a China Buffet outside Chicago. There, he spent three months saving up money for a ticket home.

On our third and last day in Shanghai, Jonathan told me that he himself was a "little Red Guard," and that his older brother was a Red Guard. "You see, it was a fashion statement. Everybody wanted to wear the armbands. You got perks, like riding the bus for free. And if you didn't have one, then people might think something was wrong in your background." I was a little surprised, not by the revelation but by the fact that he was only telling me at that moment, when there'd been plenty of occasions to mention it before. Because he'd never said anything before, I'd assumed he'd managed to stay on the sidelines, on the margins of the Revolution. Of course I'd been assuming that one could be on the margins, just as I'd once assumed the Cultural Revolution had been limited to certain big cities. When traveling through Zhaoqing on our way to Shantou weeks earlier, I'd asked Jonathan if the small city had been touched by the Cultural Revolution, and he did a double-take, as if checking to see whether or not I was joking. When he saw I wasn't, he said, "Every place experienced the Cultural Revolution. The Party reached every corner of China." A few minutes later, he added in a tone that suggested he was still a little stunned by my ignorance: "The Party controlled the entire food supply by 1966. That is the point. If you had no danwei [the work units organized by the Party], you cannot eat."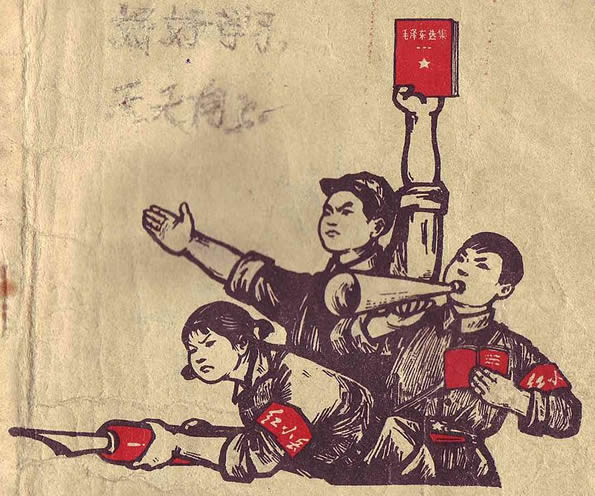 I was glad he mentioned this fact of his youth. In fact, the information only made me appreciate him more. "Isn't it often the very people who participated in something who have a harder time changing their views of it over time? Implicated in it, they have a psychological investment in defending it, right?" I said. "I suppose," he said. "Then why are you the way you are?" I asked, "How come you started out as a Little Red Guard and had every incentive to join the party later, but never did? How did you always keep your independence of mind?" "We ordinary people have eyes and ears," he said at first, and while I understood his point, having met enough "ordinary people" with an innate capacity for critical thinking to know what he meant, I also didn't think he was ordinary, so I pushed him to say more. He didn't know why he was who he was—who does?—but a few things occurred to him, all of which, I realized only later, related to literature in one way or another. He told me that when schooling stopped, he spent day after day reading fiction. At one point during the Cultural Revolution, acceptable culture shrunk to only Mao's words—Does the book have a red cover? Yes? You can read it. No? Forbidden!—but Jonathan read everything he could find, especially the books that were illicitly circulating among the older kids. When the Red Guards busted into homes to harass and beat the occupants, they confiscated any trace of the West, passing the contraband among themselves. His older brother would get a book and give it to Jonathan. He remembered reading detective fiction, Shakespeare, Jane Eyre, Chekhov and other prerevolutionary Russian writers.

He also told me about an ex-pat American anthropologist who taught college literature and whose announcement to her students on the first day of class made a strong impression on him. "I am not a member of the proletariat," she'd said. "We will be studying literature, not doing political analysis. If you want to do political analysis, you must do it on your own. I am bourgeois, but I am a progressive bourgeois." It was 1980 or 1981. It had only been a few years since people had stopped being routinely beaten and killed on suspicion of having a bourgeois history or harboring bourgeois sympathies. Jonathan laughed with delight when he told me about this woman, as if still in awe of her irreverent courage.

We were sitting inside an Italian restaurant and it was our last hour together. Outside the window, a thunderstorm buffeted trees and signposts. When two waiters opened the door to drag in patio furniture, a gust of air hit us. Typhoon Muifa was expected to move from Japan to Eastern China the next day.

As we rose from the table and prepared to head outside—Jonathan back to a former student's apartment and me to my hotel—I urged him to read a book I'd brought him from America. Since that conversation with the Wuhan students in 2008, what I consider the Cultural Revolution's Beloved has been written—The Vagrants, by Yiyun Li, in 2009. Li left China in her early twenties and applied for American citizenship. Until and unless there is a radical change to China's one-party system or to the Party's modus operandi, the book will never be sold in China—at least not on the mainland. Five characters' stories unfold on the day of a counterrevolutionary's execution. In a brilliant move, Li never lets us hear from the condemned person herself, a once-aggressive Red Guard who pays for her eventual disillusionment with the Party by suffering a gruesome death. Instead, the grand irony of this woman's life serves as the background for the more modest but equally devastating ironies in the lives of marginal people, characters not in the vanguard of history but caught in its wake. Jonathan said, "Okay, okay, I'll read it. But I looked Yiyun Li up on the internet. She is too young. She wasn't there. When I was in Shenzhen waiting for you, I went to the University library and read a collection of Ha Jin's short stories."

Standing there with our umbrellas in hand, reluctant to face the rain, he told me about the Ha Jin story he liked best, about a Chinese man in Manchuria whose fruit stall is robbed of a peach by a Russian soldier. The man goes to complain to the Russian soldier's superior. When the soldier denies the accusation, the superior tells the poor Chinese food-seller, "Alright, we'll see who is lying. We'll cut the soldier's stomach open and see if the peach pit is there. If it's not, I will kill you. If it is, he will be dead, as he will deserve." The fruit-seller falls to his knees and begs the man to forget he said anything. "Please, don't cut open his stomach! This is a small matter! This is not worth a life," he pleads. The army superior slices the man's stomach open and the pit is there. The Chinese man stumbles away, horrified by the outcome of his impulse to pursue a small justice. "You see, Stalin sent very bad men to our country to help us build socialism," Jonathan said. "He sent criminals, people he wanted to get rid of. These soldiers did all kinds of bad things to people, but nobody talks about this." I asked if he read the Ha Jin collection in English or Chinese. "English. Anyhow, it's only in English. Nobody will find it in Chinese in mainland China. You see, the Russians were considered our allies then, and this story is something really...Well, it is something too terrible."




eeks later, back home in Portland, I received an email from Jonathan. He "spent all [his] spare time reading the novel The Vagrants. The author, in my opinion, looks pale before Ha Jin," he wrote. "She did not have a profound understanding of Chinese society. The background of the novel was 1979-1980 in China. Actually, that was a relatively liberal period as the majority of the Chinese people disliked the Cultural Revolution as they were all its victims."

The rules for Jonathan's generation and the generation before him changed every few years, and any thinking person had to experience innumerable moments of bone-wearying helplessness and futility. When Jonathan talks about important events in his life, his eyes drop to the ground, and his enunciation sharpens. His body language signals that his intellectual independence has also been a kind of humiliation—the humiliation of the person attracted to culture and ideas who had the misfortune to be born and raised "under the red sun," to use the phrase Jonathan himself always uses with a bitter smile.

The Museum of the Cultural Revolution was built about five years after Hu Jie made the documentary Though I am Gone. I would be surprised if Bian Zhongyun's husband Wang Jingyao knows that it exists. Hu Jie had asked him if he were saving his wife's clothes for such a museum. I'd like to think that one day Jonathan and I will meet Wang Jingyao and offer to take the bundle to Shantou, but I know we won't. Jonathan was recently diagnosed with throat cancer. Wang Jingyao, if he's alive, is in his mid-90s now. After he's gone, who will even know where he keeps Bian Zhongyun's blood-soaked clothes?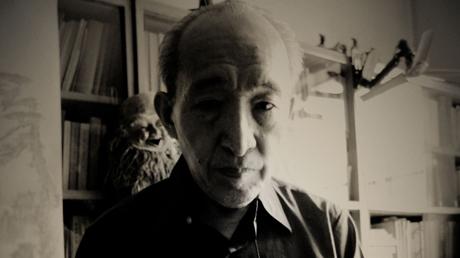 ---

Jennifer Ruth is the author of Novel Professions: Interested Disinterest and the Making of the Professional in the Victorian Novel. She recently wrote about the films of Hu Jie, and reviewed Slavoj Zizek's Demanding the Impossible and Hannah Arendt: The Last Interview.