Sport
Boys Among Men
Who Should Professional Athletes Trust With Their Money?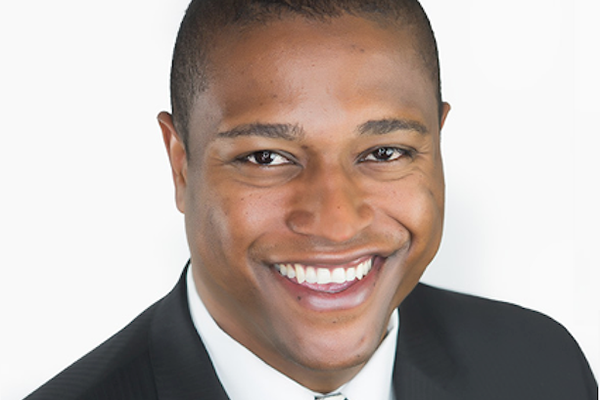 Jonathan Abrams. His book follows more than a dozen players on their paths from high school to the NBA.

By Jonah Hall

n the opening episode of Bill Simmons' new HBO project, "Any Given Wednesday," Simmons and guest pontificator/TNT commentator/retired NBA star Charles Barkley briefly discussed the NBA's age limit. From 1995 to 2005, dozens of high school basketball prodigies made the leap from high school directly to the NBA. During collective bargaining talks in 2005, then-Commissioner David Stern insisted on instituting an age limit. Stern declared players must be 19 years old, or one year removed from graduating high school, to declare for the NBA Draft. In a recent ESPN piece, published before this June's NBA draft, reflecting on the age-limit and its impact, Pablo Torre explains:


The real argument for an age limit is instead rooted in economic self-preservation. It's basic math. Unlike football, baseball and soccer, basketball is a five-on-five game wherein one star player can singlehandedly elevate a billion-dollar franchise or one costly underachiever can entomb it.

With so much at stake in selecting the top few picks in each draft, owners and GMs frustrated by the performance of their own draft picks and the direction of the league demanded change. Hence, the age-limit.

Barkley made a point about financial issues among athletes, before stating that college basketball players should be required to stay in college for two years, instead of the current requirement, which has created a one-and-done path for the best eighteen-year-old American hoops prospects. Barkley maintains that college experience will help athletes gain maturity and perspective, mentioning nothing of the indentured servitude that these top basketball players must perform.



While bringing in substantial profits for their universities, college basketball and college football players are asked to train like professional athletes while sometimes being underfed (see video above). Start with the fact that many of the best college football and basketball players come from poverty. These athletes are not paid, are not eligible to sell their jerseys or earn lucrative endorsement deals, and are thrown countless obstacles in their path to graduation. Rather than set these athletes up to succeed on the field and in the classroom, many universities set up classes specially designed to help athletes avoid challenging studies. Rather than tutoring and a stipend for their athletic contribution, the term "student-athlete" is used to rationalize the exploitation of these athletes. The NCAA maintains its early-twentieth-century ethos that athletes are in fact "student-athletes" who are compensated with an education, while conveniently allowing Division One athletes to maintain low graduation rates. From Liz Dwyer's excellent piece on TakePart:


During the 2014–15 academic year, only about 54 percent of black male student athletes graduated, compared with about 69 percent of student athletes overall. The black-male-student-athlete rate is below the 58 percent grad rate for all black undergraduate men and significantly lower than the 75 percent rate for all undergraduate students.

"Coaches go to the end of the earth to recruit players that they really want. They go to homes of low-income kids, and they sit on the couch with their single mom or with their two parents and tell them how they're going to take good care of their son," Shaun Harper, a professor at Penn and the executive director of the center, told TakePart.

According to data on the NCAA website, only 1.2 percent of men's college basketball players end up in the NBA, and only 1.6 percent of football players make it to the NFL. According to the Bureau of Labor Statistics, a person with a bachelor's degree is nearly twice as likely to be employed than someone who has completed only a couple years of college. Given those figures, success for a student athlete should mean a diploma, Harper said.


he NCAA's hypocrisy is undeniable, yet Americans remain committed to the consumption of exploitative, high-profile college sports. With that information as context, consider Barkley's statement, given without a source or any evidence: "eighty percent of professional athletes go broke." It sounds horrible, but Simmons doesn't refute it because it is vague, sensationalistic, and controversial (ratings!), and we live in an era where fact-checking doesn't exist anymore. For old time's sake, here are some facts: There are fifty-three players on an active NFL team roster, twenty-five players on an active MLB roster, twenty-three players on an active NHL roster, and thirteen players on an active NBA roster. If Barkley's eighty percent figure took into account all four major sports, NFL players make up 46.4% of all professional athletes, while NBA players make up 11.4%. In 2013, NBA players had an average career length of 4.8 seasons, according to USA Today's "For the Win." Typical of clickbait, the article's headline reads, "The Average Career Earnings of Athletes across America's Major Sports Will Shock You!" Once you are finished being shocked, please continue.

NFL players have an average career length of 3.3 seasons. Most NFL players don't make much more than league minimum, which was $450,000 for rookies in 2016. After federal taxes, that comes out to roughly $320,000, which means the average NFL player entering as a rookie in 2016 will make about $1,000,000 in his concussion-ridden career. That may sound like enough money to sustain a person and his family for a long while, but questions arise: How many people are we dividing that $1,000,000 by? Who does that athlete hire to control his finances?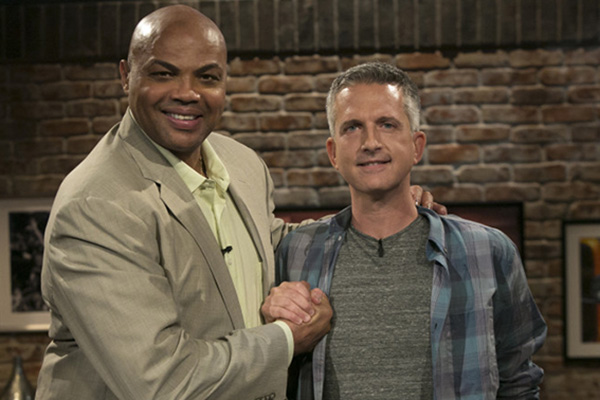 Charles Barkley and Bill Simmons on the set of "Any Given Wednesday."

Barkley's simple advice for young athletes: "You've got to learn to get rid of your family and friends who are freeloaders." Barkley's one reference point is Dr. Phil, who tells America that giving people money doesn't solve all money problems. Perfect. All wrapped up. If you're an athlete, as soon as you become a professional, forget about everyone around you whom you are mildly suspicious of. Keep all your money, and live in an isolated bubble in which people are unnecessary.

The question remains: How does a twenty-year-old professional athlete know who to trust with their money? Especially when most twenty-year-old professional athletes have many family members and friends in need of support? Many athletes in impoverished families or communities are seen as a human lottery ticket out of poverty. This is true not only in the United States, but around the world—the difference is in the amount and age at which the money is offered. It is true of soccer players around the world, of hockey players in Canada, Russia, Scandinavia, and the northern parts of the United States, of baseball players in Texas, Florida, California, the Dominican Republic, Cuba, and Latin America, and of basketball players not only in the United States, but also now in Canada, the Baltics, and countries throughout the west coast of Africa. As a young athlete who has just entered the adult world of professional sports, what should you do with your money?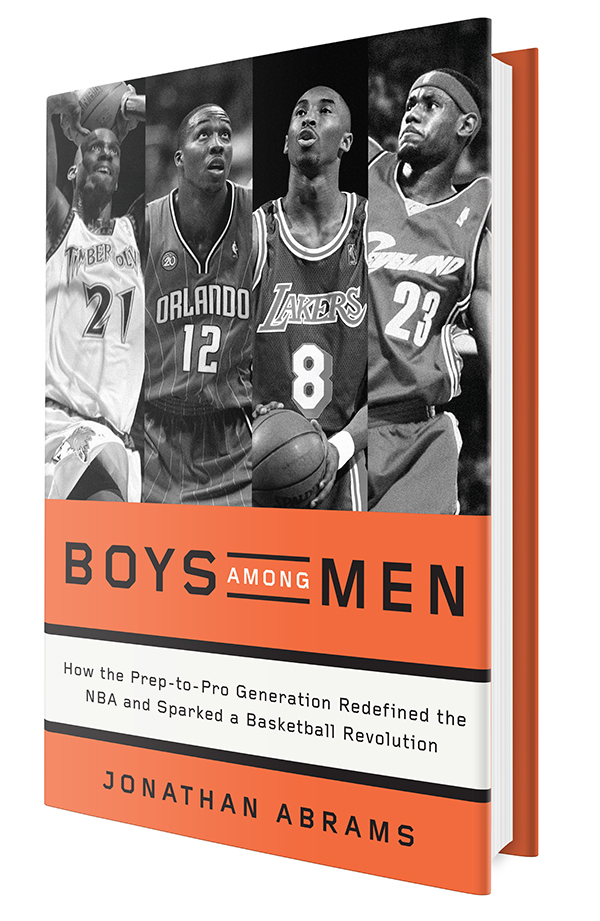 f the fifteen or twenty basketball prodigies mentioned in Jonathan Abrams' riveting new book, Boys Among Men: How the Prep-to-Pro Generation Redefined the NBA and Sparked a Basketball Revolution, not one player's story includes any certified financial advisors in their circle of family and friends. Michele Roberts, the new head of the NBA Player's Union, has made education in financial literacy a priority among rookies. New NBA commissioner Adam Silver, like Barkley, has expressed a desire to increase the age limit to twenty years old, which would effectively keep the NBA's top draft talent in college for two years instead of one. In terms of career earning potential, this would push the next generation of NBA players one year further from their biggest paydays, which generally occur when they sign contract extensions after their third year in the league, when their rookie contracts expire. Signing a big contract at age twenty-three instead of twenty-two may not seem an earth-shattering difference, but NBA players tend to peak around age twenty-five or twenty-six, and begin to decline significantly around age thirty. For professional basketball players, losing one of these years can mean missing out on a significant amount of money.

Boys Among Men takes a kaleidoscopic view of more than a dozen high-school-to-NBA players, explaining their childhood contexts, high school trajectories, and pro paths. Weaved throughout the in-depth reporting and immersive storytelling is the sense that there is no correct path for all professional athletes, just as there is no one path for any group. We see the presence of trial and error, positive and negative influences, systemic forces and vulnerable individuals, many of whom face inordinate amounts of pressure, as their success may translate to supporting dozens of family members and friends. A sort of compromise has been set between the free-market, fair-labor philosophy of the no-age-restriction camp and the indentured servitude reality of big-time NCAA sports. We currently have a one-and-done system, where college basketball's best enter the draft after one year in college. Until the NFL and MLB also prioritize financial literacy, it will be up to the older, wiser, more established athletes to support rookies in making wise choices.

In a recent interview with GQ, after the book's publication, Abrams mentioned that he thinks the best compromise would be to allow players to jump directly from high school to the NBA, with the following caveat: If they chose to attend college, they would be required to stay for two years.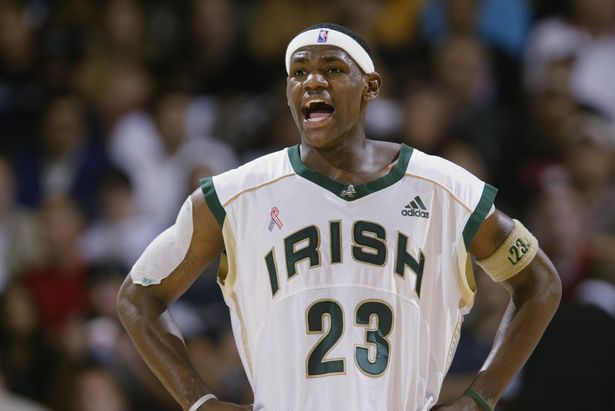 LeBron James in high school. James went straight to the NBA, before eligibility rules were changed.

This solution seems so obvious. Without a legitimate minor league system (the NBA's D-League is a joke compared to international competition), the nineteen-year-old prospect has to choose between three options: college, the NBA, or playing professionally in Europe or Asia. The high school prospects with the highest ceilings, the ones with the greatest likelihood of having long NBA careers, should not be restricted from entering the draft. Every draft pick is a risk, but the players who seem to have the most potential should be allowed to enter the NBA at age eighteen, as Kobe Bryant, Kevin Garnett, Tracy McGrady, and LeBron James did before them. Those that have lower ceilings have a greater need to show their potential in a competitive environment. Those that need more development would either choose to play college basketball, where they could develop their games, or choose to play professionally overseas, as Brandon Jennings and Emmanuel Mudiay have done. Though college athletes would remain in the NCAA's exploitation economy, staying two years would make it more likely that they get closer to earning a degree, and would make college basketball more cohesive. Or: play overseas for two years and show your basketball development abroad, like so many "draft-and-stash" first round picks of the last few years.




hen the sports journalism and pop-culture site Grantland was created by Bill Simmons (full circle, eh?) in 2011, the concept of "long-form" sports journalism was still relatively new. The idea that one might read anything but game stories was reserved for the newspaper columnists and magazine writers. Long feature profiles, investigations, commentaries, or clinical breakdowns of strategy and analysis were mainly reserved for magazines, a few well-known intellectual sites, and newly-forming blogs. Grantland collected many of the best sportswriters and became a go-to destination for the intellectually-curious sports fan. Sports journalism was at a kind of crossroads, with newspapers sinking and internet traffic rising.

Abrams was among my favorite writers at Grantland—his profiles were always satisfying in their ability to engross the reader with storytelling and nuance. Abrams reported on everyone: NBA stars, prodigies who fell through the cracks, and the roots of the NBA's efforts in Africa. Abrams enlightened readers and humanized the players, turning them into complex people. These were portraits, told in elegant prose. For every humorous anecdote, there were poignant reflections and real-life tragedies. Needless to say, when I discovered Abrams was writing this book, I knew I'd love it.

Rather than delve into my favorite anecdotes from the book, I'll leave you with the knowledge you've been given the context. Alright, I'll include one, because I'm a high school teacher and an obsessive Celtics fan, who types this in an office at home where a yellowing Boston Globe sports page from July 31, 2007, is taped to the closet door. Kevin Garnett, in his Timberwolves uniform, adorns the newsprint, beneath the headline "The Big One." This was the day after the Garnett trade, and ushered in a new era for my beloved Celtics. In the book, Abrams takes us back to Garnett's freshman year in high school in Mauldin, South Carolina. Here's the paragraph in its entirety:
Garnett loved the aspect of playing on a team, the strength of a group with a common goal. He preferred blending in among his teammates and classmates away from the court. But the same size that helped him excel on the court prevented him from fading into the background off it. Garnett would pull a teammate into the frame when a fan wanted a picture of just him. If Garnett signed a program for a spectator, he passed it along to a teammate and had him autograph it as well. "He was so much taller than everybody else," recalled Betty Mitchell, a guidance staff officer at the school. "You could spot him at the end of the hall. He wanted to be a regular teenager, like everybody else at the school. The adults here in the building probably put a little bit more on him than he was ready for at the time." Garnett's history teacher, Janie Willoughby, became a second mother to him. Garnett couldn't sit at a regular desk without doing contortions, so Willoughby brought in an old living room chair from her home. He was a reluctant student. She knew how to push, prod, and edge him along. He once delivered an oral report on the Boston Tea Party, pausing every few moments to ask Willoughby if he had done enough to warrant a passing grade. "No, not yet," Willoughby patiently replied several times before finally accepting his plea to finish. Another time, Garnett helped a student as she nervously stumbled through her oral report. Garnett asked a question each time she paused to get her back on track. Willoughby beamed, thinking that Garnett did not want the spotlight on himself, but would help others on their way.

These are the stories that make athletes real: the image of a too-tall, self-conscious ninth grader just trying to fit in, when his knees threaten to bump his jaw in a too-small classroom chair. And the consideration and support of a teacher, bringing her living room chair into the classroom.

---

Jonah Hall is a staff writer. In the winter issue he wrote about service work in an app-driven universe. More of his writing about the NBA and many other things can be found at www.darkoindex.com. You can follow him on Twitter @darkoindex.