Aisles
Auteur of the Book
Wes Anderson's Cinema of Readers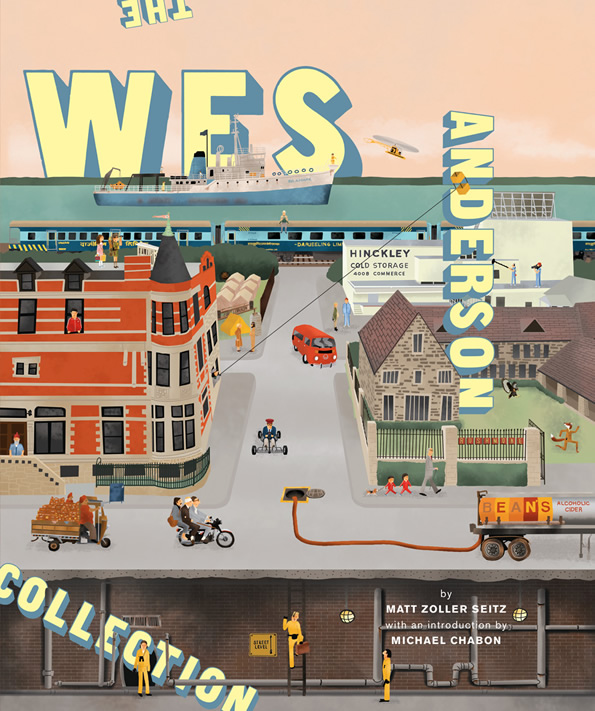 The Wes Anderson Collection
By Matt Zoller Seitz
Abrams, 2013
Review by Dan DeWeese


"Well, there are a certain number of books and movies that you come in contact with that are the ones you can look to and feel like they are...what you were trying to imitate." —Wes Anderson

o director currently at work in American cinema is more bookish than Wes Anderson. His bibliophilia expressed itself modestly at first, with a character in his first feature, Bottle Rocket, merely filling a notebook with an outline for the next several decades in the lives of he and his friends. Max, the main character in Rushmore, Anderson's second feature, adapts Serpico for the K-12 stage, hangs out in the school library, and shares with a teacher an admiration for Jacque Cousteau's The Undersea World.

It's from his third feature on, though, that Anderson truly abandons himself to the aesthetic of the book. The Royal Tenenbaums features no less than four characters who are published authors, while the film itself is also presented as an adaptation of a book, each section opening with a shot of a chapter spread as Alec Baldwin intones the very words we see on the page before us. The Cousteau-esque title character of The Life Aquatic With Steve Zissou generates a series of undersea exploration books (though it seems likely his wife, Eleanor, actually wrote them), a character in The Darjeeling Limited is working on a short story whose source material—or is it a film of the story itself?—we see in the movie, and The Fantastic Mr. Fox was of course already a book by Roald Dahl, and is shown as such in the film, though the edition we see there exists only in the world of the film.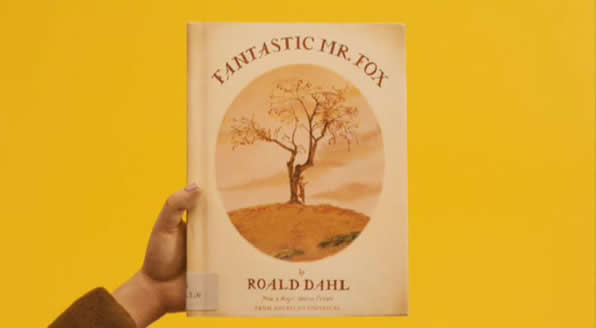 Anderson's most recent film, Moonrise Kingdom, limits itself to featuring an omniscient narrator physically present in the world of the story who offers the audience contextual or historical information in one moment and interacts with the characters the next. The film also features an adolescent girl who has packed a collection of chapter books in her suitcase when running away from home, the titles and cover art the inventions of Anderson and his co-screenwriter, Roman Coppola.

Anderson himself is now the subject of a book as visually striking as those that appear in his films: The Wes Anderson Collection by Matt Zoller Seitz, a writer and critic for New York magazine. Seitz was writing for a paper in Austin, Texas, when Anderson and his frequent collaborator, Owen Wilson, were starting out there. Seitz saw a striking short film called "Bottle Rocket" at a film festival in town. The same film attracted the attention of James Brooks, who helped Anderson and Wilson get the financing necessary to expand the short to feature length. The two were off and running, and Seitz was there to interview Anderson and write about his films from the beginning.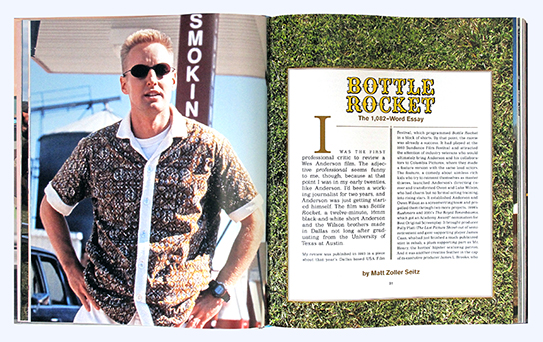 The Wes Anderson Collection is divided into seven sections, one for each of Anderson's seven features. Each opens with a brief Seitz essay about the film, followed by a transcribed conversation between Seitz and Anderson. The conversations are annotated with all manner of visual material, including script pages, storyboards, set photos, stills from Anderson films juxtaposed with stills from films that influenced him, and various other ephemera. The result is an embarrassment of riches for those interested in Anderson's work, not only because Anderson is more than willing to talk about the inspirations and ideas behind the films, but also because of the degree to which the stills and photos reveal the implications of Anderson's visual style, and the degree to which that style employs not only the visual strategies of classic cinema, but also the visual strategies of something we don't usually think of as cinematic at all: the publishing world calls it "book design."



ne way to think about this might be to look at a montage produced by someone else studying Anderson's style. Ernie Park, a Nashville filmmaker who goes by "kogonada" on the Internet, constructs "supercut" video essays focused on the auteur styles of various filmmakers. His Anderson supercut is titled "From Above":





Wes Anderson // From Above from kogonada on Vimeo.




Because Park doesn't include written analysis, his supercuts (he has many others, including "One Point Perspective" in Stanley Kubrick and "From Below" in the work of Quentin Tarantino) could easily suggest to some viewers that these compositions are either a kind of unconscious visual tic, or are perhaps employed simply to draw attention to the presence of the filmmaker. The reality is that Anderson's "From Above" shots most often serve the purpose of offering us the perspective of a reader: we look down at something in front of and below us. In other words, the reason Anderson often shoots "From Above" is because his films include moments in which the audience must stop watching images and shift to watching words. The "From Above" supercut could easily be titled "Reading."

Another analysis of Anderson's visual style was recently posted by Alex Buono, the Director of Photography for the Saturday Night Live Film Unit. A episode of SNL this fall satirized Anderson in the form of a trailer for a supposedly Anderson-directed horror film titled "The Midnight Coterie of Sinister Intruders":



Wes Anderson - The midnight Coterie of sinister intruders from MisterB on Vimeo.


The spoof is obviously clever and funny—especially Edward Norton's interpretation of Owen Wilson's drawl—but Buono's explanation of how he and his crew dissected Anderson's style is also instructive. As he puts it:
Wes Anderson is one of the most idiosyncratic filmmakers of our time; his style is so unique that you might think it would be easy to satirize. But here's the problem: turns out everyone has a different opinion about what MOST distinguishes Wes Anderson's style. Is it the limited color palette? Flat space camera moves? Symmetrical compositions? Snap-zooms? Twee, hand-crafted art direction? Slow-motion walking shots? Clearly it's all of those things and more, but within the limited context of a trailer, which are the most important signatures to include?
The details of how the SNL crew pulled this off in only three days will interest filmmakers eager to hear the tricks (hint: build sets in ways that make it easier to create symmetrical compositions), and while it's undeniably amusing to imagine Anderson dutifully hitting the narrative marks of a standard home-invasion horror film (though I suspect he would be more likely to make this film from the perspective of the invaders), one thing Buono's list does not include is the word "reading." Reading isn't missing from the trailer—we see cards and titles of various kinds—so it's not that the SNL crew failed to recognize the importance of reading in Anderson's visual style, it's just that it's not named. To be fair, it would probably be weird for a list about visual style to include, between "flat space camera moves" and "symmetrical compositions," the term "book arts."










uono does include a word almost uniformly employed by people writing about Anderson: twee. Over the course of Anderson's first five films, reviewers increasingly—regardless of whether they were expressing admiration or exasperation—employed the word when describing Anderson's films, so often and so distractingly so that it became a kind of placeholder term, there to stand in for something more complex than the reviewer had time, energy, or available column inches to dig into. I suspect, though, that Anderson's bibliophilia and fondness for reading probably falls under what Buono (who is an Anderson admirer) means when he lists "twee, hand-crafted art direction" as part of Anderson's style. The problem with using "twee" as a descriptor is that most people—or maybe it's just me?—find the term pejorative, somehow referring to affectation or preciousness. The same term has often been used to describe what we currently call "hipster" culture, and reviewers who dislike Anderson have sometimes implied he is a kind of "hipster" director. Though I don't think this is the case—it's safe to say we'll never see Anderson wearing a trucker hat and sporting a handlebar mustache while drinking Pabst—it is interesting to hear, in The Wes Anderson Collection, the filmmaker's perspective on the surprisingly intense frustration his films seem to have evoked in some reviewers:
Seitz: You were always a director who people tended to have very strong opinions about, one way or the other. But it seemed like sometime around The Life Aquatic and The Darjeeling Limited, things took a turn toward the negative. How does that criticism, or any negative criticism, affect you? Would you change your approach on the next movie that you're making based on negative reaction to a previous film?

Anderson: No, because it would be one thing if you could hand out copies of your work-in-progress to critics, and then you could go back and say, "Ah, you know what? We need to take out at least five minutes of this." But the movie is done, and it's hard to take criticism of your previous work and apply it to the next one.

There is one thing you can absolutely, 100 percent rely on, which is that if you show five different people the same thing, they're all going to have a different complaint or compliment. Each is going to have a different response, and you'd better know what you're gonna do, otherwise you're going to get confused.
Anderson's ability to contextualize critical response to his work and then move on, continuing pursuit of his own interests—be they cinematic, literary, sartorial, or other—is of course a necessary quality for any artist who hopes to continue creating. Seitz and Anderson's Moonrise Kingdom conversation ends with a brief mention of the eighth Anderson feature, scheduled for release in March. The trailer for The Grand Budapest Hotel has already appeared, and features familiar faces and compositions. The trailer also asks us to read. How—or whether—The Grand Budapest Hotel will feature books is yet to be seen, but also somewhat immaterial. Many Anderson films either visually or narratively position themselves as just one of multiple texts on their subject. The Royal Tenenbaums is the film of the book about the family that wrote books. The Life Aquatic is the film about the aquatic filmmaker making his latest aquatic film, and The Darjeeling Limited is the film about the brothers, one of whom is writing the story the film includes.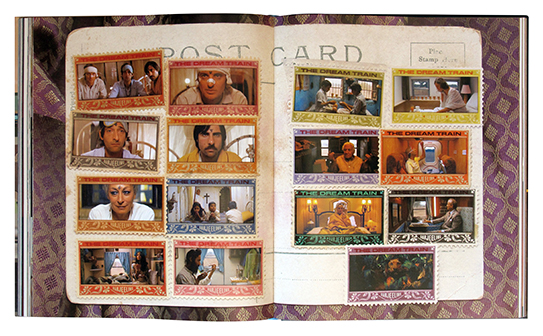 This fictional intertextuality may be just one more thing that distances some audiences from Anderson's work, of course. Many people just want a story, and how can we know what the story is when the story itself suggests it isn't the whole story? For those of us who like the idea of books and films as stories that can be "in conversation" with one another, however—which includes the option of them questioning, refuting, or otherwise undermining one another—one of the pleasures of The Wes Anderson Collection, like the pleasures of Wes Anderson's films, is that a palimpsest, though it might have a last page, doesn't really end. You can read it again.

---

Dan DeWeese is the author of a story collection, Disorder, and a novel, You Don't Love This Man. He is Propeller's Editor in Chief.