Sport
Hanging On
Hassan Whiteside Defies the Narrative of "Unmet Potential"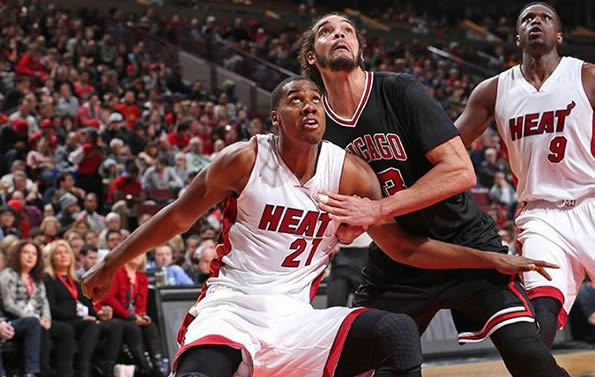 Hassan Whiteside's emergence has disproven critics' assumptions about him. (Photo via the Miami Heat)

By Jonah Hall

otential is both dazzling and daunting. NBA fans of teams with top-ten picks watch the NBA Draft with childlike anticipation—it might be mid-June, but it feels like the holidays and the visions of sugarplums are too much to ignore. Forget the old plums rotting on the sidewalk. Every new plum looks ripe and ready to burst with sweetness.

This is not always the case. Portland Trail Blazer fans, for instance, have a very real history with the pain of unmet potential. Greg Oden's lost career is a permanent scar for many of those fans, a "let's not go there" conversation. In contrast to the story of permanently unredeemed potential represented by a player like Oden, however, we should remind ourselves there are alternate narratives. Example? I give you Hassan Whiteside, a very tall man who has become one of the more intriguing stories of this NBA season.

Whiteside went to Marshall University. For those that are unaware, Marshall is in West Virginia. Since 1977, only one Marshall University college basketball player other than Whiteside has appeared in the NBA. The name Tamar Slay probably doesn't ring any bells. Whiteside blocked 5.4 shots per game in college. Taking a look at the NCAA Division One record for blocks in a single season, it's amazing how few of those players actually made any impact at the NBA level. Shawn James? Mickell Gladness? Keith Closs? Wojciech Myrda? These guys are not household names outside of their own households.

Whiteside's freshman season at Marshall comes in at 10th on the all-time list of average blocks per game. At the 2010 NBA Draft combine, Hassan chose some interesting footwear.


Via Draft Express

The freakiest measurements of all belong to Hassan Whiteside. The soon-to-be 21-year-old freshman bafflingly elected to arrive for measurements in flip-flops (a true story), which only gave him an additional inch in shoes (6-10 ½ without shoes, 6-11 ½ with)—as opposed to Cole Aldrich who gained 2 ¼ inches. With that said, he possesses one of the longest wingspans in NBA pre-draft camp history at 7-7.
One might read that passage and think, "Hmm. Whiteside was oblivious to the process as a 21 year-old." Or, "Dude didn't care! He wore flip-flops, like the Big Lebowski!" Or, "Did Whiteside have anyone with any sense giving him advice?"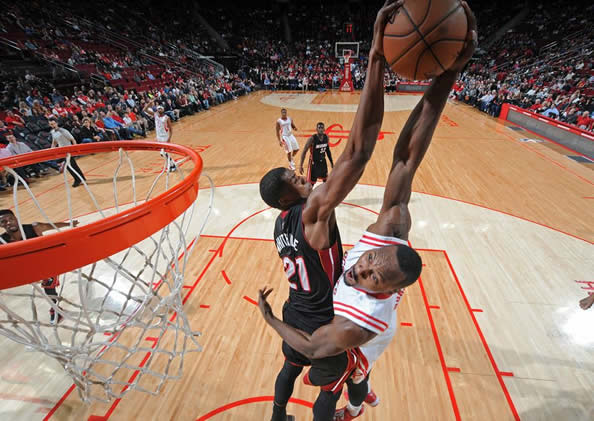 Photo via the Miami Heat

hiteside's rapid ascent up the NBA center ranks is mind-boggling, in that twenty-nine teams are now asking their scouting directors how they missed on this legitimate interior force.

Kirk Goldsberry's piece for Grantland contains a useful passage that illustrates a positive developing trend among NBA thinkers and those in player development circles: the awareness of the young NBA player's mentality and degree of professionalism as evolving and fluid, rather than static and fixed. Goldsberry received some great quotes from Erik Spoelstra, Miami's coach:
"Man to man, eyeball to eyeball, after his first workout in November, my first words were, 'If you're really serious about it, we can be the spot for you. But, this might not be for you. Our culture, our program, our commitment to player development, and getting you in the best shape you've ever been in in your whole life … there's going to be times when you want to throw stuff at us and quit. And this might not be for you. But, if you want to commit to this, we think this is the right place for you.'"

Spoelstra believes that Whiteside is more driven this time around. The reason for that is simple: "Being forced to play overseas and in the D-League affects different guys different ways. Some players just become resigned to that fact. They just live that life. Then there's a small percentage of players where that absolutely motivates them to make changes and do whatever is necessary to get back into the league."

Later in the piece, Whiteside responds to the narratives:
Whiteside expresses frustration about his basketball past, especially with what he considers to be unfair reputations that marred his scouting report: "It got to a point where … 'He's this, he's that,' and a lot of people listen to that instead of finding out for themselves. They said I wasn't willing to work. They said I wasn't really professional."

Whiteside always had enormous "upside," as scouts love to say, but he didn't seem willing to put in the work, and in his early career he bounced from team to team, country to country. The D-League stops were mounting. One important caveat: his first stop in the NBA was with Sacramento. In the last several years, the Kings franchise is where talented players go to have their careers snuffed out (with Rudy Gay and DeMarcus Cousins being the possible exceptions). With new ownership, the team finally knew it was staying in Sacramento and not getting airlifted to Seattle. The lack of direction in coaching (Mike Malone? Ty Corbin? George Karl?) exacerbated the rudderless scene. Owner Vivek Ranadive, for all of his innovative ideas, seems to have his finger on the "eject" button at all times.

Despite Whiteside's protests about being labeled, he was clearly in need of a nurturing, stabilizing environment. Upon getting sent to Reno to play against journeymen and fringe NBA players, perhaps he was unwilling to consider what the necessary steps were to changing himself into a quality NBA player early on. He also came into the league at twenty-one, likely without a great deal of guidance. Throw raw talent into the wrong environment and watch as things devolve. The importance of context cannot be overstated.

Here is Whiteside's transaction history, via basketball-reference. When you read through it, imagine the train ride from Sacramento to Reno, four hours and 47 minutes via Amtrak. A beautiful ride in the summer. Not so much in the winter.
June 24, 2010: Drafted by the Sacramento Kings in the 2nd round (33rd pick) of the 2010 NBA Draft.
November 29, 2010: Assigned to the Reno Bighorns of the D-League.
January 9, 2011: Recalled from the Reno Bighorns of the D-League.
January 2, 2012: Assigned to the Reno Bighorns of the D-League.
February 3, 2012: Recalled from the Reno Bighorns of the D-League.
July 16, 2012: Waived by the Sacramento Kings.
Not listed here are the stops in Lebanon and China in 2013 and 2014.
September 25, 2014: Signed a contract with the Memphis Grizzlies
October 22, 2014: Waived by the Memphis Grizzlies.
November 19, 2014: Signed a contract with the Memphis Grizzlies
November 20, 2014: Waived by the Memphis Grizzlies.
November 24, 2014: Signed a contract with the Miami Heat
December 13, 2014: Assigned to the Sioux Falls Skyforce of the D-League.
December 15, 2014: Recalled from the Sioux Falls Skyforce of the D-League.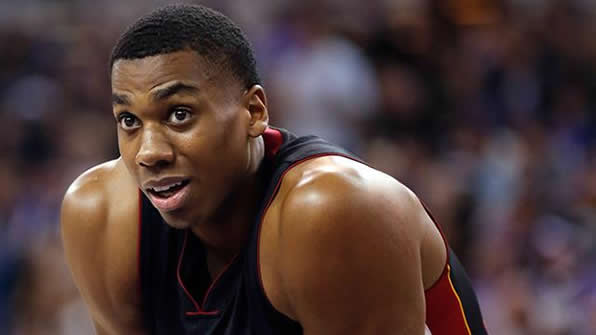 he NBA's development league is a work in progress, just as the players themselves are—just as all human beings are, really. Finished. Unfinished. Hopeful. Less hopeful, but hanging on. Dreamers. Athletes not wanting to face the grim reality of life after athletics.

Two years ago, in mid-December, before the Boston Celtics lost Rajon Rondo to a season-ending ACL tear and the team was still hopeful of extending their championship hopes, I begged Danny Ainge to sign a center who was on that aforementioned list of great college shot-blockers. Coincidentally, Ainge actually did sign Varnado four days later. Varnado appeared in 5 games, playing a whopping 18 minutes, before the Celtics waived him two weeks later. The now 26-year-old Varnado has bounced from the D-League to the end of the bench in Chicago, to actual minutes for the woeful 76ers last spring. He now finds himself near an actual NBA city (Los Angeles) playing in El Segundo for the Lakers' D-League outfit, the Defenders. Varnado is keeping hope alive, but after the proverbial cups of coffee in the big-time, his pro hoops career in the states may be coming to a lackluster end.

Langston Hughes wrote two pithy poems on dreams. Seems an appropriate way to end. In a brutal way, the first poem might be fitting for Oden, while the second currently fits Varnado and Whiteside.

Harlem
By Langston Hughes

What happens to a dream deferred?

Does it dry up
like a raisin in the sun?
Or fester like a sore—
And then run?
Does it stink like rotten meat?
Or crust and sugar over—
like a syrupy sweet?

Maybe it just sags
like a heavy load.

Or does it explode?


Dreams
By Langston Hughes

Hold fast to dreams
For if dreams die
Life is a broken-winged bird
That cannot fly.
Hold fast to dreams
For when dreams go
Life is a barren field
Frozen with snow.


---

Jonah Hall writes about the NBA and many other things at www.darkoindex.com. You can follow him on Twitter @darkoindex.