Personal History
Birds Over Water
After Simone Weil's Gravity and Grace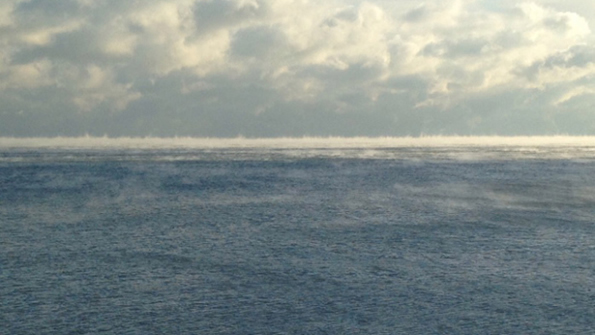 By Sarah Kruse

'm sitting in an airport restaurant looking out at the tarmac. It is cold in Chicago. It seems it is always cold in Chicago. There is a slightly clumsy mid-western man on my left and a sharp businessman on my right. The businessman talks on his cell phone while he orders and does not look at the waitress. I like the waitress. She's the kind of waitress that makes you feel like she's your friend even though you've only known her for two minutes. It's good to feel one has friends. I watch the world, though, as if I were watching a film. Somehow everything seems to move either in slow motion or to speed by as if I were watching in time-lapse.

It is the day before the day before Thanksgiving. People are going home, traveling, wishing each other Happy Thanksgiving. I'm leaving my family on the West Coast, returning from a funeral. Nothing that surrounds me seems real. The time of day doesn't seem real. The people on either side of me don't seem real but are caricatures, people you see in a film, clichés with an overwrought subtext. Chicago is not my destination. Nothing in the world seems familiar anymore. I have slipped between the cracks of something, or something has fallen away.

At the gate they tell me to check my bag. I ask them not to. I'll miss the last train to Providence if I have to wait at baggage claim. They make me check it anyway. I lean against the window and cry from Chicago to Boston. I want to apologize to the man sitting next to me, but I don't. Why should I apologize? But then I also can't help feeling guilty. I don't even know why I am crying. I don't know why I feel guilty. I don't know if I'll miss the train or not. Maybe I'll make it. Maybe I'll get home tonight. Maybe, maybe, maybe. It's dark now. I look out and see the lights of the city vanishing as we ascend over the lake. Lake Michigan seems as vast as the ocean—you can't see the other side. I usually like flying. Suspended in space, trapped with nowhere to go, it's meditative. I'm free to let my mind wander because I don't have to worry about being anywhere else. I am here. Only here. There is nowhere else to be. Only I'm no longer sure where here is. I arrive at South Station at 12:06 am. I realize the schedule I have is outdated. The last train left at 11:59 pm.

The world continues always in motion. Nothing stops, with or without us. The world is too much with us. Who said that? Denise Levertov? I can't quite remember. What has one lost and what has one gained? Worlds disappear into time and we are caught in motion, unable to control the speed. Death stops everything and nothing. The speed of the world does not slow, and yet death is a quiet breaking and slowing, silently altering our relationship to life. Making toast, walking to a bus stop, looking for the correct key and the lock in the dark when returning home are altered. The being of the past changes into a private existence in memory only, and language is too small to fill space. Simone Weil writes, "Grace fills empty spaces, but it can only enter where there is a void to receive it, and it is grace itself which makes this void." What opens us not to indifference but to the gentle breaking of the everyday is the movement of grace. If ordinary work, routine, and habit pull us down, the grace made through death's void breaks habit, potentially lifting us up through the shattering of the ordinary itself.

Death becomes a form of grace. Heidegger said all we can ever know of death is through the death of the other. Death becomes a gentle undoing that is an opening to see what we ordinarily can't because it is too near. The past and time, childhood, forgotten evenings, routine mornings and breakfast, driving to and from someone's house, a ball game, and dishes in the evening gather a different weight around them because of what has opened.

Opening and closing. The closing of a life opens something within us, which is potentially painful and difficult, because it opens a reality we could not see before. The reality we have lost to time, but which perhaps remains because we have transformed it into memory. Perhaps that reality always was part of memory, sleeping quietly somewhere in the recesses of our mind, but death opens this memory and transforms it into existence. It moves from the habit we cannot see to a pitch and music only we can hear. Past and present collapse. In the end we have not lost a world, but rediscovered all of the small moments that have secretly and quietly been transforming us. In the silence that follows death, we find a different kind of awakening—to the childhood self we had thought lost, that we had almost forgotten, or thought we were well beyond. Hermann Hesse says, "that which is not part of us does not disturb us." Death disturbs something deep and profound and that is difficult. So much that we have forgotten, or perhaps intentionally not thought of, rises involuntarily from the void of the unknown, like birds over water, disturbing the surface with their motion.

And so memory, not grief or a steady outpouring of sadness, becomes the recognition of everything that is ahead of us and within us. Memory is transformed, because once and for all, we are given the opportunity of grace that allows us to see. The weight cannot be removed for a long time, but the transformation that has taken root slowly integrates itself into us. So while something passes away, something else rises up in memory. The past is transformed and elevated with a power that will remain with us until we too are lifted up finally, in the end, by our own grace.

---

Sarah Kruse is a staff writer. In the spring 2014 issue she wrote about Clarice Lispector.