Theater
Art is Stronger Than Absinthe
the Magic of Sleep No More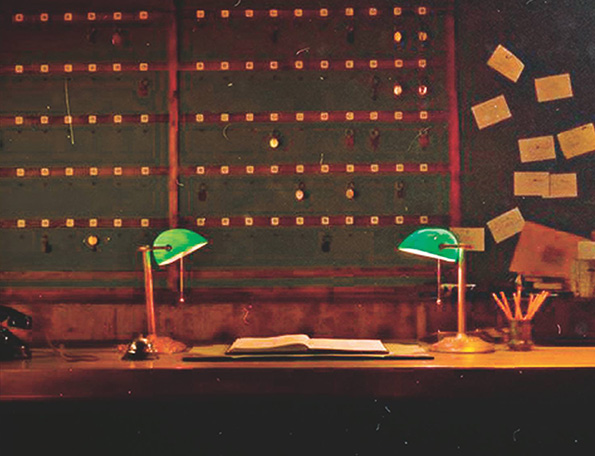 In "Sleep No More," audience members can be alone one moment, in the middle of the action the next.


By Evan P. Schneider

recently saw Punchdrunk's Sleep No More, now playing at the McKittrick Hotel in New York. Actually, I only saw part of it. Or at least I think I did. But it was incredible. It probably had something to do with the absinthe. And the mask that I wore for the duration of the performance. And the dazzling spectacle that I not only witnessed, but rummaged through, ran in and out of, and submerged myself in for close to three strange, dark, invigorating hours.

[The remainder of this review will include multiple spoilers. If you'd rather have your own experience, I'd recommend not reading much more about Sleep No More and just go.]

On the afternoon of the show, I received an email from the theater inviting me to a secret happy hour before the performance. My wife and I were attending the play with and at the suggestion of my coworker Jocelyn, who, in the days leading up to the show, had been sending us texts like: "WE GET TO WEAR MASKS!" and "We might all get split up? Or something. THIS IS GOING TO BE AMAZING." and "Sorry / you're welcome." And then there were the articles she forwarded recommending that we hold any eye contact we make with the actors, as the results might include drinking unknown liquids, being swept into hidden rooms, and getting kissed by strangers. To receive an enigmatic email from the venue inviting me to a covert happy hour only confirmed, and then augmented, the nervousness I was feeling about the whole thing. It seemed as though I might have accidentally signed my wife and I up for some sort of underground sex play—with my coworker. Had I inadvertently purchased us tickets to an interactive performance of Eyes Wide Shut?

For the record, I'm not objectively against attending a crazy underground sex play in Chelsea after eating a nice Italian meal and enjoying a few glasses of wine—I just didn't know how that would play out in my marriage or at work, let alone in my head. But I was alive and in New York and here before me was an opportunity to experience a potentially elating—not to mention beautiful and possibly also very terrifying and messy—piece of art. Which means I called and RSVPed for the secret happy hour.



s instructed, my wife and I arrived at precisely 5:00pm in front of a large, unmarked green loading door in the middle of an unlit city block. With no indication that we were in the right place, we paced for a few minutes before walking around the block and then up on the High Line while we waited for Jocelyn. About the time she arrived, a few others looking similarly perplexed began to congregate in the same spot, at which point the green door gradually opened. "Right this way, please," a well-dressed footman said, addressing us collectively.

We filed into an enormous freight elevator without question. Few of us spoke, and those who did, did so in hushed tones. When the door opened, the footman offered only a benign, unhelpful suggestion to enjoy our evening. We were now in something like a lobby, perhaps in a nineteenth century hotel. The way the evening was starting, it seemed plausible that we had actually traversed space and time in that old elevator and were now somehow in the past. I wondered if my ID would still work. A professionally festooned woman on a barstool behind a wooden podium implored us: "Upstairs, please. Upstairs. Enjoy!"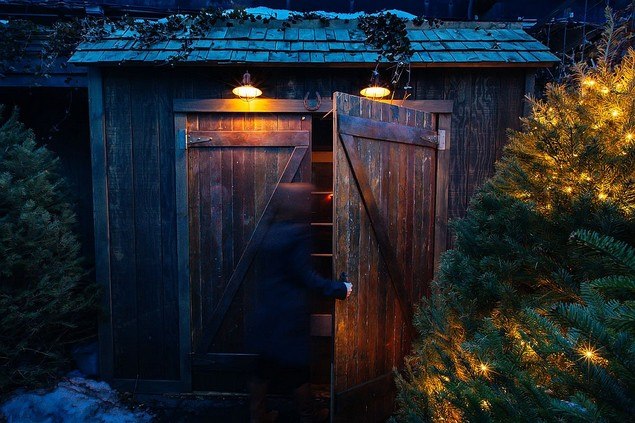 That led us to the roof. Once there, a few potted evergreen trees lined a short path to another door, this one at the front of a tiny wooden cabin. Looking at it, you'd be hard-pressed to remember you weren't somewhere far off in the woods, that you were actually deep in the heart of the city, atop an old warehouse. Stepping in the door, we found a woodstove, a small bar, and a few dimly lit rooms. We aimed for what seemed to be the kitchen, ordered from the four-drink menu (absinthe, bourbon, hot toddy, or mulled wine), and settled into the only open spot in the cabin, which happened to be the bedroom. Fantastic. The place was bustling and the living room and office were already occupied with people drinking and talking and laughing, as if it was totally normal to be imbibing in this rustic hut five stories in the sky before we all communally lost our innocence, and perhaps our lives, watching a cryptic play we knew next to nothing about. There were two chairs in the shadowy bedroom, a bed, a few lamps, and a full bookshelf that wrapped around the room. As time passed and our drinks dwindled, others came in and out of the bedroom, looking around, asking us if we knew if there was any other place to sit or when the play started or if we'd been here before. We did not know. The answers were to be found somewhere else, and we grew less interested in finding them. We grabbed another round and relaxed. We were enjoying ourselves. We may have even met a young woman from Indiana who was pretending to have an Austrian accent so that she might seem as likeable as her friend, who happened to be from Austria. They studied dentistry together and were in New York visiting.

And then, suddenly, it was time. Back down the freight elevator, a group of us was let off at an unknown floor where we joined a line of others who presumably had not received or had turned down the invitation we had accepted to drink on top of the warehouse in a bedroom in a cabin. We turned over our coats, phones, purses, and wallets. We kept only a credit card and a few dollars each. "You might want those inside," the coat check attendants whispered. "Your belongings are safe with us." Right. We obliged. We knew we might get separated inside, but things were beginning and the evening was already slipping toward surreal and it seemed smartest to just go with it.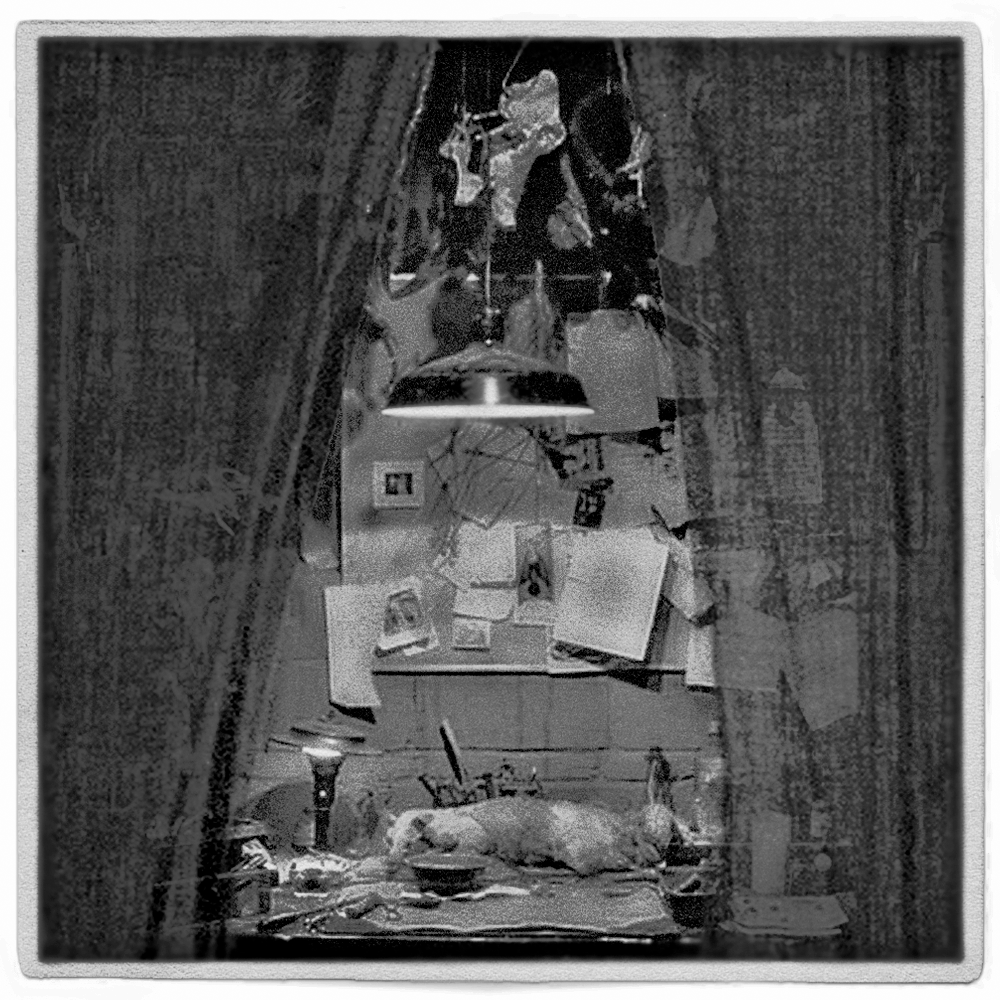 n the plane to New York I had read that Sleep No More was a loose adaptation of Macbeth, but because I haven't read Macbeth since my undergraduate days and because the play takes place across a massive five-story renovated warehouse of a set that I was allowed to roam around in unsupervised, I can barely verify this claim. And that doesn't bother me one bit.

Because it was my first time seeing Sleep No More, I don't even actually care that I didn't really "see" the play. It's not that I couldn't follow it (because I could) or that I walked out in boredom or anger (which I most certainly did not)—it's that I deliberately chose not to watch it. Instead, as soon as I was let into the play—which I might more accurately describe as being allowed onto its magnificent set—I began exploring what it had to offer.

After leaving our things at the door, we were handed a playing card and ushered into a different bar, this one a musty 1920s era jazz lounge serving—yup—more absinthe. People were mingling, beverages were ordered, nervous chit-chat transpired. Our worries seemed to be slackening when the male singer onstage called for the all of the eights to kindly follow him. I happened to have an eight, so I kissed my wife and dutifully followed. I was handed a mask, told not to talk for the rest of the show, and stepped into the sprawling, darkened warehouse.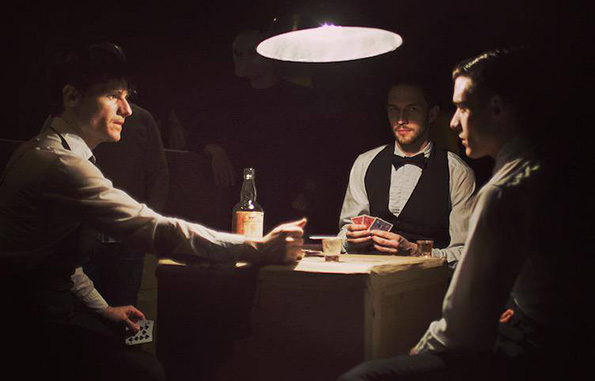 I won't ruin everything for you. In the weeks since, the three of us have compared experiences and attempted to piece together how the play actually unfolded. Whereas my wife spent the first half of the three-hour performance diligently following the performers (and I mean literally—she went room to room, hallway to hallway, as the actors moved wordlessly about), I did my best to open every door, jar, letter, window, book, and drawer the set had to offer, regardless of whether there was any part of the play happening in my general vicinity. What I discovered was amazing. At one point, I opened a door that revealed a tunnel-like opening into which I promptly crawled and found what I can only describe as an igloo constructed of folded white bath towels. In the center of the igloo was a mound of paperwork and journals, a few candles, and an actor grooming himself with a straight razor and a washbasin as he looked into an antique handheld mirror. A few other masked audience members were also there, and we all simply kept still and studied what we were watching until we made our separate ways back into the larger play in hopes of finding more.

At other times I ended up in the same place as a few more of the actors. Like the moment I was behind a bar looking around when a scene burst in on me. Macduff (I think?), whom quite a few people were following, jumped over the bar right where I happened to be exploring, putting me front and center of the action. At a different point in the evening, I was in the wrong place at the right time during a fight between Macbeth and Duncan. Some forty-five minutes later, I had a one-on-one encounter with an actor who shook my hand and pulled me into a room where we took shots of bourbon and I became an accomplice in a card trick. "The magic we have shared is between you and I alone," he said, holding me against the wall by my collar before tossing me out the door. I'm pretty sure the magic was just free whiskey and a fun story to tell later, but it was marvelous nonetheless.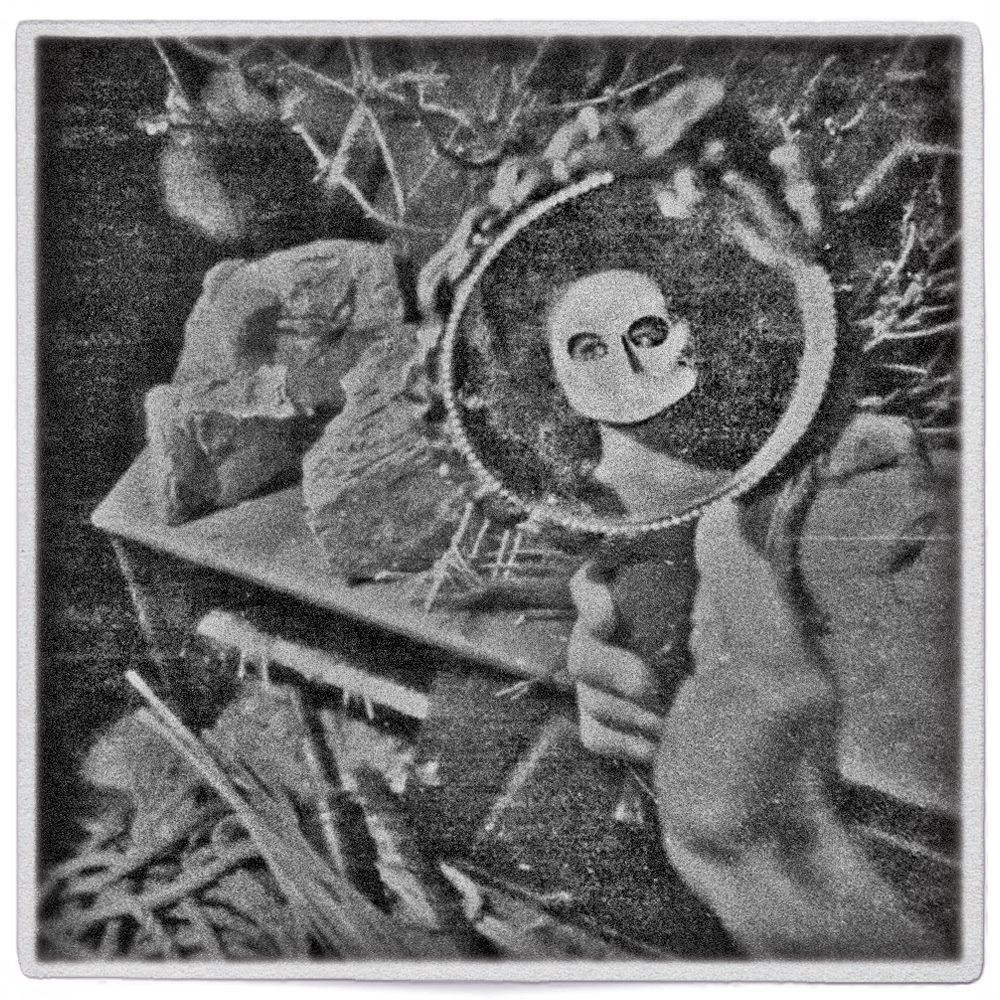 I found a candy room, a library of classic literature, what I think was a strobe-lighted orgy room starring Lady Macbeth and a naked man wearing a rubber horse head, a maze comprised of woven sticks, a room full of bathtubs and their bathers, a cemetery, a ballroom, and more than a few offices whose contents made me want to saddle up there and read my way through the next few weeks. The morning after the performance I found blood on my shirt. Whether it was mine or someone else's, real or fake, I did not know.

If you see Sleep No More, you'll no doubt have a completely different experience than what I've just described. You may even see and piece together a lot more of the story than I did. I might even have a different strategy if I go again, and yet I bet there are parts of the performance I'll never see, regardless of how many times I attend. Though that may have something to do with absinthe, it may also have to do with the fact that Sleep No More subverted my consciousness like few other experiences I have ever had. Art, it turns out, is even stronger than absinthe.

---

Evan P. Schneider is the author of the novel A Simple Machine, Like the Lever. He is also Editor-in-Chief of Boneshaker: A Bicycling Almanac.