Music
Amora Obscura
Career Arcs, Difficult Art, and Joanna Newsom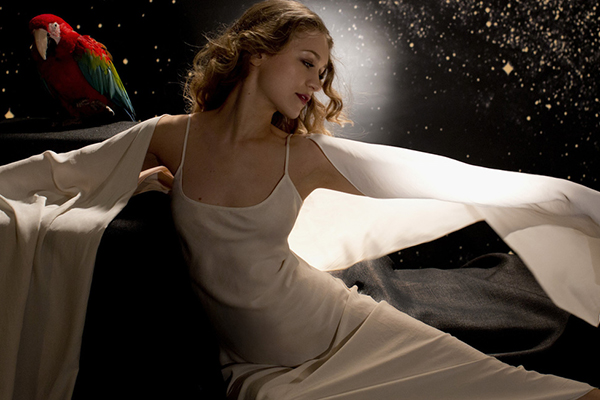 By Matthew Stahlman

oanna Newsom's fourth LP, Divers, was released in October, 2015, but I didn't get up the nerve to give it a proper listen until December, 2016. My hesitance wasn't a reflection of distaste for the lead single "Sapokanikan," the P.T.-Anderson-directed video for which represented my first exposure to the album—although, truthfully, Newsom songs that are structured around bluesy piano chords are some of her most aesthetically challenging. Nor did I shy away because of the immense amount of attention and care her songwriting demands of listeners. Rather, I was harboring a weird sort of ambivalence about the album: as much as I respect Newsom, I didn't expect the album to be any good, and didn't want it to be.

Why? Silly vicarious feelings, mostly, coupled with misgivings about her career arc. Newsom's prior album, 2010's Have One On Me, was (and this is no secret, though reviewers seem hesitant to state it outright) a breakup album concerning the thoughtful, enigmatic songwriter Bill Callahan. (Callahan, in turn, had turned around and written a breakup album about Newsom—Sometimes I Wish We Were An Eagle. That two of our most talented songwriters have offered accounts of the psychology of romantic collapse, and the albums sketch the same events from distinct points of view, is a gift to listeners.) Newsom is now married to the comic actor Andy Samberg. This juicy and tabloid-ready turn of events didn't exactly sit well with the omnipotent moral busybodies of the indie-rock community; I remember well a Pitchfork news writer, in posting a news blurb about Callahan's album, editorializing that he probably has a lot to sing about now that his girlfriend dumped him for a sketch comic. (The post in question has been scrubbed of these lines; I imagine Newsom's representatives objected to this characterization, or something.) It's really gauche to care much about the love lives of our heroes—but I like Callahan an awful lot, and I felt, I confess, a little of that same derisiveness toward her.



Perhaps the phenomenon is somewhat more understandable given the intense personal connection Newsom's work inspires in listeners. I have vivid memories of a time when, suffering from PTSD, I wanted to do nothing more than lie in the bathtub and listen to Have One On Me's gutsy middle disc on repeat. It felt like Newsom got it—just how profoundly the world can and will let us down, and how there are times when we can't help but let ourselves down—and she was willing to sing about it with a greater combination of honesty and talent than anyone else could put forth. It was singer-songwriter confession stemming from a desire to commune rather than to bend artistic discourse to serve a narcissistic end. That's a distinction most of us make pretty reflexively: is someone telling us about themselves for some reason beyond self-aggrandizement?

Newsom's work navigates that boundary assuredly, and maybe one way of noting the character of that navigation is to say that her music is not cool—and doesn't want to be, in any conventional sense. Have One On Me, for instance, spans three discs and two hours, and contains meditations on abortion and birth and horse-stealing and (in the midst of one of the rawest songs of them all) a corny pun on the phrase "Golden State." When she presented one of the album's simpler tracks on Letterman, her stage set-up was so enthusiastically, flagrantly taxidermy-forward that Dave joked it "looks like Sarah Palin's den." Her work—and this is not an innovative insight—is unwieldy and strange and demands care and exegetical chops. But, nevertheless, it is tremendously affecting. Even now, Newsom is one of two musicians—the other is the eighties folk singer Fred Small—who can reliably make me cry.

And when you can understand that combination—the combination of extreme demands on the listener and extreme affective payoff—you can understand why one might come to care, a little more than one ought, about the real-life events about which the singer sings.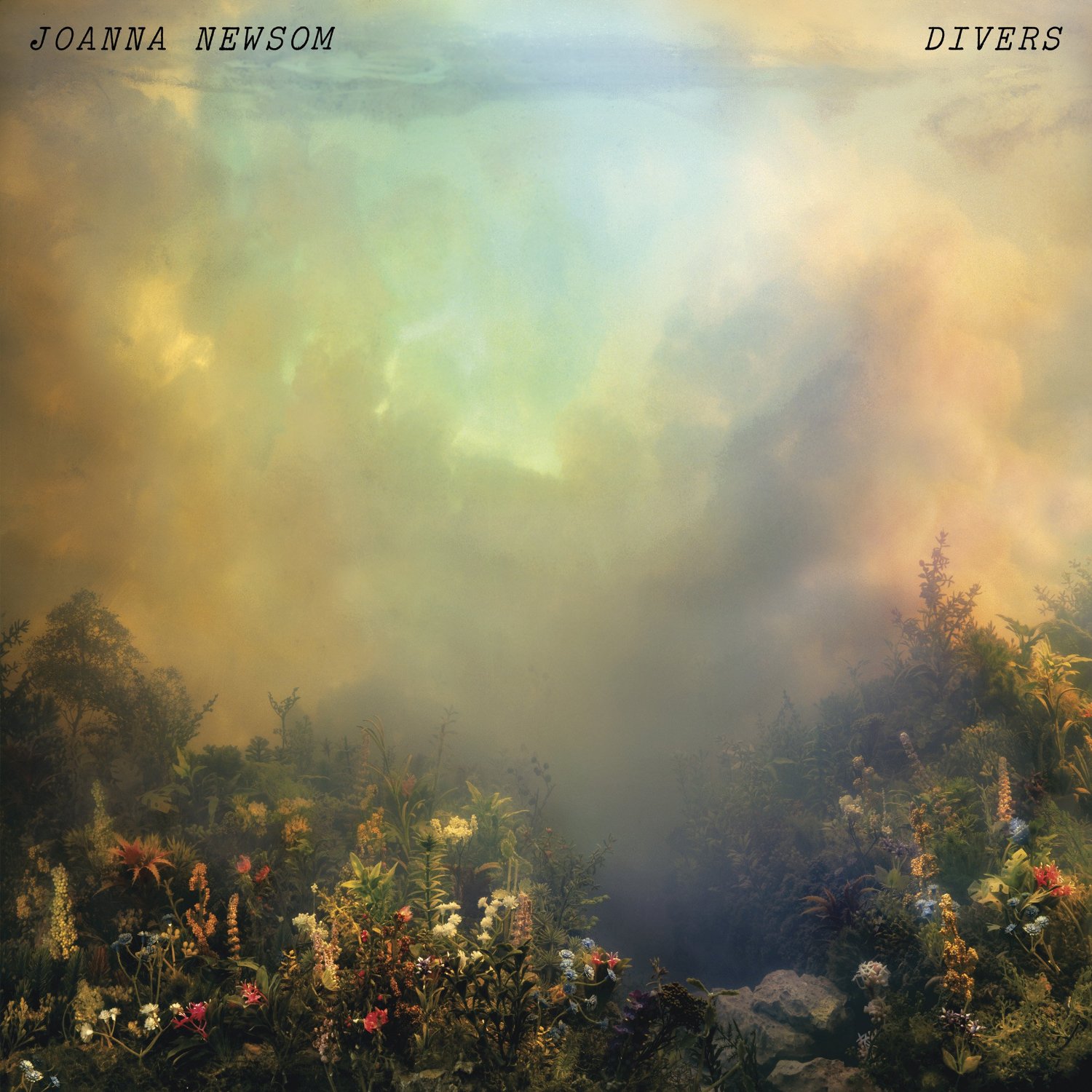 o Newsom married Samberg in 2013, and a couple of years later released Divers. And one may immediately perceive another layer of resistance to navigate, for it seems easy, a priori, to imagine Divers suffering from a lack of stakes. What kind of music would a happy Newsom make? I'm all for an end to "tortured artist" mythologizing, but her two masterpieces, Have One on Me and Ys, do both carry a deep confessional anguish (though to be sure, Ys tempers the anguish with moments of exhilaration); in contrast, her earliest LP, The Milk-Eyed Mender—though much beloved—is often, I think, insipidly clever, split roughly 50/50 between songs given to twee aesthetics and overly poetic phraseology, and songs that set those gambits aside long enough to drill down to something more substantial. It would be easy for the lack of existential stakes to manifest again here, and for Divers to be the kind of album that, in retrospect, one sees as the beginning of an artist's decline: nice enough, but over-refined, decadent, lacking raison d'etre.

That's not what we are given, though. Divers is not Have One On Me—what else could be?—but it's not investment-free and limp, either. The stakes that are present come from defensiveness that one sometimes feels when one really is happy. Specifically, the big theme is death: it turns out that when you're in love with someone, and married to them, and have them next to you all the time, this means that there is someone you could not bear to lose. And—if you have an active imagination—you might start to have visions of violent death, both concerning yourself and the prized Other.

And that's how you get, for instance, "A Pin-Light Bent," which invokes the Jack Dickey (or is it Alanis Morissette?) gambit of imagining someone's last thoughts as they are falling from an airplane. And that's how you get, elsewhere, arresting images of resoluteness in the face of what can happen to us:

Oh, silent, constant driver of mine
Wordlessly calling from the end of the line
Where even though each hour I ever loved
Must queue and dive—
Still, you will not take my heart alive

I want to stress what a neat sidestepping this is of the problems this album could potentially face. Newsom is no longer self-soothing with lines like "enough of this terror, we deserve to know light / and grow evermore lighter and lighter," or grimly beseeching life and love to "smoke me out of my hiding place." The crucial difference is that now, unlike then, she has more to lose than to gain; she's a conservative, not in the sense of any political affiliation but in the sense that many people (including nominal leftists) become conservatives as they get older: a psychological shift in one's attitude toward change, generally involving more hostility towards it. And rather than fight this shift, she embraces it with the verve of an improv actor, and finds suitable emotional stakes in the new terrain for the confessional songwriting she does so well. As usual, she's terrifically, bravely wise as she does so.

And Divers' overarching themes provide a pretext for divergent little moments that let us know, in a different way, that she's still got it. Halfway through, in "The Things I Say," she gives us a palette-cleansing love ditty that might be partly about Callahan, and resolves the tableau of stray reminiscences with a typically arresting stanza:

Our lives come easy and our lives come hard
And we carry them like a pack of cards
Some we don't use but don't discard,
But keep for a rainy day.

It's lovely, and I begin to wonder why I ever doubted her. After all that tabloid gossip, the indie-veneration, the fashion-shoots, the P.T. Anderson roles, etc, she's still an iconoclast, and, to quote Alan Schwarz on Bill James, "iconoclasts don't primp for the cameras." The downside is that someone like this can be opaque, thorny; the upside is that they keep being themselves even in the face of success. She certainly is all of these things, resolutely, even still. Her music is still difficult—but the fact that one finds so many gems within, when one finds cause to explore, helps to justify that difficulty.





bout that difficulty, here's an aside that illuminates the specific sort of pleasure Newsom's work, Divers included, can give. Not long ago, Amy Hungerford, the Dean of Humanities at Yale, wrote a piece for Chronicle of Higher Education about the proliferation of works in the literary-academic marketplace, the impossibility of reading everything, and the small rebellion of refusing to read as much as one "ought." Whatever the merits of the piece—and it may have some, in that it might encourage people to pretend a little less often to read things they haven't read, an activity that cheapens the work put in by those who honestly do aspire to be well-read—Hungerford loses me when she approvingly cites an argument by Gabriel Zaid, to the effect that "excessively long books are a form of undemocratic dominance that impoverishes the public discourse by reducing the airtime shared among others." Applying this notion to the work of David Foster Wallace—disdain for whom she mistakes as an edgy countercultural position, as Freddie DeBoer points out—Hungerford characterizes DFW's reported expectation that audiences read Infinite Jest twice as "arrogance."

The irony here is that if Hungerford were interested in entertaining counterarguments (which she isn't), she might find the germ of a compelling defense of opaque, long, difficult works in the words of Wallace himself. In "Authority and American Usage," in the context of a meditation on linguistic norms, Wallace wrestles with the concept of authority in a broader sense. He notes that attempts to escape the presence of any authority whatsoever (e.g. linguistic descriptivism, roughly defined as the position that there are no wrong ways to use language) have not only failed but engendered "a certain Lenin-to-Stalinesque irony;" rebellion against notions of right and wrong "have now actually produced a far more inflexible Prescriptivism, one largely unencumbered by tradition or complexit,"—the often-rigid norms for politically-correct language usage. It seems that rebellion against the very concept of authority may not be all it's cracked up to be; it seems to be an inescapable presence. (As The Who once sang, "Meet the new boss / Same as the old boss.") The solution, Wallace suggests, is not to hope for an absence of authority but to demand that authority have good reasons for making its claims on us, rather than just "because I said so." In the specific case of the field Wallace is considering—lexicography—the challenge now is "to be not just accurate and comprehensive but credible...in the absence of unquestioned, capital-A Authority in language, the reader must now be moved or persuaded to grant a dictionary its authority, freely and for what appear to be good reasons."

I think Wallace's position is relevant to Hungerford's essay and to consideration of art more broadly. After all, any piece of art that isn't totally solipsistic (i.e., that hopes to reach an audience) is presuming authority on some level; it is suggesting, by its existence and dissemination, that it is worth your attention and contemplation. (One could throw Zaid and Hungerford's accusation of pretensions of "undemocratic dominance" at pretty much every piece of art out there.) The solution, then, isn't to disdain artists who demand your time and intense contemplation, but to hope that their works justify those pretensions of authority by their quality. And maybe artists like Newsom (and Wallace himself) whose pretensions of authority are really far-reaching—who create two-hour albums and overflowing tomes the exegesis of which may take the audience years—deserve a disproportionate share of our praise and respect (assuming they stick the landing). They are venturing outside the self-effacing norms of genteel artistic culture, doing something no one else is doing—and, sometimes, it works. That's laudable. Disdain for thousand-page books in the name of some sort of democratic spirit is an anti-intellectual and grotesque position, particularly coming from a Yale dean.

All of which is to say that Newsom has been doing something special and different for quite a while now—and, I'm happy to say, the iconoclastic, stubborn aesthetic in which she operates is still intact.



ivers is likely a lesser creation than its predecessors. At any rate, it seems so from where I stand. Maybe she won't write anything quite like that incredible climactic bit in the breakup allegory "Monkey and Bear" again ("If you could hold up her threadbare coat / To the light, where it's worn translucent in places / You'd see spots where, almost every night of the year / Bear'd been mending, suspending that baseness..."), because she won't have occasion to do so. We ought not to begrudge her that, though in all likelihood some of us will. We like to eat our brightest lights, demand too much of them, demand that they never settle, never rest in peace, never taper off in facility at their craft. But if all we ever get from Newsom from here on are albums on the level of Divers, we're still in good shape. She rhymes "Ozymandian" with "Sapokanikan," uses recorded owl hoots as a syncopated element in a chorus, and sings about God as a light shining through a pinhole camera—an Amora Obscura, she calls it. I think I can live with that.

---

Matthew Stahlman is a post-baccalaureate student at Portland State University. His work examines the boundaries between art, philosophy, and culture. In November, he wrote about feminism and the work of Laura Kipnis.