Film
Transported
In Richard LInklater's Films, Conversation Delivers the Power of Time Travel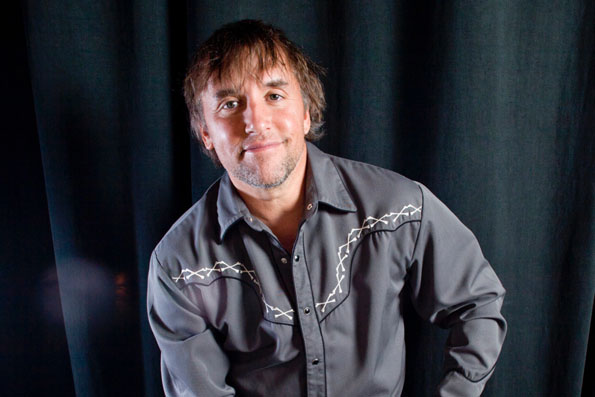 Richard Linklater's "Boyhood" offers glimpses into adolescent psychological development rarely seen in film.

By Jonah Hall

ichard Linklater's films have always unfolded in an effortless way, without attention on the act of filming itself, but on the people he films and the way time breathes itself into each conversation. Nothing is hurried and nothing is glossy. They've always been conversational, existential, and curious. The topics are expansive and the intellectual spontaneity rarely comes off as pretentious—instead, the characters are free to unleash their thoughts and we are given a chance to explore the bigger questions. There is a relentlessly questioning, brilliant mind at work in his films, full of warmth and humor.

Why are we here?

Why don't we value ideas and give our minds time to think?

Why must we pretend to know all the answers?

For some, the films might be short on plot, too heavy on dialogue and character. When I was in 9th grade, I dated Helen, a girl whose parents came to the Boston area, from Russia via Israel. Helen spent her childhood in Israel and came to the U.S. when she was in third grade. Her family watched big budget action movies. There were always explosions coming out of her screen. Not a typical boy, I merely tolerated these films. One night we finally had a conversation about it.

"Why do you love action films so much? You know what's going to happen most of the time, and when you're watching at home, you don't even get the over-the-top dramatic experience of the theater."

"Why do you love TALKIE movies so much? All they do is TALK. Nothing happens."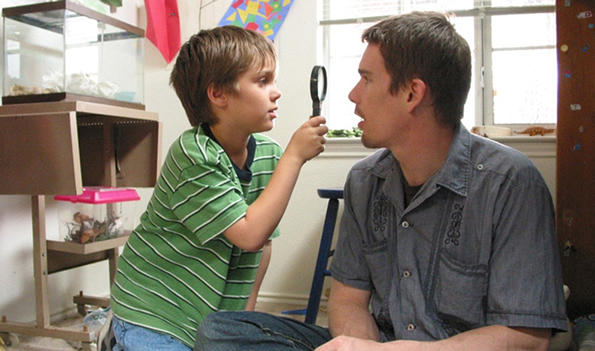 Needless to say, we didn't get anywhere. My indie-film-loving self was ready to take off. I was ready to find Cambridge's Kendall Square Cinema and watch films from other countries with subtitles, some of which ended without warning or any conclusion. I started reading film and music reviews. I went into Harvard Square to see jazz shows. I wanted nothing to do with Dependent Cinema. If you've seen Noah Baumbach's The Squid and the Whale, I was trying not to become a "philistine," as Jeff Daniels' character might have said. This desire may be slightly inevitable if you grow up in an NPR household as a sensitive boy.

The Coen Brothers' Fargo (1996), Todd Solondz' Happiness (1998), and later, Richard Linklater's Waking Life (2001) became some of my favorites. I love dialogue. I love conversation. These three films treat the art of communication delicately. In Happiness, Solondz' characters are barely able to leave the confines of their four walls. The outside world is a threat, as is the interior world of their minds. The humor is painfully dark. The words they speak come with great effort. As a self-conscious teenager, I appreciated that fact. Fargo is filled with the colloquialisms of the Northern Midwest. Polite and friendly people gradually losing their control over life. Conversations between shady characters. Steve Buscemi is never not losing his shit. The plot is topsy-turvy and the film is certainly filled with action, but the intimate moments between characters are what make the film memorable. The moments between the very pregnant Frances MacDormand and her sweet, balding husband, who makes oil paintings of ducks and submits them to contests. William H. Macy's agitation growing, interaction by interaction, as his world dissolves. The Coen Brothers' command of the long-suffering bastard in a chaotic world, through intimate moments of internal agony.



As is often the case with movies and music, the art that lasts is the art that you stumble upon at the right moment. Waking Life came along at a time I was especially open to ideas and to cosmic wonder. Always mildly aware of the impossibility of existence, pushed by my father's penchant for philosophical thought and meanderings, Linklater's film struck a complex chord in me. The beauty of the animation captivated me, but the tangential monologues, those seemingly stream-of-consciousness poetics that filled the scenes, weren't all that different from conversations I had been having or wanting to have. I had just flunked out of college and was testing Tolkien's line, "Not all who wander are lost." Waking Life might have been even more memorable for those that saw it stoned, but for those that were sober, it was transporting nonetheless. The rotoscoping techniques of Bob Sabiston and a host of digital artists blur the lines of reality to create a dreamscape through which conversations meander. Forget about time. Forget about what makes sense. Waking Life was an opportunity to plunge into film rather than escape through it.




hich brings us to Linklater's latest experiment, Boyhood. By now you've likely heard about the film's concept. Filmed over twelve years, Boyhood is another dialogue-heavy plunge into existential humanity, with riveting characters, pathos, and humor. One testament to the film's richness is that its length (166 minutes) is hardly noticeable. Condensing twelve years of life into less than three hours would not be a feat in a more formulaic Hollywood movie, but Linklater manages to give us glimpses into adolescent psychological development that we rarely see in film. Through the eyes of Mason Jr. (Ellar Coltrane) and Samantha (played by Linklater's own daughter, Lorelai), the audience is swept along for the ride in as gentle a manner as I can remember being swept, at least while sitting in a movie theater.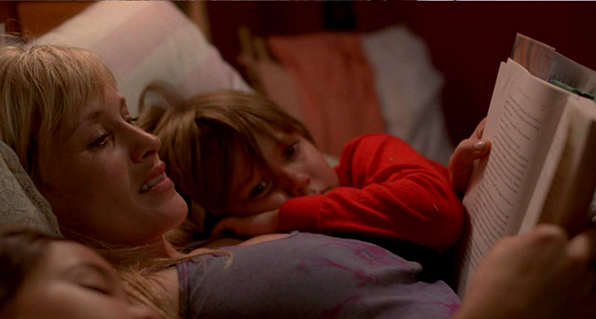 We watch the siblings watch, through a window, as their mom (Patricia Arquette) loses patience with their perpetually immature dad (Ethan Hawke) and we experience the subtle heartbreak of the continual disappointment the children feel. While their father shows a genuine desire to connect...he proves once again unreliable. In a different director's hands, without the benefit of the unheard-of shooting schedule (shoots of less than a week every summer for twelve summers, which allowed actual connections to take place among the actors), the scene might lack the necessary emotion on the faces of the children, instead collapsing into melodrama, with fists, screaming, and the children running away from the volatile couple. Instead, we have another gentle disappointment, with the implied echoes of past melancholy lingering in our imaginations. We feel empathy for the children and for the mom, who is holding it all together in her spunky way. What makes the film majestic is that we love the flawed father as well. Hawke's gift for improvisational riffing (remember Reality Bites?) can verge on the self-righteous and faux-intellectual, but his desire for authenticity is clear in the roles he takes with Linklater's guidance. We can't help but embrace this father who yearns to embrace his kids, despite his fear of adulthood.

Starting at age six and ending on the first day of freshman year at college, we witness the growth of a boy—and to a lesser extent, his sister—in as natural a way as possible. In documentary films, children are always aware of the camera, which tarnishes attempts at capturing reality. Filmmakers sometimes seek truth with such a single-minded focus that they have trouble arriving there. In this fictional but cohesive universe that Linklater created, the actors formed genuine bonds over the span of years. There are few scenes that feel acted or contrived in any way, which adds a startling dimension to the film. Making the passage of time a central theme in a film is complicated. So many films rely on montage or voice-over to achieve some sense of temporal reality. How refreshing it is to see time pass in the way that Linklater allows it to.



As the years pass, we watch Mason get chubby and pimply. We watch him and remember junior high school's awkwardness. We see the irascible, old-school stepfather (who looks oddly like Bill Parcells) demand that twelve-year-old Mason's long brown hair get shorn to the scalp. We feel the rising embarrassment as Mason returns to the classroom and the classmates notice his soldierly look. As their father drops in and out of their lives, he has a gift for piercing their automatic force fields, gives them hugs, rambles infectiously, and demands intense connection. In one of the film's most poignant and hilarious moments, as the trio drive to an Astros game, Hawke (Mason Sr.) elaborates with great urgency just how he would like his now-adolescent daughter and pre-teen son to engage with him as they catch each other up on their lives. The complicated dynamics between loving-but-estranged father and his growing children become palpable as his need to be immediately welcomed back into their lives becomes clear—the father's need for connection and camaraderie shows us that he's still learning to handle adulthood in his own way. Trust is earned over time, and the guilt he feels for for leaving lays just beneath the surface of this scene.. His need to be loved by the children which he feels guilty for abandoning is made real, and we move onward. The momentum of the film is extraordinary. Psychological insight and attachment—these are so much more potent than the momentum of explosions and slamming doors.

We watch Mason walking home from school in an extended, slow-paced ramble, while a female classmate rides her bicycle next to him. He has now matured into a quietly-confident, lanky teenager with artistic inclinations. The classmate's lilting, stream-of-consciousness teenager-speak contrasts with Mason's introversion. We see him being kind, sensitive, even when he's monosyllabic. In a modern film era that often de-emphasizes dialogue or the subtle nuances of interpersonal family dynamics in favor of quick-hitting visual humor, cheap laughs, or overly stylized banter, Boyhood allows the viewer to sink back and listen in a way that is both familiar and wonderful.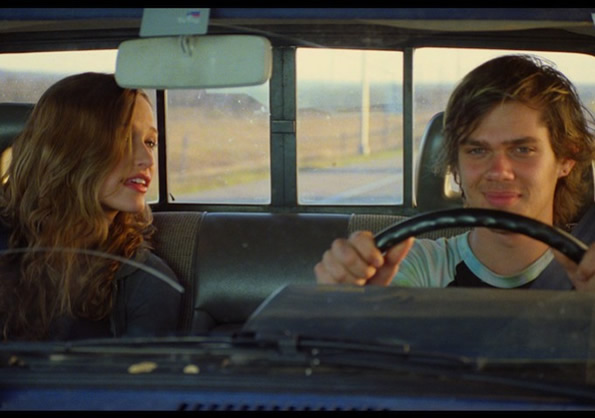 'd be dishonest if I didn't explain how personal the film was for me. I could relate deeply to the sensitive teenage boy who desired a deeper connection with his father and struggled with his tough-minded single mother for independence. I can also relate to the man who yearns for deeper conversations and expects more than he sometimes should out of relationships. Boyhood. Manhood. Fatherhood. Personhood. Our adult connections to our own boyhoods, when we are able to reflect.

A few weeks ago, I was back at my mom's house outside of Boston. Upon her urging, as she sorted through my childhood boxes, I discovered my high school yearbook. I opened it for the first time since I graduated in 1998. Sixteen years later, I read the inscriptions of the friends and former girlfriends. I was transported back to the tumultuous world of my own adolescence. I guess that's another reason I loved Boyhood. It gave me a chance to see and feel much of what I had trouble fully feeling back then. Isn't that the reason art exists? To help us make some sense of our lives and continue our lifelong conversations?

---

Jonah Hall writes about the NBA and many other things at www.darkoindex.com. You can follow him on Twitter @darkoindex.