Craft
Work Prayers
Alexis M. Smith on Her PNBA Award-Winning novel, Marrow Island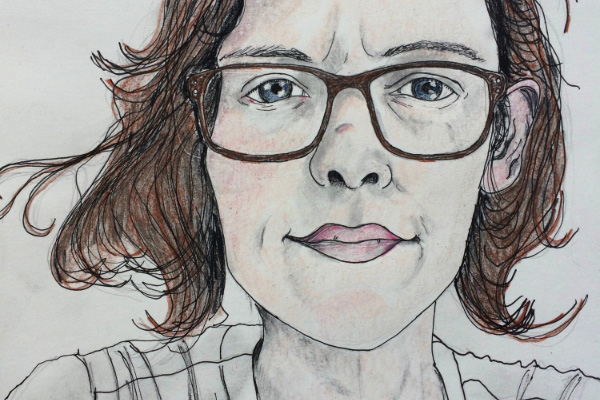 Alexis M. Smith, author of "Marrow Island." (Illustration by Zach Schomburg.)

By Evan P. Schneider

lexis M. Smith's second novel, Marrow Island (Houghton Mifflin), was just named one of six winners of a 2017 Pacific Northwest Bookseller's Award. Evan P. Schneider, author of A Simple Machine, Like the Lever (Propeller Books) recently chatted with Smith about overcoming hurdles, what she learned by writing the new novel, and why we choose the work we do—or why it chooses us.

Evan P. Schneider: Our first books came out around the same time back in 2011. Being that they went pretty well together, you and I went on a little book tour after that, starting in Portland and heading up through Boise and Spokane and that wide open part of the country. Since that time, we've each gotten married, but while I went on to become the board chair of my local farmers market, you went on to write and publish another well-received book, Marrow Island. Our lunches together at Tandoor Kitchen are sadly less frequent than they once were, so tell me: What all have you been up to in the last couple years?

Alexis M. Smith: Has it really been so long?! I've spent most of the last five years living a life of relatively genteel poverty as a single mom and working writer. I say "genteel" because I was doing what I love and making ends meet, barely, which was a dreamy situation that I don't take for granted, despite the debt, and the humbling moments of selling off family heirlooms to keep the lights on, and doing yard work and odd (and I do mean odd) jobs for extra cash, and borrowing money here and there, and applying for jobs for which I was over-qualified and not even getting interviews. I taught workshops and toured with other Oregon Book Award finalists, and won grants from the Oregon Arts Commission and Regional Arts and Culture Council. My friend, poet and architecture scholar Nora Wendl, and I applied for, and made it to the panel round of, the Creative Capital literature award for a collaborative project about the mid-century designer and architect Eileen Gray. All the while I was working on Marrow Island, which came out this year. I was also dating people, and eventually met my (now) wife, Kelly, who is a data librarian, musician, and potter. I'm extremely proud of my work on my books, but marrying Kelly was definitely my highest moment of the last few years.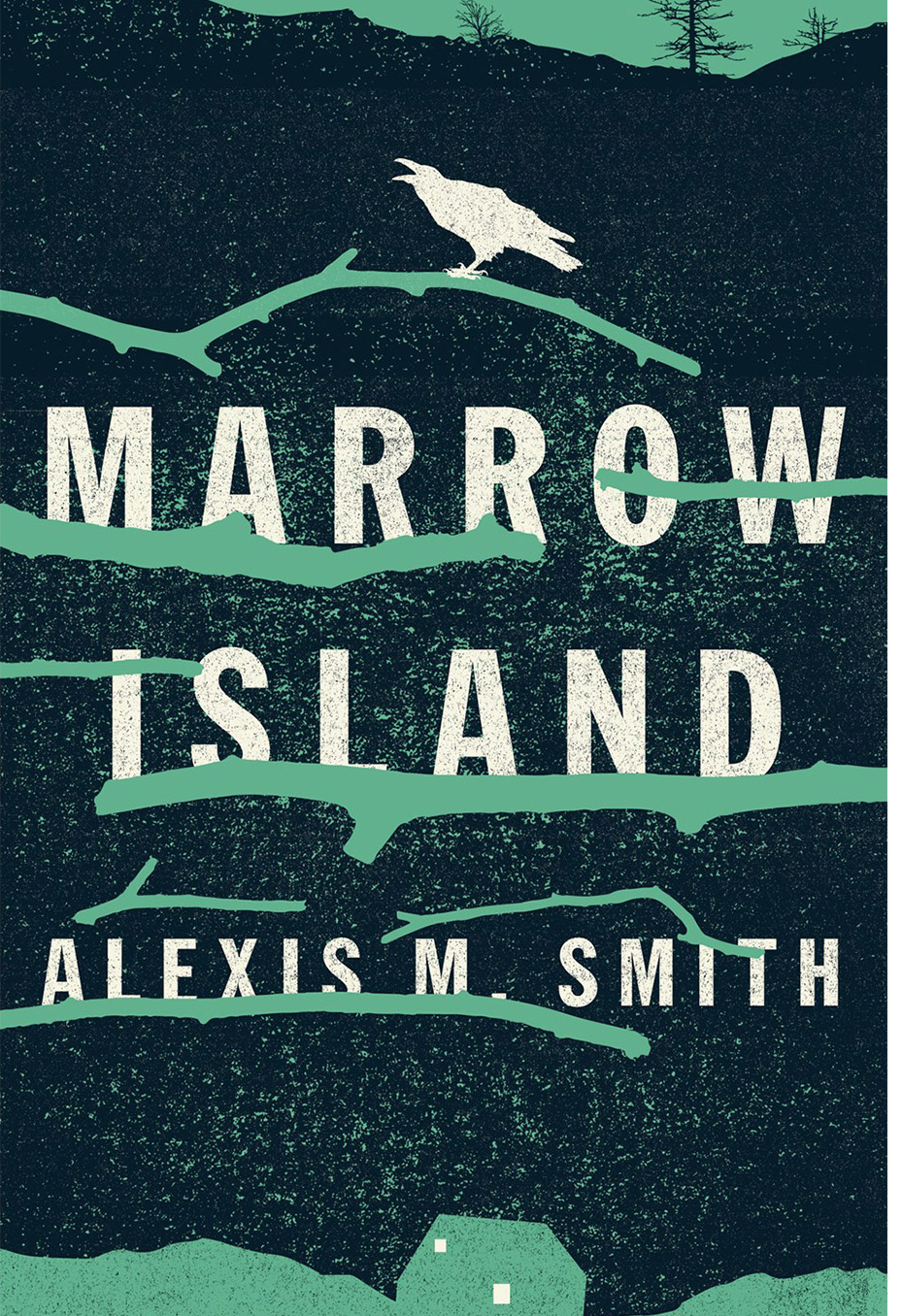 Schneider: I can certainly empathize with your humbling moments of debt and yard work. But after you worked so hard for so long, Marrow Island has garnered some great praise. Publisher's Weekly says it "carries the same heft, descriptive nuance, and narrative spark that distinguished Glaciers," and I completely agree. With the accolades and the grants—your debut was even selected as a World Book Night title—are you feeling that the writing life is any less tenuous than it was? As in, with two books and a growing body of work, do you feel as though you've made it over some real or even just imagined hurdle? Or does it seem that you're still in the land of genteel wanderers, fighting and scratching to eke out an artistic life? Do you head off to work every day now as a Writer with a capital W, or is the life of a professional creative person still just as precarious as before? And how have you learned to balance that with also being a spouse and a parent?

Smith: Oh, I definitely feel like I've made it over significant hurdles. This is a complicated question, though, since I think most writers—and I know I am not alone here—live with varying levels of certainty about whether their work will survive and thrive. Will it be reviewed well? Or at all? Will it sell? These are just market concerns. Then there's the existential doubt: Did I really do that? Can I do it again? And if I do, will anyone care? I don't find myself relaxing into a state of gratification that I've made it through the gates and into a big publishing house. I wake up anxious to prove that I have more to say and do. In that way, I do feel like I work hard at it, that it's my job, not just my calling. I clock in early—sometimes as early as 6 a.m.—and take regular breaks. Then step away from the computer and books in the evening to cook dinner and be with family.

The notion of "balance" has never resonated with me. Balance, to me, is not a state of existence, it's a state of suspension. I think what people mean when they talk about "work-life balance" is a marriage of satisfaction and ease. How do I find satisfaction in my life? How do I love what my life looks and feels like? But there are no shortcuts; if you're looking for ease, you're going to get bored or boring. We're all constantly working at being alive, in our own ways. It's rare, when what you have to do to survive in this world is perfectly aligned with who you think you are or want to be. That's the work. Of course, there are moments of stillness, reprieve, connectedness, joy...but it's all still work. Being a spouse and parent, being a writer and teacher, being white and queer and middle class, being a creative sensitive person in a culture that doesn't value those qualities...navigating all of these things is work. But I don't think I'd be a very good writer if I were comfortable with my place in the world, in this body, all the time.

What about you? Your life looks so idyllic from outside, with your urban homestead and your cabin in the woods. But I know that you're a hard worker and a restless thinker...is it that constant movement and seeking that approximates this "balance" that people are after?

Schneider: To be honest, I'm not certain what other people are after. I'm not even always sure what I'm after, other than something that's worthwhile and somewhat meaningful. Lincoln's take seems profound to me: "When I do good, I feel good. When I do bad, I feel bad. That's my religion." There's a balance in that idea somewhere, I think.

Balance actually plays a pretty large role in Marrow Island thematically, though it's probably more accurate to call it imbalance. Your narrator, Lucie, is a freelance environmental journalist who travels to a PNW island of her youth to meet a group of people working incredibly hard (thanklessly, and without permission) to rehabilitate a disfigured landscape after a devastating earthquake and resultant refinery explosion. But they're not there because it's easy; in fact, they're there ostensibly for the opposite reason—to meet the challenge of bringing a broken ecosystem back into natural balance, and to see if that's even possible.

I was struck by one passage in particular:

Every morning at Marrow Colony began with work prayer. They prayed not on their knees in the chapel, not beside their beds or before breakfast with head bowed, but working at the chores of the farm, with their hands and bodies. Everyone had different tasks that rotated day by day, so everyone was intimately involved in the various labors of the Colony.

I agree with you that good writers are rarely comfortable with their place in the world, or with the world itself for that matter. Is writing, for you, a sort of work prayer? If so, how did the work of writing Marrow Island play a part in the conversation you're having (with yourself, with your readers, with something larger than both)? Are you already at work on something new?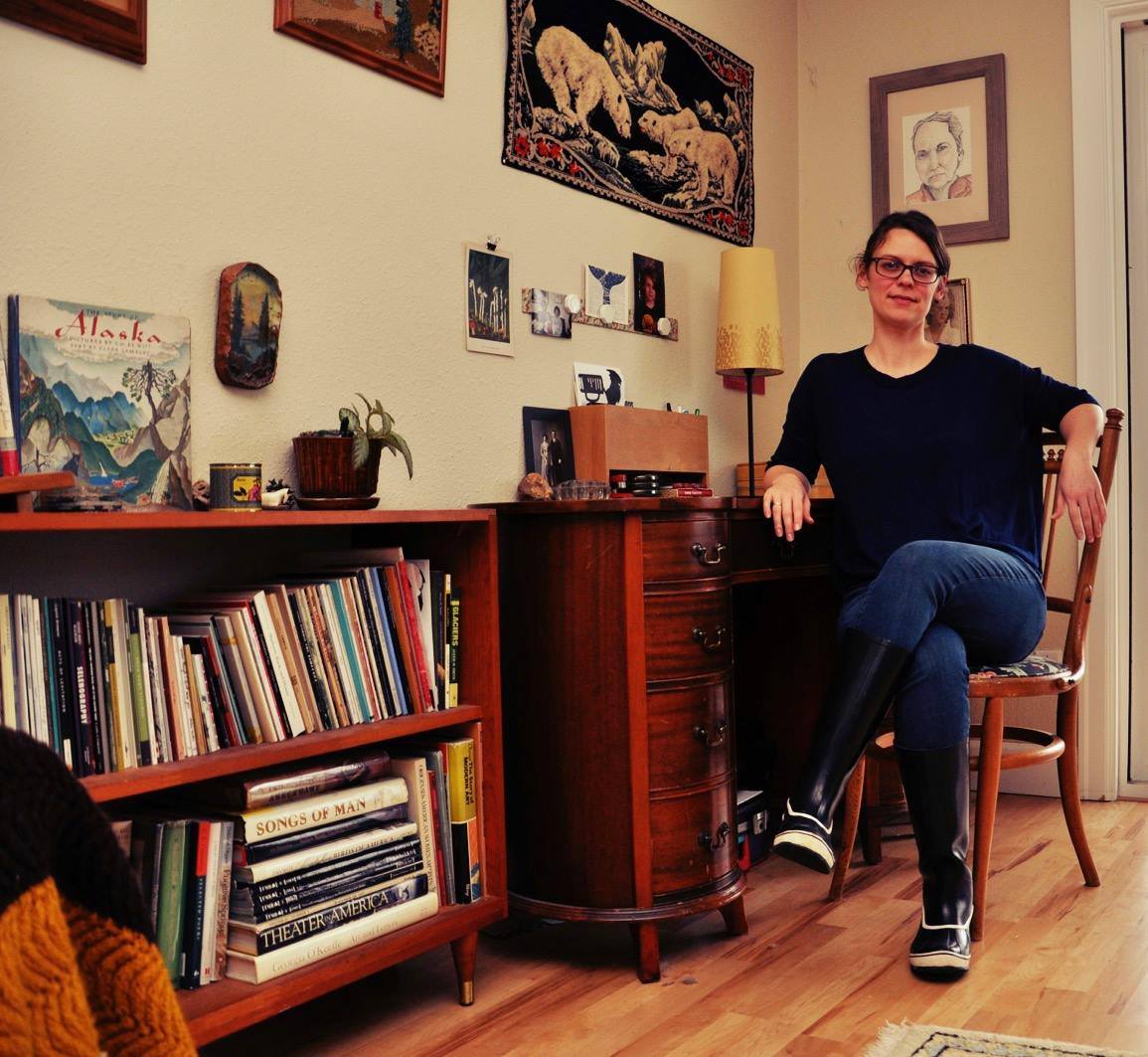 Alexis M. Smith. "There's an intuitive quality to writing a poem that I think I bring to writing fiction."

Smith: Oh, my. I like that quote (from Lincoln).

Yes, I'd say writing is my work prayer. I put a lot of energy into it, with the best intentions, and put it out into the world. Why writing, though? Why do we choose the work we do, or why does it choose us? I keep doing it to figure that out, I think. I wonder if, one of these days, I'll write something that will be the last thing I needed to write; everything else was just warming up to it.

I just read the Joy Williams story "Another Season" with my grad students alongside her Paris Review interview. It's easy to see why she's a favorite of other writers. She seems constantly engaged with the inscrutable—in writing, in people, in the world, and (best of all) in herself—but she seems content with the engagement itself, rather than solving the puzzles. My students were charmed, I think. Or bemused? We spend a lot of time fretting: What kind of writer am I? What kind of story is this? And who the hell am I to write it? These are valid questions, but Williams suggests (am I making this up? It's not in front of me at the moment...) that the answer is in the work itself, as much as the product. That's a tough sell to an MFA student who is just expected to produce a thesis and teach and edit a journal and work out being an adult in the world. But it's a seed worth planting, I think. When I was getting my MFA at Goddard the mantra was "trust the process." That we don't know the larger mechanisms at work is beside the point; we trust that the process itself will get us where we are supposed to be.

All of which is to say: yes, I think Marrow Island was a progression from Glaciers, and a step toward something else. I learned how to work with plot, with tension, with a bigger canvas, with a longer timeline. The next book may not be even bigger, or more plot-driven, but I feel like I learned a lot about the process of writing Marrow Island. I am working on a new novel, though it's still a little baggy and shapeless, characters and setting and themes with only the suggestion of a structure.

Schneider: I've been wondering that myself a lot recently, about why we choose the work we do, and why it chooses us. Your approach is admirable: just keep writing in order to figure it out. Simply do the work that's in front of us, whatever it happens to be. I'm guessing that you won't ever feel that you've written the last thing you needed to write, though. Because it sounds like for you, much like for Joy Williams, writing is how you make sense of the world—thinking hard about what's real and what isn't, what's important and what's superfluous. "The answer is in the work itself, as much the product." That's solid wisdom.

I know that before you were a novelist, you wrote poetry and spent years studying that form. A lot of Marrow Island is poetic to me (I found myself reading many of your descriptions over and over, loving your ability to capture in a few deft lines that deep experience one has in nature), and I wonder: Do you still practice writing poetry? When you're working on a long form narrative, do you have to continue thinking and working in that specific genre exclusively, or are you able to continue to be a poet as well?

Smith: I haven't written poetry in a formal sense in years, but I fall back on it in my writing all the time, for better or worse. If I'm not sure where to go in a story, I might just start writing about the scenery and paying more attention to the way the words sound together. There's also an intuitive quality to writing a poem that I think I bring to writing fiction. I honed my sense of beginnings and endings writing poetry (you get to practice them more). And poetry's all about discrete rhetorical gestures and economy of language—making meaning with precision and subtlety—which never hurt any piece of writing, if you ask me.

I read poetry all the time, though. Right now I'm reading Solmaz Sharif's Look (which is harrowing and sublime) and revisiting Amy Clampitt. Clampitt is one of my heroes; she's like Dickinson for me. I can open her books and immediately be absorbed in her world, her attention to detail and place, her idiosyncratic rhythms, her obscure, sometimes archaic diction. Here's the book beside me, I'll just open it randomly and find something to chew on:

"The kettle
warbles in the kitchen; we take our teacups
downstairs to where the willow harbors,
improbably, a ring of mushrooms."

That's from a poem called "Townhouse Interior With Cat." I adore her.

I don't have the attention span for reading other novels when I'm deep in the process of writing my own. I usually end the year having read more poetry and short fiction and journalism than current novels. Name a dozen "big" novels of the past five years and I might have read one of them. When I do read contemporary novels, I gravitate toward small press, cross-genre, avant-garde stuff. Likewise, if I'm working on a novel, I don't tend to work on other pieces unless I'm commissioned by a journal or reading series. I'm too distractible.

Schneider: Speaking of ending the year, we did it. We're here. It's 2017. How are you feeling about that? What gives you hope about the future?

Smith: We did. Here we are. Lordy, I don't know, our lives seem to be in the hands of nihilists—what does give me hope? Looking back at the lives of people who made art in the face of war, oppression, deprivation, loss. The survival of their art. That survival feels powerful, and if not hopeful, at least a reminder to make art while we still can. I feel very privileged to be in this position, but also terrified. So, I'm going to work my ass off.

---

Alexis M. Smith was born and raised in the Pacific Northwest. Her debut novel, Glaciers, has been translated into Spanish and Italian. It was a finalist for the Ken Kesey Award for Fiction and a World Book Night 2013 selection. Alexis attended Mount Holyoke College, Portland State University, and holds an MFA from Goddard College. Her interests include trail running, beach combing, bird watching, and jam making. In 2015 she received a grant from Regional Arts & Culture Council and a fellowship from the Oregon Arts Commission. She lives with her wife and son in Portland, Oregon.
Evan P. Schneider is the founding editor of Boneshaker: A Bicycling Almanac, which Esquire selected as one of "50 Things No Man Should Be Without." His novel, A Simple Machine, Like the Lever (Propeller Books), was named one of the Top Ten Best Books of 2011 by Willamette Week. Evan has received fellowships for his work from the Oregon Arts Commission as well as the Kimmel Harding Nelson Center for the Arts. He's currently at work on a collection of short stories, as well as The Best of Boneshaker Bicycling Almanac.