Sport
Impossible Decisions
Love in Los Angeles, Holes in Rip City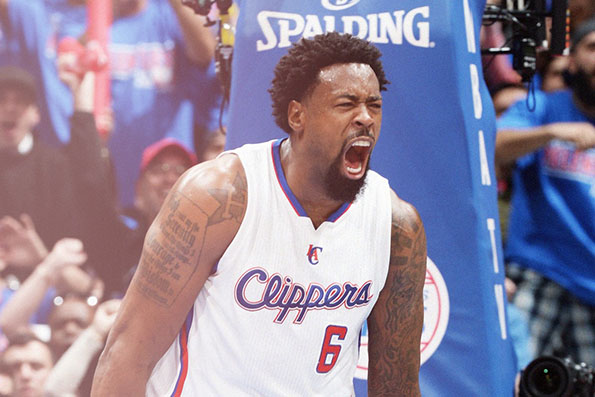 By Jonah Hall

n the weeks following the NBA Finals, the dust and confetti both settle over the NBA season. Years ago, this meant a genuine break from NBA coverage for even obsessive fans. Today, the free agency buzz starts a few days before July 1, when teams can begin offering their dream scenarios, personalized to each of the league's best available talent. Summer leagues allow newly drafted players and younger hopefuls to showcase their abilities. Those performances don't mean much in the grand scheme, but they offer one more aspect of NBA entertainment for fans to enjoy if they need a hoops fix. The idea underlying so much of media content in today's world is implicit: You can never have enough, and you should never take a break from consuming that thing.

Unlike the inconsequential games of summer league, however, free agency actually does determine the future direction of franchises. When a star player makes his decision, contending windows close in an instant for spurned teams, while NBA relevance opens for others. Last summer, LeBron James's choice to return to Cleveland put the Cavs back on the NBA map. This summer, LaMarcus Aldridge and DeAndre Jordan were the two players gaining the most buzz. At first it appeared Jordan had packed up his longboard and roller blades and would be leaving the Los Angeles Clippers for the Dallas Mavericks. The crestfallen Clips were then rumored to be involved in the Roy Hibbert trading sweepstakes, a consolation prize that would have been of questionable value. As Zach Lowe recently detailed, the value of centers like Hibbert is declining rapidly. Defense-only behemoths who are barely functional away from the paint are situational at best against the modern NBA's pick-and-roll heavy offensive sets. Suffice it to say that with Hibbert, the Clippers would likely have played stretches of bewildered defense. Blake Griffin's rebounding would have been tested, and Chris Paul's pick-and-roll partner would have been missed. On those mini-lobs, Jordan could probably dunk on a 12-foot-high rim.

But those "What ifs?" will never be answered now. The Clippers saved their future by bestowing a full-court press of love and affection on Jordan. The NBA's free-agency process (July 1 begins the courting period, but only verbal agreements may be made until July 8) enables a week of social media madness, with ESPN takes full advantage of the rumor mill. The real-time drama of Jordan's courtship played out on Twitter: we discovered that player vacations were halted as Clippers coach Doc Rivers coordinated a plan to descend on Houston, surround Jordan with support, and get him to re-sign with the Clippers. None of this changes the world. It becomes, instead, its own all-encompassing world, a micro planet of obsession that I'm slowly backing away from this summer for the sake of my family, my teaching, my writing, and, in general, my sanity.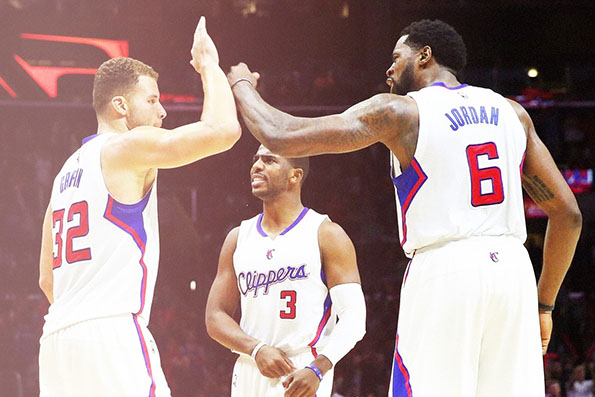 eAndre Jordan was born and raised in Houston, and spent a year at Texas A&M before entering the NBA as the 35th pick in the 2008 draft. Far from a lottery pick, Jordan played only 20 minutes per game in his only college season, averaging 8 points, 6 rebounds and a mere 1.3 blocks. The common scouting phrase applies here: "High risk, high reward." At the 35th pick, the Clips took little risk, and their expectations were modest.

As was chronicled during the Donald Sterling mess, Jordan's physique is striking. Sterling reportedly objectified Jordan in the locker room, viewing his body with homoerotic wonder, bringing women into the Clippers locker room to observe what Sterling seemed to believe was his collection of specimens. Remarkably, these invasions of privacy went mostly ignored, Sterling's revolting behavior being laughed off by most.

Sterling's track record as a slumlord was well documented. Writing for The Nation, Dave Zirin encapsulated the heinous Sterling:


Sterling is also the Slumlord Billionaire, a man who made his fortune by building low-income housing, and then, according to a Justice Department lawsuit, developing his own racial quota system to decide who gets the privilege of renting his properties. In November of 2009, Sterling settled the suit with the US Department of Justice for $2.73 million, the largest ever obtained by the government in a discrimination case involving apartment rentals. Reading the content of the suit makes you want to shower with steel wool. Sterling just said no to rent to non-Koreans in Koreatown and just said hell-no to African-Americans looking for property in plush Beverly Hills. Sterling, who has a Blagojevichian flair for the language, says he did not like to rent to "Hispanics" because "Hispanics smoke, drink and just hang around the building." He also stated that "black tenants smell and attract vermin."

How might the young DeAndre Jordan have felt as he watched the owner of the team he played for act much the same way a plantation owner in the early 1800's might have? An owner who viewed his players as things to be owned and displayed?



exas (like Florida) is a state with no income tax. California's highest state income tax bracket is roughly 13%. Jordan, who turns 27 this month, reportedly turned down a 5-year, $108 million offer from the Clippers before agreeing to terms with the Dallas Mavericks, before reversing course and returning to the Clippers. Getting into the nitty gritty, Jordan would have been considering that he would make just under $22 million per year in Los Angeles for five years, but would not be granted the 5th year opt-out (the impending new NBA salary cap means $20 million in four years could turn out to be a bargain for an All-NBA defensive center.) He would pay that high California state income tax, which would cut his first four years down from $86.4m to $75.1m. If Jordan had signed and then stayed in Dallas for all four years, he would have saved himself five million dollars over the four years of his contract. Five million sounds like nothing when you read that $108 million total offer, but five million is still, even for multi-millionaires, an enormous amount of money.

But maybe Jordan's decision wasn't just about the money. Maybe it was the memory of being drafted 35th and labeled a "freak athlete" with severe limitations. The Clippers have been marketed as Chris Paul, Blake Griffin, and everyone else. Jordan has been working his way toward becoming a solid offensive center for the last decade, as he grew into his massive frame, and Clippers coach Doc Rivers has been building up DeAndre's confidence through Bill Russell comparisons for the last two years. Jordan never dominated in college. Maybe Jordan's decision included a desire to prove himself as a player, beyond the influence of the Clippers' star point guard, Chris Paul.

The biggest problem with not knowing why a player chooses to leave one city, and take a team's title hopes with it, is that everyone gets to speculate why, and players' reputations get ruined in the process. Fans and the media view players like teenagers in high school. Who is the bully? Who is the victim? Which kid thinks he's the center of the universe?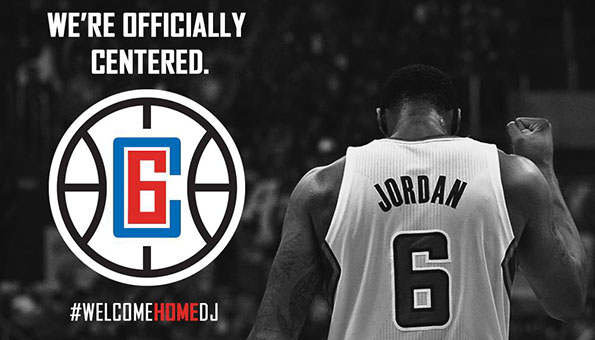 Paul has been labeled both a "Point God" and a perfectionist jerk who holds teammates to brutally high expectations. Maybe he's both. Perhaps Jordan's reasons for leaving (and now returning) are as fluid as the Pacific. Maybe he was thinking, "I'm tired of CP3's constant demands and I'll save $5 million and I'll get a fresh start." Of course, it's juicier to play the simple hostility-towards-CP3 angle, and maybe there's truth to that. Now that Jordan is back with the Clippers, though, that aspect was clearly overblown. Either that, or he and Paul have now communicated and gained new trust.

We all need to be recognized and appreciated. Jordan's change of heart actually humanizes this process of salary cap calculations and roster-constructing analysis. The poker game of NBA roster building ground to a halt. Some in the media, waist-deep in the business aspects of the NBA, viewed the Jordan free agency saga as an embarrassment for the league. I will watch Jordan in a new light now, however. A millionaire athlete to some, a flip-flopper to others, to me he is now a young man who wasn't sure what to do, and then was shown the love by some of the NBA's biggest stars. Team chemistry will never be quantified. Young athletes make the professional ranks because of their talent, hard work, and desire, which often comes from ego. Then fans want athletes to be humble. Cockiness used to be off-putting. Arrogance is unbecoming. The balance between confidence and arrogance isn't easy to find. Jordan and his rollerblades will remain in Los Angeles. The Clippers window remains open, with an ocean breeze blowing in.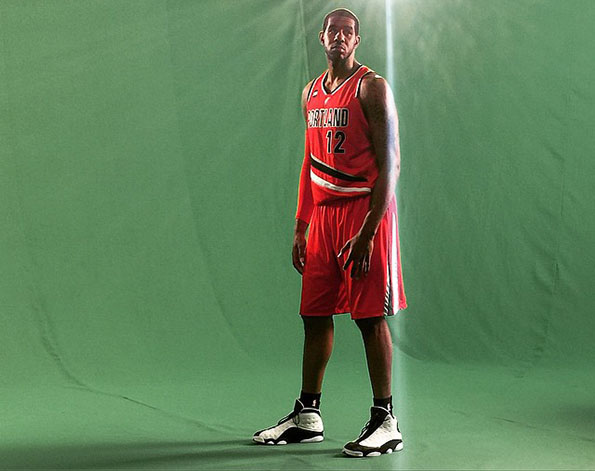 rowing up in Dallas, LaMarcus Aldridge was on the prospect map early. After suffering a hip injury halfway through his freshman season at the University of Texas, Aldridge dominated the Big 12 during his sophomore year and was picked 2nd overall by the Chicago Bulls before being traded to the Portland Trail Blazers for 4th pick Tyrus Thomas and the immortal Victor Khryapa. The Blazers landed Aldridge and Brandon Roy in the same 2006 draft. After several strong regular seasons ended in early playoff exits, however—and after Roy's career was cut short by injury—Portland surprised skeptics by defeating the Houston Rockets in the first round of the 2014 playoffs behind memorable Aldridge games, clutch shooting from Damian Lillard and Wesley Matthews, and hounding team defense. 2015 did not go as well, though. Matthews tore his Achilles tendon midway through the season, Aldridge played through injuries of his own, and the Memphis Grizzlies eliminated the Blazers in the first round.

Aldridge became a free agent, and this summer he was reportedly choosing between Portland, Phoenix, and San Antonio. Oregon's highest tax bracket takes 10%. Arizona is close to 5%. Texas, as discussed above, doesn't have state income tax. By staying in Portland, Aldridge would have lost close to $8 million. By choosing Phoenix, he would have lost around $4 million. Money is certainly not the only factor, but $8 million is significant. It's worth noting that the newly minted champion Golden State Warriors, in all of their 2015 playoff glory, never faced the Spurs. An extra juicy bit of info: after Aldridge finished meeting with the Lakers in Los Angeles, it was reported that he was put off by the way the Lakers presented themselves (Hollywood, branding, etc.) He wants to win. It speaks to the Lakers myopic view of NBA stars as self-centered brand machines. It also speaks to the Aldridge's character.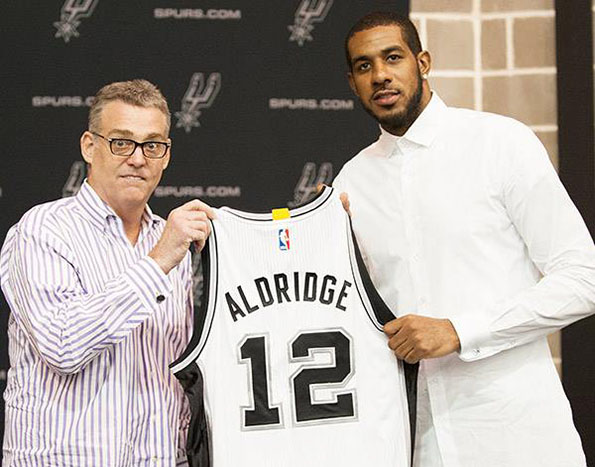 Thus, the 2014 first-round victory over Houston will be the high-water mark for the Aldridge-led Blazers. Aldridge chose to leave the city of roses and become a member of the San Antonio Spurs. The Blazers will be unrecognizable to casual Portland hoop fans in November, left with emotional wounds in the places departed players Aldridge, Robin Lopez, Wesley Matthews and Nic Batum once occupied. Aldridge wrote a brief thank you to Portland fans. Here's the letter, which was first sent to The Oregonian's John Canzano:


Dear Rip City, Thank you!

Those two words on a page don't begin to express the gratitude I have for the opportunity the entire Trail Blazers organization, my teammates, the media, and you fans gave me. The past nine years have been a blessing, and I will take all of the valuable memories with me as I head back home.

As I'm sure you can respect, my decision was a very personal one but not one I took lightly. Although I will be wearing a different uniform the next time I come back to Portland, please know that I will always hold my time in a Blazers uniform near and dear to my heart.

Your friend, LA

Such is the way of things in the impossible Western Conference of the last decade. Aldridge will spend next season heeding Tim Duncan's words of wisdom before Duncan swims off (he won't ride) into the sunset and Aldridge takes the torch as the Spurs transition into the post-Timmy (and post-Pop?) era. Damian Lillard will become the leader of the Trail Blazers, but his patience will clearly be tested in the next few years. The very early Vegas odds have the Blazers out of the playoffs, in a three-way tie for ninth place next year. I suspect Utah, Phoenix, and even the newly reconfigured Sacramento Kings, however, will all finish with better records. Portland fans are in mourning, but a tear-down and rebuild is easier in the West than in the East.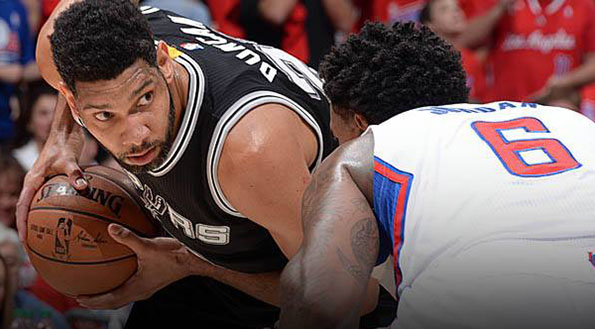 wo hypothetical questions about NBA free agency for the sports media landscape to debate:

1. What can/should be done to equalize the inherent state income tax issues?

Free-marketers and Ayn Rand-types will shout "No regulations!" while cold-weather, tax-heavy cities will continually shovel their way out of the NBA permafrost. Why would players desire to live in harsh climates and lose huge sums of money? They wouldn't, unless they grew up there. This is yet another reason Seattle should have an NBA franchise: dozens of NBA players come from Seattle, and it's a northern, cold weather city that actually attracts people.

2. How should NBA free agency be regulated?

As contracts get shorter, free-agency, and the regulation of free-agency, becomes more important. The executive director of the NBA's players association, Michele Roberts, is unafraid of the status quo and has owners sweating, something they usually reserve for rare public relations debacles and yachting. Commissioner Adam Silver is mostly at the mercy of the thirty uber-wealthy ownership groups, though he has managed to appear open to new ideas in his early tenure. Many speculate that a work stoppage is likely in the summer of 2017.

Meanwhile, Tim Duncan is reportedly going to take whatever spare coins the Spurs have left after Aldridge and Ginobili are on the books, probably in the neighborhood of $6 million or so, to play one more (final? really final?) year. I'm sure Golden State's front office is screaming into Adam Silver's ear about hometown discounts. Duncan and Ginobili are the rare players who are less concerned with maximizing their earnings at this point, preferring to enjoy the luxury of stability, trust, continuity, and, ultimately, playoff wins.

Competition among teams will be furious next summer, when a raised salary cap will leave every team with max-level money to spend. I don't see many players clamoring to get to Minnesota, though, despite their young, talented core. Milwaukee signing Greg Monroe this summer was a minor miracle, considering how frozen out the Bucks have been from free agency in years past. When everyone can spend big, the teams that saved wisely and accumulated assets (Boston) have very little advantage.

The NBA's byzantine salary cap rules have always been more like a game of Scrabble than Monopoly. It's not luck, but it's not quite skill, either. It's being ruthless with the rules. You know who wins at Scrabble? It's not necessarily those with the wide-ranging lexicons. It's those that have an ornate knowledge of Latin, and logically plan for triple word scores.

---

Jonah Hall writes about the NBA and many other things at www.darkoindex.com. You can follow him on Twitter @darkoindex.