Craft
Emotional Currents
Katie Chase Talks About her Debut Story Collection, Man And Wife

Katie Chase. "If an approach feels in some way too straightforward to me, I lose interest."

an and Wife is the debut story collection by Katie Chase, published by A Strange Object. In addition to questions about the stories, many of which were previously published in journals such as the Missouri Review, Joyland, and ZYZZYVA, as well as featured in the anthologies Pushcart Prize XXXIII: Best of the Small Presses and The Best American Stories, I asked Katie what she's recently been watching and reading. "OJ and short novels," she replied. "Recently finished the TV drama about the Simpson murder trial and heading next into the documentary. Not since The Wire have I found a viewing experience so rich for what it can tell us about America, where it's been and is now. I've also been revisiting and seeking out slim, focused novels (mostly by women) that are the models for the kind I'd like to write, if I ever write (finish) one: Rachel Ingalls's Mrs. Caliban; Margaret Drabble's The Millstone; the reprints of Barbara Comyns's novels by the NYRB and Dorothy, A Publishing Project." —Mary Rechner

Mary Rechner: I loved the sentences in your book and reread so many. On several occasions throughout the collection sentences stopped me in a way that was startling but exactly right. How conscious are you of style?

Katie Chase: Thank you! Style strikes me as too fun and useful a tool for an artist to undervalue or attempt to ignore. And of course even artworks that presume a neutrality or objectivity are ceding to a kind of style. Some of my favorite artworks are those in which style can't be separated from content and meaning, as in a Kaufman-Jonze collaboration or George Saunders story. So I am conscious of it as an element I want my writing to have, but try not to be overly conscious, to ride that line where it does not become superfluous. A story's language seems to me so primary to the story itself, to the communication of something about its world otherwise difficult or less than artful to directly state, that I can't really start one without some sense of rhythm or voice. That sense is instinctive and becomes more internal/subconscious as I write; it's one of the necessary energies that helps carry a story along.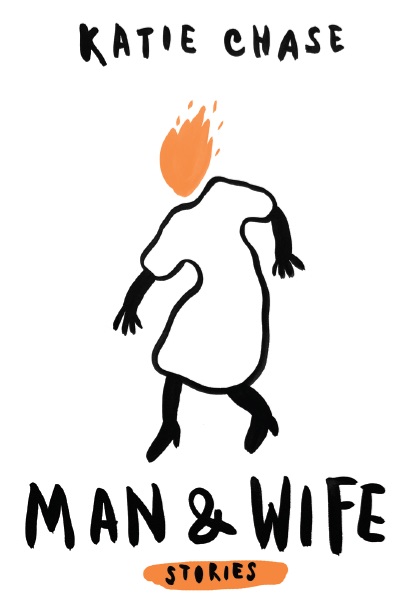 Rechner: There's a first-person narrator for each of the stories in Man and Wife. What made first-person narration the right choice? Can you share a few stories or novels written in first person you've particularly admired?

Chase: I certainly did not set out to write a collection entirely composed of first-person narratives! It's more that each time I sat down to explore one of these ideas, the first person seemed the only way forward. And any story that might have been best served by the third person was one I did not feel like writing. It's almost easier to take the question in reverse and say what I wasn't liking then about the third: that it felt too false, too literary and distant. A close third could rid the sense for the reader that there was a writer writing about characters, but at the time it couldn't rid that sense for me as the writer. In other ways my stories are very much "stories," shaped as such and in their content often exaggerated or clearly unreal, so I suppose I liked the intimacy of the first person and what it could contribute to combating their more storylike, unreal qualities. Short story collections are often praised for showing range and variety, in all facets but including point of view, yet take Jesus' Son, which benefits from an accruing picture of the main character, as a novel would. Rebecca Lee's fantastic collection Bobcat is written entirely from the first person, and she does it so well you never tire of the technique—her book is one that gave me "permission" to not force what didn't feel natural. First person is also great for luring readers inside "unreliable" or "unlikeable" characters, as in Shirley Jackson's novel We Have Always Lived in the Castle or Kenzaburo Oe's A Personal Matter.

Rechner: Part of the reason I asked about first-person POV in your collection is thus far I have never been able to use it effectively! It seems like such a straightforward way of telling a story, but in fact is quite complex (as you note with regard to unreliable or unlikeable characters.) I like the way you are talking about how the various choices you make while writing helps you strike certain balances, or maintain certain generative tensions, such as the intimacy of first person "combating" the unreal qualities of the stories.

Chase: Agreed that the possibilities for the first person are overwhelmingly complex. I don't feel like I've really scratched the surface of them—which is probably another reason I keep coming back to it. If an approach feels in some way too straightforward to me, I lose interest; there has to be a good combination of challenge and familiarity, a reliance on old tricks to make the experimentation with new ones feel more doable, which I suppose comes back to balance!

Rechner: One of the things that struck me most while reading was precision of tone. There are moments where some of the stories edge close to satire or magical realism but never cross over. How long did it take you to find just the right tonal territory for these stories?

Chase: Yes, it was important to me to not cross those lines, partially because I didn't know (and still don't know) how to do so without the kinds of premises I was attracted to coming off as too absurd, silly or derisive, or too far from reality to have bearing. I'm not interested in fantasy or whimsy for whimsy's sake. The right tone seldom comes right away; often an idea has to sit for some time, until I can find a way in (and there are plenty of ideas I've had that may never do more than keep sitting). Part of it is finding the language or voice, and part is finding the intimacy, through character—the emotional currents and relationships that will give a premise heft and distract from it, almost. Normalize it.

Rechner: I had so many moments of recognition while reading Man and Wife. I'll name just a few: when the narrator in "Creation Story" states, "Meadow had said all us girls would wear skirts, but when we got there, everyone else'd changed into jeans"; when the daughter from "The Hut" recalls regularly situating herself at the center of the house, thereby eviscerating any possible privacy for her mother; when the five adult children of the dying matriarch babyishly wish for affirmation in "Pater Noster." I started thinking about how when I read stories I tend to have more of these moments of recognition than when I read novels. Maybe it's because in a novel we spend so much time with a character it makes them more "other" to us, more character-like than real, whereas in a story we get comparatively few/only the essential details and thus are able to see/recognize ourselves. What do you think about my theory?

Chase: I could buy this theory! Absolutely what I love about reading and writing short stories is their ability to hover in the air more sketchily, without so much brick building. With the greater length comes more opportunity and pressure to explain, and novels are more apt to become weighted down with the details of day-to-day living. Yes: more information and more specificity. Which has its own joys; I love the reading experience of being able to sink into an "other"—life or perspective. Maybe this last thought also fits with your theory: with short story collections, as a reader I more often have the sense that I'm connecting with the writer, because you sort of start to map out their preoccupations as they play out in different ways. It can make for a more intimate experience.

Rechner: How do you approach writing about a culture not your own? I'm thinking in particular about "Every Good Marriage Ends in Tears." This is also the only story in the collection written from a male character's POV—is that a coincidence?

Chase: That's an interesting point; I hadn't thought about it that way. That story is one of the oldest in the collection, and as time went on, I just became more interested in writing expressly about the female experience. Still, it may not be a coincidence that the one story set in a specific, other country is from a point of view "foreign" to me. It probably isn't fashionable to say, but I do think writing from your opposite gender holds certain challenges and should be approached with some amount of questioning and caution, as there are differences. Same for another culture: confidence will be necessary, some of which will come from research and some from fearlessness; yet still, questioning (of yourself) and caution. In writing any fiction, it's about finding points of connection between you and who or what you're writing about, trying to immerse yourself in and understand that perspective in a way that is empathic, which becomes all the more important when the distance you're traversing seems greater. On the other hand, while I did perform some research for that story, it ultimately was not my concern to get everything exactly "right," as I knew I could not; just to make the story stand on its own legs and find an emotional truth. For other stories in the collection, my tactic was to bring elements that might feel "foreign" as literally close to home as possible. This is one of many benefits in avoiding straight-up realism! It's helpful in navigating territory that otherwise might feel tricky.

Rechner: Many of the stories conjure rites and rituals just a couple steps off or away (sometimes darker, sometimes more fanciful) from traditional. For example, "The Hut" employs a contemporary mother character, "an anthropologist by training," who sends her newly menstruating thirteen-year-old daughter to live alone in the woods until the bleeding stops. How did you get so interested in what we might gain and lose in departing from tradition?

Chase: I'm sure a large part is my upbringing—I was raised by parents who married young, a father who worked and a mother who stayed home, without religion and its rituals but in a place where religion was part of the greater fabric and where practicality reigned. Of seemingly unrelenting concern to me are some basic questions of what an artist's life should or can look like in relation to societal norms. In my writing I'm interested in seeking out what is timeless and enduring about being human, and I don't think our time is necessarily unique for the push and pull we're seeing between "old" and "new" (I am trying to avoid the word "progress," although politically I am progressive). It's true, however, that I belong to a generation that has seen a perhaps unprecedented amount of freedom from strictures: we move to the places we're attracted to, we put off marriage and children, we are allowed to pursue our whims and happiness. Everything is supposed to be possible. I see horror and impossibility in both the freedom and the strictures and have come to an understanding of tradition as something that, though it may harm us, means to help us.

Rechner: What kinds of tactical, or philosophical, or conceptual questions are most compelling to you in the writing you are doing now?

Chase: My writing practice right now is more generative and not very regular—I'm not deep into any new project, so just lots of thinking, some fits and starts. Generally, I'm interested in exploring territories similar to those in the collection, but expanding my approach in some way—perhaps even in a longer form.

---

Katie Chase is the author of the short story collection Man and Wife (A Strange Object). Born and raised outside Detroit, Michigan, she lives currently in Portland, Oregon.

Mary Rechner is the author of Nine Simple Patterns for Complicated Women. You can read more about her work at www.maryrechner.com.