Sport
Et Tu, Wimbledon?
Wimbledon's Editors Decide Serves Are Over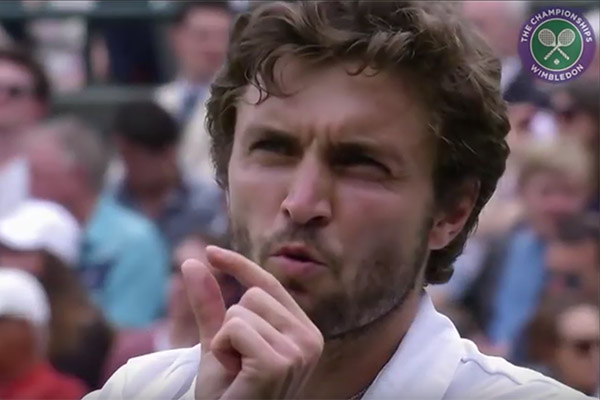 Wimbledon tennis highlights, like most internet objects, have now been trimmed of context.

By Patrick McGinty

ntil recently, the tennis video highlight has been a reliably informative and entertaining medium, one aided and not hindered by advances in technology. The grounds at each of the four majors—the Australian, French, and U.S. Opens, plus The Championships Comma Wimbledon, recently completed—feature anywhere from four to six "show courts," whose size and architectural forethought allow for the hidden presence of multiple television cameras. In the past five years, tournaments have increasingly employed these cameras to produce for their respective websites a truly staggering (and appreciated) number of highlight videos, each curated so that a match can be understood via a handful of points.

The videos run from one to three minutes. A polite symphonic trill or bugle blast introduces the tournament sponsor, the day of play, the players. Cut to serve. A point unfolds, middle of the first set. The concluding stroke affirms the reason for the point's presence in the video—a laser forehand, a dropshot that sneaks the net then promptly turtles, so forth. Similar worthy points are shown, from serve until applause. You can sniff out who will win based on who is winning more highlight points. Occasionally, boring points are included because of their big-picture significance—a key break of serve, a set won. No matter how mundane, the final point is shown for the purposes of narrative cessation.

This year, however, The Championships Comma Wimbledon, like a robot learning to ditch the "good morning, insert name" moment, have forsaken the status quo for a more abbreviated, casual curation. In applying a more noticeably artistic hand to their video highlights, the video staff at The Championships have monkeyed with the rhythm of these videos, if not the game itself, to the degree that I have spent the past two weeks wondering if I am a justified Luddite, insane, or both.



Wimbledon's opening highlight sequence is familiarly traditional. Schmaltzy music and big-font sponsors remain. But at this juncture, the presence of an off-screen director becomes apparent: the first cut is not to a serve. Instead, the point is in media res. The viewer must determine which player is which, what the score is, and how the point has reached its current shape. Before much of this information is sussed out, the climactic winner is struck. The ensuing cut is again not to a serve, but instead to another middle-of-the-action point. In most online Wimbledon highlights this year, this process has been repeated through the conclusion of the video, each point truncated so that it may more swiftly arrive at the point's winner, i.e. the stroke that justifies the point's inclusion in the video.




his slight shift in approach should not be a big deal. More important national matters loom. My irritation with these truncated highlight points likely has more to do with the realization that my equilibrium depends on a shoddy video player transmitting a sequence of fully played tennis points. For almost a decade's worth of major tournaments, I have begun my work days at an assigned desktop, coffee in hand, watching highlight videos. It is possible that I am, say, 5% distressed over The Championships Comma Wimbledon's truncated tennis highlight videos, and 95% distressed over realizing again, freshly, at thirty, that the time I spend watching, playing, and engaging with the sport of tennis has been continuously and radically truncated, to the point that I am thrown off by small changes in what amount to two-minute advertisements.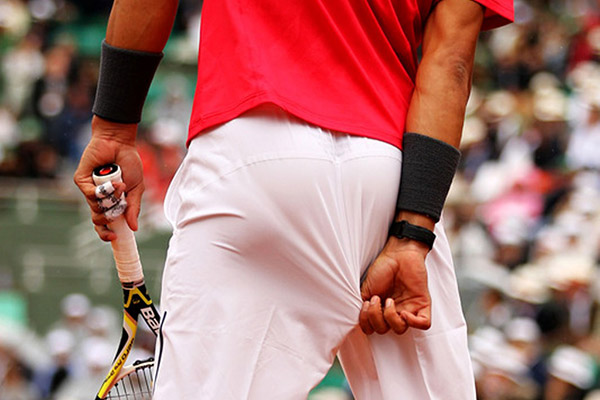 Is Rafael Nadal pulling his shorts from his butt's crevice part of the "actuality" of professional tennis?

Plus technically, by missing out on the front-end of these points, I am not even missing all that much. Often times, it is a literal second of "point" time that has been cut from the videos, if that. In fact, I am often being deprived of what I dislike most about watching tennis. Serves are boring. An in media res cut conveys that the serve landed in and was returned. What else is there to know? Novak Djokovic's incessant pre-serve ball bouncing and Rafael Nadal's inclination to, in front of a full stadium, repeatedly reach behind himself and pick at the location where his shorts stick to his butt's crevice, are, in theory, not tics I need to re-familiarize myself with. I should be appreciative of the editorial hand speeding along this new style of highlight. Unnecessary backstory has been elided for my benefit. Artistic decisions regarding narrative entry are being made. What was so great about the old highlights, anyways? Perhaps I am simply loath to adjust. "It is the summit of idleness," writes Martin Amis in The War Against Cliche, "to deplore the present, to deplore actuality."

But what is so irksome is that these new sleekly edited highlight videos are not presenting viewers with actuality. They are representing a lesser, fractionated actuality. The change is not merely an altered online banking or social media interface, the kind of visual change that earns howls, then gradual acceptance. In the name of, at best, artistic expression, and at worst, preserved bandwidth, the videos are privileging the outcomes and abbreviating the contextual details. The tennis highlight as it exists on the internet—which is to say the visual conception of the tennis "point," seeing as tennis, like all things, is now primarily experienced more on the internet than on television—is now inching closer toward the results-oriented, "takeaway"-privileging language of all other internet objects. My irritation is the now-common irritation of an object I enjoy becoming more similar to online objects I dislike, the continual "Et tu" of the modern age, where the computer no longer has time to state your name because the computer is Brutus.

Admittedly, that's a bit much. Paranoia is not an accurate synonym for my irritation. If anything, I am wearily amazed that this particular phenomenon has taken so long to commence. Tennis points as they exist in reality are often too long for the internet's liking. Perhaps what I am most irked by is not the current incarnation of the tennis highlight video but the thought of what is to come. It is not difficult to imagine loading a 2020 highlight package that presents twenty winning shots in twenty seconds. Here's a forehand winner. Here's another. Now a backhand. A dropshot. Brexit explainer. Trump is still racist. The five best lines in Moby Dick.

This fall, I will be interested to see if the U.S. Open trends in this direction. It is possible that I am the only person in the Tennis World cognizant of these changes, which, I should point out, are in many ways aligned with my own sensibilities. I have long felt that compression is inherently poetic.

But compression that delivers a viewer straight to the pleasure center ad naseum deprives this viewer of context. Much is lost. In the case of the tennis point, context can provide suspense. Contextual details also elevate one's appreciation of an object, whether the object is a tennis point, a work of art, or an argument. Despite the many time-saving reasons for slicing off the front end of any medium, such a decision ignores that "not-knowing" serves a pleasure center, too. There is value in uncertainty. When the outcomes are withheld from a viewer, the viewer is forced to scan for options. In effect, the viewer is taught to read.

---

Patrick McGinty is a staff writer. He is a right-handed tennis player who, owing to family dynamics and his preference for the inside-out forehand, is oddly comfortable playing against lefties.