Aisles
Not Much, But Enough
In the Last Thirty Pages of his Final Novel, Kent Haruf Breaks the Fourth Wall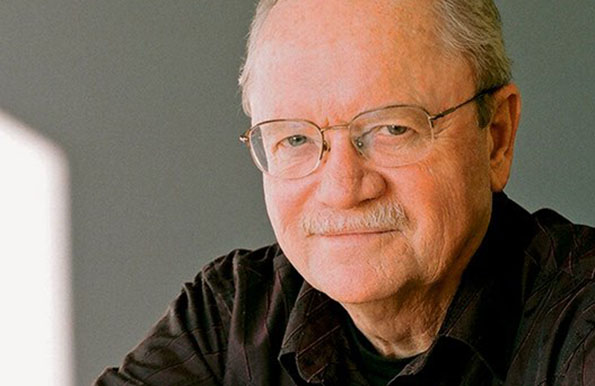 Our Souls at Night
By Kent Haruf
Knopf, 2015
Review by Evan P. Schneider

ear the end of Kent Haruf's new—and final—novel, Our Souls At Night, widowed sixty-somethings Addie Moore and Louis Waters sit in Louis's kitchen talking and reading the Sunday paper. There's no mention that it's quiet for the most part, or that morning sun is flitting through the eastern window, but you can sense it. Addie and Louis have been sleeping together, and the ongoing discussion they're having is whether they should continue to do so. They speak slowly and simply, not rushing the conversation or the conclusion toward which they're ambling. Addie's grown son doesn't approve of their relationship, for one, and much of the rest of town is frowning on it, too.

Scenes like this one appear over and over again throughout Haruf's six novels—two tired, salt-of-the-earth Coloradoans at a table drinking black coffee or plain beer while unhurriedly discussing something that's happened to them or to someone else in town.

All of Haruf's work is set in the same fictional eastern Colorado town of Holt, a small agricultural community that hasn't changed much in the past seventy-five years, except maybe that the outside world creeps in a little more each time the calendar turns over. The residents of Holt are humble, hardworking folks who devotedly attend the county fair each summer, meet religiously at the diner each week, do their business of buying and selling feed and livestock and land each day, and generally know everything about everyone else and their families, past and present, because this is how small rural towns work.



aruf died at the age of seventy-one last November, and his death concluded a career made entirely by exploring the relationships among the people of Holt. A graduate of the Iowa Writers' Workshop, Haruf didn't publish his first novel until the age of forty-one, but in the last thirty years of his life he never veered from writing about Holt. Reading Haruf's œuvre, therefore, feels a little like watching a tiny detailed replica of Americana that someone's been working on devoutly for decades in his basement or garage, where street names are consistent across narratives and generations, and where characters from one book seem at any moment likely to walk into a conversation or scene in another. And for a brief moment toward the end of Our Souls At Night, something like this happens.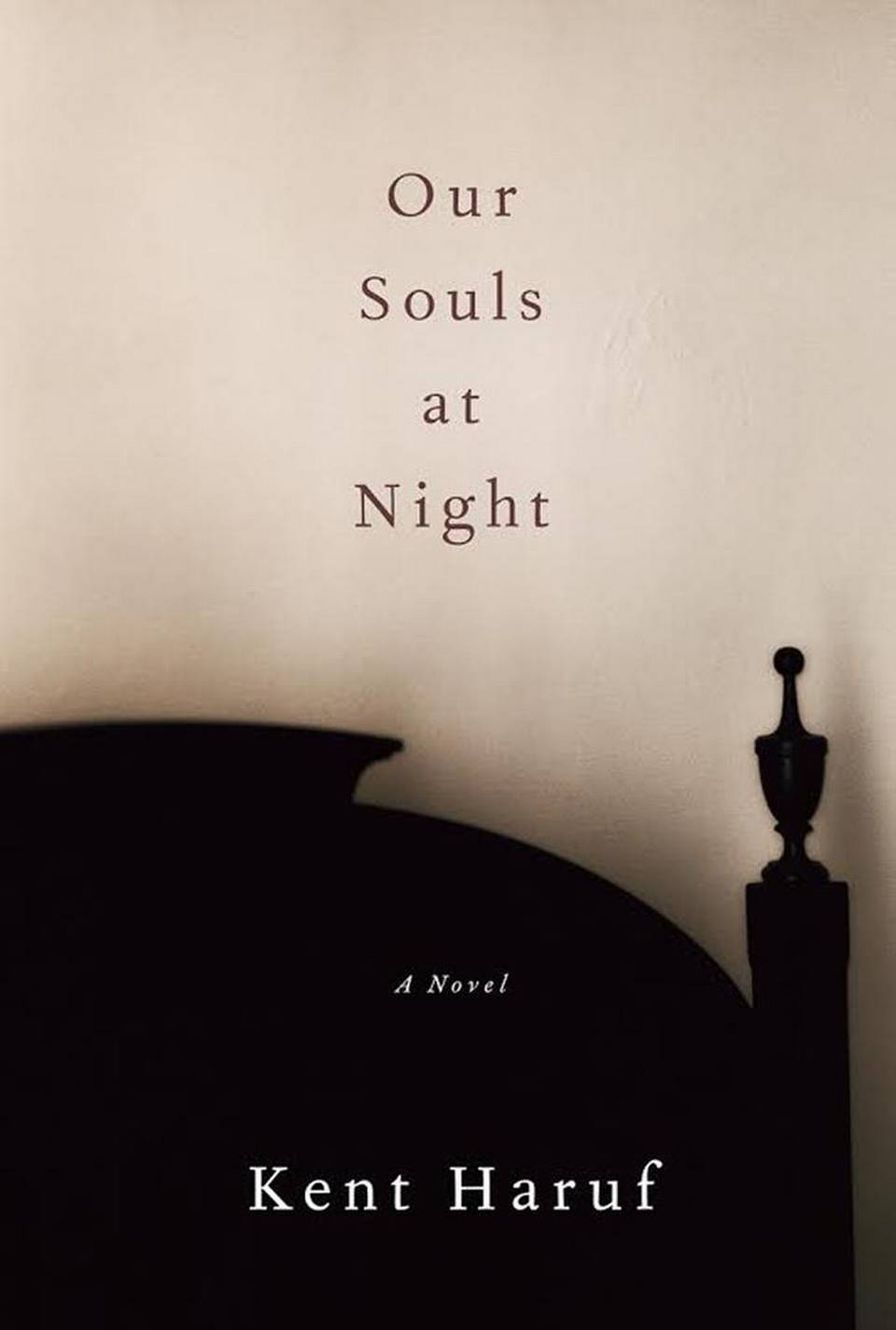 As Addie and Louis sit and talk in Louis's little kitchen, they see in the Sunday paper an advertisement for a play showing at a marquee theater in Denver. This play, their conversation reveals, is "the one with the old man dying and the preacher," a play based on Haruf's penultimate novel, Benediction, and one that was in fact staged and performed in real life at the Denver Center for Performing Arts in February, 2015.

This is a peculiar moment. Never once, in all of Haruf's work—until the last thirty pages of his last published novel—has anything even vaguely resembling a meta-moment ever occurred. None of Haruf's novels, though all are grounded in Holt and similarly focused on parochial issues and prairie problems, ever explicitly reference each other, and they certainly never break the fourth plane. Characters in Haruf's work are straightforward and don't mince words—and they don't imagine themselves as characters in books. But here, in a fascinating scene between two old, longtime residents of Holt, written by an aging writer who won't live to see the publication of the book he's writing, Haruf has his characters discuss the plausibility of their lives being dramatized.

One gets the sense that Haruf is subtly suggesting that even after having spent the last three decades writing about, and arguably living within, Holt, he still doesn't feel as if he has gotten it quite right—that there is something to life in the middle part of the country that he has tried but been unable to successfully capture.

In reference to Haruf's two best-known and award-winning novels—Plainsong and Eventide—which this conversation in Our Souls At Night reveals have also been staged as plays in the book's fictitious Denver—Louis offers a resolute opinion: "I can't imagine two old ranchers taking in a pregnant girl," he says.

But Addie disagrees. "It might happen," she says. "People can do the unexpected."

Louis holds his line. "I don't know," he says. "It's his imagination. He took the physical details from Holt, the place names of the streets and what the country looks like and the location of things, but it's not this town. And it's not anybody in this town. All that's made up."

So Addie presses him on it. "He could write a book about us. How would you like that?"

"I don't want to be in any book," Louis replies.

"But we're no more improbable than the story of the two old cattle ranchers," Addie says.

And of course she's right. But it's as if at the end of his career, Haruf is still grasping to explain what he has seen and come to know of the world—a Harufian hero himself who, despite his solid output, won't give himself a lick of credit, because he believes he could have done better. What's left then, besides doing something unexpected, like have his characters subtly deny their creator? It's a moment that quietly positions Our Souls At Night as an encore to Haruf's entire Holt performance.

A stripped down version of Haruf's already minimalist style, though, his final book is almost devoid of a narrator, except for what reads like stage directions in a play. "And then there was the day when Addie Moore made a call on Louis Waters," Our Souls At Night begins. Then, "It was evening in May just before full dark," after which the short book moves swiftly, due mainly to how dialogue-heavy it is.

Don't get me wrong: this novel-play treatment is effective. It's central concern, handled superbly, is the very normal process of getting older. Not many authors confront sexuality in advanced age, but with ease and poise Haruf shows regular people encountering real setbacks. The short novel reminds you that sometimes you're just not allowed to be in love with someone, and that's just how it goes. It's a fitting close to the final Holt installment.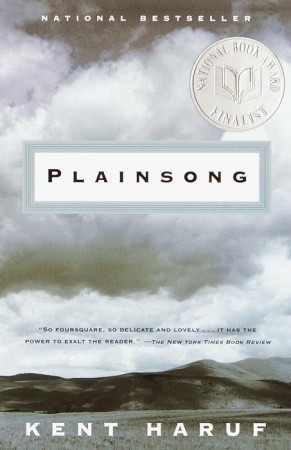 But so much of what Haruf accomplished with Plainsong (1999), which was a finalist for the National Book Award, and its sequel, Eventide (2004)—and even to an extent in The Tie That Binds (1984) as well as Where You Once Belonged (1990)—was the result of truly fantastic narration. Haruf's narrators are rough-and-tumble country people, full of practical and understated wisdom about life and death and all the relationships we have in between. The lives in Haruf's books are hard ones to keep living. His characters and his narrators are not pretentious and don't pretend to know anything other than what they do day in and day out. That's what makes the books so good.



ith Benediction in 2013, however, and then ultimately with Our Souls At Night, Haruf seemed to be trying to pull himself as far out of his writing as possible, leaving his reader with only his characters and their actions. The only problem with that is that Haruf is a truly gifted writer of first and third person narrators. Mimicking the neutral prairie landscape where they live, Haruf's characters are not glamorous, and in many ways aren't even all that remarkable. But their ordinariness makes them real, and in turn, they affect us. The people of Holt are well developed and the dialogue between them is sharply realistic, but when left alone onstage without much in the way of a set, the writing loses some of its greatness.

As they finish their coffee and the Sunday paper at the kitchen table, Addie and Louis dismiss the idea that they'd ever in a million years be characters in a book.

"We're old news," Addie says.

"We're not even old news," Louis responds. "We're not even news of any kind at all, old or new."

"Do you want to be news?" Addie asks.

"No," Louis replies. "Hell. I just want to live simply and pay attention to what's happening each day. And come sleep with you at night."

"Well," Addie says finally, "that's what we're doing." Which is not far off from what Haruf himself seemed to be doing the last thirty years—plodding along as best he could, making the finest work he was capable of, feeling his way through wide-open country for meaning, and maybe having a little bit of a good time. A novelist who rarely found himself in the limelight, Haruf worked diligently and artfully to portray what happens each day out on the hot, sleepy plains of eastern Colorado. It may not be much, but it sure as hell is enough.

---

Evan P. Schneider is the author of the novel A Simple Machine, Like the Lever. He is also Editor-in-Chief of Boneshaker: A Bicycling Almanac.