The Minor Critic
Hip-Hop and Hummingbirds
On Location with Swiggle Mandela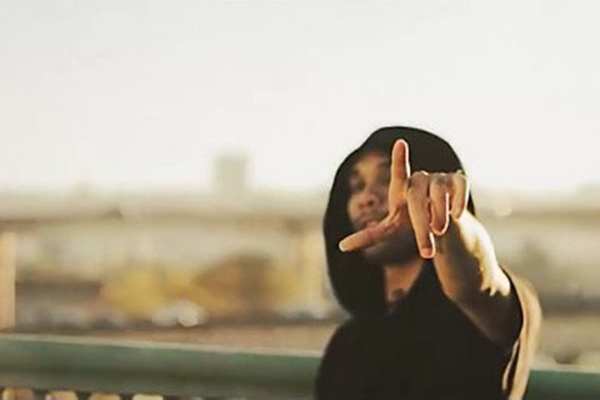 By Henry Sullivan

andela Cordeta is a good salesman. He tapped my shoulder on the train on a recent weekday evening and asked, "Hey man, do you listen to hip-hop?" It was the most gratifying moment of my young-adulthood thus far—I've hoped for years that mustachioed young men and women carrying clipboards on the MAX would mistake me for an adult and ask if I was registered to vote, or that TriMet employees would ask me for verification that I was, in fact, a youth. Finally feeling in part like an adult and in part like I embodied the culture I tried so hard to embody, I responded, "Yeah, totally!" He handed me a small piece of paper with the information for Instagram, Facebook, and Soundcloud accounts on it and told me that he was a local rapper with a ton of music videos, free downloads, collaborations, and quality to his name. In a smooth monotone he told me his name was Swiggle Mandela, and that I should check him out sometime. I suddenly felt like part of the Portland elite: I had been invited to stew in the black artist milieu of my city.

I desperately tried to look back to this sense of triumph as I sat in my car, looking at the video shoot Mandela was coordinating while I tried to dull the anxiety I felt in my knuckles. The shoot was taking place in front of a shabby apartment complex just uphill from a busy street. The road was cracked, and there was no sidewalk. I dragged myself over to the crowd and asked a skinny, nerdy-looking kid where I could find Mandela. He said nothing and pointed to his left.

I'm a motherfucking star
Retard in the pussy, but we dumb hard

Mandela wore a black Lakers hoodie, tight jeans, and a red and white bandana tied around his forehead. Eyes half closed, he looked at me with a slight smile. When he stood, he leaned slightly back and stuffed his hands into the pockets of his jeans. He gave me a warm welcome and told me to watch while he did a take for the music video he was shooting.

He jumped into directing the other eleven people at the shoot. He moved some of them, told others what to do, where to stand, how to act. He put his hands on people's bodies to move them into the right pose. He orchestrated the whole thing with confidence, and nobody wanted to argue with him over the composition of the shot. There was a cloud of pot smoke in the air and a pair of cute girls dancing in the scene. Two big guys batted around the idea that they should get a shot of Mandela with his head sticking out of the sunroof of the car, smoking a joint. Mandela said nothing when they brought the idea to him, and instead walked past them. He walked up to me and greeted me again, reassuming his laid back smirk.



The night Mandela talked to me on the MAX, I looked him up on YouTube and watched the music video for his song "Portland Parks." I imagined I'd find something I could show my friends, something that would help me gain the social merit of listening to, and talking to a great, unheard-of rapper. When I listened to the song, though, it was fine, but not an overlooked masterpiece. Regardless, I told my friends about it and tried to stress more heavily the idea that I'd had an interaction with a real-life rapper.

Fuck nah, fuck nah,
We ain't fuckin' with you fuck ass niggas no more,
Fuck nah, fuck nah,
We ain't fucking with you broke ass bitches no more,
Fuck nah, fuck nah
We ain't ever gonna work no more



andela asked me if it was okay if he filmed the interview. I said it was fine, and was excited there would be visual evidence of my bona fide bad-assery. The camera guy kept having us move, because the sun was in the shot. Mandela gave me a quick look of exasperation, as if trying to silently communicate See what I have to deal with? But he complied, and after the third location, Mandela and his camera guy were satisfied with the image.

Mandela told me about his childhood, but really only the big picture, and didn't seem willing to go into detail. "I grew up in Portland. I grew up in California a little bit here and there. Grew up in poverty. Grew up on food stamps. Grew up listening to music all the time. Everything. My mom always played different music. My dad plays guitar. And I got into hip-hop myself and it was a lot of fun." The camera guy stabbed the camera in and out of our faces and swooshed around, trying to make the shot look as cool as possible. Every time we got to an aspect of Mandela's life that didn't serve his rap image, he chuckled and deflected. "Really, man, I go to work. And go get some money." I asked him where he worked. "I work at a fast-food restaurant," he said, looking down and laughing. "And then I go to work, get some money, and then I might get off and plan a show, plan a video shoot, might go to the studio, might write a song, might go get some fliers made, might go do a photo shoot, might film a commercial." After a few moments of thought he added, "And then I got a daughter. So I be with my daughter. I be with my bros, my family, just kicking it. Just having a good time." It was hard to get a grasp of what, exactly, all of that meant. I still felt like I couldn't imagine this guy's life. As an exercise in thought, I tired myself out trying to think of Mandela doing mundane, everyday tasks like taking out the trash or mailing a letter.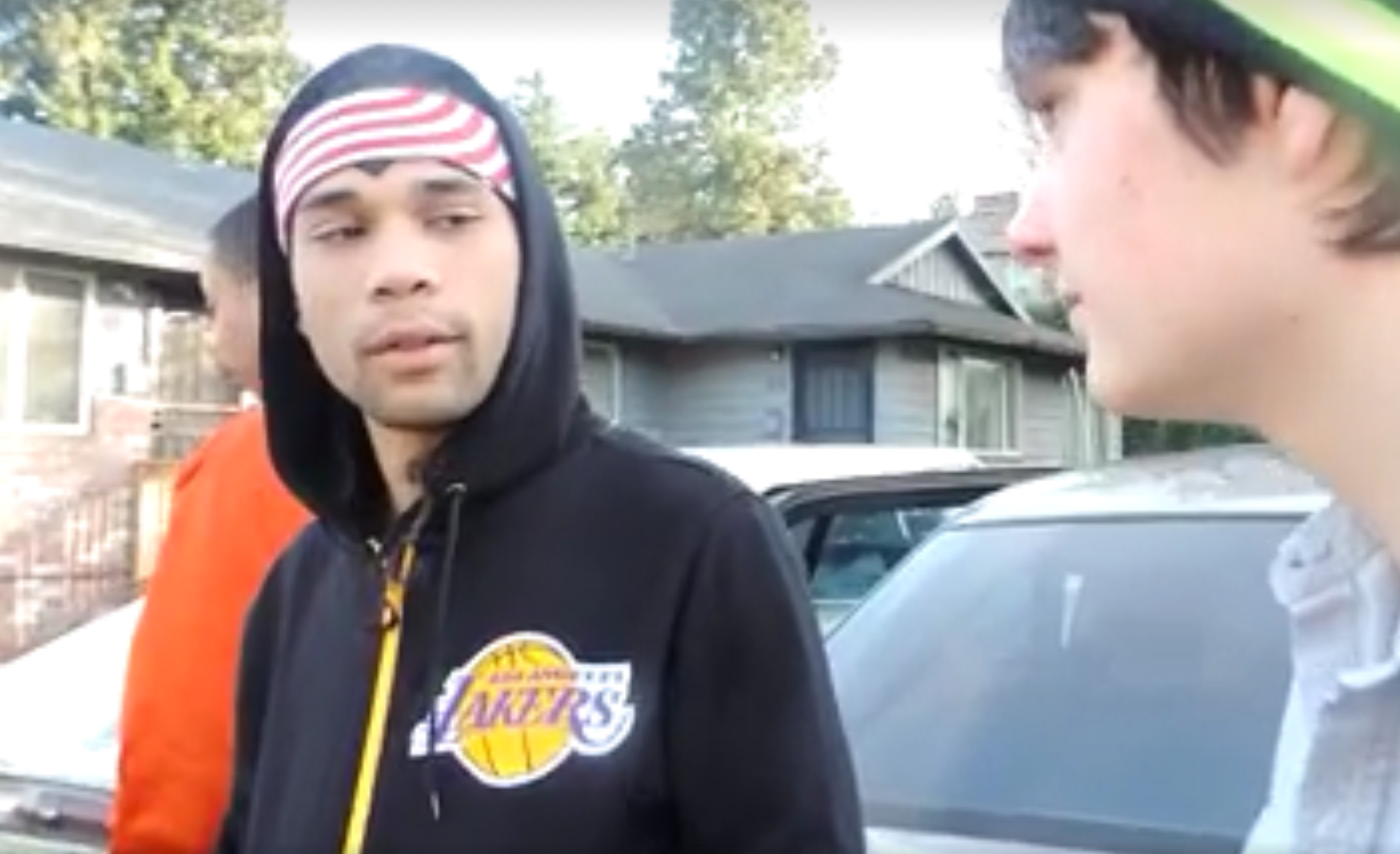 It was nearly impossible to maintain eye contact. He kept looking up to the sky. (I'm not sure, but I think he was trying to pose for the camera. And he did so successfully. When I watched the video of the interview after it was uploaded, I was impressed with how relaxed and poignant he looked.) My insecurity made me tense and fidgety. I was scanning the block, waiting for an image to speak to me. I thought of what pieces of information or pictures or objects I could contort into something less mundane to write about.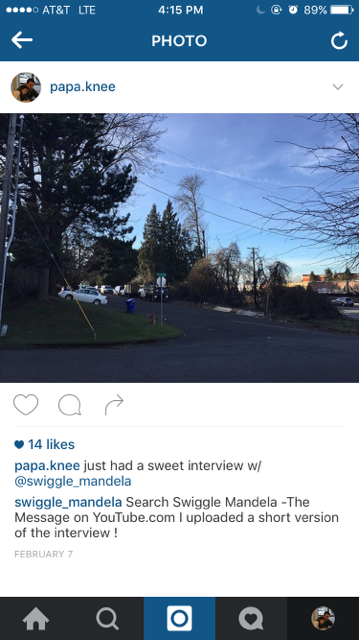 Finally, in the middle of answering a question, Mandela looked up and said, "Hey, there go a hummingbird at the top of that tree. I've been looking for him. Hold on one second." He left and grabbed a friend of his. "Didn't I tell you I was looking for this bird, right? Look at the top of this tree. There's a little tiny hummingbird, see?"

I looked up and there was, in fact, a hummingbird floating around between the tops of two trees. Four guys gathered around us and we all looked up to the sky together. We watched the hummingbird zip through the air to where it settled and hovered above us for a few seconds. The sun was close to setting, and the bird, trees, and streets were bathed in a warm yellow light. We all turned to try to follow the bird's path, but we lost sight of it quickly.

After the interview, I thought about staying longer, but I felt out of place. I shook Mandela's hand and thanked him for the opportunity. He told me to let him know when the piece was finished and said goodbye. As I walked down the street to catch my bus, I turned and snapped a picture of the street. The picture is of the intersection at the bottom of the hill. There are wispy clouds scattered across the sky, and a corner of late-evening sunlight in the bottom right corner. There are wet boards and large trees scattered along the side of the road. I took a couple more until I was satisfied with the image. I stood there while I uploaded it to Instagram. I captioned the picture: "just had a sweet interview w/ @swiggle_mandela."

---

Henry Sullivan is a high school student in Portland, Oregon. The Minor Critic is a series in which writers under the age of eighteen review cultural items ostensibly aimed at them.