Aisles
Definitely maybe Science Fiction
The Strugatsky brothers Under Pressure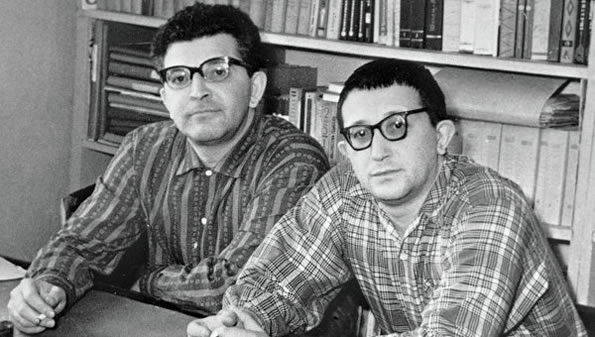 Under the guise of science fiction, Boris and Arkady Strugatsky addressed political pressure almost directly.


Definitely Maybe
By Arkady and Boris Strugatsky
Melville House, 2014
Review by Dan DeWeese


hat are you working on?

The answer to that question, and the various ways in which an answer, once revealed, can be prevented from ever being completed form the content of Arkady and Boris Strugatsky's Definitely Maybe, first published in Russia in 1977 and reissued now by Melville House as part of their "Neversink Library" series. The novel concerns Dmitri Malianov, an astrophysicist who, on the brink of making a major discovery regarding the nature of the universe—his equations suggest the existence of a previously overlooked force, he just needs to work through the math—suddenly finds himself besieged by distractions. Food and liquor he didn't order are delivered to his door. An attractive young woman he has never met shows up claiming she was invited to stay with him. An odd agent from the "Criminal Investigation Department" stops by to grill Malianov about his neighbor, who has been shot. The agent suggests Malianov is the prime suspect.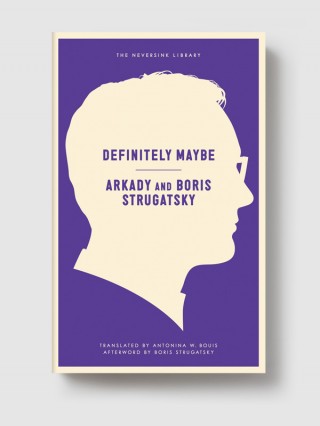 Throughout all of this, the phone keeps ringing. Malianov's friends, it turns out, working on their own projects in their own fields, have also been diverted. Liquor, women, money, children, visitors, new jobs, ringing phones—the list of distractions is classic and, they decide, suspicious. What force is behind this carefully calculated program to prevent them from ever having the space and time to think or work? They float hypotheses, argue amongst themselves, and soon become suspicious of each other, paranoid that at least one of them must be an informant. But an informant reporting to whom? An alien species intent on preventing human beings from making a leap forward in knowledge, some think. Or wait, maybe it is more general than that—maybe there is a self-preserving energy in the universe itself that tosses humans like ants in order to maintain the universal status quo. Giving in to the force hardly seems bad—accepting promotions, sex, money, and success are far from punishments. And yet accepting these things seems to require abandoning their work. Should they resist? And if so, how does one fight such a massive and, as the book rolls along, escalating force of chaos and intimidation?

The novel's title page reads "Definitely Maybe: A Manuscript Discovered Under Strange Circumstances." What we read are "excerpts" from this manuscript, and the surface qualities of the writing suggest a composition that is loose, a bit haphazard. These are exactly the surface qualities, however, that a book written in the Soviet Union during the 1970s about being monitored and interfered with had to have. It's not only the genre choice—we are ostensibly reading science-fiction about a weird alien force—that allows the Strugatskys the formal version of plausible deniability regarding their work's political content, but also the style. Political essays name their issues and make clearly stated points or critiques backed by appeals to morality, ethics, logic, history, and so forth. Because Definitely Maybe looks nothing like that and concerns somewhat humorous supernatural events, the Strugatsky brothers find room—it's called "fiction," I suppose—in which they can operate with a sense of freedom. Writing a book about aliens or a mysterious force so that it is clearly not about—oh, say, the KGB—is only the Strugatskys' first step. They are too sophisticated, and, one senses, enjoying themselves too much to write a simplistic allegory. Like the government censors looking over their shoulders, no sooner do we feel we've nailed the correct "reading" of Definitely Maybe than it changes. The novel knows it is being read.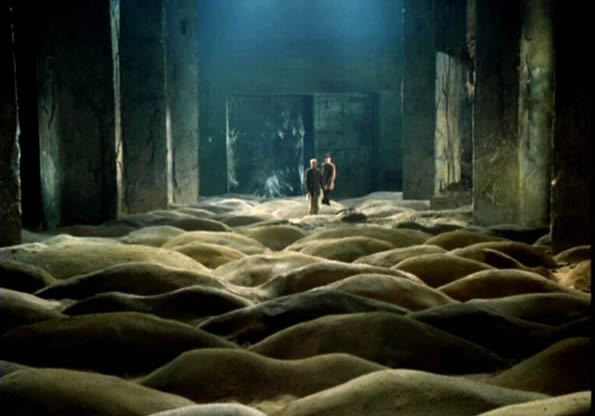 Still from Andrei Tarkovsky's "Stalker," based on the Strugatsky brothers' novel "Roadside Picnic."

ne cannot discuss the Strugatsky brothers without mentioning Russian filmmaker Andrei Tarkovsky, of course. The Strugatskys' 1972 novel Roadside Picnic became the source material for Tarkovsky's mesmerizing 1979 film Stalker. Solaris, perhaps the best-known Tarkovsky film these days, is based on Stanislaw Lem's novel of the same name, but it's intriguing to see dynamics present in that film show up in Definitely Maybe. As in Solaris, the characters in Definitely Maybe receive visitors. One of the characters brings his visitor—a child—to a meeting with the others, just as Kris Kelvin brings his visitor, Hari, to a meeting in Solaris. These narratives—as the characters in Definitely Maybe eventually acknowledge and discuss—are stories of "pressure." Whether the pressure is social, psychological, or political becomes a muddy issue—the characters live in contexts in which those things are inextricable. The texts themselves seem a conversation: Lem's 1961 novel became Tarkovsky's 1972 movie, which may have influenced the Strugatskys' 1977 novel—though it was their 1972 novel Tarkovsky turned into his 1979 movie.

That may be a jumble of years, adaptations, and influences, but the time-travel of literature is part of the fun here. Definitely Maybe has the urgency and energy of a dispatch. The play of ideas, the zip of surprise and reveal, suspense and relief, suggest a literature-as-entertainment mode that has been—critics claim, at least—rendered obsolete by the torrid love affair going on between television and the Internet, in which each seems to exist to satisfy the needs of the other. But just as actually reading The Yellow King is not at all like watching the television show True Detective, neither is reading Definitely Maybe somehow like watching Solaris or Stalker—nor is the novel going to generate extractable YouTube videos or funny gifs that can be dropped into summaries of last night's episode. That may sound like nothing more than a crabby way of saying that books don't seem to fit the medium in which most criticism is now published, but I don't mean it to be crabby. I think I just mean: thank god there are things that refuse to fit.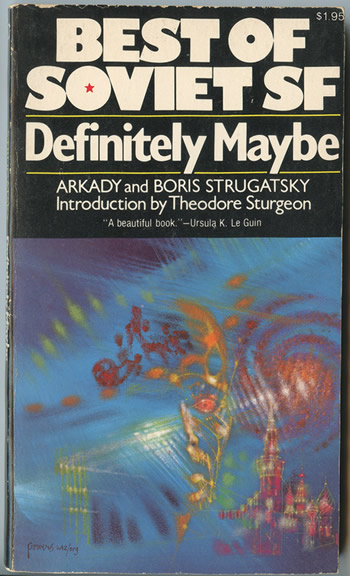 The Strugatskys were up against a tension different from the simple need for box office sales, Nielsen ratings, or screen visits, though. Definitely Maybe is literature written in the context of direct political pressure. It's tempting to read the book as a clever exploration of censorship in the abstract, but in the book's afterword, Boris Strugatsky, who died in 2012 (Arkady died in 1991), claims the project was the brothers' least abstract, writing that "It was a piece of our life, a very concrete, very personal life, filled with absolutely concrete people and real events." It's troubling to realize we believe we understand—and in the case of Definitely Maybe, are in fact entertained by—the artistic struggles experienced by generations of Russians. For every Strugatsky or Tarkovsky who managed to complete and release projects, how many more were silenced by the pressure? Crazily—under the thinnest guise of a story about a force that wants to make sure intelligent people don't create change—Definitely Maybe manages, as it progresses, to speak about that pressure more and more directly, with growing feeling.

It's possible the Strugatskys were so sly, however, that the years have rendered their misdirection more, rather than less, misleading. If a science fiction book from another decade and language is the "wrong" length and has the "wrong" kind of cover, for instance, it risks being treated like a curio or fetish object rather than actually being read. Melville House has solved the cover issue by re-issuing Definitely Maybe as part of their attractive "Neversink Library" line, whose design features author silhouettes in front of elegantly simple fields of color. As for the other issues of relevance: Vladimir Putin recently signed into law a ban against the use of certain words in artistic texts or performances, and physicists have been discussing whether their latest discoveries suggest our universe is in fact a simulation. It almost seems there is some force at work intentionally making Definitely Maybe more relevant now than ever.

---

Dan DeWeese is the author of a story collection, Disorder, and a novel, You Don't Love This Man. His essay about speculative cities appeared in a recent issue of Oregon Humanities.