Craft
Paul Collins on Hamilton, Burr, And Duel with the Devil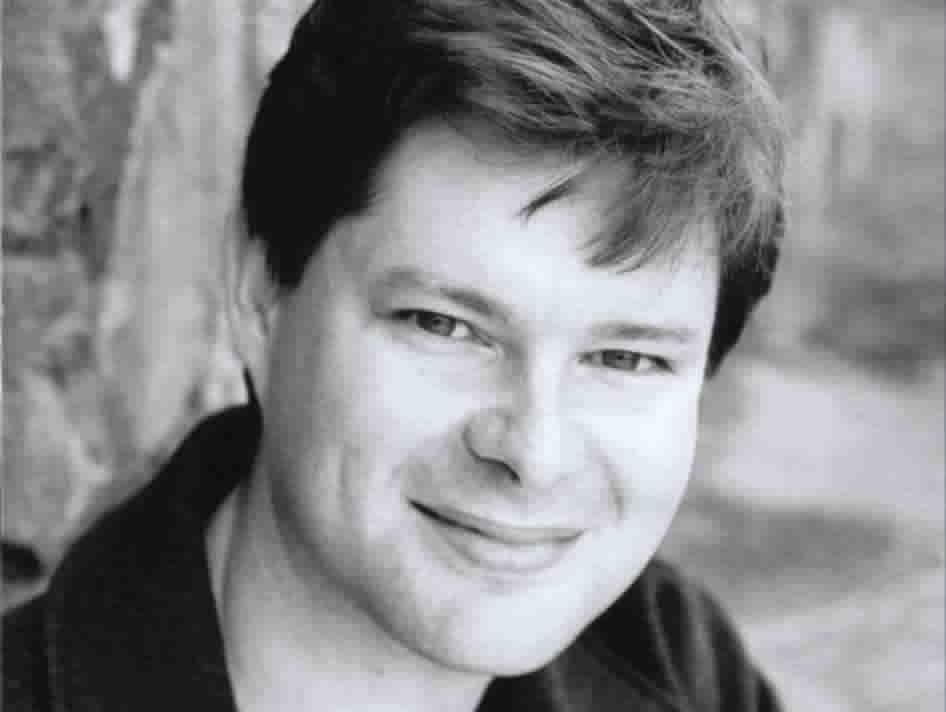 aul Collins' seventh book, Duel with the Devil, is a recreation of the events and characters surrounding the brutal murder of Elma Sands, a young Quaker woman, in 1799-1800 New York City. The murder remains the nation's oldest and most notorious "cold case," which Collins unfurls in a zesty, affecting narrative with a reporter's eye for detail and anecdote, and a novelist's expansive and impassioned vision for setting and character.

Adding to the considerable appeal of the book's subject and approach is the unlikely legal partnership between Alexander Hamilton and Aaron Burr, two political titans of post-revolutionary America whose bitter acrimony would, half a decade later, infamously yield a fatal result. In Collins' account, the pair temporarily join forces to defend Elma Sands' accused killer—with almost as much personally at stake in the verdict as the accused himself. —Sean Warren

Propeller: To what extent do you marshal your sources before beginning to write the book?

Paul Collins: I have to do a lot of prep, particularly for a historical work, because before even pitching it to a publisher, I need to know that the subject is viable—that there is in fact material there to be found. So that generally means a preliminary trip to the setting and related archives, just to get a good sense of what I'll be able to work with. Then another trip after I've started writing, and final spot-research as I'm working on each particular page.

Propeller: What is your writing schedule like when you're working on a book?

Paul Collins: It's generally research during the day—because I can be interrupted without it derailing me—and writing very late at night, when I have long blocks of unbroken time.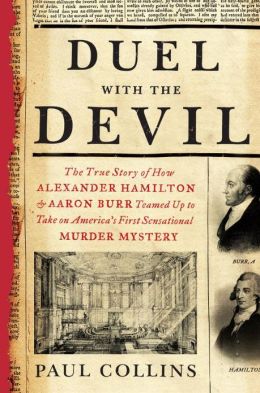 Propeller: How long did it take you to finish Duel with the Devil from the time you started researching it?

Paul Collins: A little under three years, all told. The processes between my different books overlap a bit, and this was one of the faster ones—the construction of The Murder of the Century was similar, so I didn't have as much of a structural learning curve on this one, although the material itself was more technically challenging.

Propeller: Are there any idiosyncracies in your writing method or routine that you might be willing to share?

Paul Collins: Is lots of coffee an idiosyncrasy? Really, there are none. It's just lots of work, and a home office that looks like a bomb site.

Propeller: Your settings for New York City of 1799-1800 are richly described. Since this was decades before the advent of photography, what were your resources and inspiration for imagining the city at this time?

Paul Collins: Journals helped a lot; the New York Historical Society has some very helpful ones. Memoirs from that period were useful—especially when people described their childhoods, because they'd often focus on the more ordinary things, like what people did on New Year's Day, or that Noah Webster was a rather frightening man (to children, anyway) in person.

But the biggest, most consistent source was the newspaper. I basically read every surviving New York City newspaper from July 1799—May 1800. (I should add that newspapers were only 4 pages long back then!) But having those thousands of pages of competing journals, with everything from the political debates of the day to who lost their wallet on Pearl Street yesterday—those really helped give me a more fine-grained sense of the setting and day to day life.

Propeller: Besides the ill-fated Manhattan Well, did modern New York provide you with any physical referents or orientation to the 1799 version?

Paul Collins: The city's evolved remarkably from back then—the coming of the grid system really changed what it and any modern city looked like. There's scarcely anything left from c. 1800; even the topography and shape of the city changed with leveling and landfill.

Propeller: Burr and Hamilton appear prominently on the book's front dust cover, but neither man begins to figure in the story until a third of the way through. Although I found this pre-Burr/Hamilton section as engaging and compelling as the other parts of the book, did you ever think there might be a risk of a letdown for readers with this structure?

Paul Collins: They're in the book in that first section too, but only in passing; since they're the defense team, the murder has to happen first before they can show up. My way of addressing that, in terms of narrative tension, is a 1-page prologue with the finding of the (not identified) body in a well, and then the title card "6 Months Earlier." So, although the book begins with a seemingly quiet Quaker boardinghouse, you know something bad is going to happen, and that it will come to involve them.

Of course, there are some who don't read prologues. But those people are bastards.

Propeller: Given that Burr and Hamilton are so enshrined in history as fierce personal and political adversaries, what led you to the book's main event in which they become allies?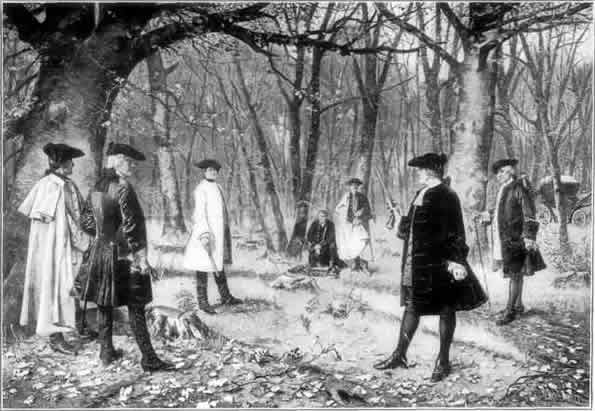 Paul Collins: Their own work led me there, really. They did have to work together, and frequently, both in government and in business practice—though this was the only time they teamed up for a criminal trial. I think we imagine them today as being in high dudgeon at each other at all times. But they were both smarter than that...well, except for that one time.

Propeller: After finishing the book, did you have greater sympathy for Burr or Hamilton? Or neither?

Paul Collins: I developed a greater sympathy for both of them, really, and a keener sense of the tragedy of two careers being destroyed in an instant. It's hard not to like Burr, in no small part because of his progressive views on women—and because he kept a journal when he was ass-broke in Parisian exile, and literally having to get a pound of cheese on credit, and dodging his optician for an unpaid bill. I mean, imagine Al Gore keeping a diary about living on ramen and dodging phone calls from Lenscrafters.

Propeller: Can you talk a little about your process for bringing so many of characters to life? I found it rather like seeing them step out of the tableau of a more conventional historical narrative and into the dramatic context of a novel.

Paul Collins: Letters are essential—their letters, and those of the people around them. Not just for the voice, but also for little physical details; things like the fact that Hamilton had a law office that basically looked like a field HQ—just utterly spartan—the equivalent of law office where youd sit on stolen milk crates, with bookcases made of cinder blocks and planks.

Of course, that's assuming someone has collected your letters, etc. For minor characters, digital databases have made characterization attainable in a way that it never was before. Much of this book couldn't have been written twenty, even ten years ago. I'll pick up a detail or two from genealogical records, municipal records, old newspapers, or city directories—and then routing that detail back in to the databases, and feeding what turns up back in, and it becomes a sort of recursive feedback loop, until you wind up with enough to sketch out maybe a paragraph or two on them. It's a lot of work to net a single paragraph, but the cumulative difference between that versus just names is huge.

Propeller: Your italicizing of dialogue is striking. What was your inspiration for this?

Paul Collins: If you're referring to sections that read like dialogue, but are italicized and not in quotes, that's basically my rendering of paraphrase into the cadence and visual form of dialogue. For instance, if a court witness says, "Levi denied that he did it."—then in the book, I might render that information within the scene with a single line, set off, that reads, without quotes and in italics:

I didn't do it, Levi said.

If the court record says, "Levi said 'I didn't do it,'"—well, then I've got a direct line of dialogue to work with, and render it as:

"I didn't do it," Levi said.

That goes back to when I wrote an account of the 18th century fabulist George Psalmanazar for my 2001 book Banvard's Folly. He had a posthumous memoir that provided lots of great details to work with, but with few if any direct quotes by other people in his account. So it's a way of preserving the feel of dialogue, and conveying what a source said, without misattributing it as direct quotation. The effect is slightly flatter, but it's still a useful tool.

Propeller: The period covered by the book seems to me comparatively early in terms of citing newspapers as primary sources. Did the partisanship of the papers adversely impact your ability to use their accounts of the events in the book?

Paul Collins: Not really. If I'd been writing about tariffs or relations with France, then it certainly would have. But murder knows no party.

---

Paul Collins' eight books have been translated into eleven languages, and include Not Even Wrong: A Father's Journey Into the Lost History of Autism (2004), and The Murder of the Century: The Gilded Age Crime That Scandalized a City & Sparked the Tabloid Wars (2011).  He is a 2009 recipient of a Guggenheim Fellowship in Nonfiction.
Sean Warren's fiction has appeared in McSweeney's, Washington Square, and The Writer's Block; has been reprinted in The Better of McSweeney's, Volume II; and is forthcoming in FiveChapters. He earned his MFA in Fiction from the Creative Writing Program at Portland State University, where he currently teaches.