The Conventionalist
The Sort of Company You'd Enjoy
Openings in Robert Stone's Early Novels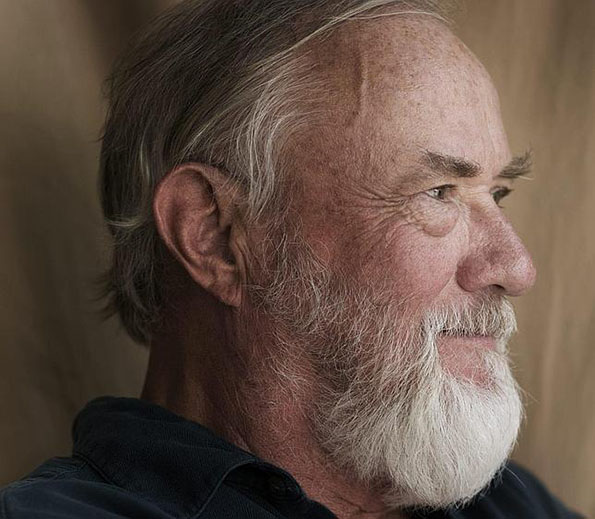 Has Robert Stone's combination of subject matter and technique led to his work being underappreciated?

By Patrick McGinty

creative writing student in search of an invention strategy is not short on advice.

"A story," announces Janet Burroway in her seminal text Writing Fiction: A Guide to Narrative Craft, "is a war." To commence this war, Burroway instructs the young writer to quickly address two main tasks: get your fighters fighting, and identify stakes worth fighting over. In addition to having a certain "seven swans-a-swimming" sonic appeal, this "fighters-fighting" approach also has a practical, technical appeal to the eager student: namely, pick a point of view, then size it up against a second one.

The creative writing student in search of an invention strategy may feel sufficiently informed by this "fighters fighting" mantra. It may be the only scrap of advice they need in order to begin their project or exercise (if they need any guidance at all). However, if they find Burroway useful, and if they then logically assume that other good advice must also be out there in the world awaiting their eager eyes, the student will soon familiarize themselves with one of creative writing pedagogy's oldest traditions: one writer calling BS on another.

In this case, the person who disagrees with Burroway's story-as-war approach is Burroway herself. In Curious Attractions: Essays On Writing, Debra Spark explains how future editions of Burroway's text would see her scale back the militaristic language that she had in fact borrowed from editor Mel McKee. The war analogies, Burroway felt in later years, were overly masculine, a sentiment shared by other practitioners. Spark explains how Ursula Le Guin took issue with the gender politics of the "story-as-war" analogy, the plain-old politics politics of the analogy, as well as the role of conflict itself in fiction. Why, Le Guin wondered, should this "gladiatorial view of fiction," this "one aspect of existence, conflict, subsume all other aspects?"

So. The eager creative writing student: they're in the thick of it now. They know they should start a war at the outset of a piece. Or, they should reject the masculine mumbo jumbo that prescribes their fighters get-a fighting. The student is, in a word, bamboozled. In their confusion, and on recommendation, they pivot to Charles Baxter, that thoughtful champion of subtext, who suggests that "characters reveal themselves through dramatic placement." Place them in a good scene, Baxter advises in The Art of Subtext, let it simmer, and then watch your characters slowly "lose their surface-level self-possession," which is another nice alliterative phrase, although the student should not be humming it when they open their John Gardner. "No fiction," Gardner writes in his canonical text The Art of Fiction, "can have real interest if the central character is not an agent struggling for his or her own goals but a victim, subject to the will of others." Subtleties and simmering and dramatic placement are not nearly enough, Gardner insists. "Failure to recognize that the central character must act, not simply be acted upon," Gardner claims, "is the single most common mistake in the fiction of beginners."

It is usually now, feeling quite bloated after a too many slices of advice, that the beginning writer of fiction, desperate for a model for how to start their story, seeks out that oasis of good ideas, that short white mail slot that accepts all fears and questions: a search engine. The top three results returned by a quick search for "how to start my short story" are: "How To Start a Story with a Bang," "7 Ways to Create a Killer Opening Line For Your Novel," and "10 winning ways to open your novel." An SEO lab will surely cook up a "Killer Winning Bang" method for students by the new year.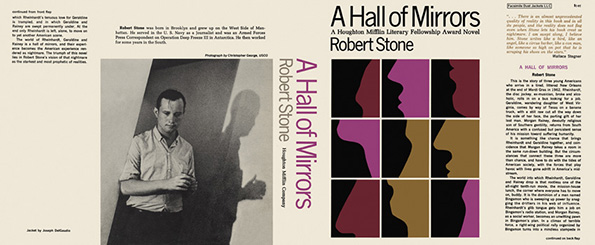 have been this eager but overwhelmed creative writing student, and I have taught many of these students. The instructional options can be overwhelming, which is partly why this past year I have been in the habit of rereading and recommending Robert Stone, the American novelist who died on January 10th, 2015. Stone was born in Brooklyn in 1937, and if he seems like a rule breaker on the page, it could be because he spent his life in locales where laws and authority figures were in flux, if not absent. At the age of six he found himself in a Catholic orphanage. After dropping out of high school, he traveled the world with the U.S. Navy. He wandered the country with Ken Kesey and the parent-free Merry Pranksters, then reported on the leaderless events of Vietnam as a war correspondent. In remembrance of his passing, Tobias Wolff wrote in Narrative Magazine that Stone's short story "Helping" has "achieved a presence in the story canon akin to that of such monuments as 'The Dead' and 'Cathedral' and 'Revelation.'"

The critical acclaim and technical success of Stone's first three novels is unlikely to be replicated. The right-wing racism depicted at a New Orleans radio station in Stone's 1967 debut, A Hall of Mirrors, earned him the Pen Faulkner for best debut novel. In 1975, Dog Soldiers won a share of the National Book Award in Fiction for its portrayal of a Vietnam heroin deal gone as horribly wrong as a Vietnam heroin deal can go. A Flag for Sunrise was a finalist for the repurposed Pen/Faulkner in 1982, was shortlisted for the Pulitzer Prize, and was twice listed as a finalist for the National Book Award: for both its hardcover and paperback releases. But if you, like me, are a card-carrying skeptic of artistic awards of all kinds, I assure you that the lessons Robert Stone's novels offer to students and writers of any age about how to narratively commence a piece of fiction far outshine the adhesive medals that marketers have spitballed across his covers.

A Hall of Mirrors opens with protagonist Rheinhardt and his bottle of whiskey as they bus their way through the "red clay and pine hills to the Gulf." By the second sentence, Rheinhardt is sharing his drink with the "boy who sold bibles, the blond gangling country boy in the next seat." By the second paragraph, anyone roughly familiar with narrative conventions begins anticipating plot lines, certain that, in the young Bible Salesman, they are meeting Rheinhardt's novel-long accomplice:
The boy had got on in Atlanta, stumbling over himself and his sample cases in a welter of apology, compressed absurdly in a dark ministerial suit and an old man's gray fedora. He had missed the company's car and they had left him there, and it was his business to either catch up with them or make his own way back to Wisconsin. He was not supposed to drink, he had told Rheinhardt when accepting the bottle, but he didn't think it would hurt anything. He was scared, Rheinhardt saw, probably nearly broke. He was about eighteen.

Rheinhardt and the Bible Salesman seem headed for a wild time. This is the sixties, after all. New Orleans is the destination, and the boy's ecclesiastical mettle is failing him by the tenth line. Rheinhardt and the Bible Salesman fall asleep, and when they wake, the student of contemporary fiction perhaps has Burroway's "fighter's fighting" in mind—they will be hungover, the student thinks. The two are surely headed for a difference of opinion, perhaps a debate on the Bible's finer points. We sense a herring afoot in their morning conversation when Rheinhardt suggests the boy wire his family for money before wishing him good luck. The boy replies with a polite and conclusive-seeming thank you, and we do not for a second believe that they will part. The first and last lines of paragraphs are expensive narrative real estate, and when Stone ends a long paragraph by stating that "Rheinhardt forgot the youth next to him," we feel certain that this is a bit of dressed-up writerliness, an artistic feint. We do not believe that Rhienhardt has forgotten about the boy because we, as readers, have not forgotten about the boy. How could we? The first five pages have communicated to us via conventional narrative strategy that this Bible Salesman is crucial. He is one of Burroway's fighters. He has been, in Charles Baxter's words, dramatically placed on this bus beside Rheinhardt.

Yet when Rheinhardt departs the bus, no conclusive moment transpires. Burroway's metaphorical ring-side bell does not sound. Stone writes:
Over his shoulder, he saw the Bible Salesman standing a little dazedly among his wares with the fedora resting uneasily on the crown of his head.

"Ok," Rheinhardt called to him. "Good luck."

"Yeah," the boy said. "Right. You, too."

This boy never makes another appearance in the novel. He eats up real estate on the opening pages and never receives a name beyond the Bible Salesman. Where, the creative writing student wonders, are the fighterly stakes Burroway discusses? Which of Gardner's "goals" is Rheinhardt aspiring toward? Why was Charles Baxter' dramatic placement established, and then disintegrated? A Hall of Mirrors seems to answer with: New Orleans is weird and the sixties are strange. Stone has us on our toes.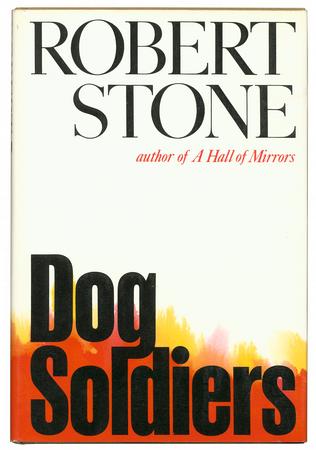 his move at the outset of A Hall of Mirrors might seem a simple trick, a subversion of narrative convention meant to create false tension at the outset of the novel. But Stone is only beginning to test how he can both incorporate and rebuke convention. His second novel, Dog Soldiers, opens in a park in Vietnam in 1971, and from the first line, our narrative hackles are again raised: "There was only one bench in the shade," writes Stone, "and Converse went for it, although it was already occupied."

Charles Baxter could not ask for better dramatic placement than a single shared bench in the shade. The setting is almost hyper-dramatic, something out of detective fiction—the poorly lit corner of an alleyway, the back booth in a seedy bar. Burroway's war of stakes can take root here, the creative writing student thinks. What better place for a character to act, as Gardner wants characters to do, to launch a plot of "action," than the shade in Vietnam? Surely some deal will be struck. Potential plot lines congeal in the reader's head. Kevin Costner and Donald Sutherland in JFK come to mind. There's a gun on the cover of the book, for Christ sakes! The summarized write-up on the back cover says a heroin deal is going to go way bad, and yet what does Stone offer up? What sort of fight does he launch? What epic drama does he open his second book with?

Converse reads his mail.

While dull, the mail reading operates as a clever device for establishing Converse's backstory as well as events transpiring back home in the United States, and no sooner does Converse begin reading than he starts sizing up his benchmate. Just as Stone does with the Bible Salesman in A Hall of Mirrors, he bestows lavish description on the "American lady of middling age" beside Converse. He notes that she is wearing a green print dress and canvas hat. She is reading The Citadel by A.J. Cronin. The several sentences used to describe her skin make us consider the extent to which this Converse character is a sleaze, but his first awkward line to the stranger on the bench wins us back. It is perhaps the finest bit of dad-humor crossed with blind-date speak to serve as the first spoken line of a novel: "Well," says Converse, "we'll have some weather soon."

The woman is more resilient than first glance would warrant. Converse states that he has been reporting in Vietnam for eighteen months, and the woman on the bench responds that she has been in Vietnam for fourteen years. The ensuing conversation is not so much one-upping as a comparison of notes. The woman explains how her husband was "taken" and killed. Converse thinks of a story about a missionary to whom "they fixed a cage in which a rat had been imprisoned. As the rat starved," Stone writes, "it began to eat its way into the missionary's brain."

Vietnam as a setting would seem to be too stark for Baxter's subtleties. Burroway's idea of "story as a war" appears small and misguided against the backdrop of kidnappings and deaths and hungry rats. The case could be made for a subtle Gardnerian psychological war being played out on the bench, but the encounter is often humorous. When the woman reveals she herself is a missionary and then slides into a bit of preaching, Converse responds that "deliverance from evil would be nice." He shares that he does not, unfortunately, believe in Satan, and the woman's response calls like a chime throughout the rest of the book: "'It's always surprised me,' she said softly, 'things being what they are and all, that people find it so hard to believe in Satan.'"

The reader familiar with A Hall of Mirrors will note that Stone is both upping the philosophical cant of his second novel's opening while also devaluing character ever so slightly. For a side character helping start a novel, the woman is shockingly forthright in her ability to discuss morality, her life, Christianity, Satan—any subject is game. She is rendered through no signifying "telling detail." The woman simply tells. Yet whereas the boy in A Hall of Mirrors gets a moniker—the Bible Salesman—the first side character in Dog Soldiers remains "the lady," "her," "she." The more intriguing Stone makes her, the more he seems to close off that narrative route. Stone knows the exact type of flirty plot he has aimed us toward, and where a reader might envision a souped-up Christo-politico sex scandal, Stone envisions Vietnam. Converse invites her to dinner, and the woman seems to reject Converse, narrative convention, and our expectations all at once: "I really don't think I'd be the sort of company you'd enjoy. I suppose you must be very lonely. But I think I'm really a lot older than you are."

This paragraph is where Stone, in his second novel, both confirms the talent and narrative nimbleness he displayed at the outset of A Hall of Mirrors while also surpassing that establishing move. Just as he did in his debut, no sooner does Stone "identify his fighters," in Burroway's words, than he disappears this woman from Dog Soldiers, never to be seen again. He nods to Baxter's ideas of dramatic placement while also eschewing the conflict a reader would expect from such placement. Gardner informs the beginning writer that "No fiction can have real interest if the central character is not an agent struggling for his or her own goals, if the character is a subject to the will of others," to which Stone responds: Do you know any drunks? Any misfits or wanderers? Ever met a reporter stuck in a far off place, helpless and lonely? What heroes in charge of their own orderly narratives, the works of Robert Stone ask, do you see amongst us in the sixties?

And the woman's closing line—"I think I'm really a lot older than you." In my most fan-boyish fervor, I can read this as a reference to the Greek chorus, which Stone appears to modernize at the outset of his novels. As opposed to a collective commentariot, Stone constructs in the Bible Salesman and the woman on the bench individualized yet strangely personless commentators, recasting the Greek chorus into a type of guardian angel figure. The Bible Salesman and the missionary linger in the reader's memory as defining characters, yet what can be said of them? The Bible Salesman is far from home. He lacks money. He wishes Rheinhardt good luck twice, seeming to know the man will need it. The woman on the bench has spent fourteen years in Vietnam and seen her husband bound and killed. She asks Converse why Satan is so hard to believe in, and when violence quite literally splits open a character's consciousness at the end of Dog Soldiers, the modern secular reader is forced to ask themselves why they doubted her.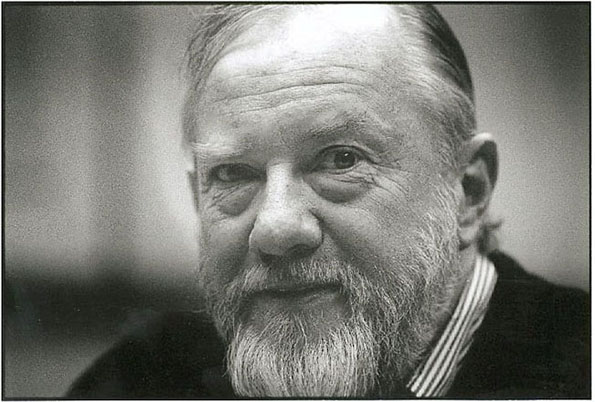 e should also ask why Robert Stone is championed by a relatively small club when it comes to creative writing syllabi and anthologies. He wears the dubious label of "a sixties writer," a title at best honorific, and at worst indicates his moment, like him, has come and gone. Perhaps the paperback plottiness of his books is unappealing to the modern academy. Perhaps the dark subject matter as well as the subterranean technical achievements are too much of a chore for the reading public. Ann Beattie shared with Narrative Magazine that she teaches Stone religiously, but that "you always worry if twenty-one-year-olds will get it. I think they knew from my attitude—as though we'd walked a long way on our knees but now were approaching the altar—that they should read it carefully."

When Stone is read carefully, a creative writing student can perceive a new way to begin a piece of fiction. They can see how a certain class of writer does not shy from false starts or from fear of stereotyping religious characters, instead steering into the proverbial narrative curve. Moreover, if the young writer reads Stone carefully, they can spot the various pedagogies Stone both deftly incorporates and sidesteps. If the counterintuitive narrative strategies and triumphs of Stone are visible to a student, then the student can feel certain that they are versed in the endless but fortifying discussion of craft. They can be sure that they have traveled a long way on their knees searching through the low sturdy grasses of canonical pedagogy and have finally found an altar, as Beattie says, at which to say shibboleth. In this way, Stone reinforces the pedagogy. The creative writing student in search of an invention strategy cannot fully comprehend Stone's masterly moves without knowing their Burroway. A student with a working knowledge of Baxter and Gardner and Le Guin and Debra Spark is equipped with the precise expectations that Stone's opening pages seek to upend.

In the months since his passing, I have been recommending Stone to students for the same reasons I have been re-reading him: it is thrilling, at any age, to find a voice that has been eagerly awaiting the completion of your training—to, in effect, be confronted by your own preparedness. In reading Stone, I hope my students feel they are in the company of their first "writer's writer," that mythical creature who both hearkens to the origins of the form and nods in the direction of the modern incarnation, whose work plants a foot upon the rock of convention, as if to confirm its existence, while also using those norms to elevate, to peer over a divide and spy terrain beyond craft—terrain only certain fiction may bear witness to.

---

This article is adapted from a lecture the author gave at the 2015 EAPSU@35 Conference at Slippery Rock University. Patrick McGinty's fiction has appeared, most recently, in ZYZZYVA and The Portland Review. Last fall he wrote about Stefan Lorant's history of Pittsburgh.