NFL WEEK 4
In ESPN's Baltimore, Strippers hurt You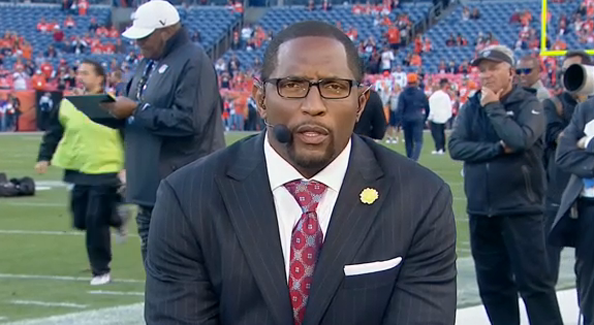 ESPN reports on responses to ESPN analysts who respond to ESPN reporters. It all appears on ESPN.
By Pete Tothero



o introduction here today. I don't like the big brown circle with the letter and all that over there. Cold open. Let's just jump right in.

Last week: 8-8 (Which I feel proved my point about so many teams being of No Particular Standing—or maybe I just wasn't very good?) / Season: 30-18

THURSDAY

San Francisco 49ers (1-2) at St. Louis Enablers (1-2)

San Francisco is 1-2, quarterback Colin Kaepernick has looked hesitant and uncertain each of the last two weeks, and they're playing on the road. And yet I cannot…make myself…type the words..."Pick: St. Louis." I could just barely do it there in a practice moment, but watch what happens when I try to do it for real. Ahem:

…and so that is why we must…respekt…the St. Louis Ramphs. [That part was already difficult.] Pisck: Sf. Logmumph

I physically cannot do it. My fingers rebel. St. Louis flew to Dallas last week, put on their comfy sweatpants, settled in on the couch, watched Dallas beat them 31-7 at football, then changed the channel to an old episode of "Rhoda." St. Louis, how do you lose 31-7 to the Dallas Cowboys? I don't understand. If always picking San Francisco has become an addiction for me, having their opponent be St. Louis is like an alcoholic going to a class reunion, finding out the reunion is at a whiskey distillery, finding out that hot girl from high school is an even hotter woman now, and single, and then she tells him she was hoping he would be there, and then the distillery announces that they will now start pouring everyone free shots, and she grabs one and also hands one to him, and everyone is drinking and dancing...

It's not my fault—the St. Louis Rams did not support me in my attempts to change my behavior. Pick: San Francisco

SUNDAY

Baltimore Leadership (2-1) at Buffalo Bills (1-2)

Let's do journalism analysis. Allow me to quote the opening paragraph of an ESPN.com article about the Baltimore Ravens this week:

Wide receiver Torrey Smith took exception to former linebacker Ray Lewis' assertion that the Baltimore Ravens lack leadership after a report surfaced about wide receiver Jacoby Jones getting hit over the head by a stripper wielding a champagne bottle.

Okay, I know—banal, this happens to all of us every weekend, nothing to see here. But let's dig a little. Torrey Smith is an active player. Jacoby Jones is an injured player. Ray Lewis is a retired player who currently works for ESPN as an "analyst," which means he stands in front of a camera and says nonsensical things. And you wouldn't know it from the sentence, but "a stripper" is a woman (I will assume), and probably one who has a name.

A common question journalists ask is "Why?" The "Why?" that seems newsworthy here, to me at least, is: Why did a woman feel the need to hit an NFL player with a bottle? In other words: What happened? Could we have some facts?

Notice, however, that in the lead, the woman is mentioned last. The lead suggests that the woman is not the story. The "Why?" ESPN has chosen to ask is essentially: Why does an NFL player say his team doesn't lack leadership, even though one of our employees said they did? The article reports, in the tone of a news story, that an ESPN employee (Lewis) said something, and a player (Smith) said something back. ESPN has decided to report on their own reporter.

Honesty compels me to report that I believe the Ravens will probably win this game. I will, however, be rooting against them. More later. Pick: Baltimore

Cincinnati Bengals (2-1) at Cleveland Browns (1-2)

This is a battle between two AFC North teams. Do you know what other team is in the AFC North? Baltimore! Let's look at another paragraph from that ESPN article about Baltimore:

"It is what it is. Ray knows better than that. Things happen. We're usually a pretty good team with stuff like that. If you look around the league, there's a lot of leadership problems then," quarterback Joe Flacco said.

I am going to label Flacco's sentences, in order: meaningless, lie, meaningless, lie, huh? Now that is leadership! Actually, if by "stuff like that" Flacco meant the Ravens are usually pretty good at fighting with women, then I can't judge, and maybe I should give him the benefit of the doubt. Also, the article totally fails to mention that Flacco said he thinks this year's Super Bowl is "retarded." How can they not mention that when I repeat it all the time?

After I accused Cleveland of giving up after they traded Trent Richardson last week, third-string quarterback Brian Hoyer came in and screwed everything up for the Browns by clearly trying to win against the Minnesota Vikings, and then succeeding in doing so. Total third-string quarterback behavior, right? Third-string quarterbacks never understand the game plan. The game plan in Cleveland is they are trying to lose. But then Hoyer runs out there and completely abandons the game plan! Dammit! Cleveland is going to have to get their starting quarterback back if they want to reach any of their goals. Cincinnati is better than Minnesota, though, so...Pick: Cincinnati

Chicago Bears (3-0) at Detroit Lions (2-1)

This is a big game between two NFC North teams, but first, here are two more paragraphs from the ESPN story about the Ravens:

Linebacker Terrell Suggs said the Ravens are "having fun" with Lewis' comments.

"We've never been the type of locker room that wears our feelings on our sleeves," he said, while admitting he didn't know what Lewis said.

So here, fellow aficionados of the journalistic arts, ESPN has chosen to run a quote from a player responding to something an ESPN employee said, except the player doesn't know what the ESPN employee said. Terrell Suggs is responding to a reporter who asked for Suggs' response to an ESPN "analyst" (Lewis), who said something when ESPN reporters (in an ESPN studio) asked for his (Lewis') response to the report that a woman recently felt the need to defend herself against an NFL player. Lewis was worried about the players, not the woman.

Suggs responded by saying the Ravens have never been a certain type of locker room.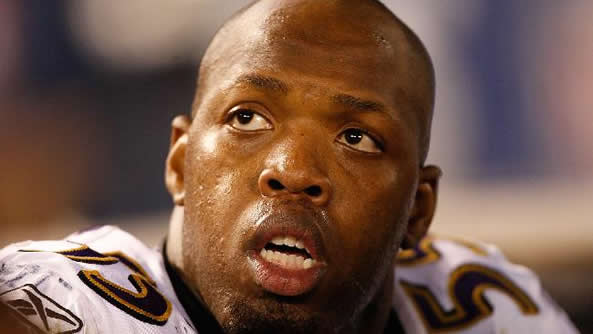 The Ravens' Terrell Suggs responded to ESPN, then admitted he had no idea he was responding to ESPN.

Chicago looks pretty good this year, don't they? I don't doubt it. But I also feel this is just about the right week for them to lose focus for a minute and then find themselves losing to Detroit by something like 19-17, where afterward they kind of can't remember how Detroit ended up with a weird number. Was it the safety, then the field goal? Was it two safeties? No, that doesn't work... Huh. Pick: Detroit

NY Giants (0-3) at Kansas City Revenge (3-0)

Kansas City has been waiting for a game like this for years. They've struggled through some down seasons, and have had to watch teams like the Giants get all the attention and all the Sunday night games with the rah-rah music and the forty camera angles, while Kansas City has been running out and playing on Sunday afternoon, and sure, their games have been broadcast in the contractually-obligated regions, but all that gets you is a free drink in Branson, and even then you have to sit through Micky Gilley's show, which is really awkward. I think K.C. really wants to stomp these NFC East teams into the ground this year. Pick: Kansas City

Arizona Cardinals (1-2) at Tampa Bay Chaos (0-3)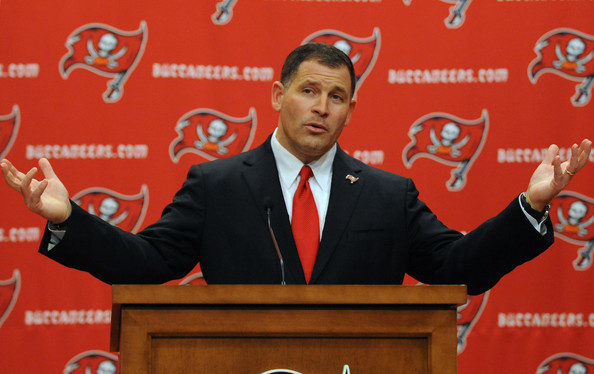 Tampa Bay Buccaneers coach Greg Schiano creates chaos and dissension while maintaining personal vanity.

Last week I explained the No Particular Standing index, which is the advanced, very-scientific metric I use to figure out exactly how pointless it is to pretend you know how strong a particular team is. A subcategory of the NPS is "Captain Votes Rigged," also known as the "Greg Schiano Chaos Multiplier." GSCM is off the charts this week in Tampa! Schiano, Tampa Bay's head coach, said early in the week that quarterback Josh Freeman was still definitely their guy. A couple days later he said no, Josh Freeman was not their guy. Schiano said he felt starting Mike Glennon this week would give Tampa Bay their best chance of winning. Tampa Bay is apparently interested in trading Josh Freeman. So when Schiano said Freeman was their starting quarterback, what he meant was that Freeman is not their starting quarterback, and anyone can have him. That's what he meant.

Let's summarize recent Buccaneers' history. Word on the street is that Schiano may have rigged the Buccaneers' captain voting to make sure Freeman wasn't a captain, possibly because Freeman missed the team photo. So the Buccaneers, coached by Greg Schiano, are 0-3, and Josh Freeman, who is not even in the team photo, might end up on a different team? I think Josh Freeman knows exactly what he is doing. Pick: Arizona

Indianapolis Colts (2-1) at Jacksonville Jaguars (0-3)

Indianapolis just beat the 49ers in San Francisco, and Jacksonville is awful, but let's not forget our journalism discussion. Here are two later paragraphs from that ESPN story about the Ravens:

Lewis was with the Ravens on Sunday, when he was inducted into the team's Ring of Honor.

"This is something that we spoke about earlier in the year when we talk about the transition of losing so many guys, a guy like myself and Ed Reed and other guys, that are based off leadership," Lewis said on "Monday Night Football." "Because I've said it earlier: 'Where would the leadership come from?' Because the leadership being strong in the locker room and winning games ... listen, talent sometimes can win you games. But when you talk about what's going on off the field, that's the most important place where leadership steps up."

So Lewis claims he was a leader off the field for the Ravens? That intrigued me, so I looked up Ray Lewis on Wikipedia. Here's what I found:

Following a Super Bowl XXXIV party in Atlanta on January 31, 2000, a fight broke out between Lewis and his companions and another group of people, resulting in the stabbing deaths of Jacinth Baker and Richard Lollar. Lewis and two companions, Reginald Oakley and Joseph Sweeting, were questioned by Atlanta police, and 11 days later the three men were indicted on murder and aggravated-assault charges.

Ready to be shocked? None of that is mentioned in the ESPN story. Maybe because Lewis is one of their employees? Am I speculating too wildly?

Pick: Indianapolis

Seattle Seahawks (3-0) at Houston Texans (2-1)

Every time I watch Houston winning a game, it looks like they're losing. I have to believe that at some point, even if just for a few hours, reality is going to match up with appearances. Pick: Seattle

Pittsburgh Steelers (0-3) at Minnesota Vikings (0-3)

Ugh. I have no idea. This is like two fraternity guys preparing to fight while also being so drunk they're about to pass out. Who is reeling more? The game is so unpalatable the NFL is making them play it in London. Enjoy, London. Pick: Pittsburgh

NY Jets (2-1) at Tennessee Titans (2-1)

The Jets were supposed to go away this year. They were going to start a rookie quarterback and lose a bunch of games and trade Sanchez and just not be in our faces for a year. But they're 2-1. Uncool, Jets. Very uncool. Pick: Tennessee

Washington PORTFOLIO REPORT (0-3) at Oakland Raiders (1-2)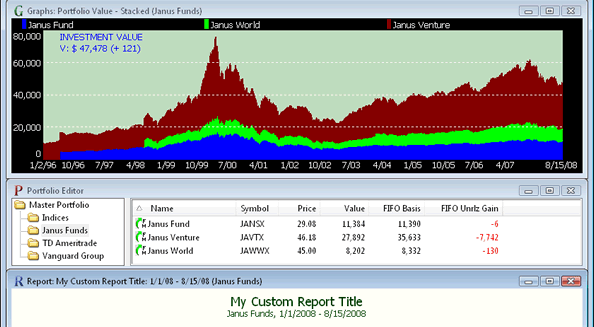 This is a bunch of information that has to do with my job, since I am definitely working right now.

Writers who wait until Friday or Saturday to pick games have an advantage over me here, because Oakland still doesn't know if starting quarterback Terrelle Pryor will be cleared to play in this game after he suffered a concussion last week. Those writers are wusses. I say pick the games like a man: on Wednesday, secretly, at work, typing with your screen darkened while you cradle your desk phone between your shoulder and ear and pretend to be talking to someone!

It would be reductive and a disservice to the subtleties of NFL analysis to claim that if Pryor plays, Oakland will win. But that is what I am going to claim. So this pick is provisional, but please applaud my manly decision to pick these games on Wednesday, unlike these other lame guys who—

That's why volatility in that sector of the market tends to have a ripple effect. The smart investor reduces his vulnerability in those markets by diversifying his holdings, but not randomly. There are some well-positioned players in those markets that we're particularly

Oh, man. Sorry about that. My boss just walked by—had to switch over to fake-work mode there for a second. God, I hope I don't get fired. My kids. If that ever happened, my poor kids. I hope he didn't see that I was picking NFL games. Do you think he saw? I think he didn't see. I'm okay, right? I gotta be okay I gotta be okay I gotta be okay. Pick: Washington

Philadelphia Eagles (1-2) at Denver Broncos (3-0)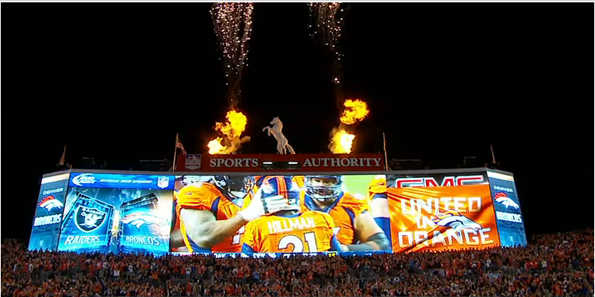 Cast from heaven into a lake of fire, Broncos boosters buzz like bees, celebrating Beelzebub.

What is that? Denver's stadium belches fire when they score? Is Beelzebub their starting quarterback? Is Machiavelli their general manager and Rasputin their trainer? Wait: Do they have a horse on each side of the stadium? Four horses? For the four horsemen?

The Broncos are evil! The Broncos are evil! Spread the word! The Broncos are evil! Pick: Denver (God have mercy on our souls)

Dallas Cowboys (2-1) at San Diego Chargers (1-2)

I don't pick Dallas. I am very firm on that. Actually: not totally firm on that. But for now, I don't pick Dallas. Pick: San Diego

New England Patriots (3-0) at Atlanta Falcons (1-2)

Guess which team New England has something in common with? Baltimore! Both teams had players indicted on murder charges! New England cut Aaron Hernandez. But what became of Baltimore's Ray Lewis? Here's a further quote from Lewis in that ESPN story:

"When you think about the Baltimore Ravens and the transition that they went through, they're missing leadership right now. When you have an incident like [late Sunday] night, the first thing a leader is going to do is find some way to dissolve everything that's going on -- and actually dissolve it before it comes to that type of head or even gets to this point. When you talk about the Baltimore Ravens, they're going to have to refocus and find some leaders in that locker room very quickly."

And here's more from the Wikipedia entry on Lewis:

The white suit Lewis was wearing the night of the killings has never been found. Fulton County District Attorney Paul Howard alleged the blood-stained suit was dumped in a garbage bin outside a fast food restaurant. A knife found at the scene did not have any fingerprints or DNA. Lewis subsequently testified that Oakley and Sweeting had bought knives earlier in Super Bowl week from a Sports Authority where Lewis had been signing autographs. Baker's blood was found inside of Lewis's limousine.

It's so weird that Lewis has been speaking on ESPN this week about the importance of not getting involved in problems off the field, and yet nobody mentions any of that stuff about, you know, the murders he was involved in. Must have been an unintentional oversight. I'm sure ESPN's reporter was busy working on finding out why a woman needed to hit an NFL player with a bottle.

New England isn't going to go undefeated. This is the kind of game they could drop. And Atlanta is probably desperate right now. Pick: Atlanta

MONDAY

Miami Dolphins (3-0) at New Orleans Saints (3-0)

I have bet against Miami every single week. You would think I would have learned my lesson by now. But if I learned lessons, would I be picking NFL games for a booksy/artsy website and obsessing over how offensively awful ESPN is? No. If I learned lessons, I wouldn't be doing this. And I just gotta be me. Unfortunately. Pick: New Orleans

---

Pete Tothero works in finance but is somehow also this magazine's Sports Editor. He is not contractually obligated to have watched games he later knowingly references.