Craft
Dual Solitude
Lily Brooks-Dalton On Her Debut Novel, Good Morning, Midnight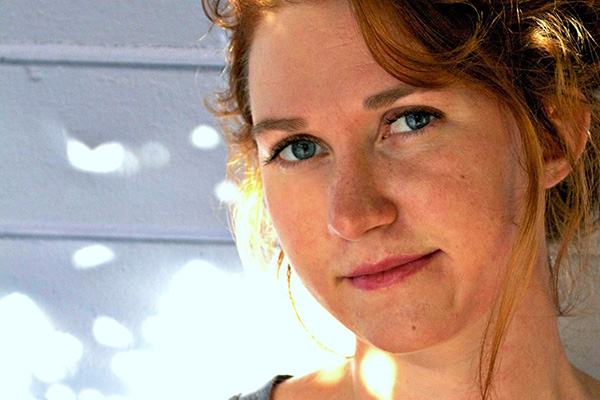 Lily Brooks-Dalton. "Sometimes I think about navigating fiction the same way I think about playing chess."

ily Brooks-Dalton's debut novel Good Morning, Midnight closely follows two accomplished scientists at the ends of human reach. After warnings of war, an elderly astronomer named Augustine stubbornly refuses to evacuate a research center in the Arctic, and finds himself adrift with young Iris. Meanwhile, Sully, an astronaut, returns with her crewmates on the spaceship Aether from an expedition to Jupiter and its moons, but Earth has fallen into radio silence. In beautiful prose, the novel displays a sincere curiosity in the external and internal solitudes of its characters. Its introspections turn to Augustine and Sully's past, their difficult choices, and present struggles against the physical and mental hazards of their remote environments. These parallel narratives explore our push toward the edges of life and our solar system. Colson Whitehead, a Pulitzer Prize finalist and author of The Underground Railroad, calls the novel "remarkable and gifted."

Brooks-Dalton is currently in Florida, where she will be a writer-in-residence at the Kerouac House and The Studios of Key West. We talked via email about her characters' isolation, their intertwined narratives, and learning from the not-so-mystical writing process. —Alex Dannemiller

Alex Dannemiller: Augustine and Sully's circumstances make them extraordinarily isolated from civilization, with Augustine in the Arctic and Sully's ship in deep space, but this sense of isolation seems due to their personalities, as well. Even when they aren't completely alone, as both have companions, they feel disconnected or set apart from those around them. How did you go about creating this sense of seclusion in the company of others?

Lily Brooks-Dalton: Seclusion in the company of others is something we all feel at times, so I think it's an experience we're sort of primed to understand without too much convincing. For these characters, though, that persistent sense of isolation is an integral and consistent part of how they are experiencing connection. Showing the counterbalance of connection and seclusion was one way to try and highlight the deficits—letting both isolation and its opposite be simultaneously present in the storytelling, if only to expose how limited the characters' experiences of connection really are.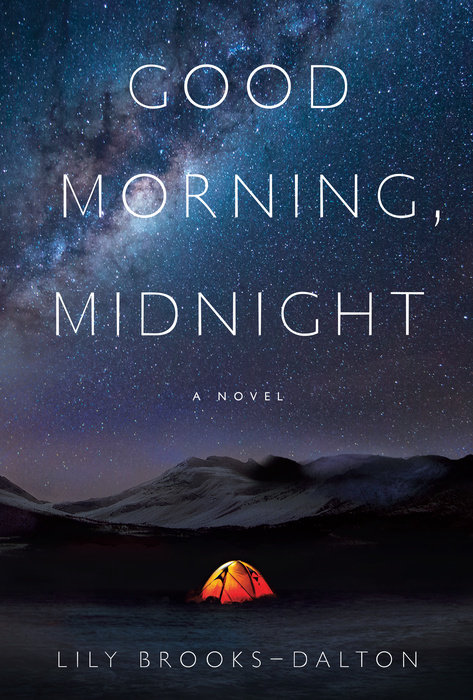 Dannemiller: Speaking of connection, there are moments in the novel when Augustine and Sully's perspectives share similarities—their desires at these points are intentionally almost identical even though they can't share this desire with each other, which is an interesting way of illustrating a connection between them. What drove that choice?

Brooks-Dalton: Because the storylines unfurl separately for so long, it felt important to tie them together thematically and emotionally rather than with plot. The ways in which they intersect and inform each other are so important to the story overall, and so building those parallels into the earlier chapters was something I thought a lot about.

Dannemiller: Both narrative arcs require a fair amount of time to pass, for example Sully's trip on Aether from Jupiter back to Earth, which the novel fills by skipping ahead a bit to pivotal moments or delving into her memories. Using memory to fill time seems like such a natural thing because we do it every day. But it can be difficult as a writer to juggle how much time the reader spends in the past before shifting back to the present, as we may get lost or forget where we were in the scene. Can you talk about how the structure developed and how you balanced the two? Did you have any difficulty with the pacing?

Brooks-Dalton: Using memories in fiction is such a fickle thing. I've heard other writers recommend approaching it with caution, or not doing it at all. For me, the way that the human mind cycles in and out of the present is so illuminating, so I think that the challenge of working with memories and flashbacks is worth the difficulties of trying to navigate its pitfalls. The pacing, as you mentioned, and also the transitions, the fluidity between past and present, are undeniably tricky. How to make a character's train of thought feel inevitable, rather than strategic? How to sweep the reader along into a flashback without jarring their experience? I'm not sure there's a structure in place in this novel for it—I think I tried to keep the backward/forward leaps somewhat organic.

Dannemiller: They certainly felt organic to me. Many consider Alice Munro a master of naturally easing between backward/forward leaps and at times I felt the narrative in Good Morning, Midnight taking similar steps. But, I want to pivot on something else you mentioned… Making something feel inevitable in fiction is often encouraged. For example, I've heard that a good ending can be something that feels "surprising, but inevitable." Yet, as you point out, it can be difficult to avoid making an inevitability feel strategic. Whether it's a character's thoughts, actions, or even plot, what steps do you think lead to this organic, natural kind of inevitability?

Brooks-Dalton: An ending is such a specific thing. I think a heavier dose of strategy can work in a good ending than in, say, a flashback. Here is a metaphor instead of an answer: sometimes I think about navigating fiction the same way I think about playing chess. I usually have an endgame in mind, but I don't want my opponent to see where I'm headed. I want to be a few steps ahead, slotting pieces into place in a way that doesn't give away the plan. I'm not really comfortable in the game until I can see a checkmate down the road. Sometimes I'll sacrifice an important piece to divert attention away from that plan—or in fiction, give away a part of the mystery to obscure the rest. But in the end, crafting a novel is strategic, and so I think whether or not the reader feels cheated by that depends not so much on the last move, as on how well you've played your game up until that point. When I finish reading a novel and suddenly see all the strategy and planning that went into making it work, I am tickled and want to keep thinking about it.

Dannemiller: In trying to find the right moves, one piece of advice many writers give is to listen to what the story wants or follow where it leads you, but this sounds like mystical advice that further makes writing inaccessible or somehow magically gifted. While you're writing do you do this? If so, what do you think actually makes this happen for you? If not, what else leads you to make the choices you do in telling the story?

Brooks-Dalton: Oh, I totally agree, that advice has always seemed very mystical to me. I don't really approach it that way, to be honest. I wish I did. Sounds dreamy. But I rely on outlines quite a bit, and for this book I actually knew how I wanted to end it really early on—that's how I finished it so quickly! I felt good about the ending, and really excited to get there, so in a lot of ways that propelled me through the pieces I was less interested in writing. There's always room for things to change as I write, of course—it's not like I have an unchangeable plan the minute I sit down—but having an outline, a rough idea of what needs to happen in the chapter I'm working on, really helps me keep moving through the story.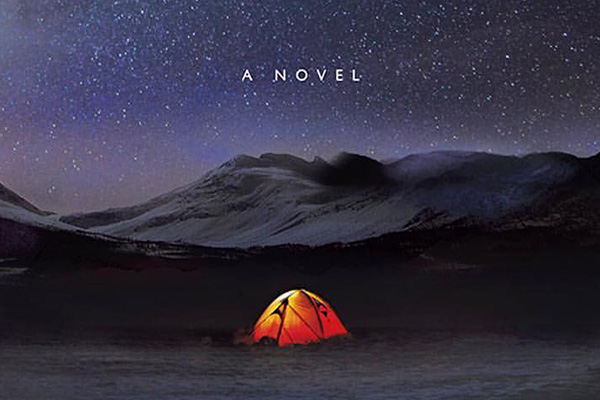 Dannemiller: In rereading the novel I noticed a lot of fun clues I initially missed about a major conceit. One thing I've grown to appreciate, and also find frightening to implement in writing, is the depth and detail that can go into a story and make it more enjoyable to reread. Is that rereadability something you thought about? If so, what was your process like in planting these things?

Brooks-Dalton: Sort of—I didn't expect anyone to read the book twice, but I did want there to be a moment when the reader gets to the end and looks back and goes oh. And then sees certain things a little differently. I like sewing in the possibility for duality. The process of doing that was constant—a few hints I added in during editing stages, and one or two were part of my original outline, so it was something I thought about throughout writing it.

Dannemiller: The book starts with a quote by Jean Rhys: "I heave myself out of the darkness slowly, painfully. And there I am, and there he is…" How do you see the quote relating to your novel?

Brooks-Dalton: Jean Rhys is the author of an excellent novel also called Good Morning, Midnight, and so when I settled on that same title for this book (originally a phrase from an Emily Dickinson poem), I wanted to pay homage to the book that came before mine. While there are many differences in the stories, I think a lot of the core themes in my novel correlate with the issues Rhys was writing about. In this quote, I see the slow, difficult reach for connection and synthesis articulated really concisely and eloquently. At first, I wanted to use the Dickinson poem as the epigraph, but Rhys's work was perhaps even more influential for me, and so using those lines seemed fitting.

Dannemiller: In thinking about writer precursors… Many novelists have said that their first novel is a learning experience. What do you think is the biggest thing you've learned from writing yours?

Brooks-Dalton: To take my time. There is an excitement that comes with finishing something—all I can see are the glorious bits, the passages where I really feel like I nailed it. And then with time comes the recognition of the elements that could really use more work. So, patience, I think. If I could go back, I would have taken an additional few months, even a year, to keep revising and honing the novel—working on those sections where I feel now that I could have done better. Also a willingness to overindulge—to write a few chapters that will probably go by the wayside. I tend toward sparsity, so giving myself permission to blow a quick piece of summary out into a fully fledged scene is something I'd like to get better at.

Dannemiller: What do you think inclines you toward sparsity? Where does that instinct come from?

Brooks-Dalton: I'm always hesitant to overdo things, and that often leads to under-doing it. I think most writers are either in one camp or the other—they're culling hundreds of pages from a final manuscript, or getting lots of notes asking for more scenes, more chapters, just more. Maybe there's some magical creature who writes exactly enough every time. I'm sure their editor goes on vacation a lot.

Dannemiller: The way you're taking your writing experiences and translating them into learning moments is a very writer, but also very teacher, thing to do. And I mean that as a compliment. You taught writing while getting your MFA at Portland State University. What advice did you give to your students that you find most difficult to follow for yourself? What advice have you received that still sticks with you?

Brooks-Dalton: Ha, such a good question. A lot of students talked to me about struggling to do the work. To begin, to persevere past that beginning, to finish something. It's that struggle to simply sit down and put words on a page. And I totally relate, I think we all wrestle with that (or many of us, anyway). My advice isn't groundbreaking, it's usually some variation of, just do it. There really isn't a shortcut, although maybe it helps to know that you're not alone! There's lots of fluff to add to that answer, like have a daily routine, or only write in coffee shops, or write longhand, or start writing at 5am, etc, but ultimately the reward is figuring those specifics out for yourself. I don't think the fact that I like to write in a quiet room, without too much clutter, facing a window, with tea and peanut M&Ms on hand really helps anyone but me. As for advice that has stuck with me, I think Neil Gaiman said something to this effect: finish what you write. Whatever you do, finish it. I couldn't agree more.

---

Lily Brooks-Dalton was born and raised in southern Vermont. She is also the author of the memoir Motorcycles I've Loved, which was a finalist for the Oregon Book Award.

Alex Dannemiller is from Cincinnati, Ohio, and currently teaches writing in the Portland area. His flash fiction has been published on Literary Orphans.