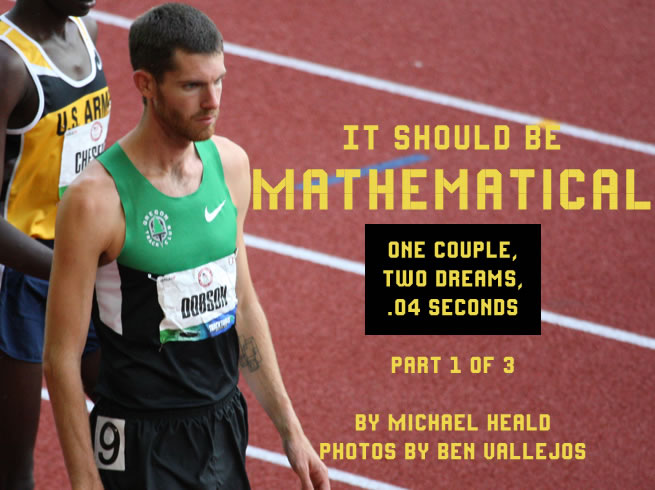 ust before getting out of the car, I remember to change my socks. If I'm entering a no-shoes household, I don't want the fragrant wool I've had on my feet since yesterday to be Ian Dobson's first impression of me. I've been out in the rain for the first two days of the Olympic Trials and until now, I've sacrificed personal hygiene in favor of dryish feet. But as I lace up my wet sneakers over cheap cotton, as I check the batteries in the recorder, I wonder if I'm stalling not because of nerves or vanity but because this is the first moment since arriving in Eugene that I've had a break from my family.

A young woman answers the door, introducing herself as "the wife." She's skinny, as are most of my friends back home, but this skinniness comes out of something deeper than fashion. This is Julia Lucas, the fastest American woman at 5000 meters this year, and a favorite to make it to London. Despite her introduction, and the fact that I'm here to interview her husband, it's likely that by the end of the week she will be more famous than him. She heads off on a bicycle to catch up with friends, and the husband and I are left alone with the task of getting to know each other. My shoes stay on.



n 1996, I was a sophomore in high school. An above-average runner on an above-average cross-country team. I was the youngest guy on varsity that year, and like pretty much every Oregon high school runner ever, I thought I had it in me to become the next Steve Prefontaine. I grew my hair out. If I could have grown a mustache, I would have. There were mornings on the trails where I'd unironically do the math and calculate that I had three reasonable shots at making the Oympics: 2004, 2008, and 2012, when I would be 31 years old. But towards the end of that sophomore season, I stopped behaving like Prefontaine. My hair reached its shaggy conclusion and I let my teammates strong-arm me into shaving my head. I was having difficulty running hard in races. At the state meet, I barely competed until the final meters, when, with everyone screaming at me, I had no choice but to make it looked like I cared. It was the biggest race of my life, and I hadn't shown up for it. All around me, people were vomiting and collapsing into each other's arms, and I wasn't really even tired. This was my consolation prize: I'd taken it easy, and I hadn't looked that bad. I hadn't finished last or anything.

Afterwards, on the van ride back to Portland while we were passing around the results, I counted the number of sophomores who had finished ahead of me. There hadn't been that many—maybe fifteen or twenty, a number I could live with. I was just about to pass the results on, ready to forget them forever, when I noticed the freshman. A fucking freshman named Ian Dobson had finished in the top twenty, almost two minutes ahead of me. The big thing in high school was to avoid being beaten by anyone younger than you, but I hadn't been beaten—I'd been thrashed.

The next spring, Ian Dobson and I were entered against each other in a track meet. I think it was the Centennial Invitational, out in Gresham, and we were running the 3000. I was curious to find out what he looked like, this freshman, and as I approached the starting line, I kept an eye out for a blue Klamath Union singlet. When I spotted it, I felt sick. The kid was all legs and icy blue eyes. He even had the long Prefontaine hair. He just looked like a runner. I nearly got lapped in that race, but strangely, I felt okay about it. This burden I'd been lugging around for the past two years was starting to seem kind of silly. Who had I been kidding? I wasn't going to make the Olympics. I thought that Ian Dobson might—and that my older brother might—but not me.

I kept going out to the trails for the next new few years—splashing through puddles, logging miles, staying lean—but never really got any faster. Ian Dobson, on the other hand, won state titles, got a scholarship to Stanford, a sizable shoe contract, made the World Championships straight out of college, and then, in 2008, in front of an ecstatic home crowd at Eugene's Hayward Field, swung wide coming off the final turn of the 5000 meters, passed two guys on the homestretch, and made the United States Olympic Team.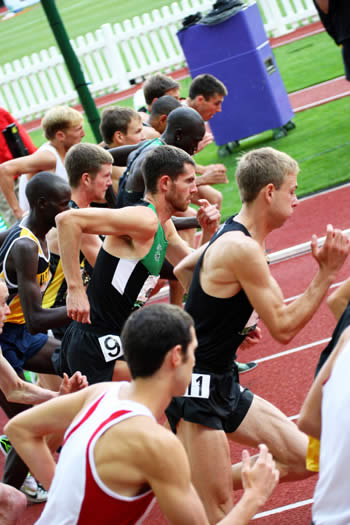 ow, this man who has lived out all of my teenage athletic dreams—this man whose name I've known for sixteen years, but who is still, to me, somehow, the freshman—is sitting across the table from me telling me he's probably at the end of the line. Ian Dobson is tall for a distance runner, six-foot-two, but the kid I once found so intimidating is warm and exhausted in person. There are stacks of dirty dishes in the kitchen and a kind of scholarly disarray hanging over everything. I'm sort of amazed he's welcoming a stranger into his home at a time like this. In the corner of the living room, a tower of Nike shoeboxes rises over at least twenty pairs of running shoes. When I use the bathroom, I notice a notepad with names and numbers sitting above the toilet. Julia is at the bottom, the numbers 23 and 15:08 next to her name. I'm guessing this means she's the 23rd fastest American woman ever at 5000 meters. I get kind of shivery just seeing it in front of me. 23rd fastest ever. They are the only couple competing for spots on the US Olympic Team in the same event in track and field this year. They have the rest of their lives to worry about housekeeping.

We're drinking strong dark beer out of mason jars and settling into the weirdness of having a recorded conversation. I can see right away that I've gotten lucky. Dobson is a talker, and speaks in the same kind of semi-articulate bursts that I do, peppering his language with it's like's and I mean's, stretching his memory out on the table for us to pick over. "We're in a unique career," he says. "You know that at some point when you're pretty young, you're going to have to change directions." He explains that his contract with Nike expires at the end of the year. No matter how he does at the Trials, his plan is to "at least in some way run through the end of the year and honor that." Just a few years ago, Adidas paid him nearly six figures a year. The Nike deal isn't in that neighborhood, but Dobson is quick to acknowledge how fortunate he is to have spent the past seven years getting paid to run. "It's not going to be like some grand retirement," Dobson says. "Nobody cares anyway."




xcept for the people on letsrun.com.

Whatever happened to Ian Dobson? Every year or so someone resurrects this thread on letsrun, the popular distance-running website that is equal parts nerdy minutiae and adolescent jealousy. On letsrun, runners are attacked for their hairstyles, their spouses, their injuries, their training regimens. Dobson—who is perhaps best known in this world for his marriage, and second best known for his inconsistency—collects all sorts of vitriol when he's the subject of message board hypothesizing. "anyone heard anything lately about what Ian Dobson's up to?" asks one message boarder. "185 pounds," is the first clever response. "is it me or does julia sort of look like dobson when he was younger?" asks another message boarder. "and shouldn't we be a bit creeped out by that? I mean he is hitting a similar version of himself." Ian and Julia might be the Jay-Z and Beyoncé of almost-famous distance runners. The feeling you get, reading through these comments, is that the only way for Dobson to please these people would be to live a monkish existence at high altitude and run every race like it's his last. There's this grotesque idea hanging over the message board that he should be apologizing for his superior genetic material or something. It's hard not to wonder what type of person is posting these comments. A lonely virgin in his dorm room? An assistant coach parceling out his tiny stipend?

Sometimes, in my less generous moments, I wonder if it might be someone like my brother.




he Trials are something of a family tradition, if doing something two times in a row can be considered a tradition. It's really my father and brother who follow the sport. How often do you go to letsrun? I ask them. "Almost every day," my brother says. "Depends on the time of year," my father says. How often do you go to letsrun this time of year? I ask. "Oh," my father says, "maybe four, five times a day." Do you ever post on the message boards? "Never," they say. But it's clear they spend time on the message boards. And judging by their reactions, certain athletes—the biggest underachievers—are deserving of the insults. Alan Webb, for example. Alan Webb—former wunderkind, 3:53-miler in high school, American record holder, subject of ridicule for his weight, hairline, demeanor, and notorious lack of confidence—gets a lot of chuckles.

My brother is two years older than me, and the reason I started running. The first meet I went to, when I was still in middle school, I got all emotional watching his teammates finish. People I didn't even know! They were just trying so hard. Everybody was so into it. And the team was coed. There were girls. Every day at practice: girls. And on top of that, to be one of the best, to be on varsity, to be him—it looked fucking great. Going into his junior year, my freshman year, he was the top runner on our team. But in the first race of the year, someone pushed him into a tree. He was too banged up to race for most of the season. While rehabbing, he started partying. He partied with as much dedication as he ran, and by the time he could race again, it was someone else's team. We had a new #1.

I can't help but wonder how fast he would have been without the tree. Would he have stayed in college? Would he be keeping such close tabs on the people he used to run against? Would he be as critical of someone like Dobson—someone who has never quite lived up to his expectations?

When my brother makes a decision I don't understand, I try to think about the tree. When he drops off the map, like he did two years ago, I try to think about the tree. But the night before the Trials began, his first night back in my life, when we were standing in my backyard with a party vibrating around us, and I told him how angry I was with him for not returning my calls for the past two years, I did not think about the tree. I stood there drinking the beer he paid for, and I thought about myself, how much more fun I would be having if he were not there, and when he left, I went ahead and had that fun, and when I woke up, I thought about my hangover, and then the tree.




an Dobson's professional career will be remembered for two races. Both races took place on the biggest possible national stage. In 2005, just out of college, he and his close friend and training partner Ryan Hall (now America's best marathoner) emerged from a deep field to finish second and third in the national championships, setting their personal bests in the 5000 meters and qualifying for the world championships. Dobson still seems utterly amazed by this race. The field allowed the two of them to latch on to the favorite, Tim Broe, and build a big lead, never expecting them to be able to hold on. But with only a couple laps to go, Dobson and Hall still had a ten second gap on the runner in fourth place, and Dobson realized he had a chance to make the team. Until then, he'd been telling himself he was at the front in order to set the pace for Hall, expecting at any moment that he himself would tire and fall back. What was it like once he saw that he was going to make it? "That's when it got fun," Dobson says, and laughs.

The other race was at the 2008 Olympic Trials. I was at that race. It was one of those classic situations where the pace got increasingly frantic over the final mile, and the field kept shrinking, until five guys were ther with a lap to go.

"My weakness as a runner is kind of giving myself outs," Dobson says. "Telling myself, Oh, all I really need to do is this. It's a really mentally weak way of running, and I do that a lot. But the Trials is so easy for a guy like me to run—you don't have that out. You run probably the way guys who are really good run all the time."

I think to myself that there must be runners out there saying the exact opposite thing: it's the fact that guys like Ian Dobson are at their best at the Trials that makes them so difficult. But I manage not to interrupt him. And then I think, Did he just say, Guys who are really good? A guy who has run 13:15 for the 5k, which works out to 3.1 miles at a 4:16 pace, a guy who ran in the Olympics, is making a distinction between himself and guys who are really good?

"There's almost something missing from guys who can do that," he says. "They're able to run stupid. You can spot them. Guys who love to get drunk. These kind of crazy guys. It's what we're all trying to do, but I'm just too cerebral. It's really gotten in my way."

But you've run that way before, I remind him. I've seen you run that way!

"I remember those races being very, very hard—even wanting to drop out," he says. "And I think that's a normal thing. But I just had momentum in my life. In 2005 I was finishing school, I knew I was going to have a professional career, I just had all this energy. And in 2008, Julia and I had been dating for a short time. Just really an exciting point in our relationship."

He speaks of these races as a kind of "emotional honesty," and I begin to suspect that I'm dealing with something I don't entirely understand.

"In running, there's just not really luck," he says when I ask him what he would write about if he were writing the article. "It's about putting yourself in this place where you're willing to push in a way that's not normal."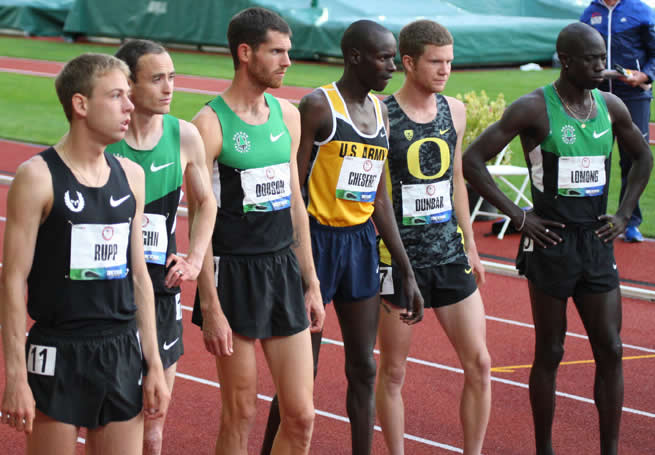 I ask Dobson what he thinks his chances are of making the 2012 team. In the back of my mind, despite the fact that I have assured him that this will "not be a typical sports piece," part of me is of course hoping he will astonish everyone and beat out one of the three favorites: Galen Rupp, Bernard Lagat, or Lopez Lomong, all of whom are serious medal contenders in London. It would take something extraordinary for Dobson to finish among them. And this time around he would have to do more than finish in the top three—he would also have to run the race in under 13:20, the Olympic "A" standard for the event. The standard is the Olympics' way of keeping the fields small and world-class. Even if a runner finishes in the top three of a country's qualifying race, if the runner hasn't also run that race below the standard time during a twelve-month window leading up to the trials, the runner doesn't qualify for the Olympics. At the 2008 US Olympic Trials, for instance, Dobson came into the final having already broken the standard, so he didn't have to care if the final itself went slow or fast.

Championship distance races are notoriously slow and tactical. Typically, the contenders have all broken the standard already, and they're just concerned with finishing in the top three. To run a time like 13:20 at the 2012 Trials, though, Dobson would probably have to set a fast pace himself, right from the start, and also leave himself enough energy to somehow outkick one of the big three. It's worth noting that the Olympic Trials record for the 5000 meters is held by Steve Prefontaine. Unbroken for the last forty years, it's one of the oldest records around. It's also two seconds slower than this year's A standard.

Dobson shakes his head. "You have to ask yourself," he says, "are you running it to make the team, or are you running it to try to run well? The reality is, unfortunately, I am just trying to run well."

I ask him about his workouts, how they compare to the workouts he ran in 2008. Despite four years of injuries and disappointing races, it sounds like he's not far off where he was. His training partner, Sam Chelenga, has run close to 13 minutes in the 5000 this season. To me, this sounds like excellent news: Dobson must be in shape to run close to 13 minutes, too.

"The problem is, they should feel a certain way," he says. "This is my problem with running. If I was Sam Chelenga, Sam Chelenga doesn't care how they feel. Sam Chelenga's like, 'Yep, did it, great, done, perfect, let's go home and watch The Office.' And I'm thinking, 'Well, I did that workout, but I was running hard.'"

I wonder how long he's been talking this way. A part of me thinks that if I can point this conversation in the right direction, I'll plant the small seed of optimism that will turn this week into something special. I suggest that running is mathematical.

The Freshman tries to rub the creases out from between his eyes. "Well, it's not mathematical," he gently corrects me. "It should be mathematical, but it's not."




his year's Olympic Trials are being held at Hayward Field, in Eugene, Oregon. We're sitting in section U, the towering, uncovered bleachers just south of the finish line. Hayward Field is the Fenway Park of track and field: no matter how much Nike money goes into remodeling it, the idea is that in Hayward, it should always feel a little like 1972. For one, the final curve has a name: "the Bowerman Curve." Named for Nike cofounder Bill Bowerman, it's where most of the drama starts in the distance races, and one of the great pleasures of being at Hayward is hearing the announcer say, "And now, coming off the Bowerman Curve … " Other than that, the East Grandstand is probably the greatest feature of Hayward: it's right on top of the backstretch. When runners come around the first (unnamed) curve, people in the first row reach over the wooden barrier and bang their hands against the wood, while everyone behind them claps in unison. Before the races that start on that side of the track—the 5000, the steeple, the 200—the crowd gets all worked up for their heroes. Locals like Ian Dobson and Julia Lucas have a distinct advantage. At the Trials, they'll have to keep straight faces while they are showered with Come on, Ian's! and Get after it, Julia's!


I'm trying to get my family to rally behind Ian Dobson. We don't always root for the same people. Sometimes our different tastes in athletes are treated like character flaws. Four years ago, my brother was pissed at me when Dobson made the Olympics. His favorite runner, a ballsy Midwesterner named Chris Solinsky whose career has been derailed by injuries, ended up fifth in that race. My father was dismissive, saying, "Dobson probably won't even get out of the first round in Beijing." My father was right, but what I'm trying to make them see this time around is that it's okay to root for someone who's not going to win. My mother's just trying to keep all the names straight. I think we're all a little relieved to have something small to argue about. The big stuff can wait.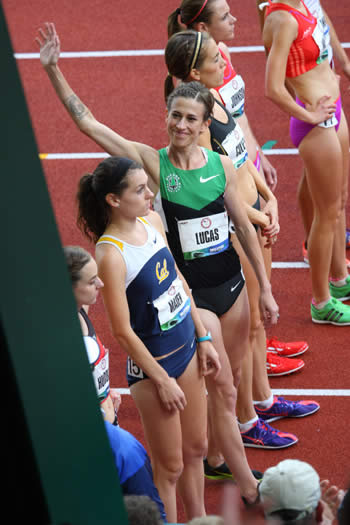 Julia Lucas runs her 5000-meter semifinal about an hour before Dobson runs his, and I know he must be somewhere in the warm-up area, watching her on a screen. For both the men and the women, sixteen runners will qualify for the finals. There will be two heats, from each of which the top six finishers will automatically qualify, and then the runners with the next four fastest times overall will also be added to the final field. The 5000 is twelve-and-a-half laps, and for the first seven or eight, Lucas runs in last place. I've never seen her run before, and I'm extremely anxious about her tactics. She looks tentative, like she's not really engaged with the rest of the pack, but moves up patiently over the last few laps, takes the lead with 600 meters to go—her heels flicking effortlessly off the track—and then coasts through the finish line, easily qualifying for the final. So this is how she runs.

The first men's heat follows, and with a few laps to go, Dobson and the other runners in the second heat are led out onto the track. They walk single file in lane eight. Dobson is the only one who seems to be keeping tabs on the first heat. He watches that race unfold across the infield while the others stare straight ahead or nod at people in the stands. Running in the second heat is an advantage: second-heat runners know the "bubble time"—the fastest non-automatic qualifying time from the first heat. Dobson pays close attention to the bubble time, which turns out to be 13:50. He'll try to run slightly faster than that. If he does, he'll only need to come in tenth to qualify for the final—and there are only eleven men in his heat. The gun goes off.

"Which one is he?" my mother asks when the runners swing past us.

"He's in front!" I say. Twelve laps to go.

To run 13:50, Dobson needs to average between 66 and 67 seconds per lap—roughly 4:27 per mile—for just over three miles. Totally doable. Dobson is the tallest runner on the track, but in a sport that's been dominated by glimmers of men from East Africa for the past few decades, he doesn't look out of place. Despite the past few years of disappointment, he still runs beautifully. His head and torso stay extremely still while his legs gobble up track. Poised is the word that comes to mind. At this level, it's all just different types of weightlessness. Bernard Lagat, the man with the shaved head who is running on Dobson's shoulder, half a foot shorter and, at 37, the oldest in the field, leans forward at the waist, his legs wheeling beneath him cartoonishly. Since getting his citizenship seven years ago, Lagat has been America's most feared distance runner. Kenyan-born, he has broken records, won world championships, and possesses legendary closing speed. The only way he isn't making the team is if he falls.

Dobson takes the field through the first lap in 67 seconds, right on target, and after a second lap in front, a runner named Ben True takes over. Dobson settles in behind True, and for the next eight laps runs comfortably at under 13:50 pace. I keep hoping for someone to lose contact, but with three laps to go, everyone's still in it. The race is moving towards the moment I always watch for—the moment when things get serious. I know we've arrived when Lagat and Lopez Lomong—the Sudanese refugee whose Visa commercial (narrated by Morgan Freeman) will make him famous this summer—who have been running side-by-side right behind Dobson, suddenly swing past him. And they are not the last to do so—over the next lap, all but two runners pass Dobson. "Shit," I say. "Shit shit shit shit shit shit."

Dobson's still running smoothly, but he's just not keeping up with rest of them. "Awww," my mother sighs. The two guys behind him are cooked. Dobson's all alone out there. With a lap to go, my brother cheers loudly for the front-runners, then somewhat self-consciously and under his breath says, for the first time, "Come on, Dobson!" If I wasn't so worried about Ian's chances of making the final, I'd be pleased with this small victory. Lagat and Lomong fly down the backstretch, towing the other six runners in the lead group, all of whom will easily qualify for the final. Dobson is about 30 meters behind them. The gap between the lead group and Dobson hasn't really widened over the past lap, but if it begins to grow, we'll know that he's cracked. Selfishly, I think to myself, This can't be it for him. If he doesn't make the final, what am I going to write about? We're watching the clock and we're watching him and we're watching the gap. He's doing what he does best, and looks strong down the homestretch, but it's going to be very, very close. When Dobson crosses the line, we look at the time: 13:49. Two seconds slower, and he would have been out. The four of us giggle, relieved. "It's like having a family member out there," I say.

"I don't think you're supposed to get this involved with your subject," my mother says.




hat night, heading back to Portland, the towering gray cloud that has been sitting on the edge of Hayward truly and completely opens up. I'm listening to the audio I recorded during Dobson's race, but keep having to pause it because the rain is so loud on the windshield. It's kind of embarrassing to hear myself cheering. I'm glad none of the other drivers know what I'm listening to. The surface of the interstate is so wet that every time I pass a semi, it's like driving through a carwash. It takes maybe half an hour of stops and starts to get through the race. Finally I'm clear of the storm, and through the cracks in the clouds I can see the sun sinking over the Coast Range. Maybe Dobson is saving himself for something magical during the final on Thursday. Maybe he ran the smartest prelim of any of those guys. He knew the time he had to run, and he ran it. There was no need to go any faster. And now, who knows?

"Looking back at the times that things have gone really well for me," he told me, "they've been really exciting times in my life." He said this with a mixture of awe and regret, like he didn't expect he'd ever feel that emotional again before a race. But what could be more emotional than being on the track when your wife qualifies for the Olympics?




hree days later, my brother and I park at South Eugene High School and get in line for the shuttle to Hayward. It's mid-afternoon and the clouds are building, but so far, we haven't had to unpack our ponchos. Just a few blocks from here, Ian Dobson and Julia Lucas are at home, distracting themselves from the enormous efforts they'll be putting forth tonight. As if there's not enough to be nervous about, they'll be running back-to-back: the women's and men's 5000's are the final events of the evening.

Earlier, over Facebook, Dobson explained to me his race-day routine. "Because I grew up without tv," he wrote, "I have an enormous appetite for bad daytime television." What are they watching? These days it's Game of Thrones. In a couple hours, he'll drop Julia off at the track. "Some people get sort of clever with finding someone to drop them off," he confessed, "but I prefer not to have to count on anyone else for anything even if it means having to park ten blocks from the track."

What are his thoughts heading into the final? "With three or four laps left," he wrote about the prelim, "I could do the math and see that 13:50 would be very doable. I was surprised when everyone started moving around me because we really just needed to maintain. That said, I did struggle. Physically I didn't feel great, but more than that, I was really questioning what I was doing out there. It's never good to have much of an inner dialogue in a race and I have a very lively one. I started questioning if I really wanted to even make the final … like am I just going to get absolutely crushed and embarrassed? Fortunately I held it together enough to qualify and I'm really glad I did. I know my chances of making the team are almost nonexistent, but I'm going to stick myself in the middle of the field and just cover all the moves I can. I really don't know exactly what would be a successful race, but I think I'll be happy if I finish in the top eight or so. Julia cruised through her prelim pretty comfortably … she's the priority today and I'm hoping to take some energy from what I think will be a great race from her."

I'm paraphrasing this stuff for my brother while we're standing in line for security. Dobson's going to stick himself in there! I say. My brother laughs and shakes his head. There's still plenty of time to make him into a believer. We're stuck in a very long line. In fact, the Hayward Field attendance record is in the process of being broken—nearly 23,000 people will be in the stands. I admit that I'm actually more nervous about watching Julia than watching Ian. It's just, he's so confident in her, I say.

"She's the favorite," my brother say. "She should be confident."

"Still," I say, "she has to go out there and do it."

"Only four other women have the A standard," he says. "She just needs to let it go slow and beat two of them. She doesn't even need to finish in the top three."

"It sounds like she wants to win," I say.

"I hope so," he says. "It's stupid when they don't."





---

Michael Heald is the publisher of Perfect Day Publishing. His writing has appeared or is forthcoming from the Los Angeles Review of Books, Silk Road Review, Swap / Concessions, and 580 Split. His debut essay collection, Goodbye to the Nervous Apprehension, will be out later this year from Perfect Day.