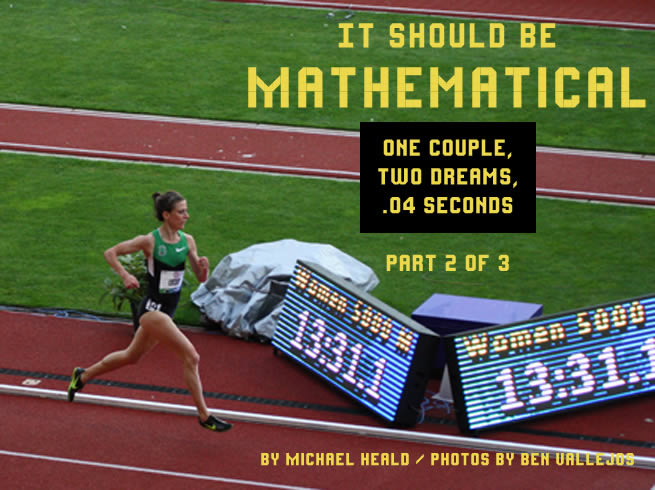 Missed part one? It's here:


e join our parents in Section U just as the 1500 prelims are getting underway at the 2012 Olympic Trials. I've got a thing for Morgan Uceny, fastest in the world last year at this distance. She got tripped at the world championships with a lap to go and is unapologetically out for blood this year, but what I really like about her is her neck. It's a stronger-than-average neck, and she's got the perfect necklace for it, bright and colorful. I ask my mother if she's remembered the binoculars.

"Dear," she says, "did it occur to you that I could have used a reminder while we were back in Portland?"

"It did," I say, "but I was just so busy."

"Maybe if I'd had some help in planning the menu for the entire weekend," she says, "I would have remembered the binoculars."

"Okay," I say.

My brother asks if I want to grab a beer. I don't. When he heads off, my mother leans over and asks how it's going with him. "I can always tell when the two of you are getting along," she says. "You stop talking to me."

I don't say anything one way or the other. I mean, we're not getting along that well. It's not like sitting up here bullshitting about a bunch of runners with him is going to erase two years of hurt. It's not like I've forgiven him already.

Meanwhile, Uceny qualifies easily for the semifinal. Turns out the necklace she's wearing is a candy necklace.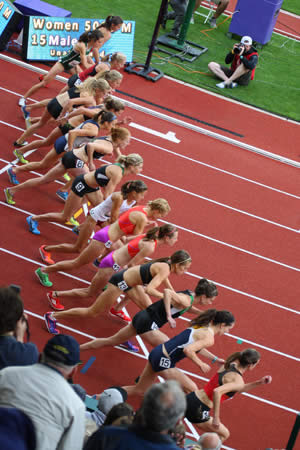 Some other things happen, such as I forget to eat, and before I'm really ready for it, we've arrived at the women's 5000. Of the sixteen women in the race, only five have the A standard required to make the Olympic team: Molly Huddle, Lisa Uhl, Julie Culley, Liz Malloy, and Julia Lucas. One by one, they're introduced and wave to the crowd. "Wearing hip 14," says the announcer, "running for Nike and the Oregon Track Club, Julia Lucas." The gun goes off and the runners stream out across the track.

The A standard for  the women's 5000 meters is 15:20. There's a possibility that the eleven women without the standard will work together to go after it, but they'll need to be running 73's and 74's—4:56 miles—and from the beginning, they're not quite on target. A runner named Kim Conley takes the lead, and to her credit, she keeps the pace close, but she's running 74's and 75's and the occasional 77. Finishing under 15:20 is looking less and less likely. Lucas seems content to spend the first thousand meters situating herself in the pack. The math is on her side. As long as 15:20 doesn't happen, Lucas is basically running in a five-woman race.

"Where is she?" my mother asks.

"She's on the inside," my father says, "a good position."

About five laps in, I start to get antsy about Lucas's position. I'm afraid she's boxed-in. "You don't have to worry about being boxed-in yet," my father says. I know he's right. I try to relax. You're here as a reporter, I remind myself.  "Your thoughts so far," I ask my father.

"This is amazingly wet," he says from under his hood.

"It's not that wet," I say.

My father just raises his big eyebrows, like Oh?

"Come on," my brother says, "somebody take this. Who wants to make the team?"

Dobson is somewhere under the west grandstand, watching the race on a screen. I wonder if he's even warming up.

The runners round the Bowerman Curve for the ninth time and enter the home straightaway. "Still a tightly bunched group of sixteen women," the announcer says. It's like he's trying to provoke them, and what's so great, what's so wonderful about racing, is that nobody needs to provoke them. I don't think there is anything in sports more exciting than the final mile of a championship 5000. The first eight-and-a-half anxious laps bear about as much resemblance to the final four as a sunflower does to Van Gogh's painting of one. This thing that has seemed totally intact reveals itself to have been made up of sixteen unpredictable pieces. They're all trying to get to the same place, and they're all going to get there differently—it's going to happen. It's not like a three-pointer at the buzzer, or a two-minute drill. It happens every time. You can count on it.

"There we go," my brother says.

"Who is that?" I say.

"A mile to go," my brother says. "Huddle."

Molly Huddle is the American record-holder, and, other than Julia, the most likely candidate to make the team. She's got this bounce to her stride, this easiness I find alarming. "Julia," I say, "cover that, come on." With Huddle accelerating, the pack starts stringing out, but there's no real separation yet. Theoretically, everyone's still in it. About five or six women, including Lucas, look completely engaged with what's happening. The rest look kind of like the cyclists in The Triplets of Belleville. This is how it goes for the next lap, until, coming off the Bowerman curve with 1,300 meters remaining, Lucas moves alongside Huddle. "Julia Lucas now challenging for the lead," the announcer informs us. But already, before the announcer's words have really registered, challenging for the lead has turned into something else.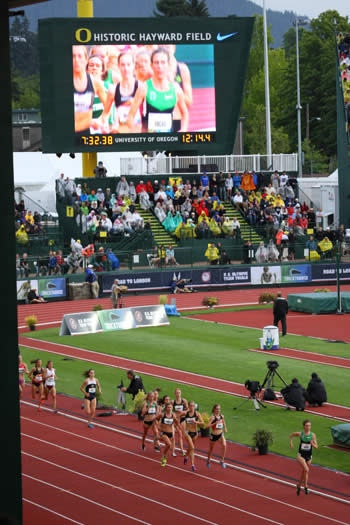 This is Julia Lucas's fourth 5000 in four years. If that seems like a low number of races for a professional to run in her specialty—one per year—that's because it is. One per year in your specialty is pretty much unheard of. Viewers tuned in to the Trials on NBC are learning that Julia has suffered seven stress fractures over the course of her career. That everyone—her coach, her family, Ian—told her it was time to move on. That she nearly quit running. Her career was basically over. And then, one morning last year—and here, the camera pans down and lingers on her shins, her spiked feet dancing off the red track—one morning last year she went out for a run, just to see how her body would feel, and there was no pain. And no pain the next day, or the next, and here she is, ten meters ahead of American record-holder Molly Huddle. And you'll think to yourself, Please let that woman win.

Three laps to go—a classic spot in the 5000 to make your move. The kind of move Steve Prefontaine used to make, a move that says, If you want to be there with a lap to go, you're going to hurt. Lucas now has twenty meters on Huddle. It's like Lucas can't stand the pace she's been running, like she's disgusted by how cautious she's been. Behind Huddle, the string is snapping. Gaps are opening up everywhere. There are five women left in the race. The other eleven are off the back, running for pride now. It's a totally badass move. My brother is starting to feel it. "She ran a 25 second PR this year," he says, laughing. PR means personal record, and 25 seconds is absolutely nuts. It was her one race of the year—the one that gave her the fastest time in the country.

Two laps to go. Below us, a crowd of brightly-colored bodies fills the doorway beneath the west grandstand: it's the men, ready for their own 5000 meter final. My mother wants to know who these women are strung out behind Julia, which ones we need to worry about, and we're going through them one by one, telling her who has the A standard and who doesn't, that it looks good for Lucas because already two of the five with the standard have fallen off the pace, so now the top three standard-holders are pretty much locks to make the team unless the race goes under 15:20, which isn't going to happen. We're rattling through these names and the numbers, but more than anything, we're keeping an eye out for Dobson.

The race official leads the men single-file onto the track. No sign of Dobson. Where is he? Maybe he's still under the grandstand, glued to the screen? Could he have decided not to run? I'm about to say something dickish to my mother about how nice it would be to have the binoculars when I finally spot him. He's still in the doorway, wearing a gray t-shirt, his hands on his head. The race official is yelling at him to catch up. Without acknowledging the official, Dobson takes a couple shaky steps out onto the track. The other runners are staring daggers at the backs of the skulls in front of them, but Dobson's looking across the stadium at his wife. My brother and I start giggling. I feel a little crazy inside, like I might start crying. It's like watching the groom's face at a wedding when the bride comes out, except I've never seen a groom look quite so in love. Ian Dobson is standing by the finish line, his hands on his head, and his wife is circling towards him, and my brother can't stop giggling. He sounds like he's thirteen years old. Maybe that's what's choking me up.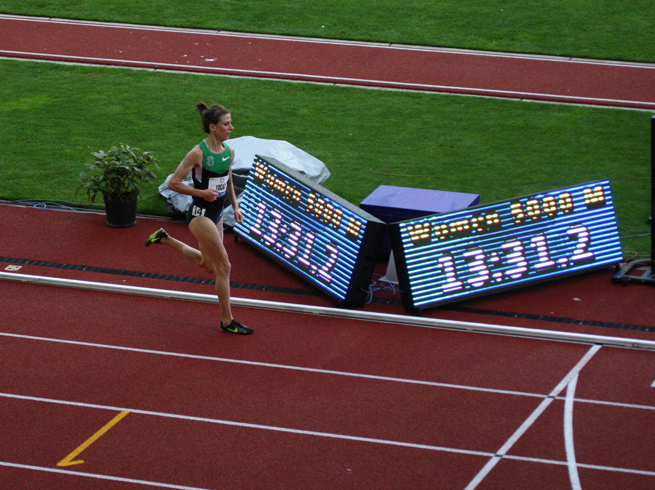 One lap to go.

Dobson is finally following the other men toward the starting line. He's in lane seven, though the rest of the men are walking in lane eight. The women are running in lane one, and for a couple seconds, as his wife passes Section U for the last time, Dobson is the closest person in the stadium to her. His hands are balled up, and he's pumping them up and down, and around his skinny wrist his watch suddenly looks enormous. There are six lanes between them. Three quarters of a lap to go.

Down the backstretch, a tiny hitch creeps into Lucas's stride. Or maybe the hitch is just in my imagination. But her knees don't seem to be snapping up as smoothly, and she's doing a little more with her arms than she should. Molly Huddle and Julie Culley, running in second and third, are slowly but surely closing the gap, and hunters always look stronger than their prey. Lucas's twenty-meter lead becomes fifteen, and then fifteen becomes ten. Then ten becomes five. And then it's gone. "One half lap to go," the announcer says.

Lucas tucks in behind Huddle and Culley. She's not out of it yet, we tell each other, she could still win this thing, but as they round the Bowerman Curve for the final time, Huddle and Culley start pulling away. Lucas is running for third now, which is fine—third is still the Olympic team. But now, just in case, our focus is shifting from the runners in first and second to the runner in fourth: Abbey D'Agostino, a sophomore from Dartmouth College who has become one of the darlings of the meet. But D'Agostino is so far back—25, 30 meters—that even though she's moving pretty well, it feels a little ridiculous to worry about her. And she doesn't have the standard.

100 meters to go. The homestretch. This final lap is taking forever. The hitch in Julia's stride is now a wobble. She's having trouble lifting her knees. "Come on," my brother yells, his voice starting to break, "finish it."

D'Agostino, her head rolling from side to side, closes to within fifteen meters, and now she's ten meters back, but now she's got a hitch in her stride. D'Agostino isn't getting any closer, but Lucas's body is really failing her. She can't seem to stretch her legs out anymore. Every stride is maybe a third the length of what it should be. She's barely moving. The finish line is right there, but it feels further away than it has at any other point during the race. I don't know which one of us sees it first, but suddenly we all do: someone's flying up on the outside, someone we thought was completely out of the race, passing D'Agostino, closing in on Lucas. It's one of those horrific slow motion things where you can see exactly what's going to happen way before it happens. They're going to get there at the same time.

On one side of me my mother is pleading for this not to happen. My brother's on the other side going, Oh my god, holy shit. In the middle, my father and I are silent. I feel like we're screaming, but we're not.

In those last 50 meters, we're all completely vulnerable. We're all right there. And I wish we could always be there, wanting something so badly, wanting it together, even if it's always going to end the same way: the other runner lunging at the line; Julia on her knees. Fourth place.

"No," my mother moans.

"Holy," my father says.

"What's the time?" my brother says.

Oh my god, I think, the standard.

23,000 people wait, together, for the time. This is not what 23,000 people usually sound like. Ten, fifteen, twenty seconds pass. It's really spooky in here.

"Kim Conley," the announcer finally says, breaking the spell, "finishing third, with a time of 15:19.79. Ladies and gentlemen, she just got the A standard by 21 hundredths of a second, and makes the team, joining Julie Culley and Molly Huddle. Unbelievable. Here's the finish on Trackvision."

The replay of Kim Conley crashing past Julia in that final stride. The collective moan. "Oh my god," I say, "just didn't lean."

Kim Conley can't believe it. She's staring at the screen. We're all just staring at the screen. Finally we manage to put our hands together. Kim Conley has people out there, too. She ran a great race. There's no villain here. Track and field isn't that kind of sport.

All the times are up on Trackvision now. Julia Lucas ran 15:19.83—four hundredths of a second slower than Conley. She missed the Olympics by four hundredths of a second.

"Look at her down on the track, Mike," my mother says.

She's still on her knees. Seven stress fractures. Four hundredths of a second. Four more years. Fourth place. In four years, she'll be 32. Dobson was wrong. It's totally fucking mathematical.

"What do you think Dobson's going to do?" my father asks me.

"Ian's got to run right now?" I say.

"Where is he?" my brother asks.

"How do you do this right now?" I ask. "How do you do this?"

"This is what the sport is, though," my brother says.

"I don't see him warming up," I say.

"Sorry, Mike," my brother says, putting his hand on my shoulder.

"Oh no," I say, finally spotting his gray t-shirt across the track. "He's just standing out there."




t's the big story on letsrun. "This is what the Olympic Trials are all about," the experts tell us. "If you were at Hayward Field on Thursday night, in twenty years there is no chance you will have forgotten watching the battle for third." Moments after the race, one of the founders of letsrun starts the "Official Julia Lucas Appreciation Thread" on the message board. But for every heartfelt comment praising her gutsiness, someone calls her "stupid" or makes fun of how she looked during those final 50 meters. "HER RUNNING FORM IS DISGUSTING," says one message boarder. "ANNOUNCER SAYING, '9 STRESS FRACTURES'... HMMM I WONDER WHY... YOU LOOKED EVEN WORSE IN THAT SLOW MO WHEN CULLEY PAST YOU... I DON'T FEEL BAD... FIX YOUR GROSS RUNNING FORM." Another message boarder bluntly states, "horrible tactics. she could have saved the race by simply falling through the finish line. she'll never forgive herself."

The brutal truth of the matter is that if Lucas hadn't gone to the front so early, hadn't taken it so hard, it would have been extremely unlikely and probably impossible for Kim Conley to break 15:20. Lucas's tactics kept her out of the Olympics. There's no way around that fact.

Traditionally, the fourth-place finisher, especially in a race as devastating as this one, will avoid the media, but Lucas talks to them for nearly six minutes. She explains that she wasn't feeling as strong as she had hoped, so she didn't feel confident about waiting until the last lap to make her move. A long, extended push seemed the way to go. She admits that when she crossed the line, she thought she'd held on for third. "But you can't sneak on a team that way," she says. The media suggest that maybe she was feeling some pain in her legs—maybe this was brought about by an old injury? "I have no pain," she says. She looks amazed, like she's having trouble swallowing. Like she's waiting for someone to whisk her away. Someone like Ian. But he's out on the track with his own twelve-and-half laps to get through. In fact, during the interview, you can actually hear him being introduced. "In an Olympic year, the standard of success is whether you make the team," Lucas says. "And I didn't. My season is a failure."

Ian Dobson finishes fourteenth out of sixteen in what was presumably his final race at Hayward. His time is 13:51, two seconds slower than his prelim. He comes across the line nearly thirty seconds behind the winner, Galen Rupp, who in his thirteenth attempt finally beats the ageless Bernard Lagat in a furious battle down the stretch, breaking Steve Prefontaine's forty-year-old meet record in the process. Dobson is never a factor, although he hangs in the pack for the first five or six laps and does beat two guys, neither of whom are married to Julia Lucas. The Freshman runs 13:51 with his heart absolutely shredded. 4:27 miles. Three of them.

At his own post-race press conference, he barely acknowledges having just completed what might be his final professional race. He keeps coming back to his wife. "I thought she could do that," he says. "I don't think there was a person out there who thought that was a crazy move. But she was running for the win. And those women beat her today. Hats off to them." The media want to know if he's seen her yet. "No," he says. The media want to know what he's going to say to her when he sees her. Dobson is covered in sweat and rain. He is doing his best to answer questions nobody should have to answer. "Julia's my wife," he says. "I just wanted her to make that team so bad. That's the most heartbreaking way to lose an Olympic spot. And she had it. And she just … didn't finish it."




t's the morning after, and we are gathered around the breakfast table watching these interviews on my father's laptop and my brother's iPad. We are monitoring the message board. We are watching the replay on nbcsports.com. It's just as unbelievable as it was last night. We keep pressing refresh like it might change the results or something. There's still that moment on the homestretch where D'Agostino stops gaining on Lucas, where everything seems okay, like she's going to make it. There's still that moment, one lap earlier, where you can see Dobson, out in lane seven, calling her name.

I'm sitting with his Facebook page open in front of me. I'm staring at the big black-and-white grin on his profile pic. I keep clicking on "message," keep trying to start one, and I keep erasing what I write. Hey Ian, Hi Ian, I'm so sorry, we're so sorry. I erase and erase, but finally, when it's almost time to go back to the stadium, with my family calling my name from the doorway, calling my phone from the driveway, telling me we're going to be late, we're leaving without you, I stop erasing.



<———>

---

Michael Heald is the publisher of Perfect Day Publishing. His writing has appeared or is forthcoming from the Los Angeles Review of Books, Silk Road Review, Swap / Concessions, and 580 Split. His debut essay collection, Goodbye to the Nervous Apprehension, will be out later this year from Perfect Day.