Craft
Morning, AFternoon, Evening
Tony Wolk on Stafford, Le Guin, and Dailiness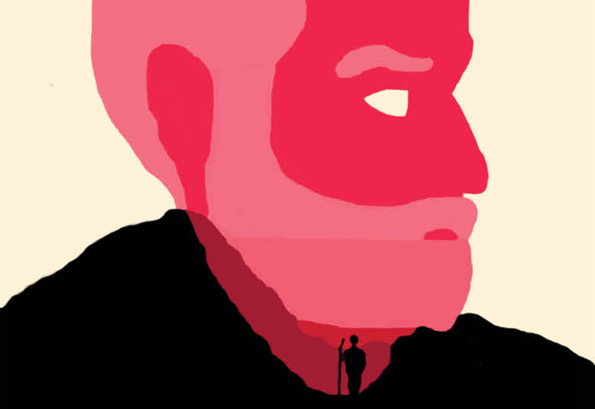 Part 1 | Part 2 | Part 3

This is the third and final part of an interview with Tony Wolk, author of the story collection The Parable of You.

Dan DeWeese: You say you were working on these stories "From 1950 till now, with the exception of 1958-1975 when English departments had me in their death grips." Seventeen years is a long span of time. What kind of death grips did English departments have you in? And how did you escape? What happened in 1975 that allowed you to start writing again?

Tony Wolk: Fun questions. The first being how unnatural it is not to encourage writing in courses about writers—who would want to learn the fine points of golf without playing golf? Or a music major not playing an instrument? The second question is like an off-shoot from the first. It took a writer—Ursula Le Guin—to bring me back to writing.

I began writing when I was about 13, little poems like Some things stain the back of a turtle / I don't know if durtle. And, Two things to remember / when voting next November / Vote slyly and be cunning / But most of all don't vote for me / Cause I'm not running. Or parodies of "My Favorite Squelch" in the Saturday Evening Post. I wrote fake geometry problems. Poems et al by the hundreds. Later on I graduated to what I called "Nonsense Exercises." Really I wrote just about every day, rushing home from school to write. At Northwestern I carried on, for myself and friends. Nothing world shaking, but I had an audience. My last year there I heard about a creative writing contest sponsored by the English department and judged by Wally Douglas. I submitted some of the Nonsense Exercises plus a short story with the title, "The Prince of Do," where the prince ends up with the princess of Don't. I ended up tying for 2nd place, with a special note that my award was for "Most creative imagination." For that I shared a $15 award, and promptly bought an abridged version of Sir James Fraser's Golden Bough at Crock and Brentano's. A few months later I joined the army as a six-monther. On the entry form where it called for previous occupation I wrote "Poet."

During my short stint in the army it occurred to me to study what actually mattered to me: reading and writing. I had graduated with a BSJ, J for journalism, my field of study devolving to Advertising, given that I had no interest in being a reporter but had some background, thanks to my family, in the business world. What I did next puzzles me: I applied to Stanford's MFA program, during the Wallace Stegner days. I even said I hoped to get a Teaching Assistantship! Mind you I had never taken an upper division English class, and had graduated with a 3.0 GPA. Guess who was turned down? I then applied for Northwestern's M.A. in English program. It made sense, of a sort. During my four years of indifference at Northwestern, I had under my belt thousands of hours reading everything under the sun.

Dan DeWeese: So what was it like entering an M.A. program in literature despite never having taken upper-division English courses?

Tony Wolk: Within a year I had taken nine courses, and earned seven B's and one C, in Chaucer. I think every course was in British lit except for a literary criticism class. The one course I loved was Richard Ellmann's Contemporary Lit seminar where all he said was pick a writer and read everything you can find, then report back. I chose Gertrude Stein, whose writing I loved. By term's end I had written a paper that Ellmann kept a copy of. The A in that class gave me a 3.0 GPA, which allowed me to take the comprehensive exams. I got the top score on the short answer part of the test which let me squeeze through. Marginal pass. I had my MA in English in one year. I smile to think about it. Audacity. Why did they accept me?

Memory tells me I had no time to write, other than write about.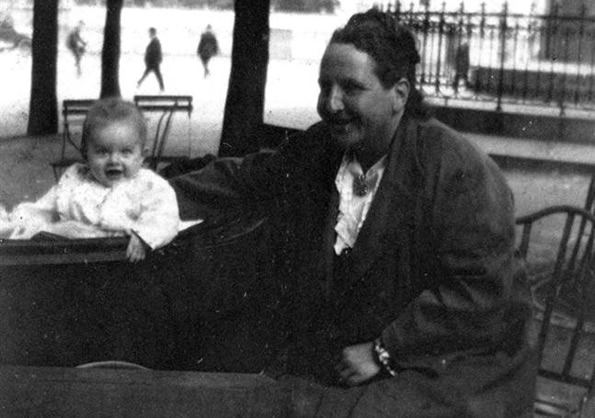 Gertrude Stein with Ernest Hemingway's son, Jack, in 1924.

Dan DeWeese: You said you entered the program because you liked to read. Did you have a sense of what you were going to do when you were done?

Tony Wolk: Along the way I had learned that all my classmates were in the MA program so they could become teachers. I was the exception, the guy who loved to read. Being quick on the draw, I thought, Maybe I'll become a teacher. Having finished sooner than I expected, I had no plans for the fall, and so I went home to Pittsburgh and worked in the family fur business, meanwhile finding rare volumes of Gertrude Stein thanks to rare book ads in the Times Literary Supplement. I also haunted used bookstores. Perhaps I wrote—I have my doubts. I did land a twice-weekly teaching gig at the Pittsburgh Institute of Mortuary Science (PIMS) and discovered I loved teaching. No one threw ripe fruit my way, though the students did play practical jokes on me. I remember the morning when I came back from break and found a skeleton with a lit cigarette in its mouth sitting on the stool behind the lab table that served for a desk—really it was a lead table with a well, and a plug, for draining blood. These days I say, If I loved teaching at PIMS, I'd love it anywhere. I still remember verses from the PIMS Fight Song.

That year off was wonderful for me—I got to know my father really well. Meanwhile, I was applying for teaching jobs with my MA via the Northwestern Placement Service. I ended up with offers from Miami of Ohio, Carnegie Tech, and the University of Nebraska. I chose Nebraska, mainly to get away from Pittsburgh. My contract said I would teach four freshman comp classes per semester. I also had to sign a Loyalty Oath! This was 1959, post-McCarthy days. I truly loved the teaching. Comp at Nebraska was a linguistics-based program, none of the traditional rules of grammar that require rote learning, given that they make little sense, such as "a pronoun is a word that takes the place of a noun." Just try fitting the pronoun I to that rule: Tony teaches at PSU/ I teaches at PSU.

What I didn't grasp until classes were about to begin was that I was now in a doctoral program with all expenses paid! Thank you, Richard Ellmann, for the letter of recommendation—this is Richard Ellmann, winner of the National Book Award for James Joyce, in 1960). I had lucked out.

Dan DeWeese: So what was studying literature at Nebraska like in 1959?

Tony Wolk: I had a brilliant office-mate: Les Whipp. I also worked with a marvelous young Chaucerian professor, Paul Olson, who had worked with D. W. Robertson, Jr., whose historical approach to lit still describes how I work with Renaissance writers like Dante and Shakespeare—even with Philip K. Dick and Italo Calvino. Actually, till I got to Paul Olson, I was still the naïve kid trying to figure out how to write a lit paper, which meant guessing what the teacher was looking for—which, thankfully, I never discovered. My own insights into the literature never matched up with the teacher's questions.

Also thanks to Paul Olson, I spent a year with Les Whipp working with O. K. Bouwsma in the Philosophy Department, Bouwsma having been a colleague of Ludwig Wittgenstein, who referred to Bouwsma as "the only American philosopher." We worked with Wittgenstein's Philosophical Investigations. I have a photo of Bouwsma sitting relaxed with a cherubic smile and his cigar, thanks to his grandson here in Portland. Amazing man. He let his doctoral students do all the work, whether the course be called Descartes or Kant. Whenever the inspiration struck, Bouwsma would write a position paper, same as the rest of us. What I was learning was "ordinary language" philosophy—a side-effect of which is having a sure-fire shit detector. No longer did traditional lit questions befuddle me. However artificial they might be, I'd transform them to something sensible and deliver the goods.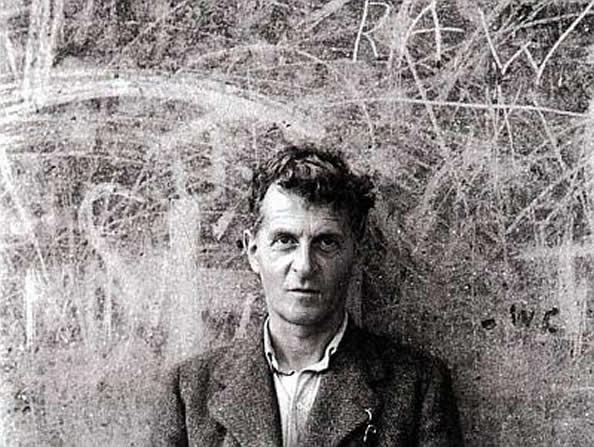 Ludwig Wittgenstein, photographed by Ben Richards in 1947.

I'd say I came out of that doctoral program already a teacher. I had a linguistic foundation, which stood me in good stead for writing articles on topics like lexicography and language bias for College English, English Journal, Research in the Teaching of English, as well as using my Robertsonian approach on As You Like It for Shakespeare Quarterly. I also ended up as part of a group of radical linguists from the Conference on College Composition & Communication, which included Shelley Reece, from Nebraska days and then at Portland State. We were "radical" in the sense that we had long since abandoned traditional grammar as the backbone of composition teaching, but more significantly, the SROL: the "Students' Right to Their Own Language" movement. Which in large part countered the notion that black people spoke and wrote a sub-standard English and our job was to bring them up to speed. We called ourselves the Conference on Language Attitudes and Composition—CLAC.

Dan DeWeese: What kind of things did CLAC do?

Tony Wolk: We published a newsletter, CLAC, producing a few issues a year—we being Jim Nattinger, Tim Barnes, Shelley Reece, and myself. We took on standardized testing á la ETS—Educational Testing Service—and specifically the SAT and the TSWE, or Test of Standard Written English, as well the racist Georgia Regents exam, and lots more. We lasted about six years. We had close to a thousand readers, from the U.S., Canada, the U.K., Australia, etc. We were in contact with folks like Noam Chomsky, Wayne O'Neil, James Britton, Geneva Smitherman, Vivian Davis, Marianna Davis, Tony Adams, James Sledd, Roger Brown, Bob Boynton, Courtney Cazden, Louie Crew, Bethany Dumas—a knock-out list of names. Back in those days, Shelley and I were the only two people from Oregon who went to those heady 4C's meetings. Did we make a difference? Sure. Not that we ran ETS out of the "non-profit" business. Though these are still heady times for the Testing Industry—who reading these words hasn't paid good money for the SAT, the GRE, the LSAT, or the BS-AT?

Three things then I loved in those days: teaching—which also included a class every term at the PSU Education Center on Union Avenue (now MLK) for about 5 years—writing articles on linguistics and rhetoric for academic journals, and working nationally on the vital questions of the day as far as language teaching went.

Dan DeWeese: So I'm beginning to understand what you meant by being "in the grips" of English departments—you're working on all sorts of things, just not your own writing.

Tony Wolk: I'd say I was writing, in two senses: one, I was responding to my students in the margins of their papers, and two, I was writing articles with some zip. The turn-around moment came in 1975, when one of my grad students working with the Division of Continuing Education, now known as Extended Studies, asked me to ask Ursula Le Guin if she'd teach a science fiction writing class. Ursula by then was a good friend. What Ursula said was, "Sure, and let's do it together." Which we did, splitting the $600 salary for the course.

About two weeks into the class I realized that along with the students and with Ursula, I would also be writing science fiction stories—oh! It wasn't too long before I found my tears dripping into my old upright Remington as I wrote a story about a man who spent nights down in his basement making a miniature town that was a replica of his own small town: the town hall, the barber shop, the bank, the hardware store. Before long, he was making improvements, getting rid of the bank that had turned him down for a loan, changes which in turn began to manifest themselves downtown. That did the trick. The writer had leapt out from the wings and never retreated. By term's end, a group from the class starting meeting at my home.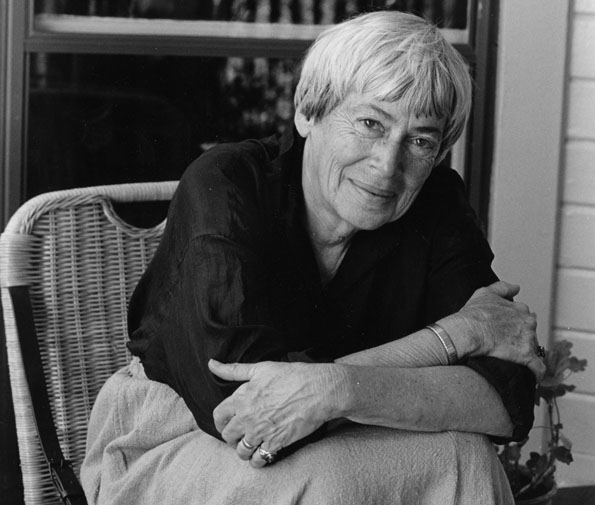 Ursula Le Guin. She and Wolk split the $600 they earned for teaching a SF writing course in 1975.

Not that the writer eclipsed the academic. Call it an amalgamation. I began to ask my science fiction students to do the variations, as well as write their own story at term's end. It was a small step to open that door even wider. The Parable of You has three of those early stories: "The Interview," "The Minkfarm," and "Borges, A Reading." A few years later I found myself writing a story which became Chapter One of my first novel, Adventures in the Fur Trade, which has never been published, but came close. My third novel, written in the early 90s, is, with small changes, Abraham Lincoln, A Novel Life, which was published by Ooligan Press in 2004. As of now, I've completed fourteen novels, all of which I enjoyed writing. The three Lincoln novels ended up being published with Ooligan, though they were written about seven years apart.

Dan DeWeese: One of the things I admire about you is your openness about your process, and the joy you take in the simple act of writing. I know plenty of writers—and maybe everyone is like this, to a great or lesser extent—who, if they wrote a novel and it wasn't formally published, would feel maybe they shouldn't think about that project anymore. One of the reasons I asked to see your stories was that I knew, from talking with you over the years, that you have all sorts of material, published and unpublished, and you maintain an enthusiasm and interest in all of it. You're very committed to the dailiness of writing, and of enjoying it.

Tony Wolk: William Stafford says, "For a real writer there are three main ways: morning, afternoon, evening." That's from Crossing Unmarked Snow: Further Views on the Writer's Vocation. Stafford did that every day for fifty years. It helps that I write along with my students in writing response groups, which may meet twice a week or every other week or both. My rule is: I can't show up without having written. It may be well past midnight when I read and responded to the last student paper, and I still haven't written. Fair enough—take a shower, hope for a couple of lines. Then write. It may be a notion for a story. Often it leads to the next scene from whichever novel I'm working on. I don't have the leisure to say I don't know what to write. William Stafford again to the rescue: Just lower your standards. Do I regret not writing for those in-between years, 1958-1975, grad student years, early teaching years? Depends what you mean by writing. I wrote a zillion words in the margins of student papers, I wrote academic articles where I allowed myself to play with words á la Wittgenstein, even to fantasize a linguistics professor who becomes enraged at the American Heritage Dictionary and its Usage Panel—that was in 1969. At the end of the article he's wearing a strait-jacket and howling like a coyote as he's dragged along a hospital corridor. Years later, Richard Ohmann told me how the editors at College English themselves were howling as they read it aloud—alas, they asked me to tone it down. No, I don't regret that I didn't carry on. What I celebrate is that at a later age, my late 70s, I'm still writing and teaching. It's all been grist for the mill.

Part 1 | Part 2 | Part 3

---

Propeller Books is an independent press run by a group of writers and editors interested in creating well-designed books of high literary merit. An imprint of Propeller magazine, the press is primarily interested in literary projects and forms that business-driven publishers often pass over because they feel the projects will not generate enough profit. Propeller Books currently publishes and promotes one title per year. In addition to being available for purchase through the Propeller Books website, our books are available from large online book retailers, as well as in many independent bookstores.