Film
Collective Dreams, concrete Blocks
At The 2015 BiFan Festival, Part Three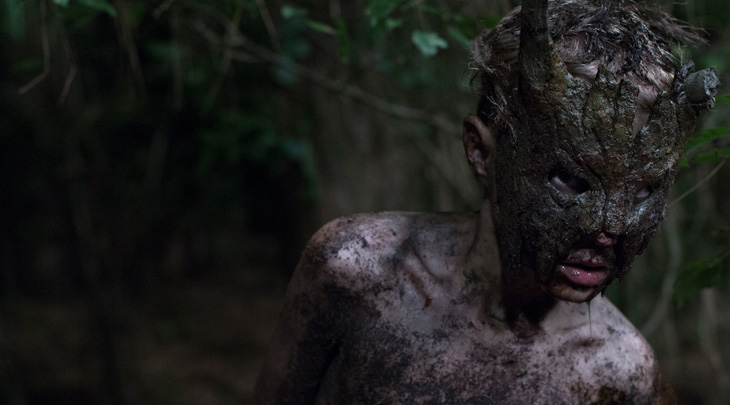 Part One | Part Two | Part Three

By Cohen Perry

n the final night of my trip, my dad and I walked along the mighty Han River, the prosperous central vein of which connects the two Koreas and to which all that is good is attributed. It was once known as "The Fragrant Mile River" in the era of The Three Kingdoms, but industrialization has rendered this name ironic. We often end our trips with these long walks, where we take a moment to step out of our usual thoughts and reflect on Korea and the States. My dad has lived in a number of cities in the country, and it's interesting that we always find ourselves experiencing our goodbye near the Han. It's a sort of exchange of culture shock, because my dad hasn't been back to the States since he stepped on Asian soil, and Korea is a puzzle I've always tried to understand.

It was a dank, humid evening—the sun was lost in what sometimes seems the perpetual grey abyss that is the Korean sky, and the giant, prehistoric-looking mosquitoes were flying thick and hungry. Amidst some overgrown grass on the banks of the river, a couple was picnicking happily, swallowed by the lush ecosystem of dense plant life and creepy crawlers. It surprised me that they seemed to have no regard for the buzzing monsters that were dining upon them—they apparently chose acceptance as their repellent. In a country that epitomizes the idea of a concrete jungle, there was something surreal about a scene so inspired by the natural environment. Juxtaposed with these lovers, I was struck by a skyline dominated by some of the most massive structures I have ever seen. As the fog lifted off the flowing river, silhouettes of humongous cranes and towering apartments dotted the horizon. As far as the eye could see there were giant, Soviet-style concrete blocks going up, seemingly in the middle of nothing. We wondered who could be living in that city being built in front of us.

If a single housing block is is about thirty stories high, with about five apartments per floor, that's about 150 apartments per block. Figure that the average Korean household is three to six people (families often stay together), and that's around six hundred people per housing block. With at least twenty new buildings going up and another fifty that appeared to be freshly built, that's a population of 42,000 that will pop up in these outskirts of Seoul, in a vast space where only a few years ago there was just grass and a developer's dream.

Beholding this scene came with it a sense of dominance, or rather, of being dominated. The viscous humidity made me feel I was carrying the heavy air, and the insects turned my hands into unconscious swatters. The looming concrete structures made me feel like an ant walking in its colony. Looking across the two-mile-wide river, the claustrophobia of the city is cracked open, and the housing for the 42,000 new settlers appears no bigger than your thumb—it rests insignificantly in the colossal expansion of the landscape. The contradiction of the city behind me and the river in front made the picnicking couple that much more compelling: the gods' mise-en-scène conveying something intangible and awfully mortal. This couple transcended something; the struggle of man and nature was lost on them. It felt like a movie.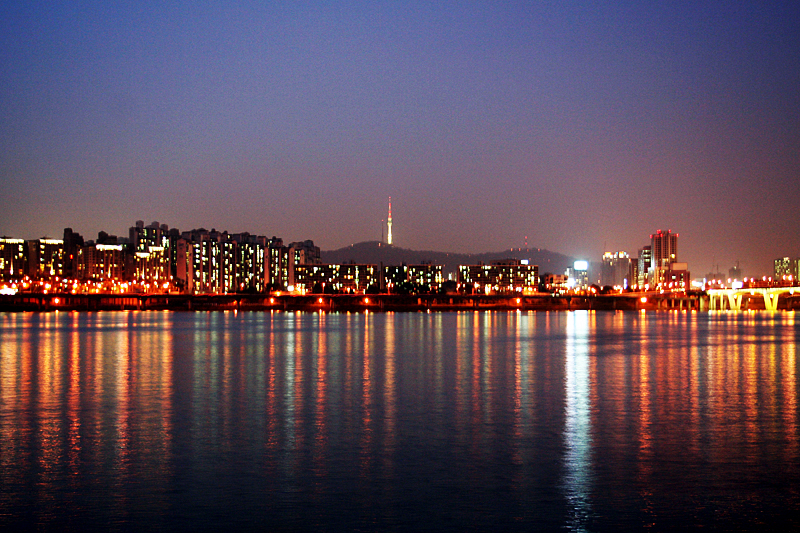 t some point in history, we started describing these profound experiences as "like being in a film." It's an interesting phenomenon and I can't help but wonder what we used to say before. "It's like listening to a radio broadcast" doesn't connote the same emotional gravity, and "picturesque" carries too much inertia. There's something to be said for being brought to the edge of our perceived understandings, confronting an overwhelming combination of sensory inputs and trying to make sense of them while the moment is already passing. This is the aura of film: a tailor-made experience where the creator is able to inject profundity directly into the minds of the audience, often unbeknownst to the viewers themselves. It's a hyperreality where the line between a simulation and what's real is blurred, where we get stuck in a limbo and are left to make sense of the absurdity of our conditions. Film is an artificial experience that bestows something beyond our comprehension—a way in which we can explore the unknown to feel the unknown, to get closer to some indescribable essence, and to live in the collective thoughts and dreams of our societies.

A lot of people ask about the bad movies. Sitting through so many films, how do I have the patience for the bad ones? It's a good question, but it comes back to this idea of experience. After a few days of marathoning films, they start to fall on a continuum. It's no longer about a single movie, it's about all of the movies in relation to each other. Even the bad ones offer a slice of some other existence, and they gain a greater importance in contrast with the "good" ones. I remember attending the festival a few years ago, and there was a Malaysian film that blew my mind. It had some of the most glorious cinematography I have ever seen, but the story was nonsensical to me. Filled to the brim with Islamic imagery and dream sequences from the Quran, I had no idea what I was watching, how the story was progressing, or even what the story was—but it didn't matter. I got out of it what I needed, and it has left an impact, even when the title escapes me.

There's an importance to this sort of hyperreality. It takes us out of our comfort zone and places us in the zone of another. We drop our preconceived notions and enter this strange contract where we trust the creators of a film with our thoughts and feelings. I suppose you could say that we've discovered the replacement for a religious experience. The awesomeness that we once attributed to a higher power has been capsulized into millions of separate manifestations, from different writers, directors, actors, crew members, and producers, who all come from different cultures and societies. Not every single film offers a profound experience, but they are all important in their own right. Armageddon comes to mind as an example of how an abysmal product can still reflect humanity in important ways—in this case, that Americans have deep pockets and poor taste.

Regardless, we can't know everyone, everywhere, but the reality of globalization means we are still connected. As we brute force our way into the future, film will act as the communalizing power that keeps us from tearing each other apart over differences. Some things simply can't be said through words. To bridge the gaps, sometimes it takes a delicate arrangement of variables, the evocation of a peculiar mood, or the visual representation of an idea for which there are no words. In the age of information, film knows no limits in its dissemination, and it is through film that we can step into a greater dimension, that we can open our minds and exist in pure experience—a fleeting ability that truly makes us human.

Saturday, July 25, 10:30 am
The Swedish Moment (ensemble direction)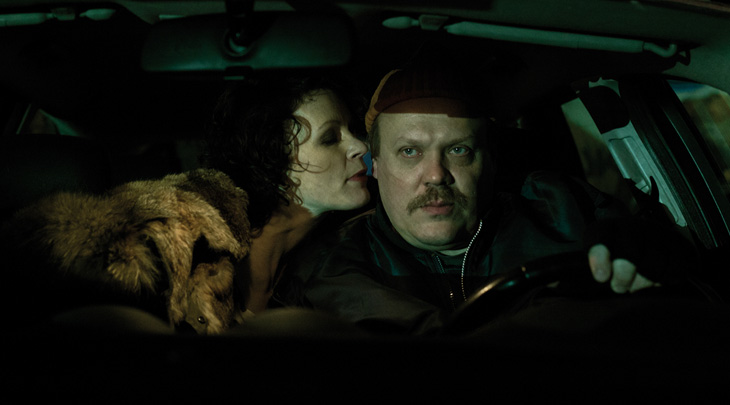 The Swedish Moment is a Swedish flick that embodies "post-modernism." I say this because, in retrospect, nothing really happens, yet it's full of absurdity. I mean, things happen, albeit slowly—a Swedish singer and his wife try to hide a body, so they seek the help of some old band members. The vast majority of the film takes place in near real-time over the span of a day, which is intriguing. It's a great movie—hilarious and interesting. It was codirected by six people in an ensemble effort: four of its stars, its screenwriter, and one of its producers. I saw it with a producer (not of this film) who felt the cinematography was frustrating, but I would disagree; it just wasn't that interesting. The characters are all solid, though, and the film is well written and acted.

Saturday, July 25, 1 pm
Night Fare (dir. Julien Seri)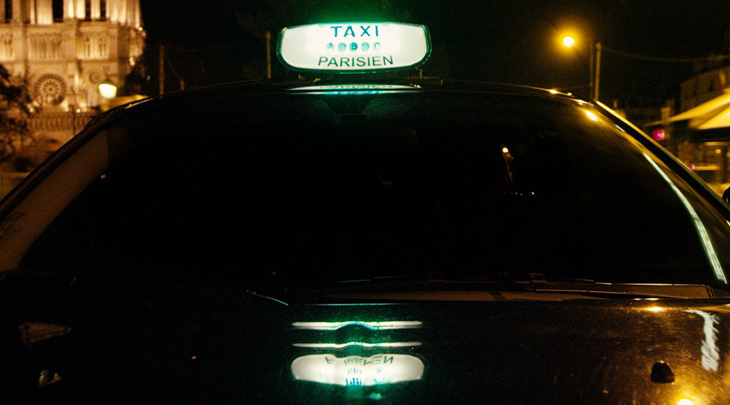 The French film Night Fare, from director Julien Seri, is a great foundation for a superhero movie. Two guys ditch a cab and find themselves at the mercy of a badass taxi driver who stalks them in an effort to collect his fare. Just when you think the film is going to end, it takes an insane twist that adds a whole new layer and depth. It's got a plethora of different fight scenes, from gunplay to katana deathmatches and even car-on-person fights. I can't wait until the sequel, because the film was definitely set up for one. This is a mainstream-oriented film, so it bears a resemblance to Hollywood action flicks, but carries some not-so-conventional themes that separate it from the norm.

Saturday, July 25, 6 pm
The Master Plan (dir. Alain Darborg)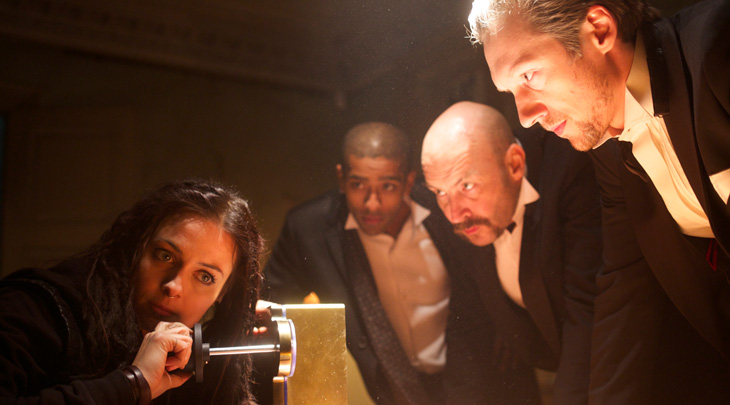 The Master Plan is an entertaining take on the classic heist genre, and a film that does most everything well. The comedy, acting, and writing are all good. Was it deserving of the award for best film by popular vote? I don't know about that. There was nothing that transcended anything that has already been done, and frankly, I don't think there was any intention here of making anything more than a blockbuster action flick. But that's okay, and I enjoyed the humor and the novel heist scenarios. My biggest complaint was that the big safe that the main characters spend the entire film practicing to crack requires only human ears to break into. I mean, this safe holds millions of dollars, and all the safecracker has to do is listen to the click each time one of the three numbers is hit? Aside from that, this is good fun, even for the family.

Saturday, July 25, 8:30 pm
CUB (dir. Jonas Govaerts)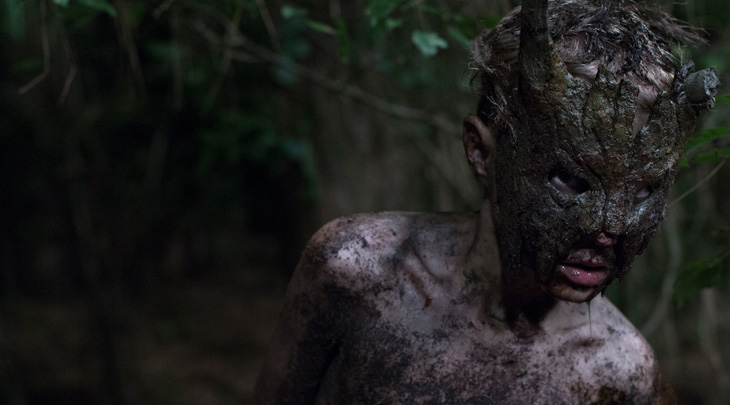 CUB, by Belgian director Jonas Govaerts, is the heavyweight contender as my favorite film, against Deathgasm. Holy crap, this movie is intense. The story follows a cub scout troop that goes on a backpacking trip to the countryside. To enforce rules, the scout leaders tell the urban legend of Kai, a forest dwelling werewolf boy who thirsts for blood. Though Kai might not be a real threat, there is something disturbing happening in the forest, and the group quickly finds itself at the mercy of a sinister prankster. The cinematography is incredible, the atmosphere is horrifying, and the acts of killing are not for the faint of heart. Many viewers could be offended or traumatized, as there is some very disturbing violence involving children in this movie, but there's so much more to it than that. If you feel like your horror movies don't have enough story, check out CUB, but be warned: You won't want to go camping for a while.

Sunday, July 26, 11 am
Dermaphoria (dir. Ross Clarke)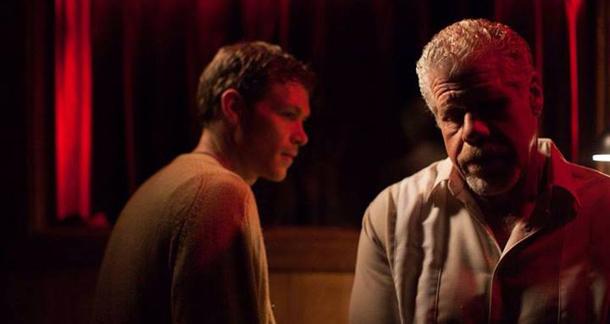 Completely full on delicious sushi and a mystery plate or two (peanut butter and cheese quesadilla, shrimp covered in bananas and chocolate syrup, and raw onions slathered in mustard and ketchup were all available), we dashed to our next film, Dermaphoria. This was a terrible film to be late to, as it deals with a drug addict who has lost his memory and is struggling to piece it together. The narrative develops in an atypical fashion, and the first ten minutes appeared to have laid some important foundation. I struggled hard to follow what was going on and now wonder how much of this was because I missed the first few scenes and how much of it was because the film wasn't very superb.

Sunday, July 26
The Falling (dir. Carol Morley)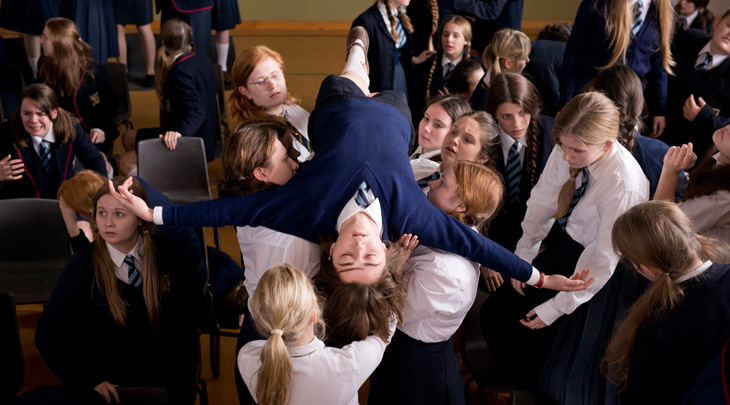 The Falling is a philosophical drama with a bit of a weird, dark edge, directed and written by Carol Morley. Set on the grounds of a well-to-do all-girls school, the story first appears to be a bildungsroman centered on a popular young girl named Abbie (Florence Pugh) and her black-sheep best friend, Lydia (Maisie Williams). An element of spookiness is introduced when a mysterious fainting spell begins to sweep the girls at the school, and the plot shifts to a psychoanalytic exploration of identity, feminism, and authority—at least, I think. To be honest, the story gets a bit strange and hard to follow when the sexuality of young girls becomes a focal theme and the hierarchy of the many subplots is jarred. The film is intriguing, however, and even if the message is perhaps overly complex, it provides a refreshing bit of fodder for discussion. Williams and Pugh do outstanding jobs in their bizarre roles that often have them acting unconventionally for the age of their characters, and the beautiful location is fitting for the narrative's eerie vibe.

Sunday, July 26
Spring (dirs. Justin Benson and Aaron Moorhead)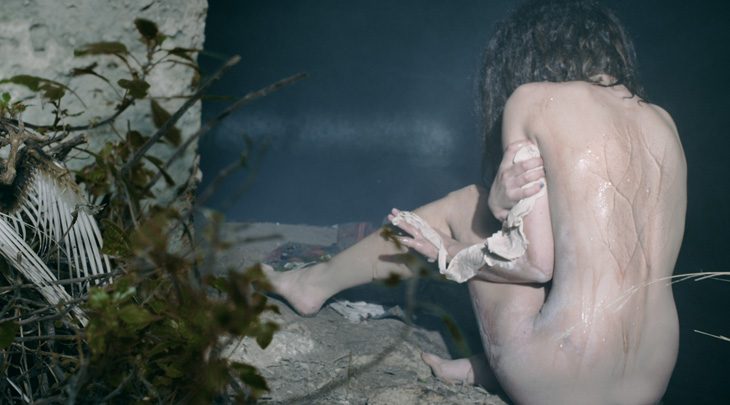 Spring bent genres more than any other film at this festival and was definitely one of the most unique offerings I had the pleasure of seeing. Even with a lack of air conditioning in the theater during a killer heat wave, this part-romantic drama, part-horror production had me gripped for its entirety—completely distracted from the sweaty discomfort I should have been stewing in. Aaron Moorhead and Justin Benson were the pair of fresh minds behind Resolution, one of my favorite films from a previous BiFan festival, which is still one of the scariest movies I have seen in years.

Spring doesn't find its genius in sheer terror, however; rather, the combo takes the old trope of a guy falling in love on holiday and bends it into a supernatural narrative that comes off as more authentic than your typical romance set in reality. Evan (Lou Taylor Pucci) has hit rock bottom. On a whim, he books a ticket to Italy in an attempt to turn his back on the demons of his past. Chance seems to bring him across the path of a beautiful and mysterious researcher named Louise (Nadia Hilker) and fate seems to demand they come together; however, Evan quickly realizes Louise has a long, disturbing past, and as occult happenings keep cropping up across the village, he struggles to reconcile his sanity with his love for Louise. As someone who generally avoids pure romance films like the plague, I have absolutely no problem giving this one emphatic approval.

Sunday, July 26
Turbo Kid (dirs. Francois Simard, Anouk Whissell, Yoann-Karl Whissell)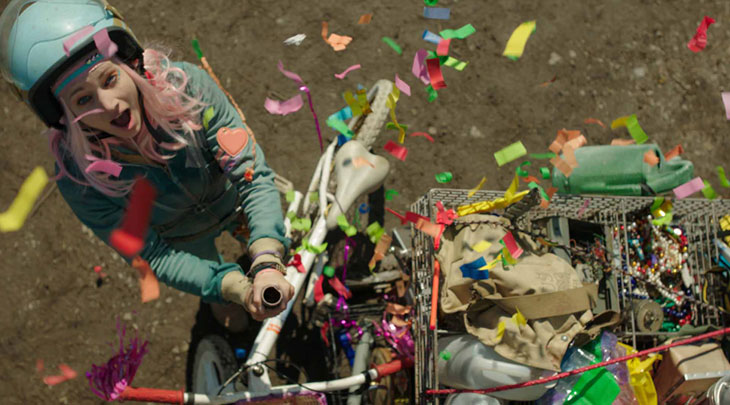 The stars aligned to make Turbo Kid the last film of this year's festival, as it was easily the most fun experience. BiFan awarded this Canadian/New Zealand offering its Best Directors prize, to François Simard, Anouk Whissell, and Yoann-Karl Whissell—meaning it also received an encore award screening at Bucheon City Hall on closing night. The large, diverse audience vocally reflected the film's hilarious satire and over-the-top violence. Turbo Kid, an instant cult classic, is set in an alternate, not-so-distant, postapocalyptic past: the year 1997. The movie defines its retro flair by opening with a laserdisc credit gag that had my dad and I in hysterics before the first line was even uttered. We follow The Kid (Munro Chambers) as he struggles to survive as a decent human in a wasteland full of morally void criminals and mutants. If you have ever played the Fallout video game series, I couldn't help but be reminded of a similar atmosphere—it also has a Mad Max-style vibe; just replace the makeshift cars in the video game with BMX bikes in the film.

An evil force threatens The Kid's survival, so he sets out on a path of heroism. The naive humor and throwback to comic book storytelling of the past is juxtaposed with absurd levels of violence—supremely unrealistic, though it would still be shocking to most viewers. It seems absolutely necessary, however, given the context. Everything about this movie is frothing with the '90s and you might wonder if the directors are dangerously obsessed with their nostalgia, but the product could not have come from a better team. This is definitely a film that deserves a sequel.

---

Cohen Perry wrote about Georges Franju's Eyes Without a Face in the spring 2014 issue. His writing on film has also appeared in Videoscope.