Bracketology
Album Bracketology Returns, Leaking
Tournament Grows, is Followed by Fewer People and No Bands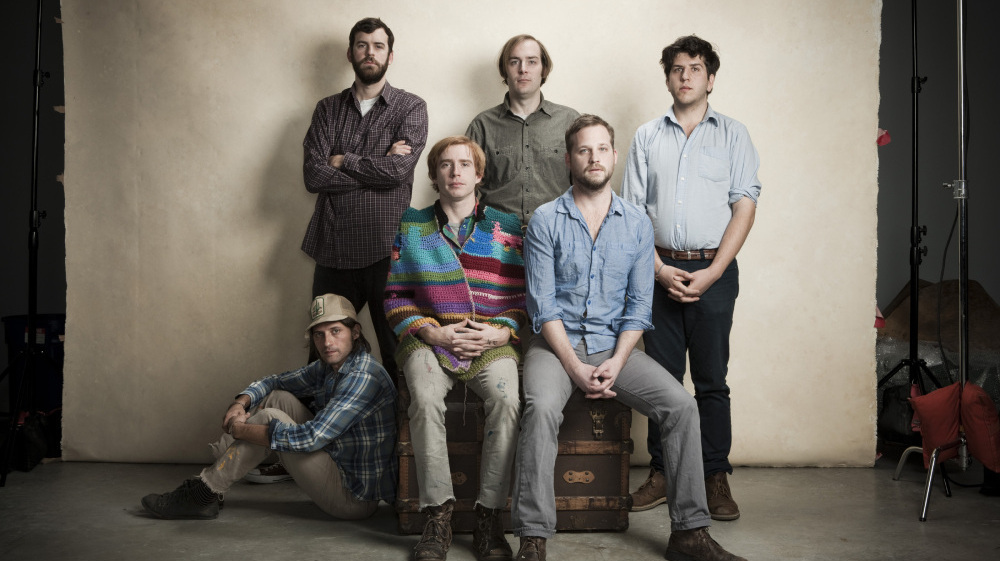 Dr. Dog, one of many bands that have no reason to care about Album Bracketology.

Part 1 | Part 2 | Part 3 | Part 4 | Part 5

By Matthew Kauffman Smith

y brother is an accomplished musician and elementary music school teacher. Under the moniker Kentucky T. Dutchersmith and the Rubber Band, he has released two children's albums, played the nose flute – in a concerto written for a nose flute – and was the bass player for Spontaneous Combustion, one of the best bands to come out of the Christian high school indie scene in Indiana in the late 1980s. He's also one of the few people to attempt to do this:



One thing he never accomplished, however, was to start a band to go by what he believed to be a great band name: Lost Luggage. Thanks to the 2017 return of Album Bracketology, my brother's dream lives on, as Lost Luggage has qualified in the 256-album, double-elimination tournament to definitively crown the best album of 2016.

This year, Album Bracketology features a record 220 albums, but in order to make an even bracket, and instead of awarding 36 byes, the Propeller staff decided that there had to be 256 entrants. [Ed. note: No one decided this. The Propeller editorial staff is not involved in the content of Album Bracketology. All references to "we" or the editorial staff are attempts on the part of the writer to imply the existence of a cooperative editorial relationship, though it does not actually exist.] So we created 36 fake albums, mostly by fictitious bands, including Lost Luggage, who joins other phony bands like Gallon of Allen, Pavlovian, and Stryckly Bizness. Additionally, where there are real bands or people who share the same first name, we have added a fictitious band or person with that same name. For example, both Wolf Parade and Wolf People released albums in 2016. Enter Wolf Pocket, a faux prog rock band that faces Wolf People in the first round. Laura Gibson and Laura Mvula both released solid albums in 2016. Laura Julep, an earthy, albeit bogus, lounge singer, did not. The upstart Julep, however, technically has a shot to win the whole thing. Two artists, Oddisee and Dr. Dog, released two albums in 2016. Instead of having to face themselves in round one, we created fake third albums by each of them.

Just to recap the format and rules of Album Bracketology:

• If there is any question as to which is the superior album in a particular match up, there is a "listen-off" in the Propeller studios to determine the winner.

• Departing from the previous seven years, this year's tournament is organized in alphabetical order by first name, with numbered bands preceding alphabet bands. In the very first match-up, The 1975 meets Acapulco Lips. In the past, the tournament was seeded by play count, but that became a burden after three straight years of technical difficulties with iTunes. In a shocking announcement, the Album Bracketology Advisory Committee has already announced that next year's draw will be random.

• In keeping with past tradition, the elite list of the top albums of the year is 41 percent of the total teams entered. Fake teams notwithstanding, 90 albums is 41 percent of the original 220 albums.

• Bad draws happen to good albums, and the Top 90 takes that into account. One good album that lost in the first round and again in the first round of the losers' bracket will finish No. 90 for the year. Two albums that lost in the second round of the losers' bracket will be Nos. 88 and 89, and three albums that lost in the next losers' round will finish 85-87. The best 20 albums from the next losing round will make up numbers 65 through 84. Albums that advance to the fourth round of the winners' bracket or fifth round of the losers' bracket will make up the remaining 64 teams.

This year, we'll have an up-to-date bracket to follow online. In order to keep suspense, we'll reveal that in the next segment.

Uh oh. Breaking news. As I was writing this on Saturday, the Propeller editors alerted me to something very disturbing on our Twitter feed. [Ed note: The Propeller editors plan vacations in order to be gone during Album Bracketology. The use of "our" in the previous sentence is curious and misleading. The writer has no hand in the magazine's social media accounts, which are mostly dormant.]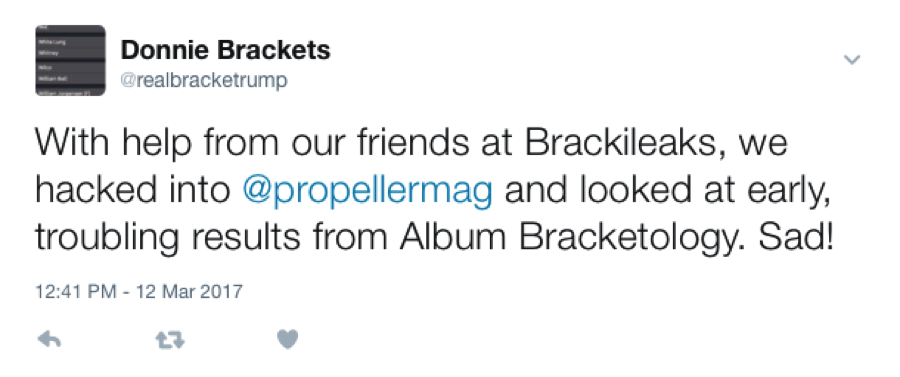 In order to keep the integrity of the brackets intact, we have increased our Propeller firewall. There will be no leakage.





OK, so Brackileaks 1, Propeller 0. I suppose there is no point in waiting now. As you can see, the bogus bands are marked with an "F," as in fake, false, figment. British indie band Armada in Love, Doo-woppers Avenge This, and Batman and Loggins, the superhero-clad Kenny Loggins cover band, all debut in this year's tournament.

Before Brackileaks scoops us again, we will pre-emptively reveal the first finalists in the 2016 albums of the year:

90. Bob Mould, Patch the Sky
89. Oddisee, Alwasta
88. Chairlift, Moth

We pay our respects to Chairlift, who is disbanding after their spring tour. [Ed. note: As in previous years, we suggest you not watch any videos that appear in the Album Bracketology column. The author has a strange fondness for weepy music crafted to evoke a kind of soft melodrama fitting for a failing sandwich shop or perhaps the lobby of a ZoomCare during late evening hours.]



Before revealing the next three albums (and avoiding more leaks), here's a look at stories to watch in this year's quest for the elusive Album Bracketology Cup (ABC):

Repeat Champs: Counting the three years published in Propeller, and the four previous years writing for our unpublished sister zine Pontoon, we enter this year's 8th edition of Album Bracketology with no dynasty established. [Ed. note: Note how the author writes the previous sentence in order to convey that he has nothing to report.] Out of the past seven number one albums, only 2010 champ Dr. Dog returns to this year's tournament with a chance to engrave the ABC for the second time. The Philadelphia low-fi heroes must be super-serious about reigning again, as they released two full albums in 2016, giving them better odds.

Sibling Chivalry: Thanks to the alphabetical nature of this year's bracket, the Knowles sisters, Beyonce and Solange, could meet in the championship.

Critics Schmitics: After a glance at Metacritic and year-end critics lists (and thanks to an Apple Music subscription), I stocked up on critical darlings. In a realistic, double-elimination tournament, however, critical rankings mean nothing.

Grammys Schmammys: Speaking of meaning nothing, I also listened intently—and sometimes painfully (I'm talking to you, Bieber)—to some of the top Grammy nominees, as well as winners in less-hyped categories, such as Contemporary Blues and Americana.

Upsets: Speaking of The Biebs, we have received word that fake band Justice Beaver has defeated a very real Justin Bieber. The young Canadian can take solace in the fact that he wasn't alone, as phony Chicago ska band Western Onion defeated Wet, a real, underwhelming band.

Blue Bloods: Dr. Dog may not repeat but there is plenty of familiarity in this year's field. More than 60 of this year's artists have appeared in the prestigious Top 63, 69, 48, or whatever the final number is in any given year. More than 15 of this year's artists have finished in the top 10, including six bands that appeared in the top 10 in 2013 alone. Three bands that finished in last year's top 10, Beach Slang, Oddisee, and Skinny Lister, are back so soon. Oddisee finished 89th already with his EP Alwasta but is still alive with The Odd Tape, his full-length album that already won Propeller's pre-season tournament to decide the 2016 instrumental album of the year. And don't forget perennial faves Moon Hooch, who have two top 10 albums in three years and are back. How far will they go?





WE ARE BRACKILEAKS: We have locked the author out of his computer, and can tell you that Moon Hooch has been eliminated.

Ugh. I can't delete that. Damn you, Brackileaks. Anyway, the brackets must go on.

Kishi's breakthrough year?: Kishi Bashi has finished as the runner-up twice and is back again this year. Other past runners-up that return this year include Thao & the Get Down Stay Down (2009) and The Head and the Heart (2011).

WE ARE BRACKILEAKS:





Sigh. Thao has been eliminated. Since I now need to scoop Brackileaks in my own article, I can also reveal that Lucius, who finished fourth in 2013, has been eliminated as well.

We also salute the trio of next albums to be revealed.

87. The Suffers, The Suffers
86. Eleanor Friedberger, New View
85. Lucy Dacus, No Burden



The one—perhaps only—flaw of the tournament format is that a difficult draw can prematurely eliminate well-deserving artists. Lucy Dacus released a great album in 2016, but ran into the tough luck of having a name that starts with the letter L, and thus facing a difficult draw. She lost to Lydia Loveless, but did eliminate Lost Luggage (sorry, Kent), before eventually facing elimination to a nameless band that will be revealed later in the next installment, when the tournament starts in earnest and we get down to the final 64.

WE ARE BRACKILEAKS:



---

Matthew Kauffman Smith has written Album Bracketology before.