Bracketology
Always End With Copacabana
Album Bracketology Names Its Champion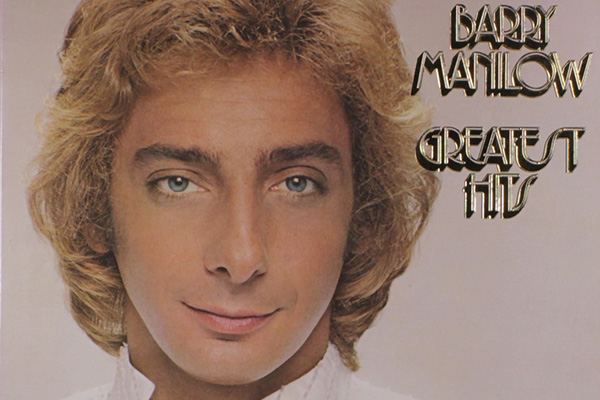 Part 1 | Part 2 | Part 3 | Part 4 | Part 5

By Matthew Kauffman Smith

he delay in the final installment has everything to do with car racing, Barry Manilow, and Indiana classic rock traditions. It is not because of any fake news that is being reported in the mainstream media, or implied in letters to the editor.

Dear Bracketmuffin,
Did Propeller finally cut you off? It's about time. It says a lot that you get canned before you reveal the album of the year.
Vic Nacke, Waco, Texas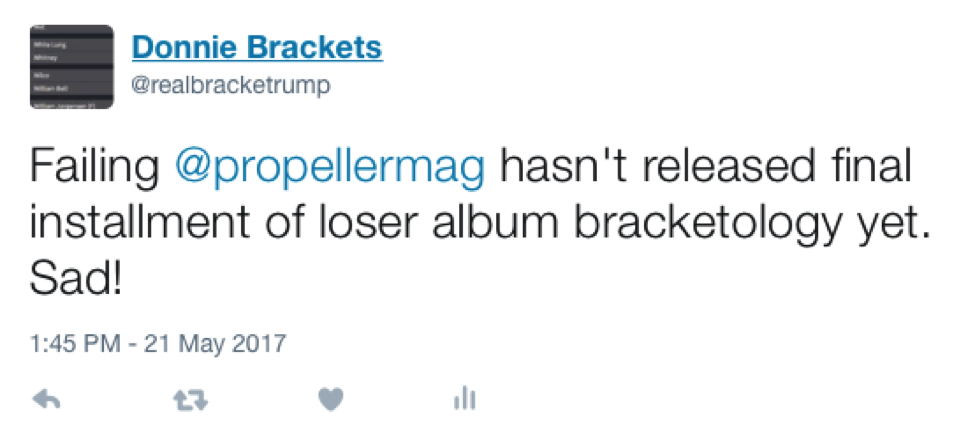 I get it. When it comes to releasing the top album of 2016 in the spring of 2017, time is of the essence. There isn't a conspiracy theory here that plays out, and the Propeller editors are as committed as ever to bringing you the thrilling conclusion of Album Bracketology. We here at Propeller decided to delay this year's finale in order to bring back the special-occasion countdowns that were prevalent in the 1980s and 1990s on classic rock stations in northern Indiana and southern Michigan. [Ed. note: Until just a day ago, the editorial staff was unaware that the tournament had not concluded long ago. (The staff has a policy of politely declining to read Album Bracketology.) We are unfamiliar with northern Indiana or southern Michigan and have no idea where this is going.]

When I was in high school, there was a station that ran the top 500 songs of all time countdown to coincide with the Indianapolis 500 every Memorial Day weekend. Pretty soon, other stations followed suit, staging similar countdowns on Fourth of July weekend or at the end of the year. Regardless of station, Lynyrd Skynryd's "Free Bird" was always No. 2, and Led Zeppelin's "Stairway to Heaven" always won the race. One year, however, one DJ finished a top 1,000 song countdown by announcing that the No. 1 song of all time was Barry Manilow's "Copacabana." He proceeded to play the Manilow song for a good thirty seconds until turning his microphone back on, stopping the music to announce that he was just kidding, and playing "Stairway to Heaven." In honor of those classic days, Propeller will reveal the top 500 albums of the decade Memorial Day weekend 2020. [Ed. note: Regular readers know the odds of Propeller running anything at all on Memorial Day weekend of 2020 are spectacularly low.] For now, we bring you the 2016 Memorial Day 500, minus 410. [Ed. note: It seems as if that sentence should refer to 2017 Memorial Day, but this writer is naming the best album of 2016 nearly halfway through 2017, so...we decline to guess.]





Rude. First of all, there are a lot of us here who are unpaid interns. Second of all, while Propeller hopes to be national institution one day, we do not receive federal funding. Or state funding. Or local funding. Or private funding. If Propeller released its tax records, it might show that its main income is from interns paying to become published. [Ed note: Propeller does not have interns.] Third of all: back to the countdown.

When we left you last month, Dr. Dog still had a chance to become the first two-time champion in the eight year history of Album Bracketology. The Philly band has an uphill climb, however, as they need to emerge from the loser's bracket and knock off the winner's bracket champion twice. In the loser's bracket, round 11, Beyoncé defeats The I Don't Cares, a collaboration between former Replacements lead singer Paul Westerberg and 1990s alternative radio mainstay Juliana Hatfield.



In the same round, Dr. Dog stays alive by defeating the lone soundtrack in this year's countdown, the music of Sing Street. Only the original songs were considered for the album, which also featured 80s icons Duran Duran, The Cure, and Motorhead, among others. Yes, the fictitious 80s teen Irish band copied its heroes, but hey, so did everyone else in this countdown.







This countdown is open to any album, as long as it's released in 2016. Russian faves Lyube last released an album in 2015. Maybe next year?

Moving on with the countdown, the final four in the winner's bracket becomes two as Chance the Rapper defeats the Drive-By Truckers and Michael Kiwanuka beats Sturgill Simpson.

The loss drops the Drive-By Truckers down to loser's bracket round 12, where they defeat Dr. Dog, meaning once again this year, we will have a first-time winner. We now take time for in-depth analysis of Dr. Dog.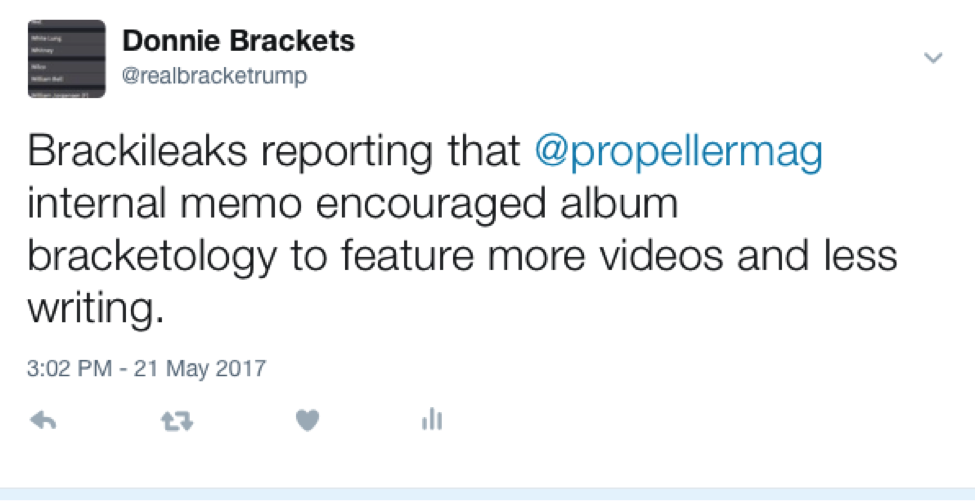 Strong writing is a hallmark of all of the other writers for Propeller, and I seriously doubt that the editors would send such a memo.

WE ARE BRACKILEAKS: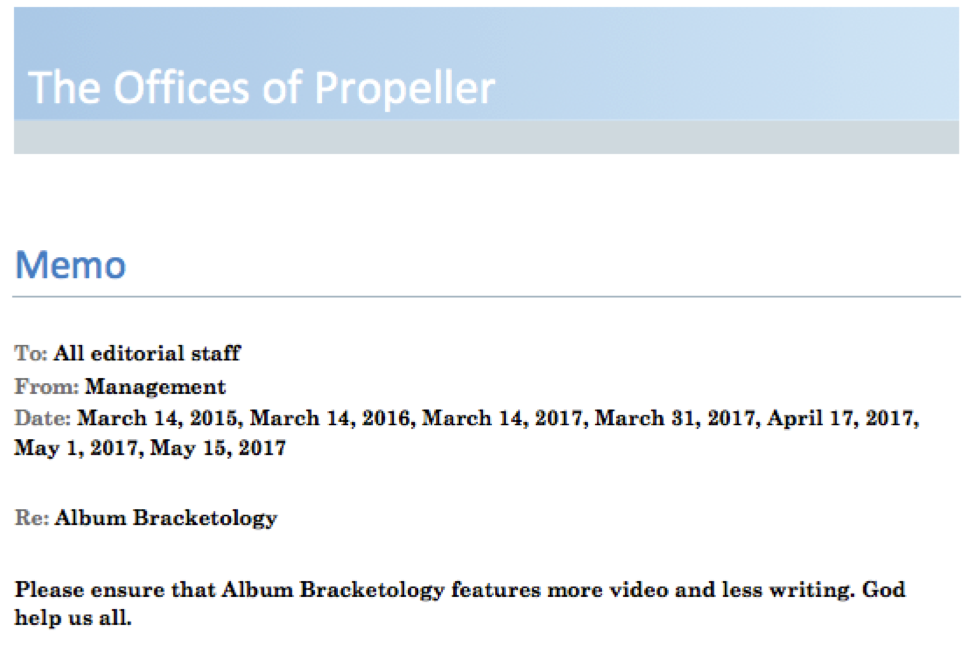 OK, so Dr. Dog finishes sixth.



Sturgill Simpson finishes fifth.



After losing to Chance the Rapper in winner's bracket round 6, Beyoncé has rattled off four straight loser's bracket victories, defeating the Drive-By Truckers.



Chance the Rapper defeats Michael Kiwanuka in the finals of the winner's bracket, and then Beyoncé follows suit. Kiwanuka places third for the year.



We're now set for a rematch with Beyoncé and Chance the Rapper. I'll be the first to admit that I never gave Beyoncé a second thought. Sure, I've put my ring finger up in the air at weddings dancing to "Single Ladies," but I'm not normally a big-production/glitzy kind of guy. I had the wrong perception of Beyoncé. I know I'm supposed to play more videos but what this article needs is a Beyoncé-Barry Manilow parallel.

When I was teaching 100-level college writing, I constructed an assignment about perception. I played a bunch of song clips and then asked students to guess what various people in the class thought of those songs. The majority of students believed that I thought Sleater-Kinney was nothing but noise, and that I really liked Barry Manilow. Look, I know Barry writes the songs, I've spent a weekend in New England, and I also have a cousin named Mandy. But like most classic rock fans in 1990s Indiana, I was horrified at the thought of Manilow beating out Zeppelin, the Stones, and the Who. So, I apologize to Queen Bey. My perception was wrong. I kept Lemonade in my heavy rotation for months. And after losing to Chance the Rapper, Beyoncé defeats Chance, setting up a final rematch of the two. Here is a look at our finalists' journeys, as well as their videos.

Chance the Rapper def. Chairlift, Catfish and Bottlemen, Charles Bradley, Camp Cope, Deep Sea Diver, Beyoncé, Drive-By Truckers, Michael Kiwanuka, and then lost to Beyoncé.

Beyoncé def. Big Thief, Beach Slang, blink-182, Avett Brothers, Anderson.Paak, lost to Chance the Rapper, and then defeated Lydia Loveless, The I Don't Cares, Sturgill Simpson, Drive-By Truckers, Michael Kiwanuka and Chance the Rapper. Beyoncé beat six top 10 artists to get to this point, while Chance defeated three.





While we would normally preview the 2017 countdown at this time, we will do so at the end of 2016 as part of our coverage of the 2017 Indiana album of the year featuring Hoosier natives John Mellencamp, Heather Kropf, Strand of Oaks, and Hoops, among others. [Ed. note: Since it is already the middle of 2017, it is unclear how the writer intends to go back to the end of 2016 to preview anything. Throughout Album Bracketology, however, the writer's references to various years—his grasp of the calendar in general—has been, shall we say, eccentric, so we have elected to let this sentence stand.]

For full results of the countdown, please check in at http://challonge.com/propellermagalbumbracketology2016. Until next year, we leave you with our 2016 album of the year:



90. Bob Mould, Patch the Sky
89. Oddisee, Alwasta
88. Chairlift, Moth
87. The Suffers, The Suffers
86. Eleanor Friedberger, New View
85. Lucy Dacus, No Burden
84. Avers, Omega / Whatever
83. The Pretenders, Alone
82. Laura Mvula, The Dreaming Room
81. Blink-182, California
80. The Record Company, Give it Back to You
79. The Monkees, Good Times
78. Heron Oblivion, Heron Oblivion
77. Shovels and Rope, Little Seeds
76. Nada Surf, You Know Who You Are
75. Margo Price, Midwest Farmer's Daughter
74. Damien Jurado, Visions of Us on the Land
73. Skepta, Konnichiwa
72. Big Thief, Masterpiece
71. Kungs, Layers
70. Of Montreal, Innocence Reaches
69. Skinny Lister, The Devil, the Heart & the Fight
68. White Lung, Paradise
67. The Gotobeds, Blood // Sugar // Secs // Traffic
66. Beach Slang, A Loud Bash of Teenage Feelings
65. Kevin Morby, Singing Saw
64. Evans the Death, Vanilla
63. Busman's Holiday, Popular Cycles
62. Julie Ruin, Hit Reset
61. Lake Street Dive, Side Pony
60. Pet Shop Boys, Super
59. Bastille, Wild World
58. De la Soul, and the Anonymous Nobody
57. Lee Fields & the Expressions, Special Night
56. Stray Birds, Magic Fire
55. Car Seat Headrest, Teens of Denial
54. Wintersleep, The Great Detachment
53. Vulfpeck, The Beautiful Game
52. Paul Simon, Stranger to Stranger
51. Margaret Glaspy, Emotions and Math
50. Run the Jewels, Run the Jewels 3
49. KAYTRANADA, 99.9%
48. PURSES, Obsess Much
47. Look Park, Look Park
46. Flume, Skin
45. Diarrhea Planet, Turn to Gold
44. Oddisee, The Odd Tape
43. The Hotelier, Goodness
42. Avett Brothers, True Sadness
41. Whitney, Light Upon the Lake
40. Joseph, I'm Alone, No You're Not
39. Noname, Telefone
38. Cloud Cult, The Seeker
37. Maxwell, blackSUMMERS'night
36. Camp Cope, Camp Cope
35. Against Me!, Shape Shift With Me
34. Laura Gibson, Empire Builder
33. Charles Bradley, Changes
32. Ryley Walker, Golden Sings That Have Been Sung
31. Japanese Breakfast, Psychopomp
30. Mudcrutch, 2
29. Rhianna, Anti
28. Frightened Rabbit, Painting of a Panic Attack
27. Tacocat, Lost Time
26. Terrace Martin, Velvet Portraits
25. Solange, A Seat at the Table
24. Pinegrove, Cardinal
23. Aurora, All My Demons Greeting Me as a Friend
22. Aesop Rock, The Impossible Kid
21. A Tribe Called Quest, We Got it From Here … Thank you 4 Your Service
20. M. Ward, More Rain
19. Santigold, 99c
18. Deep Sea Diver, Secrets
17. The Head and the Heart, Signs of Light
16. The Goon Sax, Up to Anything
15. Kate Tempest, Let Them Eat Chaos
14. Kishi Bashi, Sonderlust
13. Anderson.Paak, Malibu
12. Parquet Courts, Human Performance
11. Dr. Dog, Psychedelic Swamp
10. Lydia Loveless, Real
9. Wussy, Forever Sounds
8. The I Don't Cares, Wild Stab
7. Sing Street Soundtrack
6. Dr. Dog, Abandoned Mansion
5. Sturgill Simpson, A Sailor's Guide to Earth
4. Drive-By Truckers, American Band
3. Michael Kiwanuka, Love & Hate
2. Chance the Rapper, Coloring Book
1. Beyoncé, Lemonade


---

Matthew Kauffman Smith has written Album Bracketology before.