Music
Lots of Colons
Album Bracketology Mercifully Reaches Its Final Four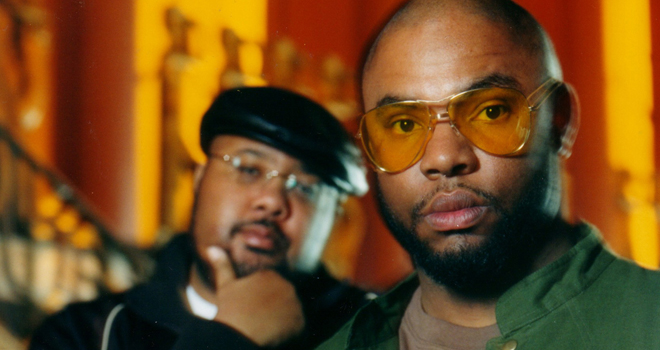 Blackalicious. One cannot help but wonder how they would feel about doing well in this tournament.


Part One: Expanded Confusion
Part Two: Cute Metal
Part Three: Live Look-Ins
Part Four: An Empty Head
Part Five: Lots of Colons
Part Six: Champion Determined

By Matthew Kauffman Smith

t may be hard to top a last-second buzzer beater to win the national championship. Kris Jenkins' shot that propelled Villanova to its first title in thirty-one years was worth all of the hyperbole it received in the following hours on TV, radio, and online.



Some may think Russ Hodges' call of Bobby Thomson's home run against the Dodgers in 1951 is the greatest sports call of all time, but I'll take Bill Raftery saying "How 'bout those onions?" any day.

The NCAA March Madness recognizes Album Bracketology as a significant threat for an audience during this time of the year, and it's hard for Propeller to top this excitement. Or so the NCAA thinks. But you know what the equivalent of a buzzer beater is, in terms of a tournament to decide the album of the year? The bass player from No. 8 band of the year crowd surfing with a double string bass:



Speaking of Skinny Lister, now a two-time top-ten finisher in Album Bracketology, the Propeller editors caused quite a mail storm from concerned Brits after the last installment when they suggested that members of Skinny Lister were dead. [Ed note: What we actually noted was that the author of Album Bracketology has concocted a sentence so tortured that it implied the members of Skinny Lister had been dead at some point in the past, but were now alive.] As of press time for this installment, they were still alive. That was the second-most popular topic among letter writers this time around. Before we get to the top topic, let's update the tournament and give a video send-off of No. 7 Oddisee.

Loser bracket round 9 (losers comprise picks 7-8):
Jason Isbell def. Skinny Lister
Blackalicious def. Oddisee



8. Skinny Lister: Down on Deptford Broadway
7. Oddisee: The Good Fight

And so we're into the last half dozen, or as my eddies at Propeller call it, "the Sexy Six." [Ed note: The editors do refer to aspects of Album Bracketology, but not in language that is printable.]

As mentioned earlier, the mailbags filled up like a hot air balloon this week as readers misunderstood what we believed to be very clearly written prose about the top sixty-nine albums of the year. Here's a sample:

Dear Republican assface: I can't believe you are allowed to print this propaganda in the city of Portland, yet alone the World Wide Web. As an outstanding journalist, you're supposed to be politically neutral, yet you continue to endorse Donald Trump in Album Bracketology. – Gil G, NE Alameda St., Portland

First of all, I need to clarify something, Gil. The elephant is the symbol of the Republican Party. The assfaces, or donkeys, are actually the Democrats. Syntax, man! Anyway, Propeller in no way is taking a political stand. We are promoting Donnie Trumpet, NOT Donald Trump. Donnie Trumpet is an actual trumpet player, but is better known for being the namesake behind Chance the Rapper's Social Experiment cooperative. Here is a primer: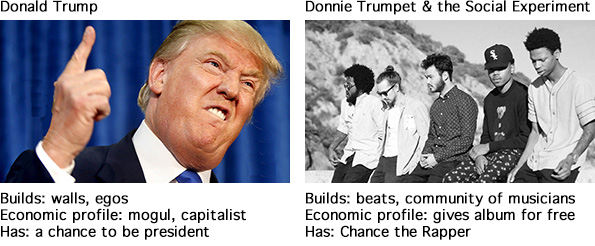 We hope that clears things up a bit, but Donald Trump better hope that his presidential bid lasts longer than Donnie Trumpet's quest for the ABC (Album Bracketology Cup):

Winner Bracket Final Four:
Alabama Shakes def. Donnie Trumpet and the Social Experiment
Courtney Barnett def. Jason Isbell

In even bigger news, 2013 champion Jason Isbell loses in the winner bracket and then immediately loses in the loser bracket to Grimes, meaning there will be no repeat champion for at least one more year. For the seventh year in a row, Album Bracketology will crown a unique winner.

Loser bracket round 10 (losers comprise picks 5-6)
Grimes def. Jason Isbell
Blacklicious def. Donnie Trumpet and the Social Experiment

6. Jason Isbell: Something More Than Free
5. Donnie Trumpet and the Social Experiment: Surf

And thus we say goodbye to Donnie Trumpet and the Social Experiment, though we do award the band the prestigious Propeller song of the year award for "Sunday Candy." By request from the editors, we present to you another dance-centric music video.



We're now down to the final four albums, in no particular order and filled with lots of colons:

• Courtney Barnett, Sometimes I Sit and Think, and Sometimes I Just Sit: The Aussie singer-songwriter has yet to lose and will face:
• Alabama Shakes, Sound and Color: The other undefeated album, featuring guitarist/vocalist Brittany Howard. The Shakes are looking to become the second winner from Alabama, following in the footsteps of Jason Isbell.
• Grimes, Art Angels: We have failed to mention that Grimes, the moniker of British Columbian Claire Elise Boucher, is looking to become the first Canadian champion. She will next face:
• Blackalicious, Imani, Vol. 1: The duo of Chief Xcel and Gift of Gab has impressively risen up through the loser bracket after losing to Courtney Barnett in the third round. This month, the hip-hop duo is celebrating the 17th anniversary of their EP A2G by posting lyrics to their seminal song "Alphabet Aerobics" every day of the month. The song gained attention when Muggle Daniel Radcliffe did this:

[Ed. note: WARNING: The following video features the actor who played Harry Potter appearing on the television show hosted by Jimmy Fallon. The actor who played Harry Potter raps while Jimmy Fallon laughs. READERS MAY EXPERIENCE NAUSEA OR VOMITING IF THEY VIEW THIS VIDEO.]



Can Blackalicious rise up through the loser bracket to claim victory? Will there finally be a female champion? Will we show more dance videos? The answer to two of those questions is yes. And if everything works out, we might even take a page out of the national championship game and throw in a buzzer beater.

69. Mynabirds: Lovers Know
68. Hop Along: Painted Shut
67. Girlpool: Before the World Was Big
66. Kacey Musgraves: Pageant Material
65. Rayland Baxter: Imaginary Man
64. Oh Wonder: Oh Wonder
63. Tamaryn: Cranekiss
62. Tame Impala: Currents
61. Briana Marela: All Around Us
60. Death Cab for Cutie: Kintsugi
59. Amason: Sky City
58. Radical Dads: Universal Coolers
57. Ezra Furman: Perpetual Motion People
56. Motopony: Welcome You
55. Shovels & Rope: Busted Jukebox, Vol. 1
54. Mikal Cronin: MCIII
53. Wolf Alice: Creature Songs
52. Kelela: Hallucinogen
51. Protomartyr: The Agent Intellect
50. Andra Day: Cheers to the Fall
49. FFS: FFS
48. Guster: Evermotion
47. Moon Taxi: Daybreaker
46. Baio: The Names
45. Langhorne Slim and the Law: The Spirit Moves
44. The Domestics: The Domestics
43. Father John Misty: I Love You, Honeybear
42. 21 Pilots: Blurryface
41. Wilco: Star Wars
40. Frank Turner: Positive Songs for Negative People
39. Dwight Yoakam: Second Hand Heart
38. Ought: Sun Coming Down
37. Speedy Ortiz: Foil Dear
36. SOAK: Before We Forget How to Dream
35. Watkins Family Hour: Watkins Family Hour
34. Unknown Mortal Orchestra: Multi-Love
33. Titus Andronicus: The Most Lamentable Tragedy
32. Fidlar: Too
31. Greg Holden: Chase the Sun
30. Israel Nash: Israel Nash's Silver Season
29. Nathaniel Rateliff and the Night Sweats: Nathaniel Rateliff and the Night Sweats
28. Brandi Carlile: The Firewatcher's Daughter
27. Torres: Sprinter
26. Bottle Rockets: South Broadway Athletic Club
25. Leon Bridges: Coming Home
24. Screaming Females: Rose Mountain
23. Passion Pit: Kindred
22. Lost Lander: Medallion
21. Summer Cannibals: Show Us Your Mind
20. Misterwives: Our Own House
19. Bully: Feels Like
18. Lady Lamb: After
17. Heartless Bastards: Restless Ones
16. Decemberists: What a Terrible World, What a Beautiful World
15. Josh Ritter: Sermon on the Rocks
14. Los Lobos: Gates of Gold
13. Chvrches: Every Open Eye
12. The Weepies: Sirens
11. Sleater-Kinney: No Cities to Love
10. Beach Slang: The Things We Do to Find People Who Feel Like Us
9. Kurt Vile: b'lieve i'm goin' down
8. Skinny Lister: Down on Deptford Broadway
7. Oddisee: The Good Fight
6. Jason Isbell: Something More Than Free
5. Donnie Trumpet and the Social Experiment: Surf



---

Matthew Kauffman Smith has made a convincing case for Weird Al Yankovic's inclusion in the Rock and Roll Hall of Fame.