Music
We Have a Champion
Sprawling Album Bracketology Tournament Finally Names Best Album of 2015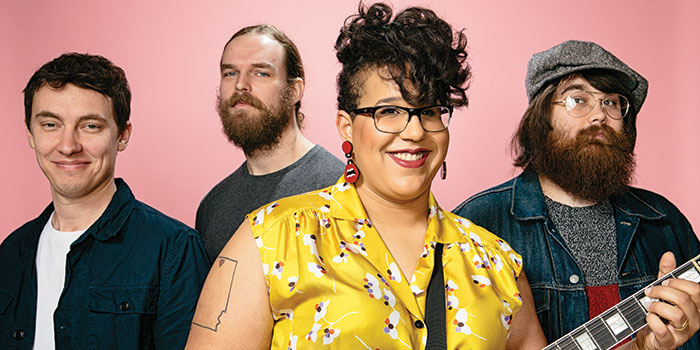 Alabama Shakes, entirely unaware they are contending for the Album Bracketology championship.


Part One: Expanded Confusion
Part Two: Cute Metal
Part Three: Live Look-Ins
Part Four: An Empty Head
Part Five: Lots of Colons
Part Six: Champion Determined

By Matthew Kauffman Smith

grew up in Indiana and had the same cliché dream that sixty-eight percent of other Hoosier boys had: hitting the game winning shot in a championship basketball game. While most kids wanted to win the championship for Indiana University, or the Chicago Bulls, I had modest goals. I wanted to hit a buzzer beater for my hometown Goshen College Maple Leafs.

And then it happened. I hit the game winner. And then another one. And another one.

The beauty of playing Nerf basketball in your room by yourself when you're twelve is that you can hit that shot a million times. I missed a few times, but snagged the rebound in time to put up a put-back game-winner. The possibilities were endless. Actually, there was only one possibility—that I would win the game—but I could win from the outside or inside, frontcourt or backcourt, dunk or half court shot. So while I never really played for Goshen College, I was a legend in my own room. There are many ways to achieve bracket glory, whether you're Villanova's Kris Jenkins, the invisible dude who dished the assists on all of my game-winning Nerf shots, or Courtney Barnett trying to become the first Australian to win Album Bracketology. Propeller will crown its Album Bracketology champion today, a coronation where one artist will win a listen-off and hit the proverbial game-winner.

To recap: The final four consists of Blackalicious, Grimes, Courtney Barnett, and Alabama Shakes. We will not be able to have live look-ins this time around because our sideline reporter, Vance, a.k.a. Uncle Vanya, tested positive for morphine; he has been suspended indefinitely from future duties.

We now join the action in loser bracket round eleven, where hip-hop duo Blackalicious continues its dominance, beating Grimes, the moniker of electro-pop singer Claire Boucher. Grimes's videos freak me out a bit but the editors of Propeller dug deep to find this rather innocuous one that features cameos of chickens and monkeys. [Ed. note: The editors of Propeller are responsible for none of this article's content and, further, renounce any and all connection with Album Bracketology.]



Loser bracket round 11 (loser finishes fourth):
Blackalicious def. Grimes

Blackalicious receives a much-need breather while the championship match of the winner bracket occurs between Alabama Shakes and Courtney Barnett. While Grimes's videos give me the weebie jeebies, my daughter called Courtney Barnett's video where she dresses like a clown "creepy." But alas, the artists are not judged by their videos in Album Bracketology, but by the overall quality and likability of their album. [Ed. note: The editorial staff has been continuously confounded by the meaning and necessity of the phrase "and likability" in the writer's criteria, but have elected to let it stand due to a desire not to be lured into the insanity of Album Bracketology, from whence one might never escape.] Having said that:

Winner bracket championship:
Alabama Shakes def. Courtney Barnett

Courtney Barnett won six matches in a row before losing to the Shakes, and now moves to the loser bracket championship, where she faces Blackalicious, a band she beat in the third round of the winner bracket weeks ago. After repeated listens of both albums, however, Blackalicious gets the edge, placing Barnett in third place. [Ed. note: Readers confused by how Courtney Barnett's album can have been judged superior to the Blackalicious album and then later judged, by the same person, to be inferior to the Blackalicious album: we share your confusion. We can only assume it has something to do with instabilities in the science of "likability."]

Loser bracket round 12 (loser finishes third):
Blackalicious def. Courtney Barnett



And so we've reached the title game between Blackalicious and Alabama Shakes. For those of you counting at home [Ed. note: No one is counting at home.], Alabama Shakes are 7-0, while Blackalicious is 11-1 heading into the finals. For the second year in a row, a team (album) has lost in the third round of Album Bracketology, only to rattle off eight victories to win the loser bracket and advance to the championship game. Last year, however, Kishi Bashi lost to eventual champion TV On the Radio in the third round and faced TVOTR in the championship. Blackalicious has yet to face Alabama Shakes. While the first half of the listen-off is going on, let's take a look at how next season is shaping up.

Preseason No. 1: During the NCAA men's basketball season, there were six different number one teams throughout the season. In other words, there was no dominant team. The same could be said for next year's album Bracketology. There isn't a clear-cut favorite, but there are a lot of albums with strong Album Bracketology pedigree, including former champions, former runners up, and more. Here's a look at the contenders.

Search for a repeat champion: Next year will be the eighth year of Album Bracketology, and no artist has ever reached the top of Album Bracketology Cup Mountain twice. Dr. Dog, the 2010 champ, returns with a re-tooling of their 2001 self-released album Psychedelic Swamp, which never really saw the light of day until this year. And yes, we've said this now for three straight years, but Yasiin Bey, a.k.a. Mos Def, was the inaugural Album Bracketology champ in 2009 and hasn't released an album since. The album, said to be his last, is reportedly coming, but Bey is currently detained in South Africa waiting for trial on charges of traveling with a false passport. Exonerating himself and winning the Album Bracketology Cup in the same year would certainly cement his hip-hop legacy.

Reaching the mountaintop: Speaking of 2009, the runner-up that year was Thao & The Get Down Stay Down, who also finished in the top twenty-five in 2013. Thao Nguyen and her band return with A Man Alive, and a chance to push over the top. They'll be joined by two-time thrunner-up (our word for third-place finisher, and we're currently trying to trademark that phrase) the Avett Brothers. The Avetts' last appearance in the tournament was 2013, when they finished twelfth.

Other blue-blood contenders: Other past artists who return include Tacocat, Lake Street Dive, and Twin Peaks. The Thermals, Frightened Rabbit, Album Bracketology faves Parquet Courts, and former top-five finishers Cloud Cult, Lucius, and Charles Bradley, the Screaming Eagle of Soul. The man can sweat as well as he can sing, so he's a true contender.



Back-to-back: Summer Cannibals, who debuted this year at No. 21, returns with their sophomore album. Oddisee already released a free, 7-song EP this year to follow up his No. 7 album The Good Fight. And Blackalicious, in this year's top two, is set to return with Imani, Vol. 2. If Blackalicious wins in a few paragraphs, then the duo would also be in the running to be a repeat champion.

Don't call it a comeback: There are some veterans that have returned with strong releases. Former Replacements front man Paul Westerberg teamed up with 90s alternative staple Juliana Hatfield to form a new band, the I Don't Cares. Also, Wussy, a veteran band that has never played for the Album Bracketology Cup, has a strong shot of reaching the top ten. The top fifty-three (or sixty-nine–we'll see) could also see appearances by veterans M. Ward, Bob Mould, the Pet Shop Boys, the Jayhawks, and even Cheap Trick. Speaking of tried and true returns, we'll surely feature more heart-warming dance videos, including this one from 2016 contender Allen Stone:



With 2015 almost in the books, we only have four more years until we can do the top albums of decade. We're pretty sure it's going to happen. Propeller has sustaining power and it's possible that I have nothing better to do. [Ed. note: The accuracy of the previous sentence has proven depressing to the editorial staff. We ask that you please refrain from describing how the future will mostly involve continual repetitions of the present.]

There is still unfinished business this year, however. Here are the respective artists' roads to the championship:

Alabama Shakes defeated: The Revivalists, Protomartyr, The Watkins Family, Heartless Bastards, Grimes, Donnie Trumpet and the Social Experiment, Courtney Barnett.

Blackalicious defeated: Mute Math, Wilco; lost to Courtney Barnett; and then defeated Bottle Rockets, Heartless Bastards, Los Lobos, Sleater-Kinney, Oddisee, Donnie Trumpet and the Social Experiment, Grimes, Courtney Barnett.

And as the game comes down to the wire, here are video offerings from each contender:





Lead singer Brittany Howard gets all of the attention in Alabama Shakes, and that isn't unwarranted. Sound and Color was somewhat of a musical decathlon, showing Howard's range in rock, soul, punk, and anything the band wanted to try. While Howard steals the show, the band is every bit as impressive and show their range as well, albeit in a quieter, behind-the-scenes sort of way. Blackalicious may win next year when the duo releases Imani, Vol. 2, but 2015 is the year of the Shakes.

The Alabama Shakes win the Album Bracketology Cup. They couldn't make it into the offices of Propeller to accept, so I will accept this award on their behalf. [Ed. note: Alabama Shakes couldn't make it into the offices of Propeller because the band is entirely unaware of both Propeller and the Album Bracketology tournament. The writer is accepting an award he invented and then accepted. That Propeller has served as a venue for this alternately troubles us greatly and not at all.] They become the first female-fronted band to lift the prestigious cup. While he was out picking cherries in his orchard, the ghost of Chekhov hinted at this several times over the past six installments. The rifle fired. The Alabama Shakes are your champions.

69. Mynabirds: Lovers Know
68. Hop Along: Painted Shut
67. Girlpool: Before the World Was Big
66. Kacey Musgraves: Pageant Material
65. Rayland Baxter: Imaginary Man
64. Oh Wonder: Oh Wonder
63. Tamaryn: Cranekiss
62. Tame Impala: Currents
61. Briana Marela: All Around Us
60. Death Cab for Cutie: Kintsugi
59. Amason: Sky City
58. Radical Dads: Universal Coolers
57. Ezra Furman: Perpetual Motion People
56. Motopony: Welcome You
55. Shovels & Rope: Busted Jukebox, Vol. 1
54. Mikal Cronin: MCIII
53. Wolf Alice: Creature Songs
52. Kelela: Hallucinogen
51. Protomartyr: The Agent Intellect
50. Andra Day: Cheers to the Fall
49. FFS: FFS
48. Guster: Evermotion
47. Moon Taxi: Daybreaker
46. Baio: The Names
45. Langhorne Slim and the Law: The Spirit Moves
44. The Domestics: The Domestics
43. Father John Misty: I Love You, Honeybear
42. 21 Pilots: Blurryface
41. Wilco: Star Wars
40. Frank Turner: Positive Songs for Negative People
39. Dwight Yoakam: Second Hand Heart
38. Ought: Sun Coming Down
37. Speedy Ortiz: Foil Dear
36. SOAK: Before We Forget How to Dream
35. Watkins Family Hour: Watkins Family Hour
34. Unknown Mortal Orchestra: Multi-Love
33. Titus Andronicus: The Most Lamentable Tragedy
32. Fidlar: Too
31. Greg Holden: Chase the Sun
30. Israel Nash: Israel Nash's Silver Season
29. Nathaniel Rateliff and the Night Sweats: Nathaniel Rateliff and the Night Sweats
28. Brandi Carlile: The Firewatcher's Daughter
27. Torres: Sprinter
26. Bottle Rockets: South Broadway Athletic Club
25. Leon Bridges: Coming Home
24. Screaming Females: Rose Mountain
23. Passion Pit: Kindred
22. Lost Lander: Medallion
21. Summer Cannibals: Show Us Your Mind
20. Misterwives: Our Own House
19. Bully: Feels Like
18. Lady Lamb: After
17. Heartless Bastards: Restless Ones
16. Decemberists: What a Terrible World, What a Beautiful World
15. Josh Ritter: Sermon on the Rocks
14. Los Lobos: Gates of Gold
13. Chvrches: Every Open Eye
12. The Weepies: Sirens
11. Sleater-Kinney: No Cities to Love
10. Beach Slang: The Things We Do to Find People Who Feel Like Us
9. Kurt Vile: b'lieve i'm goin' down
8. Skinny Lister: Down on Deptford Broadway
7. Oddisee: The Good Fight
6. Jason Isbell: Something More Than Free
5. Donnie Trumpet and the Social Experiment: Surf
4. Grimes: Art Angels
3. Courtney Barnett: Sometimes I Sit and Think, and Sometimes I Just Sit
2. Blackalicious: Imani, Vol. 1
1. Alabama Shakes: Sound and Color


---

Matthew Kauffman Smith has made a convincing case for Weird Al Yankovic's inclusion in the Rock and Roll Hall of Fame.