Music
The Rock and Roll Hall of fame
denies its loving son


By Matthew Kauffman Smith
Imagine two musical artists. Both have distinct looks and are instantly recognizable. Artist A is a band that released its first studio album in 1971 and its 15th just last year. The group released iconic, sophomoric videos in the 1980s, when they peaked. They have garnered five platinum albums—including two multi-platinum —and four additional gold records to go along with three Grammy nominations (but no wins). Their last album debuted at No. 6 on the Billboard charts, though they haven't had a gold record since 1996 and haven't yielded a Top 40 single since 1986.

Artist B released his first album in 1983 and his 13th last year. He released a few iconic, sophomoric videos in the 1980s, and then a few more in the ensuing decades. He has six platinum albums and three additional gold albums, including one in 2006, when he also achieved a platinum single, a Billboard Top 10 single, and a certified gold ringtone. He has snagged 14 Grammy nominations and three wins. His latest album debuted at No. 9—the highest charting position in his 30-year career.

The Rock and Roll Hall of Fame inducted Artist A in 2004. Artist B has never sniffed even a nomination in his eight years of eligibility, and of the fifteen 2013 nominees announced in early October, he wasn't one of them. The merits of Billboard charts and the Rock and Roll Hall of Fame can certainly be questioned, but at the very least, induction into the Hall reflects the cultural relevance of mainstream music. Artist B, despite the Hall's continued snubs, has not only maintained his popularity, but gains new fans every year. A few have made modest attempts to advocate for his inclusion in the Hall, and he won a 2009 Rolling Stone reader's poll of artists who deserve to be in the Hall, but nothing has materialized. Meanwhile, Artist A, snuggled firmly in the Hall, caters to its existing fan base.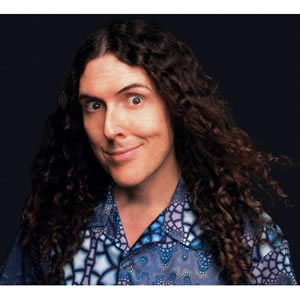 Artist A? ZZ Top.

Artist B? "Weird Al" Yankovic.

Many may dismiss Al and his accordion, chalking him up as just a parody artist, someone who, because he relies on established musicians for his success, is not a serious musician. It's not necessary to argue that Al should be elevated above nominees like Public Enemy and Kraftwerk, however, to suggest that he at least deserves to be in the conversation. Because when held next to current and future Hall members, Al's resume stacks up. Consider the following:

• The Stigma of the "Novelty" Musician: Al followed in the footsteps of 1960s parody artist Allan Sherman, and relied on airplay from the "Dr. Demento Show" to launch his career. But does novelty really equal irrelevance? Rock history—and the Rock and Roll Hall of Fame—embrace novelty as a matter of course. Hall of Famers Val Halen have made a living off of adolescent hijinks and not-so-subtle humor. "Hot For Teacher"? Novelty Song. "Panama"? Novelty song. Van Halen had a chart-topping album titled OU812 and another titled For Unlawful Carnal Knowledge (the acronym is what they were interested in there). ZZ Top has given us such serious numbers as "Sleeping Bag," "Tube Snake Boogie," "Tush," and "Legs." AC/DC, also in the Hall, has ridden a similar wave of innuendo throughout their fruitful career. While Weird Al has never recorded a serious song in his life, the Hall has never suggested that seriousness is a pre-requisite to inclusion.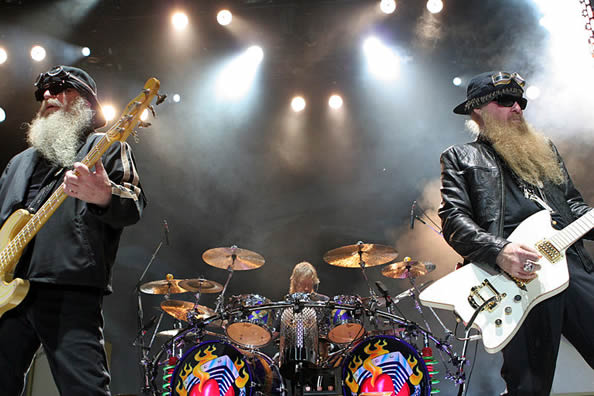 ZZ Top. Their hits include "Sleeping Bag," "Tube Snake Boogie," "Tush," and "Legs."

• Influence: One knock on Al is that he hasn't inspired another generation of sustainable artists—but that's actually one of his selling points. Musical comedy is a niche market, one that Al has cornered. When Al went mainstream in the 80s with "Eat It," he opened a market that no one else cashed in on to the same degree. Who would be the next Weird Al? The answer, in each of the last three decades, has been: well, Weird Al. He has made himself relevant in every decade, choosing Michael Jackson, Nirvana, T.I. and Lady Gaga as his vehicles. While Al has influenced many people to write parodies—just type the name of any hit song followed by "parody" into You Tube and you'll see Al's influence—no one has been able to sustain the success. And is influence really a boon? Is it really a good thing that ZZ Top yielded .38 Special and Van Halen spawned Warrant? Even Pearl Jam, who will be eligible for the Hall in 2016 and will most likely make the first ballot, gave us Creed. Is that somehow better than hundreds of amateur You Tube videos parodying fun.'s "We Are Young?"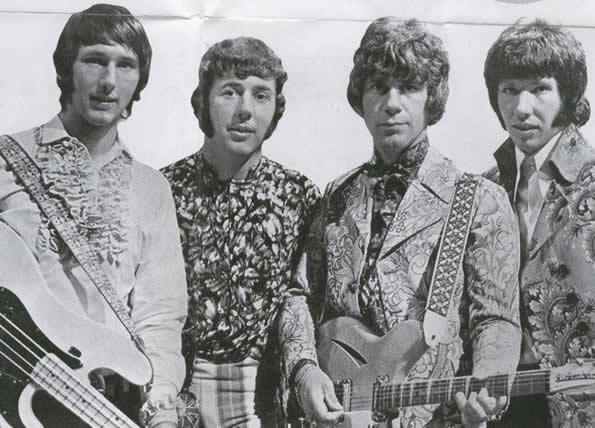 The Paul Butterfield Blues Band. Being derivative is a necessity, not a choice.

• Derivation: Al's originals are often stylistic parodies, such as "CNR," his ode to Charles Nelson Reilly played in the vein of The White Stripes. He has mimicked the style of the B-52s, Devo, and the Doors. But the argument that Al's music is solely derivative is not an issue unique to Al. This year's nominees included The Paul Butterfield Blues Band and Joan Jett and the Blackhearts, both of whom borrowed heavily from the past, as all modern-day artists do. Being derivative is a necessity, not a choice.

• Longevity: One of the Hall of Fame's criteria is durability, which is Al's strongest case. The Paul Butterfield Blues Band released six albums between 1965 and 1971 and then disbanded. Even nominees who have continued to release albums over the years, such as Procol Harum and Deep Purple, have done so with rotating lineups. While Van Halen undergoes lineup changes seemingly with each album, Weird Al has maintained his exact same band for over thirty years. In a business where artists feud, disband, reunite, and replace deceased members who choke on their own vomit, Weird Al stands out. Not only that, but Al has managed to do what few artists have done or will ever do: he has kept the same rotating demographic of fans. While ZZ Top fans have aged with the band, Weird Al has been attracting new waves of middle-school-aged boys for four decades. A Procol Harum show nowadays will attract baby boomers, but a Weird Al show will feature a mix of young teens, college kids, whole families, and a random groupie or two.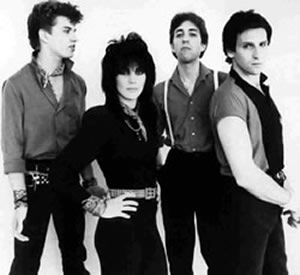 • Cultural relevance: Nominee Procol Harum found success, but if they ever make the Hall of Fame it will be almost entirely on the coattails of "Whiter Shade of Pale." Joan Jett and Blackhearts haven't been relevant since the 80s, and Deep Purple never really evolved out of the 70s. In addition to the aforementioned recent success of Al, he has maintained essentially the same popularity over the years, and has increased his cultural cache. He has stayed relevant by embracing all media. His video for "White and Nerdy" has attracted more than 73 million views on You Tube. Instead of waiting to a record an album in 2008, Al embraced the trend of digital singles by releasing a parody of T.I.'s "Whatever You Like" while the original was still on the charts. He released a bestselling children's book a few years back, and recently appeared on "How I Met Your Mother" and "30 Rock." Whether he's a guest on the WTF podcast with Marc Maron, stealing the show as tambourine player in a Hanson video, or singing "I Bleed" with the Pixies and joining Hall of Famers Steven Tyler and Alice Cooper onstage for a benefit, Al has remained relevant simultaneously in the mainstream and the underground. He proved his indie cred two years ago when he was included in the lineup for the UK All Tomorrow's Parties festival. When Lady Gaga's representatives tried to block Al from releasing "Perform This Way," his parody of Gaga's "Born This Way," news of the snub broke, causing Gaga to claim she didn't know about the issue and that she loved Al.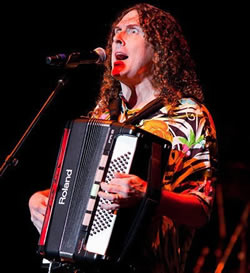 Like Gaga, Nirvana and other artists that Al has lampooned considered Al's parodies a sign they had arrived. He is a known entity. When saying his name, no one ever responds "Weird who?"

No doubt, ZZ Top will continue to play "Sharp Dressed Man" at outdoor amphitheaters in the summer for sixty-somethings while Weird Al packs the grandstand at state fairs. David Lee Roth will continue to attempt the jump splits he last pulled off in the 80s while Al straps on his accordion. In early 2013, the Hall announced that it will induct Rush. Weird Al and his band likely heard about it on the road.

---

Matthew Kauffman Smith is a freelance writer and music critic.