The Conventionalist
The Best Books I Read in 2012...in the Month of December...That Happened to Remind Me of The Conversations
By Patrick McGinty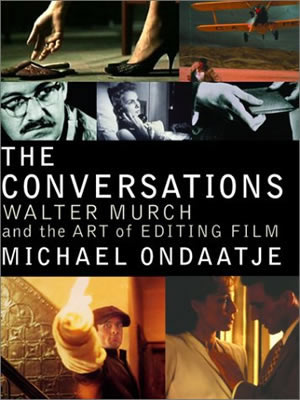 I don't know much about film. I'm not sure whether I should be calling it "film" or "cinema" or "the movies." What I do know is that one of the best books I've ever read about writing is, ostensibly, about film. The official title of this nifty little book is The Conversations: Walter Murch and the Art of Editing Film, and it is basically a transcript of a chat between Walter Murch and Michael Ondaatje. You'll know Ondaatje as the author of The English Patient, which won the Booker Prize as a book and nine Academy Awards as a film, including Best Picture. He's written novels and poetry collections and memoirs. In other words, he's no slouch when it comes to creating art or conversing about it. So to read 300 pages of Ondaatje marveling and groveling and begging for wisdom is to know that this Murch character has been around the block.

Murch mixed the sound for the film version of The English Patient, which is where the two met. Murch has also: worked with Francis Ford Coppola on The Godfather I-III as well as Apocalypse Now and The Conversation; mixed the sound for George Lucas' THX 1138 and American Graffiti; more or less invented the concept of "sound design;" and received four Academy nominations for work done on four different sound mixing systems, the only film editor able to claim such a distinction. Murch has probably thought about scenes—what they're made of, how to move between them—more than any human alive. The last statement is admittedly bold, but it's hard to read The Conversations and think differently. When Murch talks about how sounds and scenes change, he could be talking about movies or novels or symphonies, and often times he is doing just that. He understands sound so thoroughly that it's almost as if sound in movies bores him and he's more interested in how it works elsewhere. Though I apply most of his theories to writing, the book has fundamentally changed my perspective of movies and how they are constructed. Directors sit in fancy chairs. Film editors make art. (Full disclosure: I watch, like, five movies a year. I don't actually know what directors do.)

A "Best Books of 2012" list is impossible for me—I can hardly remember what was discussed at Thanksgiving dinner or where I had it. What I can recall more easily are Murch's various theories about art. A book I read early in December got me thinking about Murch again, and I've been thinking about him all month. Consider this a crash course in the way he edits films and, less importantly, the way I read books with his theories in mind. Not included are the many, many "so I told Francis to try the scene this way" anecdotes that any film fan will eat up. Without further fussing, here are "The Best Books I Read in 2012...in the Month of December...That Happened to Remind Me of The Conversations."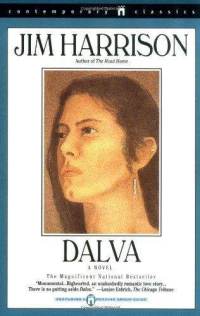 The Murch Theory: The Blue Light Theory, in which Murch argues that placing a blue lightbulb in a room will turn everything blue and thus rob the room of what is actually blue. He associates this theory with scenes that try too hard to drive home a point and ultimately begin to feel unnatural, scenes in which a sound or character or shot or even an idea needs to be removed. Stated differently later in the book: "you pay attention to the stars on nights when there is no moon."

The Book: Dalva, by Jim Harrison. Think of all the ways that the following setup could go awry: an older white male writing in first-person as a half-Sioux woman reflecting on her rough teenage years. There is ample room for disaster here (to wit: a recent edition of the Pushcart Prizes featured a "teepee" metaphor so ridiculous that I had to show three separate people to make sure I wasn't being overly sensitive).The trick for Harrison is that he doesn't make Dalva's ethnicity a proverbial "blue light." Despite the stern sketch of a Native American woman on the cover of most editions, Dalva is above all a real, human character as opposed to simply a "Native American" one. Scenes of ill-advised young love and a pregnancy at fifteen are written with the heartbreak and physical pain of a young woman, not a young "Native American" woman. Harrison doesn't bore us with a graduate thesis ("Thus, the book will problematize the issue of Native American identity while widening the discourse to allow for racially and socio-economically affective readings, thereby..."). Particularly in the first third of the book, he smashes that lightbulb and gives us the rough and raw and true blue prose of a real character.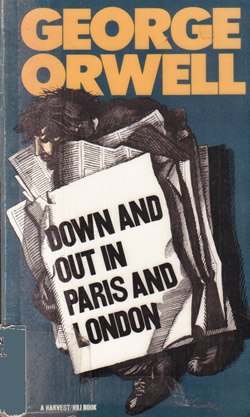 The Murch Theory: That films with a single point of view are on borrowed time if they are more than two hours.

The Book: Down and Out in Paris and London, by George Orwell. I am not sure that I would want to slog through 500 pages of first-person poverty, sweltering kitchen work, and come-and-go characters. But 200 pages? Of crisp, funny, often brutal lines? Absolutely. The length is perfect. Liberated from narrative arcs, Orwell can bounce around between the vulgarities and hardships of the lower class and the larger questions prompted by these conditions. Few writers can go from the specific to the moral as quickly. He is careful to log every meal and sous, to mire himself in the temperatures and square footage of his lodgings, yet he never misses a moment for social commentary. "Why are beggars despised?" Later: "I believe that this instinct to perpetuate useless work is, at bottom, simply fear of the mob...it is safer to keep them too busy to think." Another Murch quote applies here: "a book can nimbly switch tracks in a way that would wreck a film." Down and Out is Orwell at his most nimble. Bonus commentary: no title in all of literature can be so thoroughly mangled by a Pittsburgh accent—Dahn an' Aht 'n Pahris 'n Lahndin.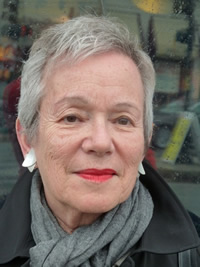 The Murch Theory: an audience cannot handle more than 2.5 thematic moments at any time.

The Book: "Honeydew," by Edith Pearlman. This is actually a short story, one that I came across in 2012's Best American Short Stories. It features a problematically thin schoolgirl ("Skin stretched like a membrane over the bones of the face. A voice as harsh as a saw") who is obsessed with insects. Now that I think about it, the story actually starts with the private school's headmistress, who despises the girl for her thinness and perhaps for other reasons, too. She is meeting with the girl's father at the outset, who is a physician and also happens to get something of a say in the narration. I don't really know what the story is "about," but I am still thinking about it days later. What I know is that I "felt" something throughout every moment. This ten-page story could have been overloaded with insect metaphors or plotty, Ibsen-esque character triangle malarkey, but instead it was brisk and controlled. I will read this story again many times, and I think it's because the story is open without being too open. Every scene abides by Murch's law of 2.5.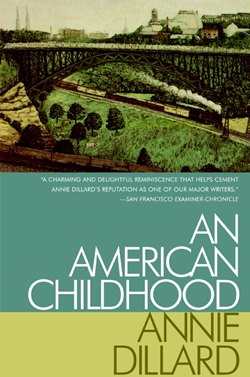 The Murch Theory: Murch is discussing sound and how it moves. Quoting a painter, he says "I don't paint the object; I paint the space between my eye and the object."

The Book: An American Childhood, by Annie Dillard. I am over-the-moon for this book, probably because Dillard and I each spent our childhoods wandering the same Pittsburgh streets. Though she is correctly cited as a writer of place or landscape (or object, in Murch's case), Dillard's autobiography is less concerned with place than the distance between her younger self and the enormous natural world she wants to explore. "If even rock was interesting, if even this ugliness was worth whole shelves at the library, required sophisticated tools to study, and inspired grown men to crack mountains and saw crystals—then what wasn't?" She doesn't just write about landscapes. She wants to touch every rock. Pilgrim at Tinker Creek and The Writing Life are better known, but in An American Childhood Dillard is writing with a child's ferocity and curiosity. I've rarely seen the space between eye and object written about so plainly and with a type of frustration that seems almost lustful. I know less about memoir than I do about film, but I cannot envision any list of top-five memoirs that does not include this book.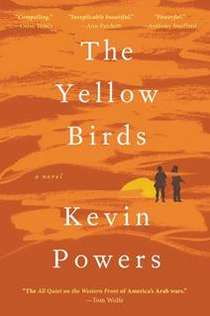 The Murch Theory: Pillow Talk Intimacy, in which Murch suggests that you don't want sound recording to be too "perfect." A perfectly placed microphone will eliminate the "distorted b's, p's and s's" that we hear in daily conversation. While filming Apocalypse Now, Murch asked Martin Sheen to get closer to the microphone to record the famous voiceover narration. He asked for him to imagine that it was somebody's head on the pillow beside him, that they were talking intimately, without boundaries. Ondaatje summarizes the technique as having a confessional tone, one that says "It's dark and I trust you, and you're lying next to me and we're near sleep, and I'm going to risk telling you the truth."

The Book: The Yellow Birds, by Kevin Powers. Unlike my other selections, this book has actually been showing up on year-end lists with the usual fanfare. It's "the" book of the Iraq war. It's the best debut novel in years. At 30 and having graduated an MFA program in June of 2012, Powers has already been a finalist for the National Book Award. It has garnered all this attention for good reason. I'm resistant to say much else about it—to do so feels like a violation of some secret, near-sleep covenant. This was the book that got me thinking about Murch again. The Yellow Birds got me thinking about distorted sounds and risky truth telling and the "even level" that Murch talks about. Murch says that "What I'm looking for are those intimate pillow moments where it's too close to the mic and it isn't looking to be perfect and it's just leveling in every sense of the word. Getting onto an even level with me, the reader, and leveling all of its own false and ridiculous self-images, be they created by the individual or the self." Powers has written a book full of such leveling moments, moments that level the soldiers in the novel, the towns they are sent to, and the protective walls thrown up by readers who have found a way to avoid the headlines in this past decade of American war.

---

Patrick McGinty's fiction has appeared, most recently, in ZYZZYVA and The Portland Review. In the summer issue, he reviewed Jon McGregor's story collection This Isn't the Sort of Thing That Happens to Someone Like You.