Mostly Novels
Trying to Go Further: The Electric Kool-Aid Acid Test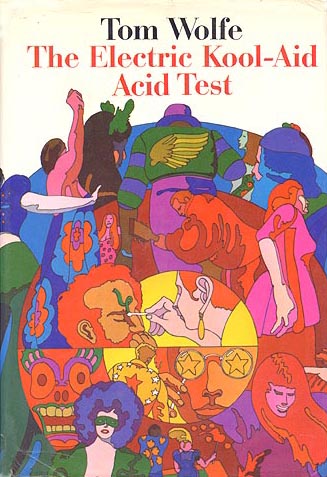 By Emily Burns Morgan
The Electric Kool-Aid Acid Test, as Tom Wolfe writes in his author's note, is written in a style intended to "re-create the mental atmosphere or subjective reality" of life with the Merry Pranksters, the group credited with introducing LSD to the youth of America. Wolfe believes that the group's "adventure can [not] be understood without that." Indeed, as the Pranksters themselves say many times, the LSD trip can't be put into words; it has to be experienced. Wolfe is quite successful at recreating that experience for the reader. In fact, he often gets a little too close to it for comfort. I couldn't read the book before bed because it made me feel as if I was on drugs myself. As the book went on, though, this feeling wore off to some degree; either Wolfe dispensed a milder dose, or I developed a tolerance—or a tolerance of a kind: while I suffered less disorientation the more I read, I also grew tired of the style. At 416 pages, this is not exactly a short book, and Wolfe's zipping, buzzing acid voice felt tedious by the midpoint. I would have preferred Wolfe to switch between the "atmosphere" and a more analytical tone. I realize that his purpose here, as a good New Journalist rather than a "Gonzo" one, is to observe and report, not analyze, but I found myself wishing for less mood and more substance.

This is not entirely a creative non-fiction work of unfiltered observation, however. As the book progresses, one message does emerge: the story of the Merry Pranksters, at least in Wolfe's telling of it, is less about drugs than you think, and more about the nature of leadership. Far more than acid, Wolfe suggests, the reason that the Merry Pranksters—and the psychedelic movement—existed at all is one man: the captivating Oregonian novelist, Ken Kesey. By means of his mostly unspoken will and enthralling personality, Kesey brings the group, and soon the youth of America, together under the banner of LSD. They might have taken acid without him, Wolfe suggests, but they wouldn't have done it in this way.

Kesey's first experience with LSD is as a human guinea pig at a Veteran's hospital in California. This, of course, is when the drug is still new and still legal, and Kesey recognizes immediately "the experience of the barrier between the subjective and the objective, the personal and the impersonal, the I and the not-I disappearing…that feeling!" Having studied Buddhism for several years now, I immediately note the association of this kind of thinking (or not thinking?) with that religion's teachings. In fact, even in this very early stage of LSD experimentation, Wolfe recounts one of Kesey's fellow LSD subjects drawing "a huge Buddha on the wall. It somehow encompasses the whole." Buddhist language and concepts continue as a major motif throughout the book. Despite their prevalence, however, Kesey and the Pranksters fail to make (or resist making) the association themselves between their own ideas and the philosophy of the Buddha.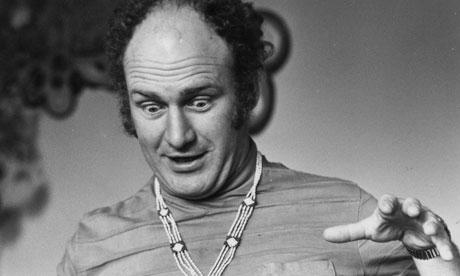 Ken Kesey. He felt the Pranksters needed to go "beyond acid."

It's after Kesey's first book, One Flew Over the Cuckoo's Nest (some of which he wrote under the influence of acid and peyote), is published and Kesey is living on a farm outside of La Honda, California, that the Merry Pranksters start to drift into his life—friends and friends of friends, the folks who show up want, or soon are enticed to want, to walk through the doors of perception that LSD opens in order to be forever changed. There are two conflicting narratives going on here, however. One is the intersubjectivity narrative, and one is the Kesey as "Sun King" narrative. In the intersubjectivity narrative—the Buddhist narrative—the Pranksters go to Kesey's, take LSD, and it's "as if our consciousnesses have opened up and flowed together," and the separation between you and I is recognized as illusion. Later, though, things seem less equal. The Pranksters are at Kesey's place; they take Kesey's drugs; they go on "Kesey's trip." The All-One is real, but so is "Chief" Kesey.

Kesey, as it seems he was in his life, is also the most interesting part of this book. His ideas keep it afloat and moving to the extent that it does at all. Kesey, of course, is all for acid, and for "turning on" the world, starting with the youth of America, through parties that the group throws called "acid tests," where the Grateful Dead play and the group mimics the effects of LSD with lighting and colors and other trippy effects. The Pranksters, Wolfe makes it seem, would be happy enough to carry on this way, living together, sometimes in a communal home, sometimes on a Day-Glo-painted school bus, taking and distributing acid and freeing their own and others' minds. But for Kesey this is not enough. He believes that they must go "beyond acid." They must find a way to "either make this thing permanent inside of you or forever just climb draggled up into the conning tower every time for one short glimpse of the horizon." But how to keep the door that LSD opens open, without the LSD? This, as we will see, is the problem.

A lot of what Kesey and the Pranksters say makes good sense. In the 1960s, they, like so many others, want to overcome "this electro-pastel world of Mom&Dad&Buddy&Sis in the suburbs," which is "a fantasy world already." And LSD helps them do that. The confusion comes in when they set themselves apart as the truly enlightened, the more enlightened, the only ones who can teach the rest of America how to throw off the oppression of their fantasy. The problem is that their idea is a bit of a fantasy itself, LSD or no LSD. Kesey and the Pranksters position themselves as a kind of antithesis to Timothy Leary and Richard Alpert, the Harvard psychologists fired for their research on LSD and psilocybin (magic mushrooms) but who continued to experiment with the drugs and promote their use throughout the 60s and 70s. Kesey and his group meet the famous psychologists once, but feel they are too "hung up" on an intellectual trip to be of any real use. Kesey seems to feel that Leary and Co. are too uptight, that they have too many rules about when and how to take acid. Their aesthetic preferences are also decidedly different (Indian simplicity for Leary, Day-Glo and strobe lights for Kesey). Kesey and the Pranksters' rejection of Leary and his followers is a symptom of a bigger problem: the need to be the only ones who are right—the need to be not a follower of Buddha, but a Buddha himself. In fact, at one point Kesey talks to the Pranksters about how religions are formed, noting that what they're doing seems to mirror such a trajectory.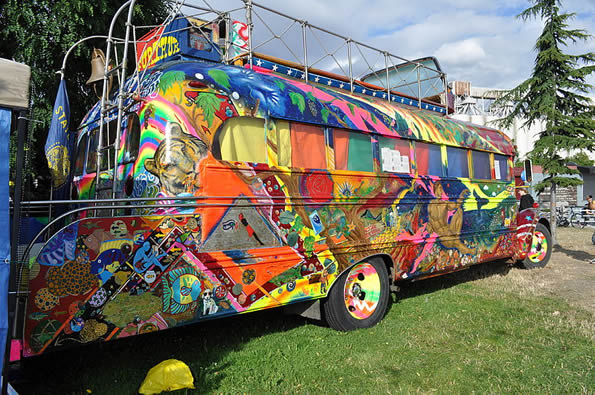 But just because he is at times hypocritical and at others egomaniacal does not mean that Kesey is not also often spot on. Where Kesey's truly revolutionary (and truly Buddhist) vision becomes most apparent is when Wolfe recounts a Berkeley march and rally against the Vietnam war, at which Kesey has been asked to speak. The organizers of the rally assume that Kesey shares their views, but they are mistaken. Instead of adding his voice to the rally's cries, Kesey speaks in a soft, subdued tone, and begins his address by comparing the rhetoric of the speaker before him to Mussolini. "Yep…you're playing their game," he says, adding that he had seen the Beatles the month before and "I couldn't hear what [the girls] were screaming [at the Beatles] either… But you don't have to…They're screaming Me! Me! Me! Me!...I'm Me! … That's the cry of the ego, and that's the cry of this rally! … Me! Me! Me! Me! … And that's why wars get fought … ego … because enough people want to scream Pay attention to Me … Yep, you're playing their game…" Instead of feeding into the ego-driven system with marches and rallies—the same tactics that have been used by every side on every issue since forever—Kesey makes a rather Buddhist suggestion, though not in Buddhist language. "Just look at it," he says, "look at the war, and turn your backs and say … Fuck it …" Or, to put this in the words of Pema Chodron, in When Things Fall Apart: Heart Advice for Difficult Times: "When we hold on to our opinions with aggression, no matter how valid our cause, we are simply adding more aggression to the planet, and violence and pain increase. Cultivating non-aggression is cultivating peace. The way to stop the war is to stop hating the enemy. It starts with seeing our opinions of ourselves and of others as simply our take on reality and not making them a reason to increase the negativity on the planet." I would argue that if Kesey had used words like Chodron's, and like his own at the Berkeley rally, in addition to acid, he would have had a better chance at having the kind of effect Wolfe suggests he wanted. Instead, he and the Pranksters mostly just pass out the kool-aid and let the kids fend for themselves. Don't get me wrong, kool-aid can be good; many, many people have been able to see their own and others' hang-ups by taking psychedelic drugs. But, as Kesey kept insisting, drugs alone are not enough. The movement needed to go "further." They needed to go "beyond acid." But, at least within the scope of Wolfe's book, they did not.

At the last acid test he recounts, Wolfe presents an image of the attendees "nestling in a circle around Kesey. Others pulling in, through the darkness, towards the cone of light lighting up Kesey's head and back. […] 'I know these people,' [Kesey] says. 'I've been with these people!'" Here, Kesey appears as a kind of LSD Jesus, or Buddha, gathering his followers around him. And yet the last image of the book is of these same followers scattering, one by one or in small groups, from a barn where Kesey and another Prankster are playing guitar and singing made-up songs. The song's refrain is "We blew it!" And this is the last line of the book. But what did they blow? Is Wolfe suggesting that Kesey and the Pranksters lost the thread of enlightenment? That they put their faith in LSD instead of in the effects of LSD? Did Kesey, as a leader, get in the way of the All-One? The answer is yes—this is exactly what Wolfe is suggesting, albeit in a friendly, non-judgmental way; it's clear he, too, has drunk the kool-aid. I agree with him. After all, all the stuff that Kesey and his gang "rap" about—changing the game, egolessness, the All-One, total acceptance—has been expressed already, long ago, by the Buddha. If Kesey and the Pranksters hadn't been caught up in a "game" wherein they had to be right, and first, they might indeed have found the way to go "beyond acid." But Buddhism wasn't new and it wasn't American, two qualities Kesey and the Pranksters were intent on for their message, so they rejected the connection that could have helped them find enlightenment without the LSD crutch. That rejection is a problem. Because of it, they never figure out how to go further.


---

Emily Burns Morgan is a writer, editor, and professor in Brooklyn. Her work has appeared in The Raleigh Review, Willamette Week, and The Montreal Review, among other publications.