Quiz
Is it Possible the NBA Team You're playing for is Tanking?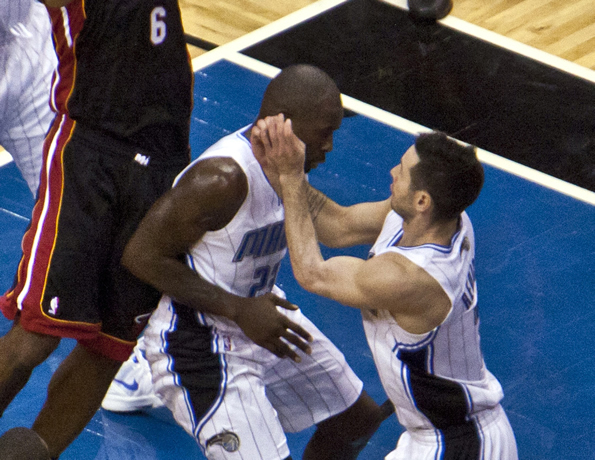 Whether it's a good team "slipping" into a favorable playoff match-up or an also-ran "fading" toward a higher draft pick, NBA tanking is endemic. But how, in a league filled with players of such subtlety and discretion, can a lone player know what lies in the hearts of his teammates and executives? Was it a good game? Did both teams play hard? Reflect, select, add, and be glad...that you'll know.
1. Who is coaching your team right now?
—Kobe. (Ed. note: Answer applies to Los Angeles Lakers and Russell Westbrook only.) (-10)
—The little guy Dwyane and LeBron said to nod at during time-outs, before we walk back onto the court and Dwyane and LeBron tell us what Mr. Riley signaled to do. (-5)
—Some idiot who never gives me enough minutes, because he doesn't understand my game. (0)
—Our original head coach was fired, and now we have an interim head coach. He came up through the ball boy ranks. Our owner said they chose him because he's "very capable," though, and that they'll even have to let him interview when the team begins its actual search after the season ends. (5)
—We're being coached by a middle school biology teacher who won a contest. I guess he made a half-court shot or something. No one actually saw it—our GM said it happened "off-site." His pre-game talk the other day was about photosynthesis. We lost by forty, but it's cool that plants can do that. (10)

2. The last time one of your star players missed a game, what was the listed injury?
—He blew out his knee, but they did surgery during halftime and he was in Germany by the next morning. A German cyborg rehabs his knee while also spiking his blood with his own blood, which I don't understand, but I guess they do that there. He should be back for round one of the playoffs. (-10)
—He has a stress fracture in his foot, so he sits out games against really weak teams. When I said, "So you're just kind of playing hoping it doesn't break?" he told me to shut up and play defense. (-5)
—High ankle sprain. Deep thigh bruise. Recurrent back spasms. Clicking-socket socket. It always seems to be three words. (5)
—Court toe. Acute Vitas Gueralitis. Sartorial fatigue. Joint malaise. Tweeting of the pipe. (10)

3. How is your team defending the pick and roll these days?
—The big guy has to jump out and cut off their guard, and you have to be serious about doing that. You have to commit to it. Everyone's hands need to be up, and the guys on the off-ball side need to rotate to cover the rolling player, then be prepared to rotate back. There are a couple philosophies about the best way to do this, and the first one is... (-10)
—We know how to do it. The problem is there are a couple guys on this team who are kind of lazy about it. I don't need to say who, because it's all on video. One of the veterans said he'll "take care of it." (-5)
—Sometimes we defend the pick, sometimes the roll. Wait, can you defend the pick? Let me ask Coach real quick if you can defend the pick. That doesn't sound right. (0)
—We just kind of back away from it. A lot of teams don't realize you can do that, but you can. If they're going to pick you, just get out of the way! Then they can't pick you! (5)
—We haven't really been concentrating on that. In the video room lately, Coach has just been watching a lot of college games. He's turned into, like, a huge fan of college basketball in the last few months. We don't watch tape of ourselves anymore. Coach says it's bad for the ego. (10)

4. How did your general manager respond to the media when they pointed out that the team might benefit more from losing?
—He said losing on purpose is either a pseudo-strategy born of fear or a self-deluding control fantasy. He asked them to name teams who lost on purpose and then actually won a championship as a result. No one could. (-10)
—He said going forward, statistical analysis of advanced metrics, when matched with salary cap considerations and extensive scouting of all tenth-grade players in the country, reveals outcomes that, going forward, aren't conducive to the long-term health of the franchise, going forward. (-5)
—He said something kind of long about how of course there are various kinds of incentives...of course the league takes this very seriously...but of course you have to be smart...I didn't really understand it. (5)
—He said hey, the team's already starting three rookies and two foreign players. What more do they want? (10)

5. Finally, how did the team respond the last time you went flying into the crowd to save the ball?
—We know each other's tendencies at this point, so I knew how and in what direction to save it, and my teammate was there to get it. He attacked the basket immediately, made a smart pass, and we got a dunk. I asked the fan I fell over if he was okay, and he said not to worry about his broken ribs, to get back on defense, we've got a championship to win. We fist-bumped and I ran back out there. (-10)
—They said good hustle, but also I need to be smart about when and where I do that, because we don't want fan lawsuits at this point in the season. (-5)
—Surprised. They laughed. We all laughed. Because I totally broke that photographer's camera. It was in pieces everywhere. Funny stuff. (0)
—Um...I can't remember the last time I did that. We're kind of more doing the thing now where we let the ball go out of bounds and then launch into a frenzy of pointing at various body parts or players on the other team to try and confuse the ref. If the ref says it's the other team's ball, we react like it's the worst call ever. Even if he's right. (5)
—Coach took me out of the game and said, "What are you doing?" I said, "What do you mean?" He said, "You know what I mean." I said, "No, I don't know what you mean." He said, "You don't know what I mean?" I said, "No. What do you mean?" He said, "How can you not know what I mean?" I said, "How can I not know what you mean?" He said, "Forget it." I said, "Forget what?" He said, "You know what I mean." I said, "I seriously do not know what you mean." (10)

Results:
-50: Dwight Howard, why are you taking this quiz? The Lakers are not tanking! Get back to practice! Where is your mind?!
-40 to -10: Congratulations—your team is not tanking. Unfortunately, this also means that your losses are...actual losses. Good luck getting that playoff position.
-10 to 10: Do you have a general manager who set up the team to lose, but players who keep trying to win? Has your owner departed to a yacht in the Mediterranean while your coach continues manically designing plays and attempting to motivate everyone? Wait—are you on the Portland Trail Blazers?
10 to 40: The fix is in. If you're a playoff team, just trust Coach—he's positioning you. If you're not a playoff team, trust no one. Shut it down and call your agent. Now.
50: Come on—you're on the Charlotte Bobcats. You knew this. There's no need to feel ashamed. Callers are standing by.


---

It was a good quiz, all the questions played hard. It was a good quiz, all the questions played hard. It was a good quiz. All the questions played hard.